Our live party band 'Punch The Air' promise we will not be increasing our prices during these trying times. Whether you want to book an indie rock cover band for a wedding or party later on in 2020 or for next year in 2021 you can still book us knowing you'll be charged exactly the same as right now no matter what. Hire live entertainment band 'Punch The Air' for your party by contacting us whenever you're ready. Book a wedding band in 2022.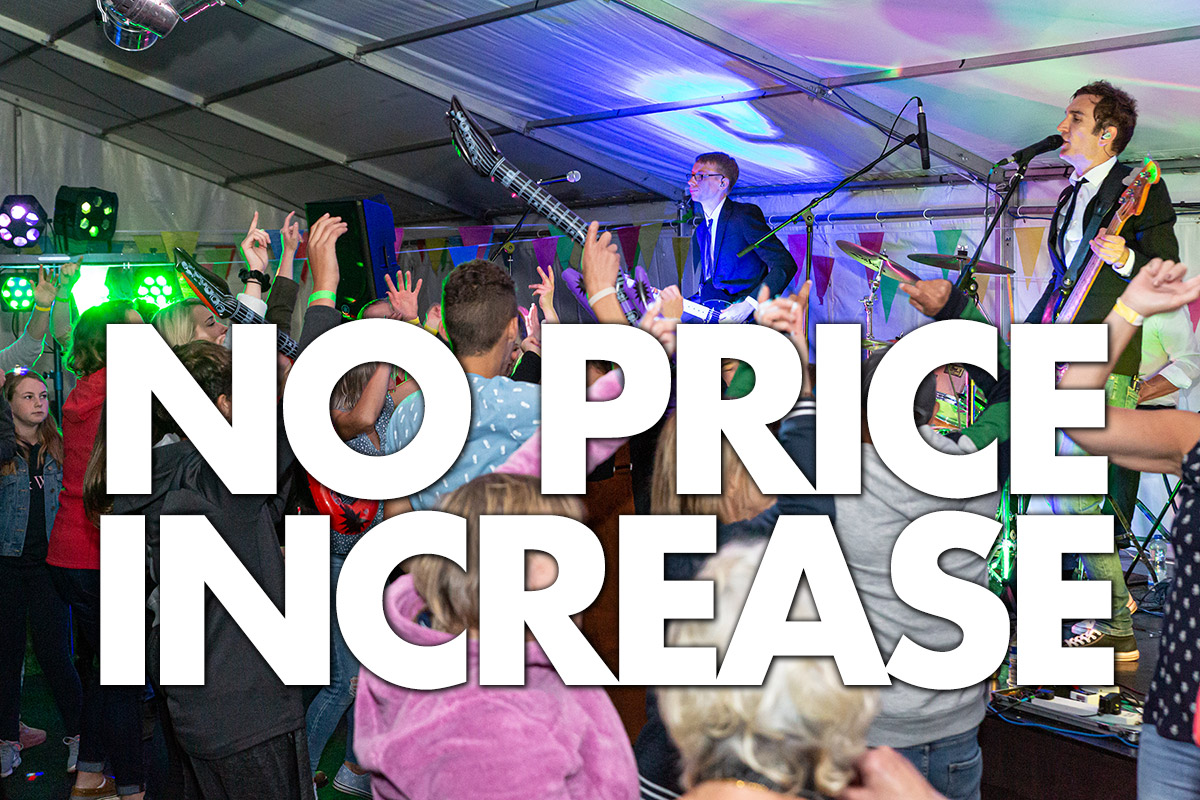 We Promise You: A Live Party Band With No Price Increase
Even though we have lost a good 6 months to a years worth of work due to Covid-19 Coronavirus we don't believe you should have to bare the cost of this should you choose to hire a wedding party band, hire a band for a birthday party or hire a corporate event band. We aren't putting our prices up now. And we won't be putting our prices up once everything is back to normal again either. Our local price starts from £999 and that's not going change any time soon. This way you can take your time recovering from all the problems spurred on from The Coronavirus. We will still be here offering the same high energy show at the same great price. All when you're ready to book a Covid secure wedding band or Coronavirus secure party.
Are you confused about booking a live party band during Coronavirus?
We have lots of Covid-19 articles to help you make sense of all the latest rules and regulations when booking a live band during the Coronavirus.
No reduced services either.
Furthermore we won't be reducing the services you normally get included when you book a live party band to make up for not increasing our prices either. You'll still get two high energy live performances with iPad DJ services included until midnight for weddings and birthdays. As ever we'll continue to bring along our state of the art digital mixing desk, PA sound system and fantastic lighting rig. You can continue to be assured that our sound will be the exact perfect volume for the size of your chosen venue. Utilising our skills in sound engineering you'll never hear screaming feedback at our live performances ever. The volume level we will perform at will be perfect for the venue size and number of guests.
If you have chosen a wedding venue with a sound limiter then this isn't a problem. Our live party band will gladly bring along our electronic drum kit at no extra cost. It sounds just as good as an acoustic drum kit. We can dial in the necessary volume to keep venue owners happy. It'll be business absolutely as normal when you hire a top rated party band 'Punch The Air'.
Massive indie rock covers and chart pop from across the decades.
There's no cheesy 10 minute drum solos or extended guitar solos in our live performances. 'Punch The Air' work on the mantra 'Don't bore us, get to the chorus'. We want you all to sing and dance your hearts out with us for the entire night. Expect huge indie rock hits by artists like Coldplay, Stereophonics, The Killers, Blink 182, Kings Of Leon. Also Wheatus, Foo Fighters, Oasis, Feeder and more. Also fantastic chart pop music from across the decades by huge artists like The Beatles, Queen, George Ezra, Florence & The Machine, Amy Winehouse and more. Brides & grooms love us. Family members and friends love us. Parents, grandparents and children love us too. Read our many, many amazing 100+ positive reviews. Then book an indie rock cover band with confidence who can handle any size venue and numbers of guests.
You can sometimes see us perform live for free.
Very, very occasionally 'Punch The Air' do public performances. And usually they are free to attend. These events are great for potential clients to attend to see what we're like live if you can't already see from our brilliant live videos.
Hire a function band throughout the UK. Book a party band in Staffordshire. Hire a function band in Derbyshire. Find a wedding band in Shropshire.