All Covid restrictions have now been completely removed as of Thursday 24th February 2022 within the UK. Weddings with a maximum of 30 guests no longer apply. So now it's time once more to hire a wedding band for your evening reception.
---
Update 14th June 2021: Today Boris Johnson has announced that the limit on the number of guests allowed at a wedding will be lifted on 21st June 2021. But the number of guests will now be set by wedding venues themselves based on social distancing. Wedding guests will have to be seated at tables with no more than 6 people with table service only. So the rule of weddings with a maximum of 30 guests will be scrapped.
Indoors dance floors are forbidden and the rules of no singing and dancing remain. But outside dancing (although strongly advised against) will not be illegal.
All other restrictions have been delayed by four weeks and will now be lifted on Monday 19th July 2021. This is due to concerns over the rapidly spreading Delta variant first identified in India.
Boris Johnson stated that numbers will be reviewed daily and if the number of jabs increased and the number of positive tests come down there is a chance that we could be back to normal two weeks earlier on Monday 5th July 2021.
---
Previous information about Covid affected weddings.
The Coronavirus pandemic had been a very trying time for brides and grooms still wanting to tie the knot and get married. The Covid-19 pandemic has meant that wedding dates have been pushed further and further back. The outbreak has had such an affect that some wedding plans have been put on hold permanently. All delays were serious disappointments for brides and grooms. But now, with the epidemic easing, the time has come to finally book a wedding once again. Although it's not quite time to book a wedding band yet as live music is still not allowed at weddings with a maximum of 30 guests. (Read our constantly up to date article on What You Can & Can't Do At A Wedding With Thirty Guests.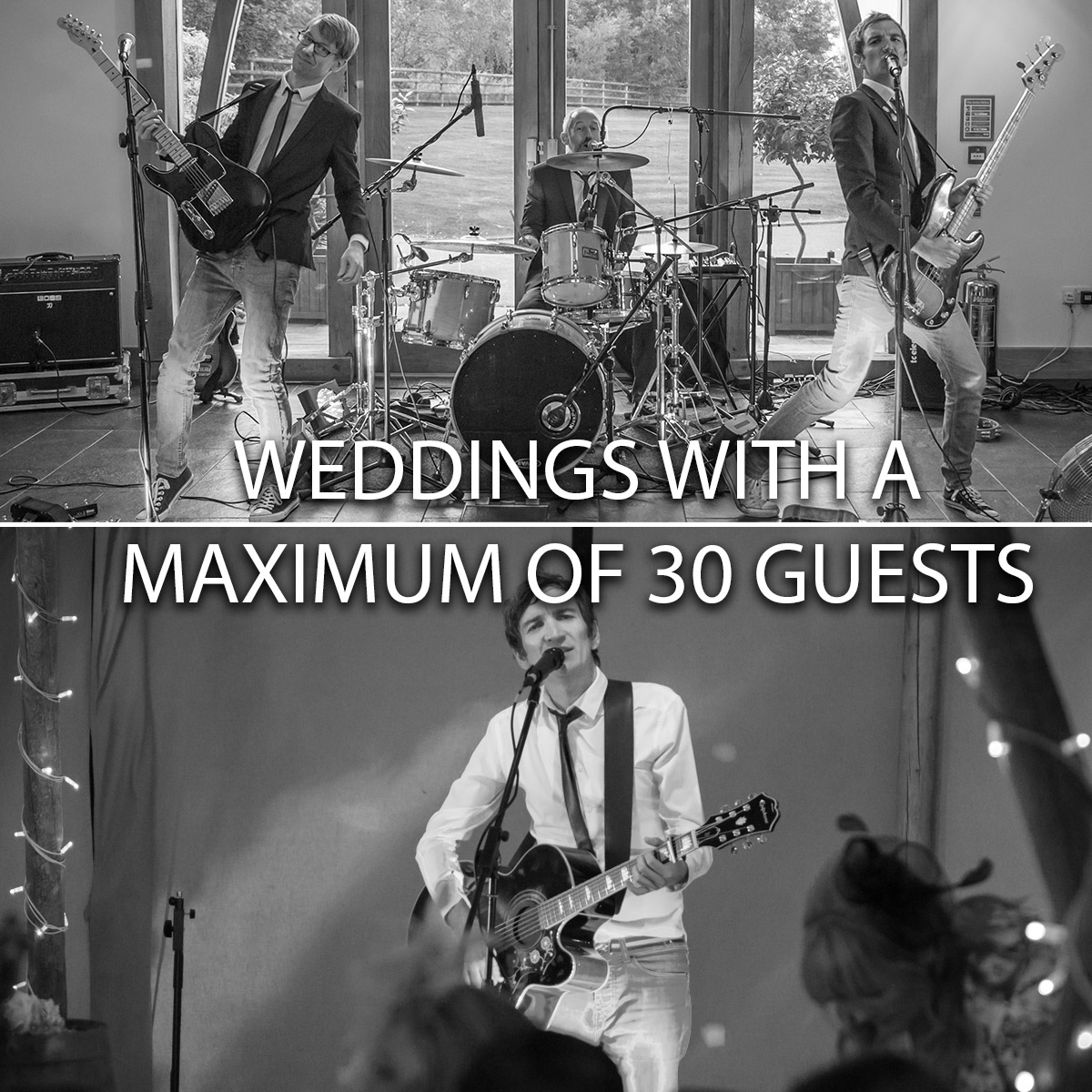 You can now finally book weddings with a maximum of 30 guests.
With the fantastic news that Covid-19 lockdown social distancing restrictions have been relaxed further. So you can now book a wedding venue with a maximum of 30 guests. But there are certain restrictions being applied to your Covid secure wedding. What you can and can't do at a wedding with 30 guests is a very long list of mostly unanswered questions. Being a three piece wedding band makes 'Punch The Air' the ideal choice for your special day when it's finally possible to have live bands again. As we will only be taking up 10% of your allotted thirty guests. Or you can hire Andy Starkey solo acoustic wedding musician and still have 29 guests remaining.
In the weeks and days before your wedding we encourage you to still be alert and vigilant to avoid catching the respiratory illness. Avoid close contact with people from outside your family and always stick to the new 1 metre plus social distancing rules. Always still try to stay at home as much as possible. Check the latest UK updates from WHO World Health Organization. All of which will help lead to a safer wedding for you and your guests.
Should any of your guests fall ill and not be able to attend your wedding reception and need to self-quarantine then you could always utilise apps to host Zoom Weddings and Facetime weddings. This way then can still be a part of your very special day. You don't need to cancel or postpone your wedding any more. It's time to get back to normal.
Our attitude towards your booking and you during Covid-19. Weddings With A Maximum Of 30 Guests
What makes 'Punch The Air' completely different compared to any other wedding band out there is our fair attitude towards your Coronavirus affected wedding.
You can book a wedding band when you're ready at todays prices. Read our article on how to plan or reschedule a Covid-19 wedding in 2020 & 2021 and you'll be a lot more relaxed about everything when you book a wedding function band.
Handling thirty guests at a wedding
While at your wedding your venue will no doubt be utilising contact tracing via mobile phone apps. Also by obtaining details of each guest so they can trace each person in the event of an outbreak. All of which are nothing to be worried about of course. As all of this will already be taking place in pubs and restaurants.
Three piece wedding band or solo wedding musician for your wedding.
Established in 2013 three piece wedding band 'Punch The Air' when allowed will give you the amazing wedding you've been waiting so long for. For weddings with a maximum of 30 guests when the government give the say to allow live music we'll still give you two high energy live performances. Plus all sound and lighting equipment included in the price you pay. This way all you brides & grooms plus all your guests can finally have the wedding party you've been dreaming of. Big massive indie rock numbers from The Killers, Stereophonics, Oasis & Kings Of Leon. Then big pop chart hits from George Ezra, Queen, Amy Winehouse, The Beatles and so much more.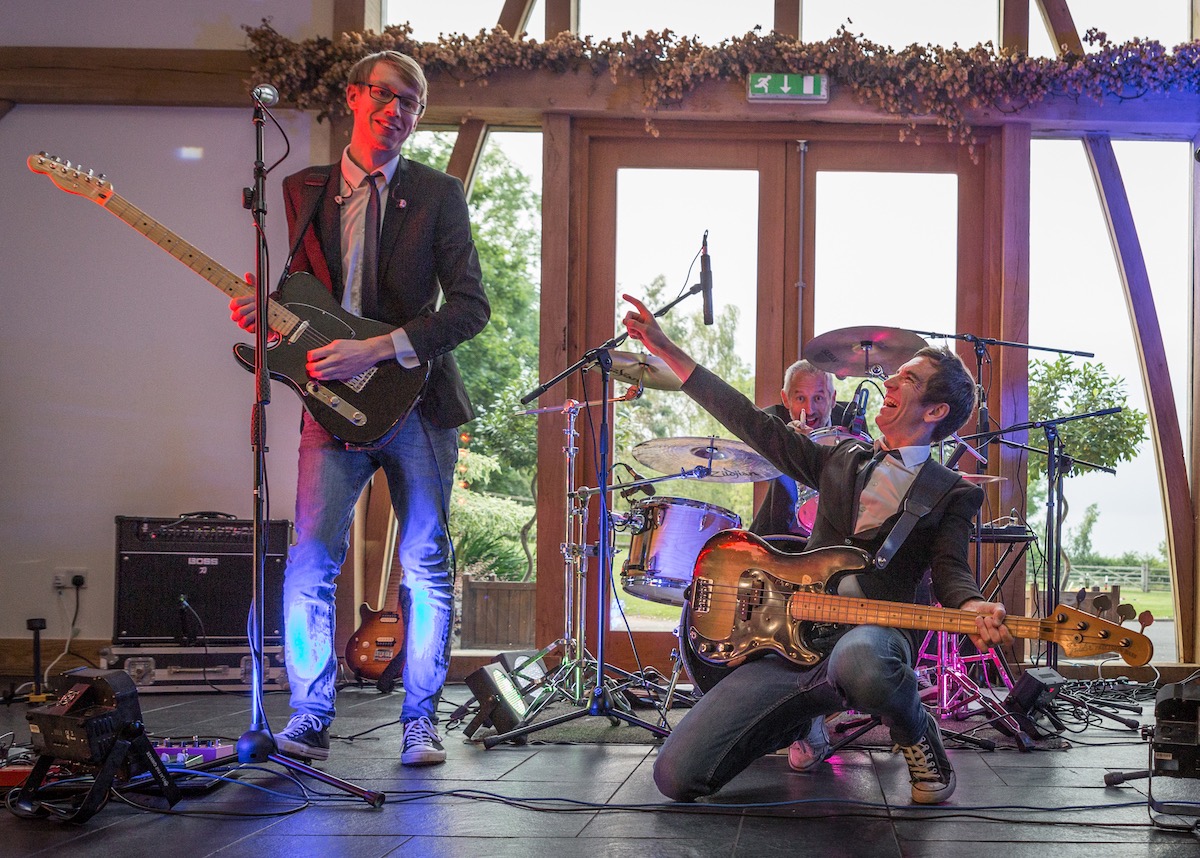 Everyone will know every song we'll perform live and will spend the whole night dancing along to our big wedding tunes. We'll even throw in iPad DJ services throughout your entire evening wedding reception too. From the moment we're set up until midnight we'll spin you all your favourite tracks at no extra cost. You can also extend the night out past 12am with our late night DJ services. This is all of course when social distancing rules are relaxed further. As currently wedding bands are not allowed to perform live music at weddings.
If you'd prefer to hire a solo wedding musician in the evening then Andy Starkey Solo can be booked for a wedding reception too. He'll perform uptempo solo acoustic music but will still bring along a full PA system and lighting rig. As with the above he'll also provide you with DJ services too at no extra cost. Even with only 30 guests at a wedding a fantastic time can still be had by all when allowed.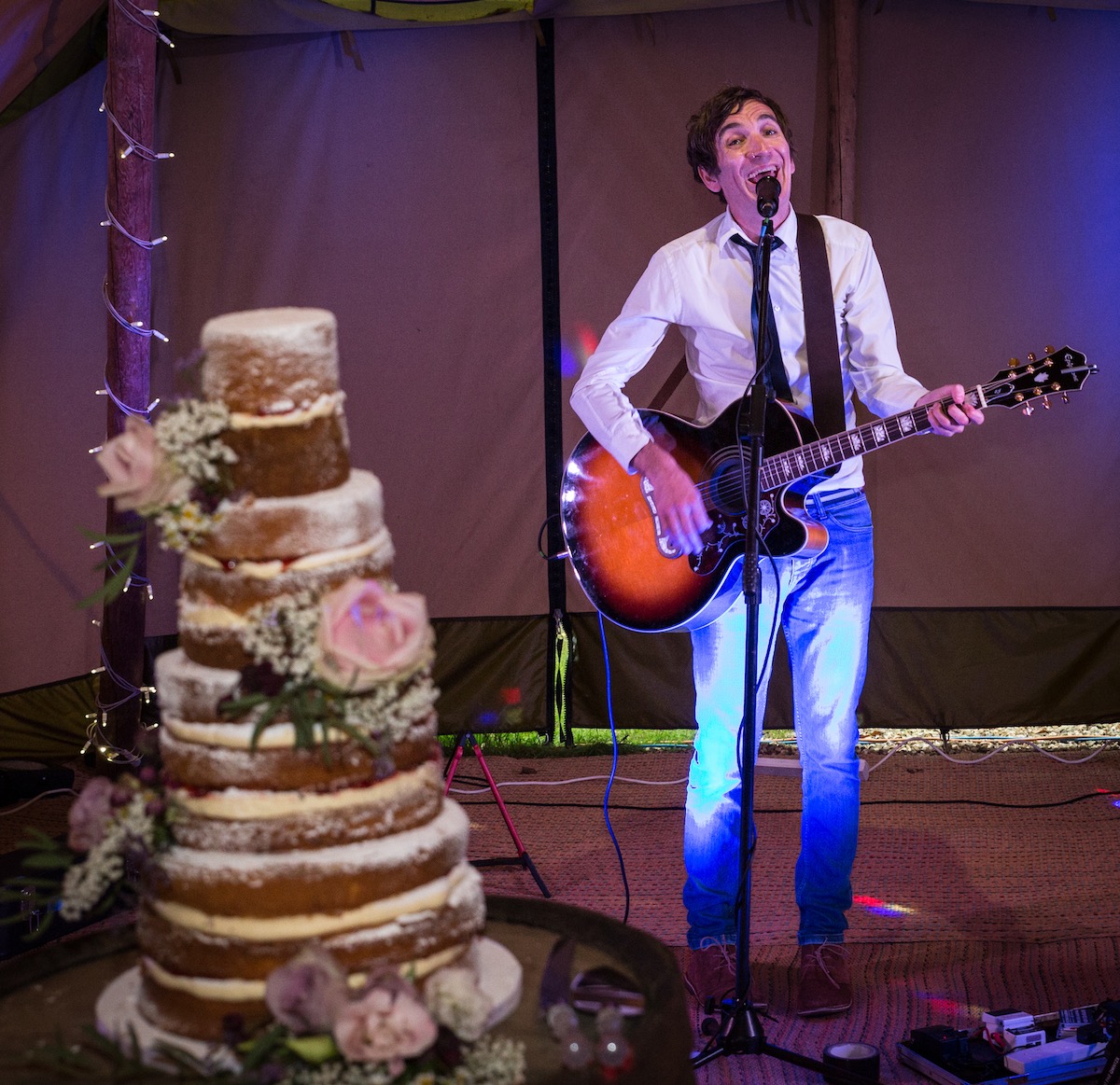 Hosting a wedding with thirty guests.
Read our new thirty guests weddings do's and don't page for more information. But at least you can once again have your wedding with 30 guests your way. And when social distancing rules are relaxed further you can hire a wedding band too. So contact wedding band 'Punch The Air' for price and availability for your 30 guest wedding reception. With over 100 independent reviews you can put your trust in our professional musicians to give you the wedding of a lifetime. Read more about how we're helping clients during the one time contagious and infectious Coronavirus. Then look over our Facebook profile to check our credentials and claims for more regular updates to hire a wedding band.
Book a wedding band for a Staffordshire wedding or a Derbyshire wedding. Hire a wedding band in Shropshire, book a wedding band in Leicestershire. Furthermore you can hire a wedding band throughout the whole of the UK.