Moving forward and hopefully one day out of the Covid-19 pandemic the way live music is performed to an audience at a wedding will have to change….At least for an unknown amount of time. Unfortunately it's not just as simple as putting on a face mask for wedding band 'Punch The Air'. A wedding musician can't sing properly through a face covering. So what might the future of wedding entertainment look like and what is a possible solution? Read our other articles about Covid-19 bookings, what you can and can't do at a wedding with 30 guests. Also solid advice on planning a wedding during Coronavirus, booking and rescheduling a wedding during the Coronavirus. Furthermore booking a Covid secure wedding band.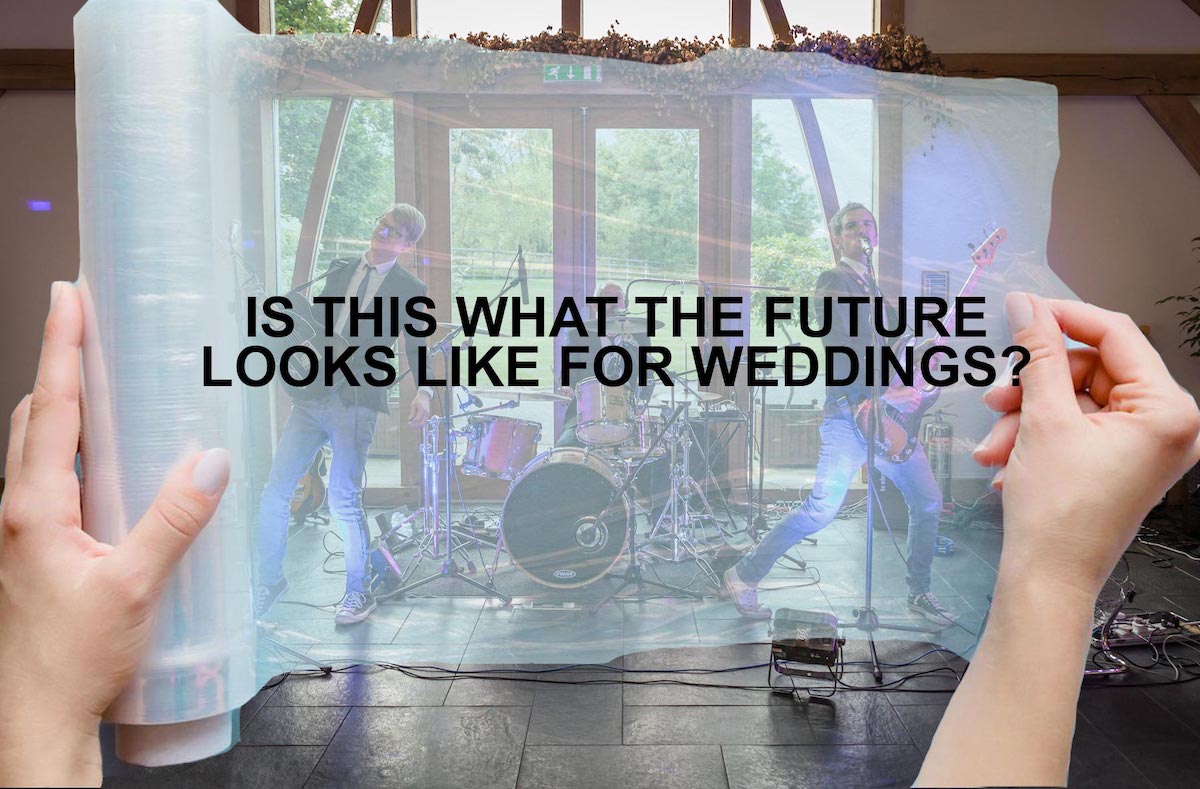 Covid-19 Wedding Entertainment Solutions
Professional wedding band 'Punch The Air' believe it might be transparent barriers and screens placed on stage between musicians and their audiences. Surely this or something very similar will be the only way to once again have live music indoors at wedding venues in the foreseeable future. It will in theory enable wedding venues to once again re-open fully for live entertainment now the Covid-19 lockdown has been eased.
About Screens
Clear perspex drum screens have been utilised for many years for live musicians. They are mainly used to reflect the sound/volume of loud drummers backwards onto stage so as not to be picked up by vocal microphones. These plastic screens can often be seen on stage with famous bands like Blondie and The Who (Both Clem Burke and Zak Starkey being heavy hitters). But these types of polycarbonate or acrylic sheets could be made larger to cover the entire front of the stage area. So no longer just being used to reflect noise but to possibly help suppress the spread of Coronavirus too. This would be a great alternative to unusable face masks and face coverings for a live band.

These types of barriers are already being used now throughout supermarkets across the UK to prevent the spread of Coronavirus. So why can't they work in a similar manner for wedding music too?
Are Perspex Screens The Future Of Wedding Entertainment At Wedding Venues?
The perspex screens would likely be semi-permanent fixtures in a venue. Only used while the Government, customers and staff feel there is still a risk of Covid-19 being transmitted. They would need to be affixed secure enough so as not to fall over if knocked into by guests. As to whether a full screen that is completely impassable by a wedding band is used (So in essence the band are playing in a separate room behind a large window). Where the plexiglass screen is secured floor, to ceiling, to walls. Or just partial (Up to eight foot in height) and removable, these are at least some possible options to be considered to help stay Covid secure.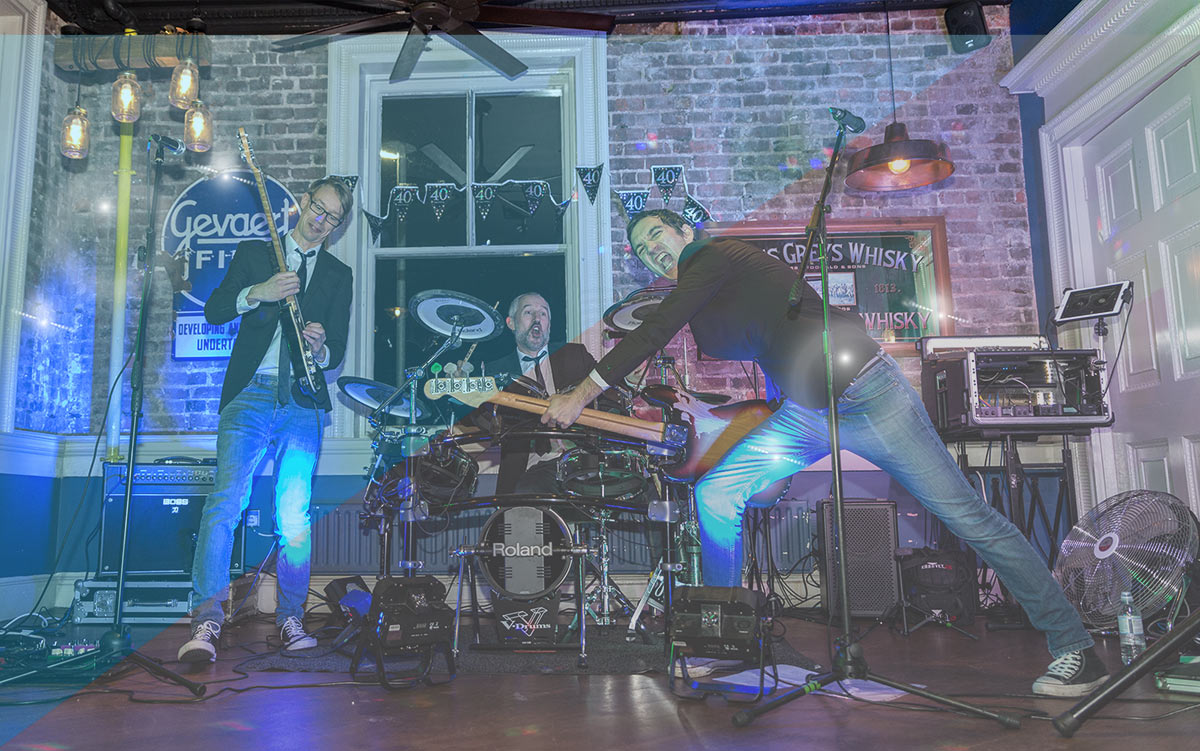 How will the band set up their equipment in front and behind the screen?
Band members would perform behind the screen covering most or all of the stage area with the PA system placed in front of the screen to the sides. This isn't actually all that much different to how a band would set up and perform pre Covid-19.
Who will supply the screens?
The screens would be supplied by the venue and would have to be cleaned after and before each wedding.
What scientific evidence is there that musician screens will work effectively to help stop the spread of the pandemic?
Currently this is merely an idea so of course testing would need to be done to make sure the screens function to help a venue stay Covid secure.
Summing up the Pros & Cons
Pros:
Helping to stop the spread of Covid-19.
Live entertainment able to take place indoors again at wedding venues.
Keeping guests off the stage area.
Possibly easier to mix the bands front of house sound (as no backline spill).
Cons:
Disconnection of the band from their audience.
Looks strange.
May be an issue for photographers to shoot through.
Cost to venue (No doubt one way or another passed onto clients).
Timescale to erect either on a permanent or semi permanent basis. Plus may leave holes in walls/floors/ceilings once removed.
Issues with the band loading in/out behind the screened area.
Will not be possible to install at all wedding venues. (Especially listed buildings).
You can safely pre book professional wedding band 'Punch The Air' for your wedding. With our 100% deposit refund Covid policy if you have to cancel your wedding due to the Coronavirus for any reason you will never lose any money with us. As the days go by the future of wedding entertainment looks brighter and brighter and we'd love to play a part of your special day.
Give your wedding reception that much needed boost by booking our high energy wedding band established way back in 2013. We'll perform massive well known indie rock hits by The Killers, Stereophonics, Oasis and more. Plus chart favourites by George Ezra, Queen, Amy Winehouse, The Beatles and so much more. Contact 'Punch The Air' for price and availability.