For some bizarre reason wedding entertainment seems to be one of the last things brides & grooms tend to think about. Sure, they have a lot to think about understandably. They book the venue, the ceremony and the photographer then what do most people do? They start to think about the fun, personalised small things (that if you think about it, don't really matter in the grand scheme of things). Dress hangers with names on, flip-flops for the dance-floor, table decorations etc. But what they really should be doing in our options is looking at booking live wedding entertainment as the third, or even fourth big thing to sort out.
What guests remember most about a wedding is as follows:
What you looked like.
Then what the venue was like.
What the food was like.
And what the wedding entertainment was like.
and not even in that order (apart from the first point) Believe us, we know this from previous experience speaking to clients at many hundreds of weddings.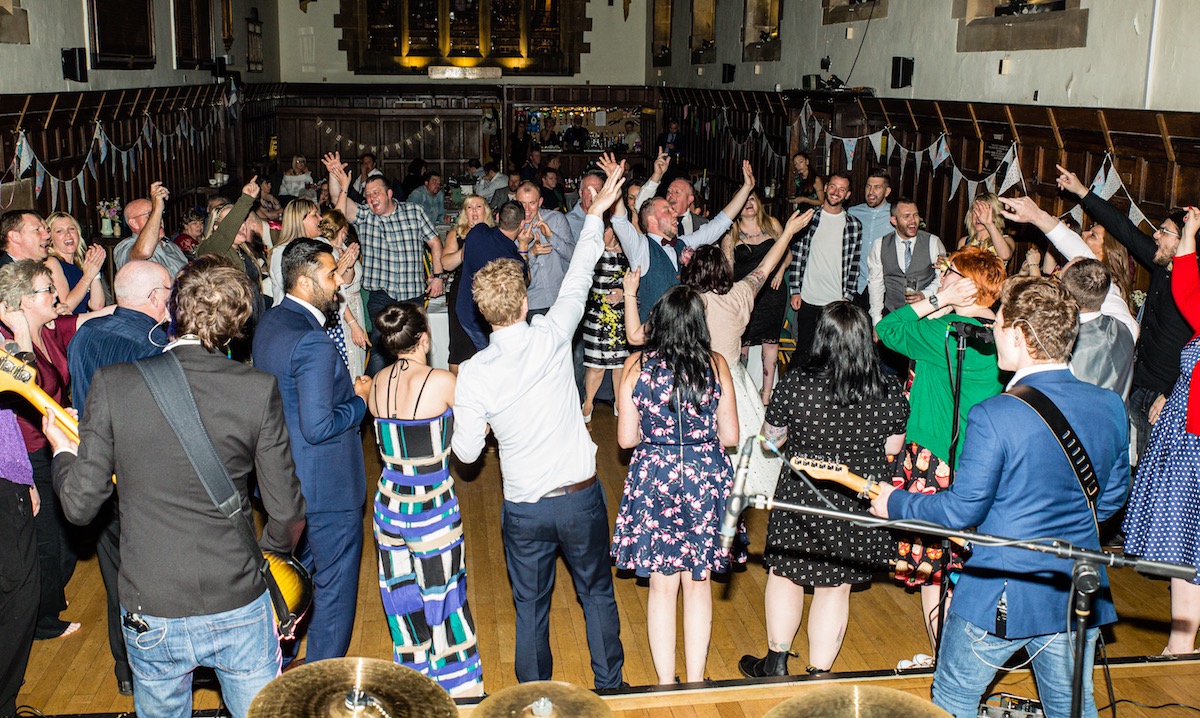 Was everyone up dancing all night long really letting their hair down? Was everyone singing and shouting along to the bands amazing repertoire? Were the band a high energy wedding band able to engage with the audience and have them eating out of the palms of their hands? This exactly the type of wedding band that 'Punch The Air' are.
Booking live wedding entertainment.
You may have had your eye on a specific band for a long time, but not got in touch with them yet. The problem is that although your date is one specific day to you, it's a date that many other brides and grooms will also want to book your wedding entertainment band for. Your wedding band can only perform at one wedding each day, so they may already be booked out at another wedding clients reception party….Argh nightmare!
Advice on hiring a wedding band
So our advice (Coming from having been an established wedding band since 2013). Is to start to look to book wedding entertainment as soon as you can. If you really-REALLY like a wedding reception band then check if they are available on your date before you even book your ceremony and venue. You could work along side your party band while working out your potential dates to make sure they are 100% available to you. Otherwise definitely check to book a wedding function band as soon as you've confirmed your wedding date and venue. Otherwise you may find yourself unhappy at having to choose the band who weren't your first (Or possibly even second) option.
It's so very easy to book 'Punch The Air' professional wedding entertainment. A quality band with a lot of history in entertaining wedding guests since 2013. 'Punch The Air' are available to hire as your wedding entertainment throughout the whole of the UK and beyond. Trust in a band that provide you with professionally shot live videos capturing bride, grooms and guests open and honest reactions to their high energy performances. Contact to book right now.