Acoustic Wedding Band
'Punch The Air' have a number of different options for your wedding if you need to hire an acoustic wedding band. You can book an indie rock wedding band acoustically in the daytime. As well as booking a full electric band later on at your wedding reception. Or you can hire 'Punch The Air' acoustically for just the daytime or the evening. We can fit around whatever plans you have for your wedding. Have us perform very early on in the day, in the afternoon or even in the evening. Or all day long. Whatever you can dream up, we'll make it a reality for you. Whatever you want, we can sort it all out for you no problem what so ever.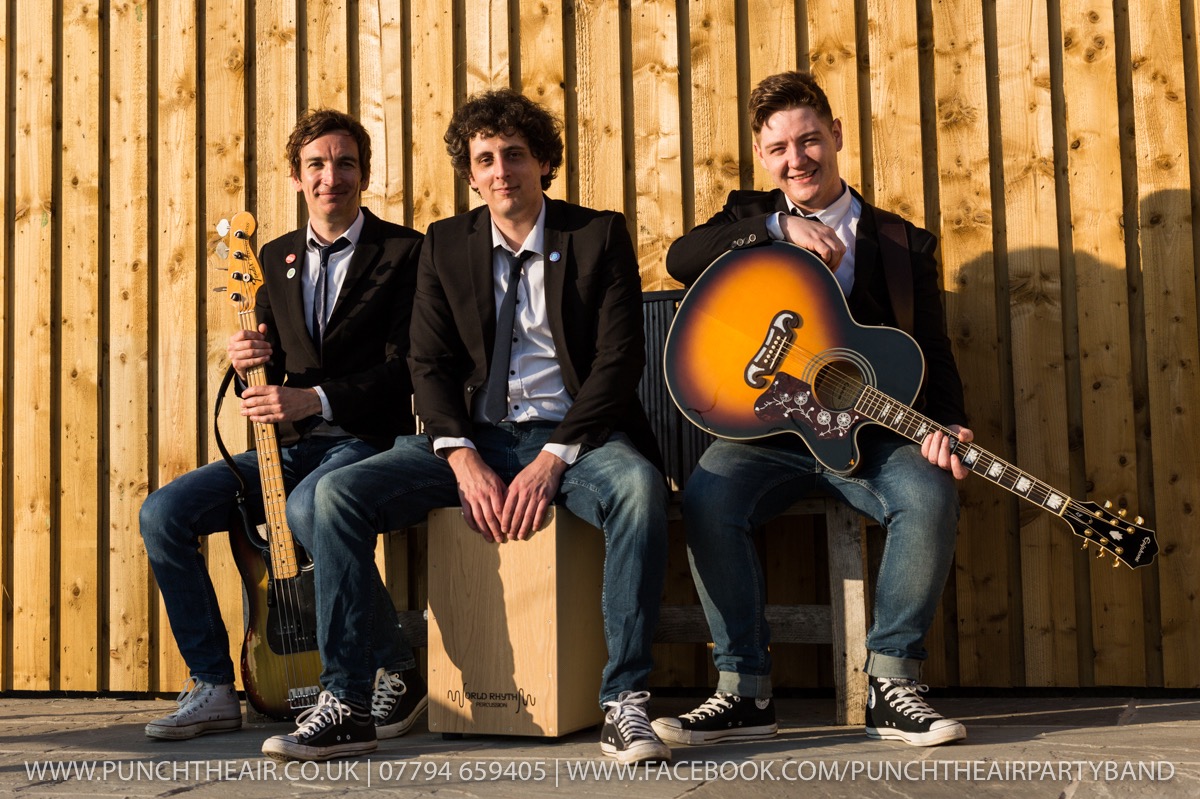 Our acoustic set-ups are usually hired:
During your wedding ceremony in your church or venue.
At your wedding drinks reception while guests arrive at your venue (Indoors or outdoors is fine as we have battery powered amplifiers.)
During your wedding breakfast.
At your evening wedding reception party.
In a bar or restaurant.
At any type of event where you'd like some acoustic music.
Just contact us with what you require from us and we'll be more than happy to accomodate anything you request. We hardly take up any room acoustically and can fit into most nooks and crannies if space is tight at your venue.
Solo Acoustic Wedding Musician
Andy is available to book as a solo artist, just him, his guitar and his small amplifier. Perfect for while you're walking down the aisle , during your drinks wedding reception or any chilled out vibe occasion. Andy can be hired anything from 30 minutes up to the entire day. You can find out more about this option on the acoustic solo page.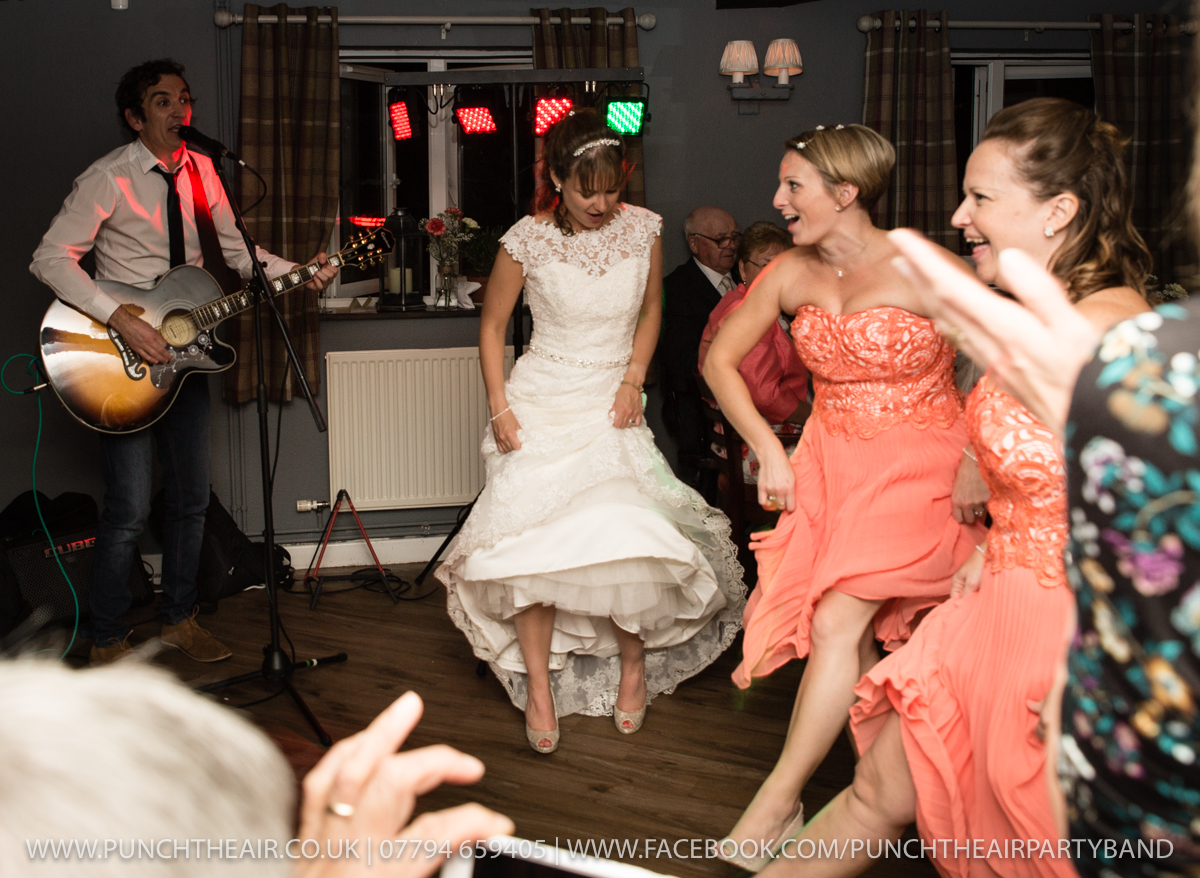 ---
Acoustic Duo Wedding Band – Guitar & Bass
Book an acoustic duo wedding band with guitar, bass and vocals. Rather than have two acoustic guitars playing over the top of each other Andy moves back onto bass (As he performs in the full band set up) adding a lovely low warming tone to the acoustic sound of the duo option. This is an acoustic option you hardly ever see any other bands attempt and so can make your event that little bit more unique.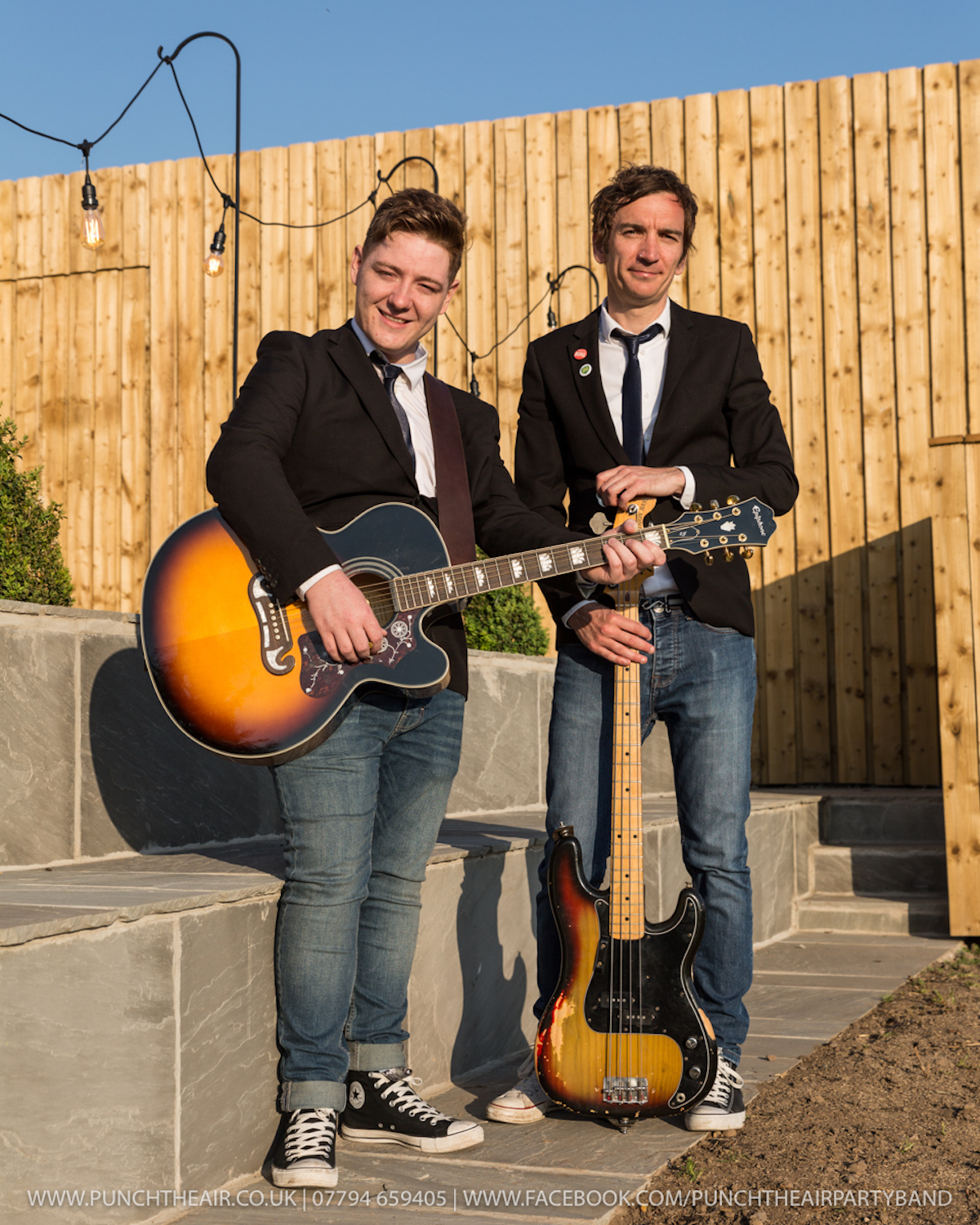 Acoustic Duo Wedding Band – Guitar & Cajon
This is a really great and kooky combo if you want a brilliant talking point at your wedding or event. One musician plays acoustic guitar and sing, while another plays the cajon and sings backing vocals. What is a cajon though you're probably thinking? A cajon is a wooden box that you sit on and slap with your hands and fingers to produce percussive sounds. Whenever we perform acoustically in this manner as an acoustic wedding band everyone always takes a huge interest in the cajon as it looks so different and produces such a fascinating sound.
Here's Punch The Air as a duo in two videos at Colmore Food Festival, Victoria Square, Birmingham while England were playing against, and then beat Sweden two nil in the Russia World Cup Semi-Finals .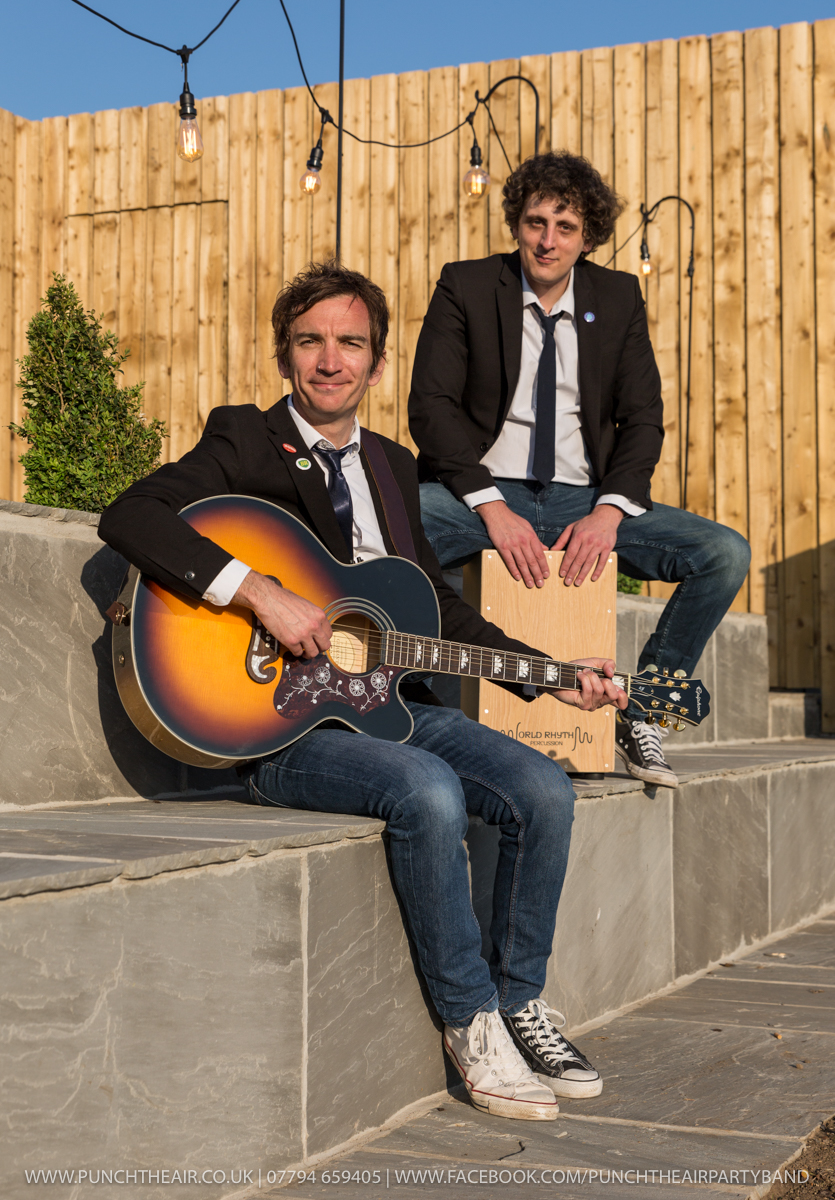 Acoustic Trio – Full Acoustic Wedding Band
'Punch The Air' are also available to hire an acoustic trio wedding band. So thats all three members of the band, with acoustic guitar, bass, vocals and your choice of either a full drum kit, a smaller cocktail style drum kit or a cajon drum. When you hire an acoustic wedding band we can perform at any time of the day or night to suit your requirements. You just tell us exactly what you want and we'll tailor all the live performances to your specifications. We're very accommodating and nothing you ask of us is too much for us. We've been doing this for many years now so we have a lot of experience in live music.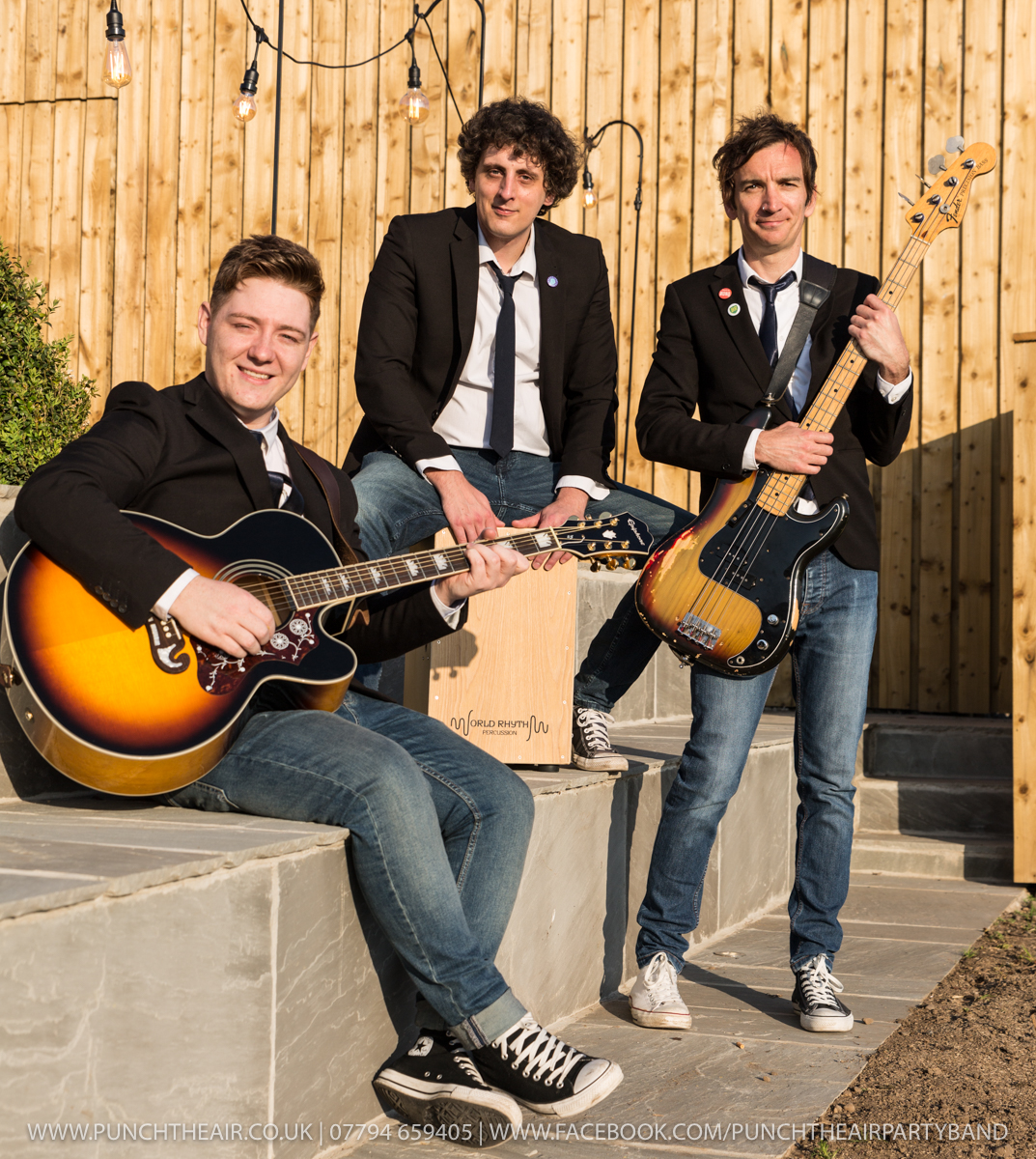 What music will you perform acoustically?
We perform chilled out versions of the songs from our repertoire . As you will see they are all very well known pop tunes from modern day music by Indie Rock groups and artists like George Ezra & Amy Winehouse, from the 90s by Oasis. In the the 80s by The Human League. Furthermore the 70s by The Undertones, the 60s by The Beatles and Similarly from the 50s by Elvis….and everything in-between.
How much does it cost to hire an acoustic wedding band?
Depending on which option you chose and how long you require us for and how long you'd like us to perform for will all affect the price. When you get in touch below please include as much information as possible. Remember to add which set up you'd like and we can quote you correctly for your event or wedding.
Acoustic Wedding Band Contact Form
Are you having problems with the above form? If so email punchtheairband@gmail.com or call UK 07794 659405.
---
If you have any questions then firstly goto our Frequently Asked Questions page or likewise email at punchtheairband@gmail.com