Birthday Party Band
After weddings, our second highest number of performances a year are when clients hire a birthday party band. 'Punch The Air' love a good bday party as our clients are always so much more chilled out than our wedding clients (But who wouldn't stress over the most expensive day in their lives eh?). Established in 2013 it's obvious by looking through our website that we can handle any type of birthday party. But generally clients book us for their big birthdays like their 30th, 40th, 50th, 60th and even 70th. Tunes from Coldplay, Feeder, Blur, Oasis, Artic Monkeys, George Ezra, The Killers, The Beatles, Kings Of Leon and other great pop tunes too. Contact to book an indie rock cover band for your birthday party now.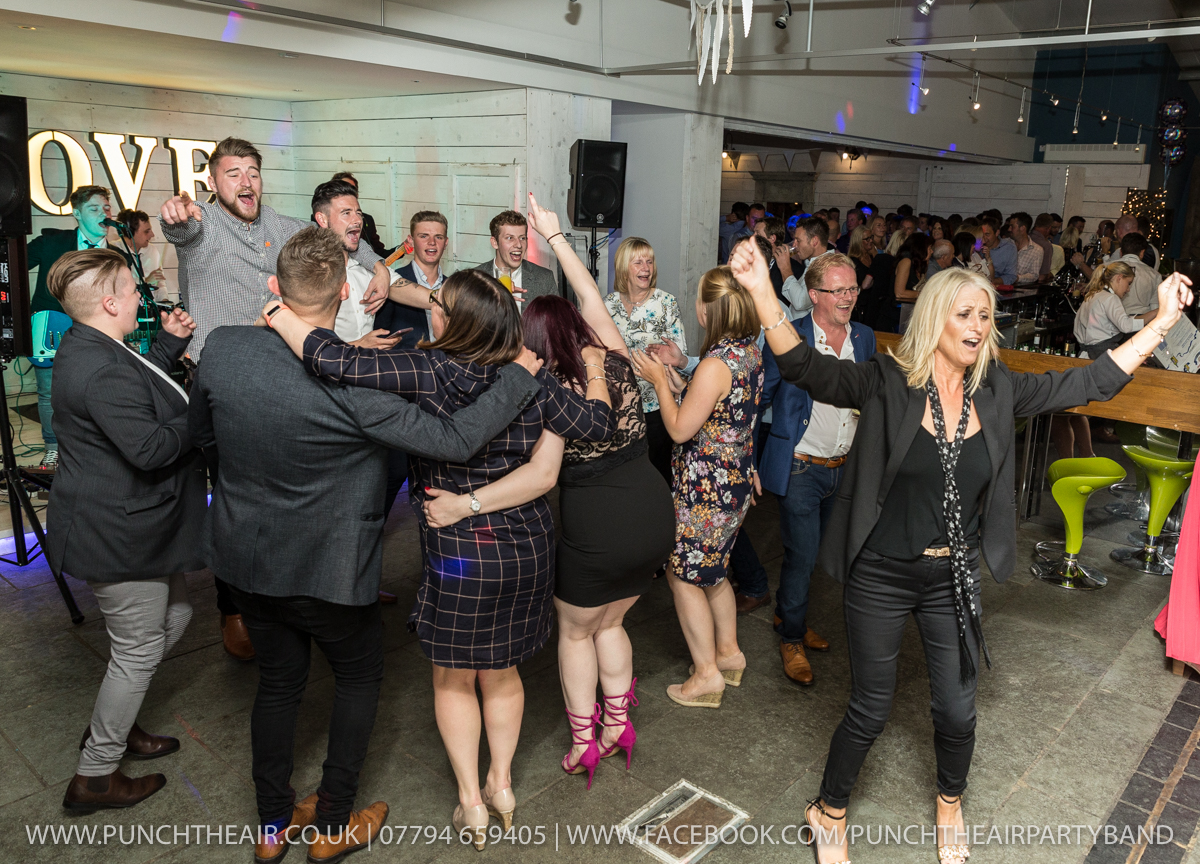 Whats great about birthday party band 'Punch The Air'
The great thing about 'Punch The Air' is that we can completely tailor the music to the decades in your life that mean the most to you. So say your looking for a band for your 40th birthday, then we can perform a load of great pop numbers from the 90s (When you were in your late teens to early twenties, out on the town enjoying yourself without a care in the world). If you're turning 50 then no doubt your more into your 80s music, (and so on and so on). So we really can make you feel that you're back once again in the best days of your life. If you have a look at our function band photos you will see lots of pics of us performing at birthday parties over the years. We've performed live at every major year bday party.
Whats included when you book 'Punch The Air' as your birthday party band?
Massive singalong/dance-along indie rock party hits and music from the last 60 years by:
60s – Beatles, Van Morrison, Monkees.
70s – Queen, Lynyrd Skynyrd, Undertones.
80s – Human League, Rick Astley, Tiffany.
90s – Oasis, Blur, Ocean Colour Scene.
00s/10s/20s (And onwards) – Coldplay, Kings Of Leon, Amy Winehouse, Killers, George Ezra.
Two birthday party band live performances, in an upbeat & high-octane style (Plus encores).
Professional, 'Hard Copy' Contract
A professional experience from your initial contact right through to when your event ends.
State of the art high end PA system, sound desk and lighting rig.
DJ services before, in-betweeen and after live performances so you can continue to dance the night away.
Public liability insurance and PAT certification.
A very competitive price that you'll be hard to beat.
We perform tried & tested pop tunes from the last 70 years and don't perform anything that is too loud, too heavy or too overly modern as we want everyone at your birthday party to enjoy themselves as much as possible. You and all your guests will know all of the songs we perform, so prepare to head happily to bed afterwards with sore feet, hoarse throats and some fantastic memories. Our Indie & poptastic repertoire features huge singalong, dance-along songs that everyone will already know and love.
Pricing starts from £999
Our prices start from £999 within and counties nearby to Staffordshire. Depending on where else in the UK your birthday party venue is located can affect the price. But you can be assured that it will be very competitively priced nonetheless. Don't forget to include your birthday party venues postcode when you contact us below. Go on, tell us your age too when you contact us, don't be shy.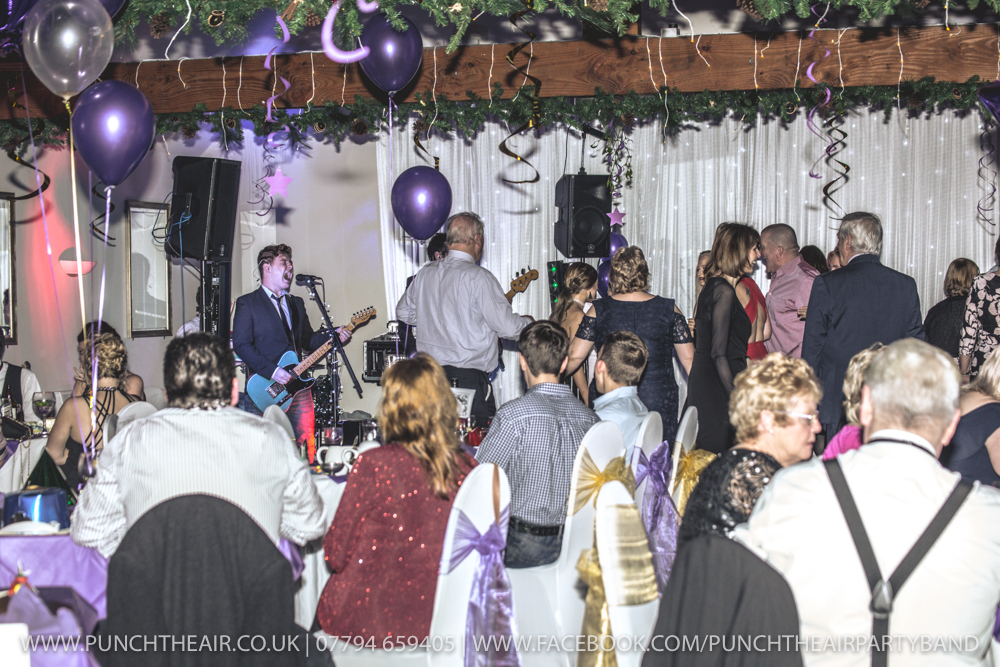 Videos (And what we're like live)
Check out the below Vlog "Facebook info graphic" style video we produced ourselves of what a day in the life of a professional birthday party band is like. It'll really help you understand what you're paying for and how your birthday day breaks down for both us and you. Our number one priority is that you are happy with our services. It's not about us, it's only ever about you.
We are constantly creating videos of 'Punch The Air' performing live as we know it's hard to decide on a birthday party band without being able to see them perform in person beforehand. We're not about artistically directed "Mimed to backing track" videos recorded in sterile studio set ups. We really are all about showing you what we can do live. In all of our latest videos here you will see and hear us performing 100% live in front of actual guests. These videos show peoples actual and honest reactions to what we do on a weekly basis. What other birthday party bands have videos like this? Check them out on our videos page.
Additional chargeable services we can offer you on your birthday: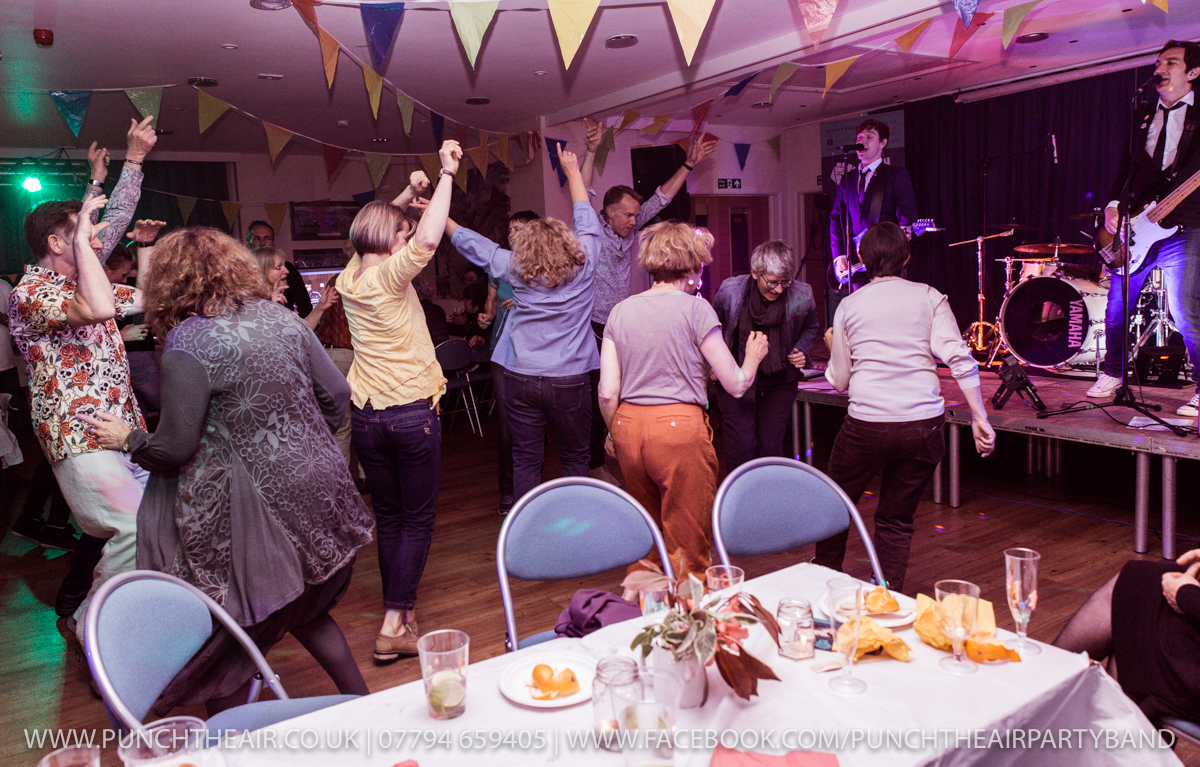 Does your birthday party venue have a "Sound limiter"?
More and more birthday venues (Even those out in the middle of the countryside) are having to fit "Sound limiters". This enables a venue to help lower volume levels so as not to annoy nearby neighbours. This is not a problem for 'Punch The Air' as we can always bring along our state of the electronic drum kit. This means we can then work to whatever decibel limit your venue is working towards. We have performed in this manner many, many times and have even performed at a volume level lower than you would listen to your own music to home at.
What do previous birthday party clients think?
We know we're a really fun and professional birthday party band, but surely don't just take our word for it. Head on over to our live party band reviews page and read some of the lovely things people have said about us recently. With over 100 independent reviews all with 100% 5 star rating you won't go wrong when you specifically book a birthday party band.
Birthday party contact form:
Are you having problems with the above form? If so email for a quote punchtheairband@gmail.com or call UK 07794 659405.
---
If you have any questions then you can jump over to our Frequently Asked Questions page or email punchtheairband@gmail.com