Custom Projector Logos designs
We've been designing brilliant projector logos for clients since our inception in 2013. We can custom design you a lighting logo from pretty much any image you have in mind. For weddings it can be fun to match the lighting logo to your invitation logo. Usually simple, crisp and clear designs work the best with names and a date. For corporate dinners and awards we can use your company logo. You can order custom projector logos for your wedding reception. Also corporate event or party when you book live Indie Rock cover band 'Punch The Air' for an event.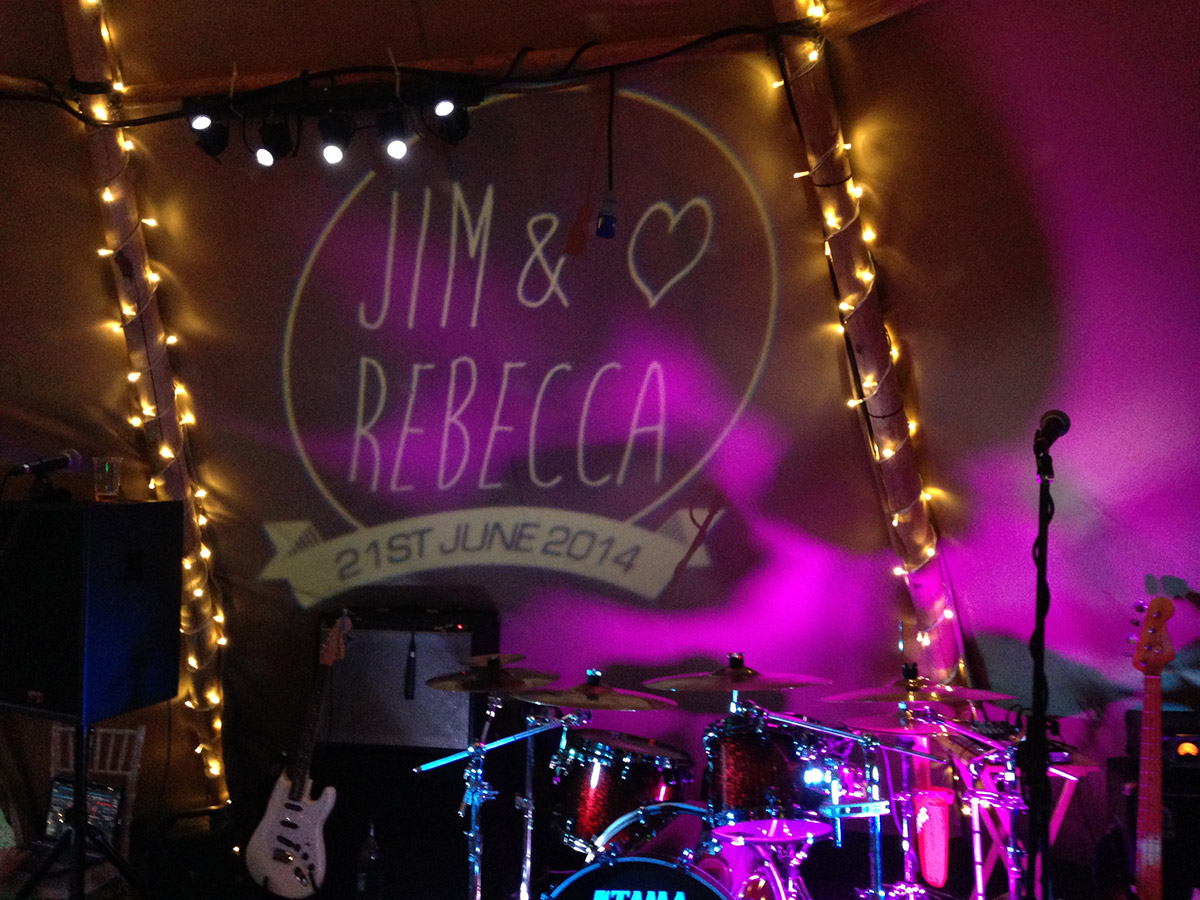 The custom projector logos can be static or rotating. Customised however you like with a logo and some text. Consequently it looks really great displayed behind the band/on the ceiling/wall. Similarly it is a great personalised "Watermark" of the event and looks really professional on photos and videos.
Previous clients custom designed gobos
Here are previous examples Andy Starkey has designed himself for clients. Or he has been sent design ideas thought up by clients. Usually taken from their wedding reception invitations or corporate logos.
Wedding Logo 4
At a Somerford Hall wedding in Brewood a cute bear design was ordered from the clients invitations. Although rather a complex image with many fine lines the outcome was superb.
Wedding Lighting 3
Hired as a wedding band at Pendrell Hall Wolverhampton the bride and grooms names and wedding date were requested. Our clients had even built a website for their wedding advising on how to get to the venue, the menu, schedules etc. This made it very easy for their guests to keep up with the latest news on their wedding. As a result their logo was quite simple to produce for their special day and looked excellent behind the band.
Wedding Projector 2
Bride & Grooms name and a heart at a Staffordshire wedding designed by Andy Starkey. Shown behind the stage area during our indie rock wedding band performance there. As a result the clients photos from their photographer had a unique touch to them.
Simple Wedding Logo 1
At Hawkesyard Estate, Armitage Rugeley, Staffs. Simple and sleek handwritten style design from clients invitations. Above all classy.
Band Logo 21st Birthday Party
Clients favourite band incorporated into his name and age at a London venue.
Boating Enthusiasts 40th Birthday Party
Cute boat design, rotating with name and age designed by Andy Starkey.
Beer & Sports 50th Birthday
At 50th birthday party at Shenstone Village Hall our clients two favourite things in life were beer & sports. So Andrew Starkey designed this custom custom design for them based on their example. Surprisingly such a complex design still worked out very nicely. Look at the size of it too.
New Years Eve
Booked as a New Years Band at a gastro pub the company wanted their logo displayed behind the band. Above all this helped to advertise the company further in any photos taken on the night. Our Burton-on-Trent New Years Eve party was a huge success for both the bar and ourselves.
Halloween
Custom bat design by Andy Starkey for this Lichfield Halloween Party which was certainly well received by the client.
Our other chargeable extras include:
Contact 'Punch The Air' to enquire on our custom designed projector gobos service whether you are booking your wedding or party with us or not.