Party Band
You're planning a party then are you?
Good on you.
And you'll be looking for a fantastic party band right?
Of course you are.
A party band that will have all your guests up and dancing all night long?
Why would you settle for anything less?
You want a night that your guests will still be talking about two, three, four years later?
Well thats just great, you can stop looking elsewhere as you've just found that exact party band.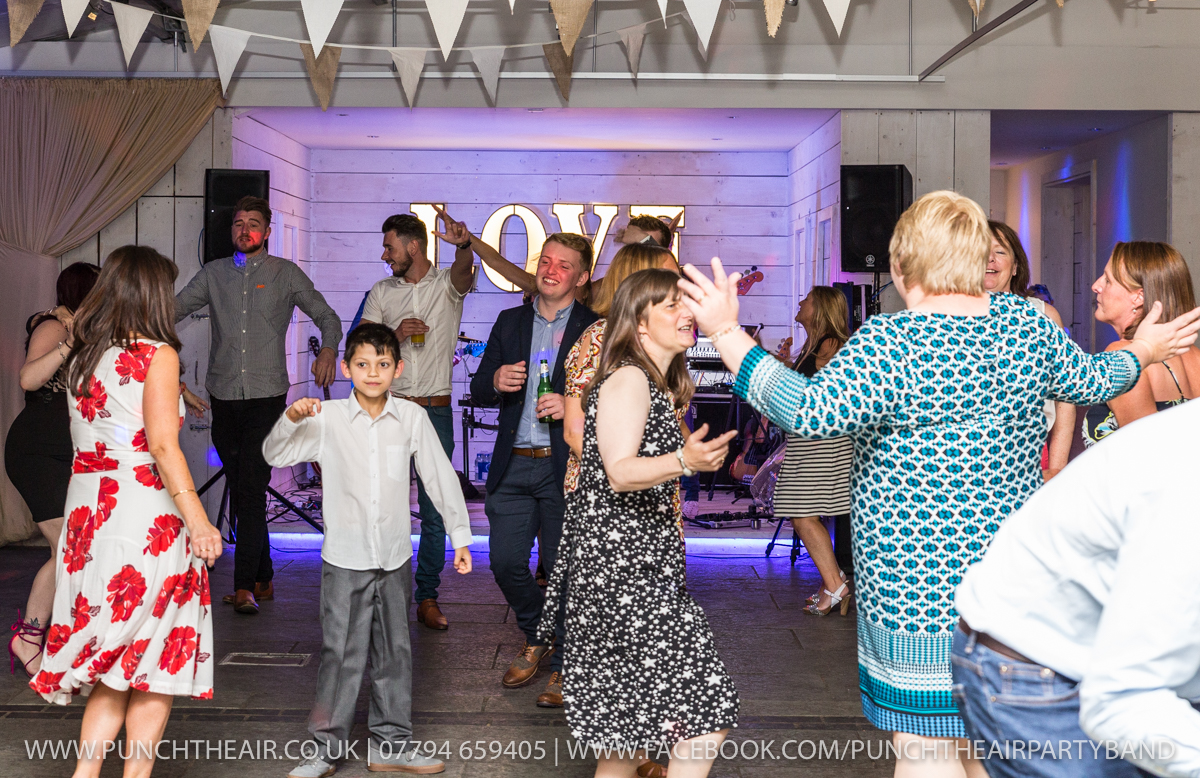 We love parties
'Punch The Air' love parties, whether its a christening, a garden party, a dance or ball, a family celebration, a surprise party, a fancy dress party, a graduation party, a housewarming party, a welcome or farewell party or a block party for everyone on your street….Be it indoors, outdoors, up a tree or anywhere we're your party band and we've got you covered.
If you have look at our repertoire you'll see that we'll play a great mix of Indie Rock. Then also a bit of modern music by George Ezra and The Killers, then heading on back through the 90s with Oasis and Blur, the 80s with Rick Astley and The Human League, the 70s with Queen and The Undertones, the 60s with The Beatles and Van Morrison and the 50s with Elvis and Chuck Berry and everything inbetween.
Whats included when you book 'Punch The Air' as your party band?
Massive singalong/dancealong party hits from the last 60 years by:
60s – Beatles, Van Morrison, Monkees.
70s – Queen, Lynyrd Skynyrd, Undertones.
80s – Human League, Rick Astley, Beastie Boys.
90s – Oasis, Blur, Ocean Colour Scene.
00s (And onwards) – Kings Of Leon, Amy Winehouse, Killers.
Full repertoire
2 x 45 minutes of live, upbeat & high-octane performances (Plus encores).
Professional, 'Hard Copy' Contract
A professional experience from your initial contact right through to when your event ends.
State of the art high end PA system, sound desk and lighting rig.
DJ services before, inbetweeen and after live performances so you can continue to dance the night away.
Public liability insurance and PAT certification.
A very competitive price that you'll be hard to beat.
Pricing
Depending on where your party venue is located can effect the price we will charge so we can't provide a 100% accurate price on our website but you can be assured that it will be very competitively priced nonetheless. Don't forget to include your party venues postcode when you contact us below.
Videos (And what we're like live)
Check out the below Vlog we produced ourselves of what a day in the life of a professional party band is like. It'll really help you understand what you're paying for and how your party breaks down for both us and you.
We are constantly creating videos of 'Punch The Air' performing live as we know its hard to decide on a party band without being able to see them perform in person beforehand. We're not about artistically directed "Mimed to backing track" videos recorded in sterile studio set ups. We really are all about showing you what we can do live. In all of our latest videos here you will see and hear us performing 100% live in front of actual guests. These videos show peoples actual and honest reactions to what we do on a weekly basis. What other party bands have videos like this?
Additional chargeable services we can offer you for your party:
Late night DJ services (Past midnight)
Acoustic performances (Solo/Duo/Trio) throughout the day or instead of the full live electric band
Customised projector lighting featuring your text and logos
Fog
PA hire for your speeches
Professional photographer for your evening event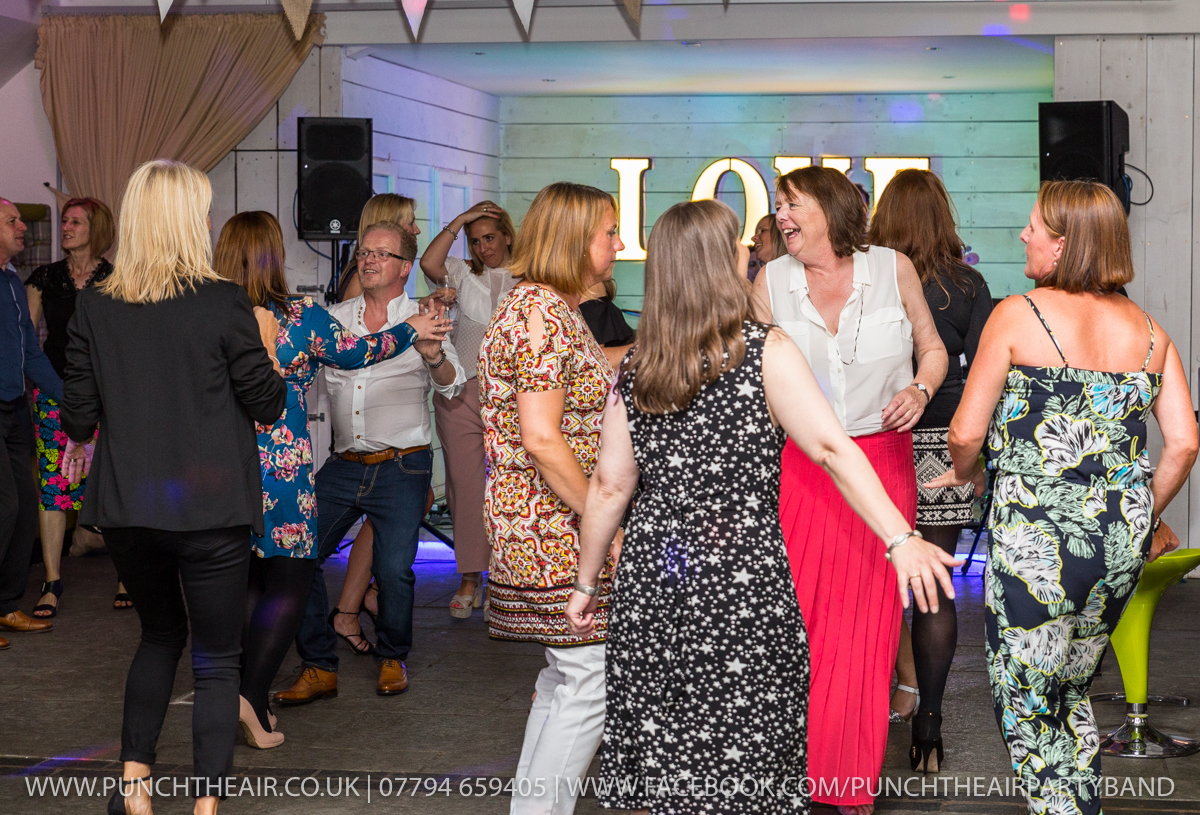 Does your party venue have a "Sound limiter"?
More and more party venues (Even those out in the middle of the countryside) are having to fit "Sound limiters". This enables a venue to help lower volume levels so as not to annoy nearby neighbours. This is not a problem for 'Punch The Air' as we can always bring along our state of the electronic drum kit. This means we can then work to whatever decibel limit your venue is working towards. We have performed in this manner many, many times and have even performed at a volume level lower than you would listen to your own music to home at.
What do previous party clients think?
We know we're a really fun and professional party band, but don't just take our word for it, head on over to our reviews page and read some of the lovely things people have said about us recently.
Party Band Contact Form
Are you having problems with the above form? If so email punchtheairband@gmail.com or call UK 07794 659405.
---
If you have any questions then you can hop on over to our Frequently Asked Questions page or email at punchtheairband@gmail.com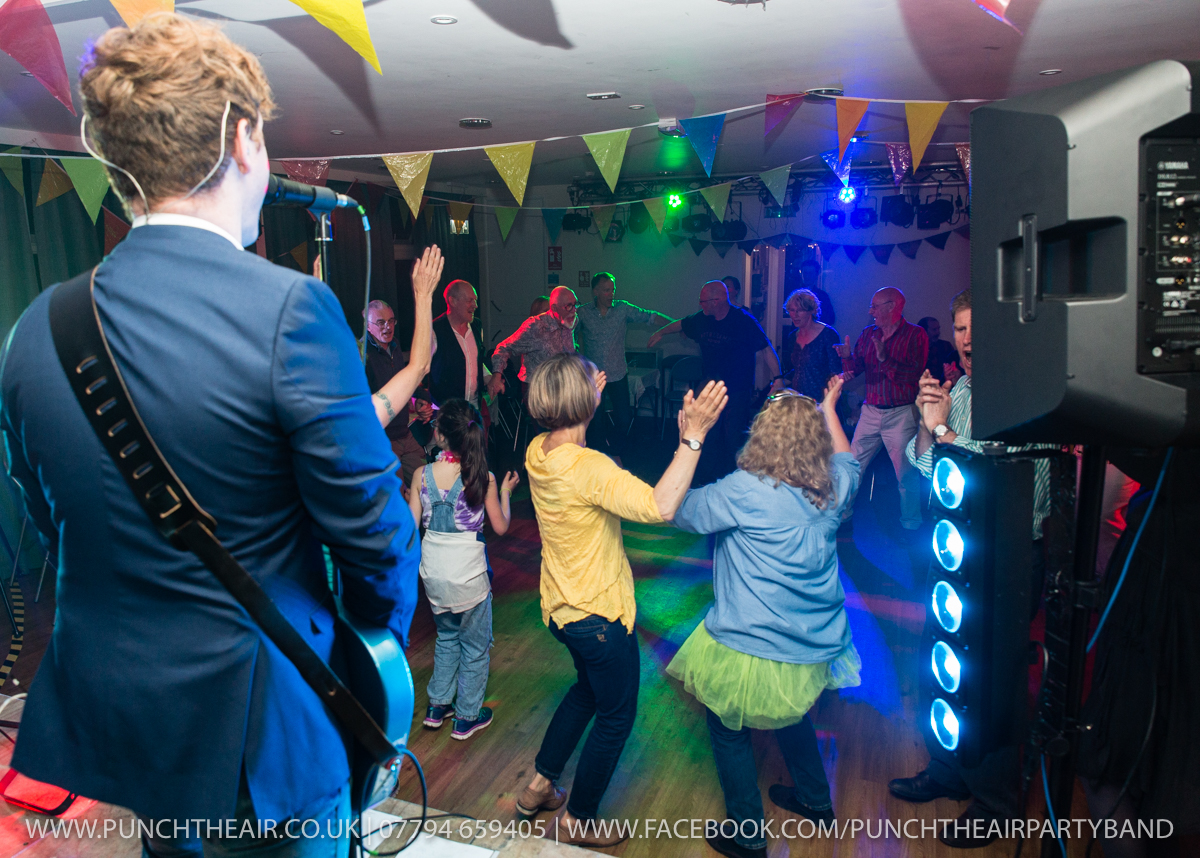 'Punch The Air' – Your party band