Party Band Videos
Before booking your live entertainment ask yourself about the party band videos:
"Is this music video I'm watching actually live or does it look and sound a little too slick?"
Then think:
Can you hear sounds from instruments that there are not musicians in the video for? (Extra guitars, keyboards, strings, even vocals)
There's a good chance if you're NOT watching a 'Punch The Air video' then the whole of the audio has just been recorded in a studio environment, with extra musicians and then mimed to while filming the video later at some swanky location……Usually without any guests around.
'Punch The Air' are the only band constantly producing quality live videos and Vlogs so you can see exactly what we are like live and how well clients and their guests react to our fabulous performances.
'Punch The Air' have been on the professional entertainment scene for such a long time now (Established 2013) that we have far too many party band videos to fit onto just one page. Which is why we've had to split our video content onto many seperate pages.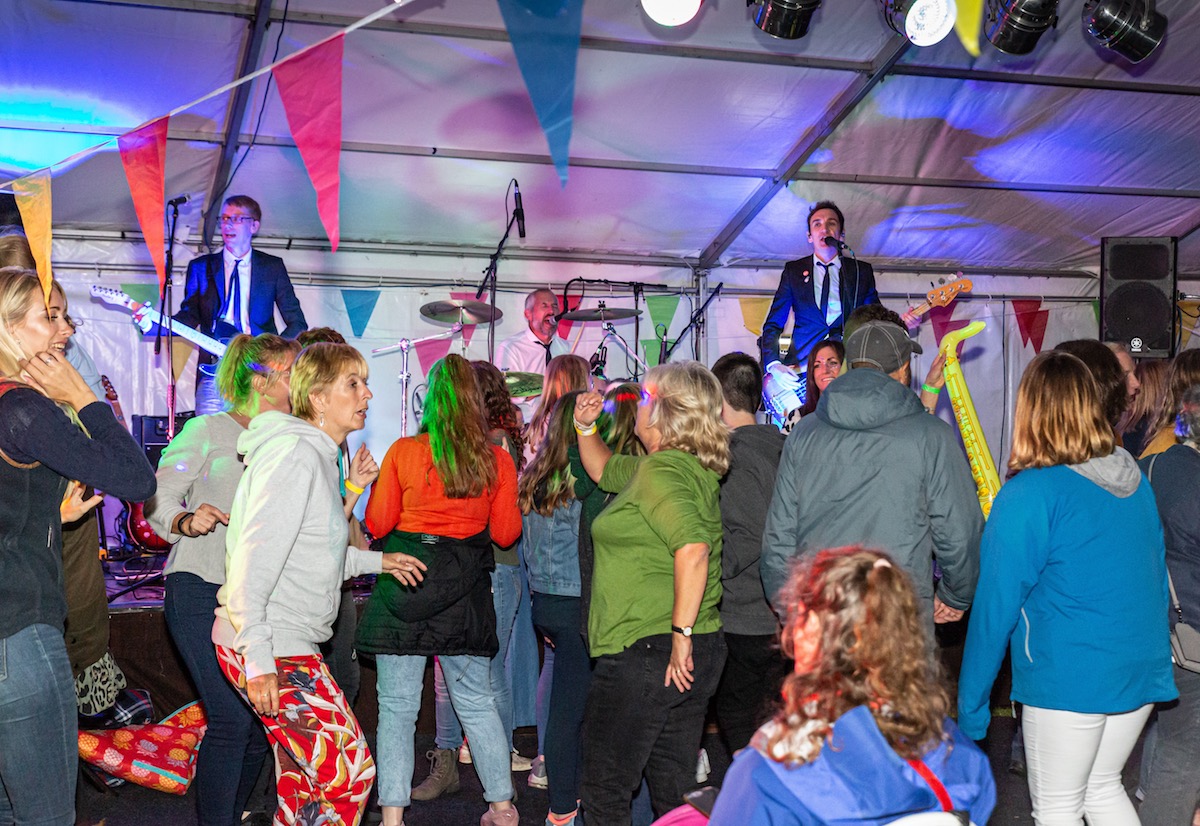 Below you will only see the latest videos we have created from weddings, birthday parties, corporate events, festivals, acoustic weddings, fundraising & charity events that we have performed at. Links to all our other party band videos can be found at the bottom of this page in descending chronological order. We advise you to take your time looking back on our history so you can confirm the continued accomplishments we've achieved over the years.
Why our party band videos are different to other bands
We're really into showing what we can do in a live scenario as opposed to a staged/mimed "In a studio" set up style produced video. You'll see guests honest and open reactions to our live performances giving you a great idea of what its like when you hire 'Punch The Air' as your wedding or party band.
Indie Wedding Band Live Promo video – August 2019
Live video from Katie & Richards wedding filmed at Norbury Village Hall, Norbury, Bishops Castle, Shropshire. Watch as guests literally crazy falling over themselves. Classic Indie Anthems performed live Chelsea Dagger by The Fratellis, I Predict A Riot by Kaiser Chiefs, Dakota, Stereophonics, All The Small Things by Blink 182. Tubthumping by Chumbawamba, Parklife by Blur, Disco 2000 by Pulp, Wonderwall by Oasis, Sex On fire by Kings Of Leon.
---
Valerie by Amy Winehouse – September 2019
We also perform pop and chart music from modern day back through to the 1950s. Here's a live snippet from a wedding in Pershore, Eckington of the 2007 version (Originally released by The Zutons in 2006) of 'Valerie' by Amy Winehouse & Mark Ronson.
---
What The DJ Saw – August 2019
A fun little video made up of video footage sent to us by the DJ of the evening at this Evesham Wedding Band venue. Filmed at Salford Hall, Evesham, Worcestershire. Songs performed live in the video are Hey Jude by The Beatles, I Love Rock & Roll by Joan Jett, Disco 2000 by Pulp, Wonderwall by Oasis.
---
Time-Lapse Wedding Reception Party Band – June 2019
On 29th June 2019 in 34 degree heat we performed for Rebecca & Matt at their Warwickshire wedding in a cow shed (The sound was amazing by the way). Andy decided to try something a little different and created this time-lapse wedding video of their evening wedding reception. As you'll see it certainly looks different to any other bands videos out there. It really nicely sums up in just over 60 seconds the fun we all had together. Featured song I Love Rock & Roll by Joan Jett.
---
Corporate Event PPL PRS – April 2019
We performed for PPL PRS company and were joined on stage by one of the guests for this huge Indie Rock Oasis number 'Don't Look Back In Anger'. We had everyone in the building singing and dancing along with us. Filmed at Curve Theatre, Leicester, Leicestershire
---
Crazy Things Wedding Guests Do – April 2019
While we were performing for Katie & Richard at Norbury Village Hall, Shropshire in April 2019 this occurred by guests taking the lyrics of the song "Tubthumping" by Chumbawamba a little too far. Luckily no one was hurt in this Crazy Things Wedding Guests Do video.
---
Wedding Vlog – March 2019
What happens at a 'Punch The Air' wedding. This is a shorter version of our weekend long Mega Vlog featuring us at a fantastic wedding. This was filmed at Hoar Crass Hall, Burton-on-Trent, Staffordshire. Songs in this video are Roll With it by Oasis, I Bet That You Look Good On The Dancefloor by Arctic Monkeys. Furthermore Day We Caught The Train by Oceon Colour Scene, Cigarettes & Alcohol by Oasis, Place Your Hands by Reef, Mr Brightside by The Killers, Chelsea Dagger by The Fratellis.
---
Acoustic Solo Wedding – February 2019
Andy Starkey performing a solo acoustic wedding reception for Lisa & Jay, Bride & Groom at a venue in Uttoxeter, Staffordshire. Songs performed live I'm A Believer by The Monkees. Also Don't Look Back In Anger by Oasis, Chelsea Dagger by The Fratellis.
---
Older Party Band Videos
'Punch The Air' have been performing live since 2013 and we have built up a huge amount of live videos during this time. If the above small amount of latest videos don't convince you that we're the band for your wedding or event then click the below links to see our complete archival of videos in descending order.
Present Day
Indie Party Band Videos Archive 5
Indie Wedding Band Videos Archive 4
Birthday Party Band Videos Archive 3
Corporate Event Band Videos Archive 2
Wedding Band Videos Archive 1
2013