Function Band Photos
When you've been together as long as 'Punch The Air' (Established 2013) you accumulate a lot of function band photos. This is why we can only display galleries for our very latest weddings, birthdays, parties and corporate events below. Don't worry though, if you want to dig deeper into our past to confirm all of our claims and history (You really should do this with any band you're considering hiring) at the bottom of this page you'll find links to older images.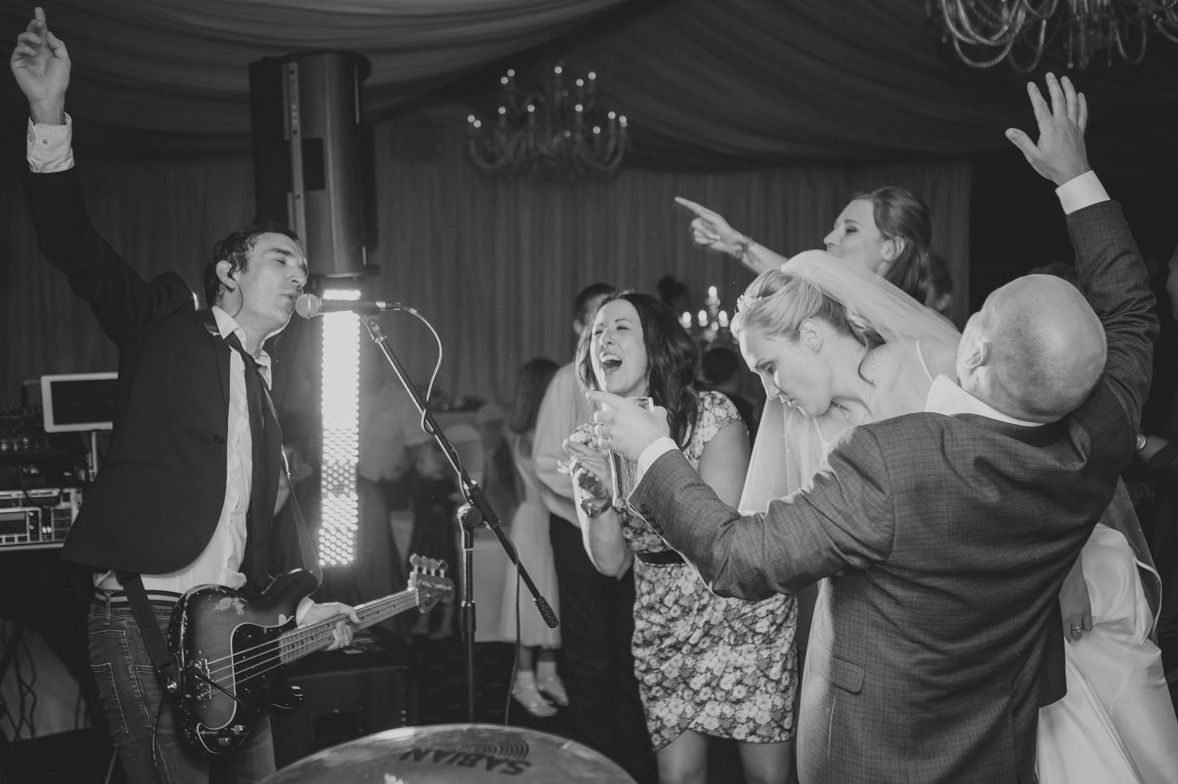 Most of our images are not close ups of the band but of the actual audience dancing along and enjoying our live performances. We want to show you their honest reactions to our live show in our photos. Its never about us, its about you and your guests having an amazing time. As you'll see from our function band photos we get everyone up and dancing and even invite folks up on stage with us from time to time. We want everyone to be enjoying themselves as much as possible at your event.
St Giles Hospice Charity Event – November 2019
We performed as a fundraising charity band for St Giles Hospice at and everyone had a brilliant time with us handling their live entertainment. Find out more about this event in our charity event band blog.
Hargate Hall Festival – September 2019
Hargate Hall had a little festival and invited us to headline in the evening. There was a massive variant of guests ages from babies, to tweens, to teenagers all the way through to pensioners. The images below prove our broad appeal to all ages.
Lucy & Tim's Wedding Reception – August 2019
On 9th August 2019 we performed for Lucy & Tim at Salford Hall Hotel, Evesham. Here are some images proving what an amazing time everyone had. Theres even a video of 'What The DJ Saw' as well.
Sarah & Daniels Wedding – July 2019
On 27th July 2019 we performed for Sarah & Daniel at Deer Park Hall, Pershore.
Sarah & David's Wedding Reception – July 2019
On 13th July 2019 we performed for Sarah & David at Mythe Barn, Atherstone. This really is an excellent venue, incredibly well run that we very much recommend.
Bec & Matt's Warwickshire Wedding – June 2019
On 29th June 2019 we performed in a cow shed on a farm in Warwickshire for Bec, Matt and all their family and friends. (Images by Jack Chapman.) Andy set up a camera and captured/edited this wedding reception time-lapse video live performance too.
Andy Solo Daytime Wedding Reception – June 2019.
Performing live for Natalie & Jamie during their wedding breakfast at West Carlton Country Guest House, Hull.
---
Dont miss out on important function band photos for your event.
Did you know that most photographers head home just after the band gets started when the 1st dance has finished at weddings? Unfortunately this fails to capture some of the most fun moments you'll see during your special day. Including guests letting their hair down and throwing up some amazing shapes on the dancefloor as we perform live.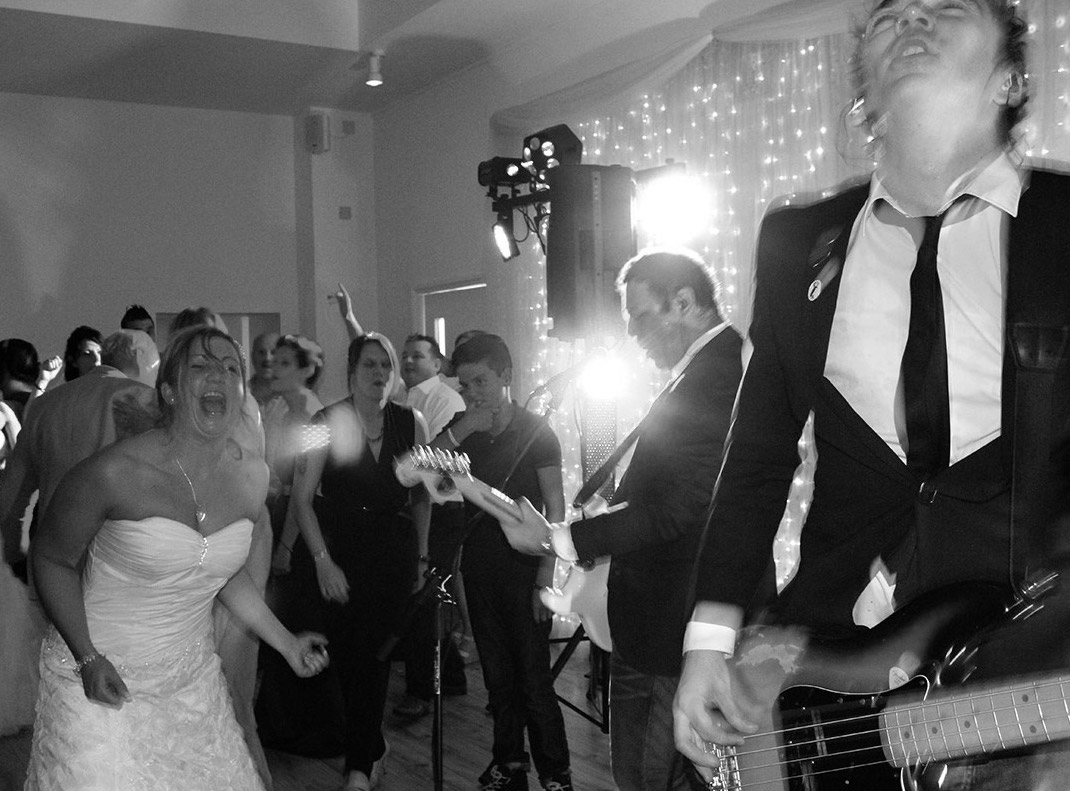 You wouldn't want to miss out on these once in a life time photo opportunities would you? This is why we've partnered up with an amazing professional photographer and we're able to offer you a really great deal on an "Evening Only" photo session. Our photographer Claire Taylor has a degree in photography from Nottingham Trent University and lots of live music experience. She has provided many of the amazing images you'll see across our site. Claire is able to provide you with digital copies of all the images she's taken in under 10 days. Just advise when contacting us if you'd like a quote for our evening only photography deal.
Claire can also booked alongside us for any type of event day or evening such as parties, corporate events or birthdays.
---
Older Function Band Photos
'Punch The Air' have been performing live since 2013 and we have built up a huge amount of live photos during this time. If the above small amount of latest photos don't convince you that we're the band for your wedding or event then click the below links to see our complete archival of photos in descending order.
2019
Indie Party Band Photos Archive 7
Indie Wedding Band Photos Archive 6
Indie Covers Band Photos Archive 5
Wedding Party Band Photos Archive 4
Party Band Photos Archive 3
Function Band Photos Archive 2
Wedding Band Photos Archive 1
2013