Function Band Photos
When you've been together as long as 'Punch The Air' (Established 2013) you accumulate a lot of function band photos. Especially when you go out of your way take photos to prove what you do on a weekly basis. This is why we can only display galleries for our very latest weddings, birthdays, parties and corporate events below. Don't worry though, if you want to dig deeper into our past to confirm all of our claims and history (You really should do this with any band you're considering hiring) at the bottom of this page you'll find links to many more older galleries of images. Contact to hire a function band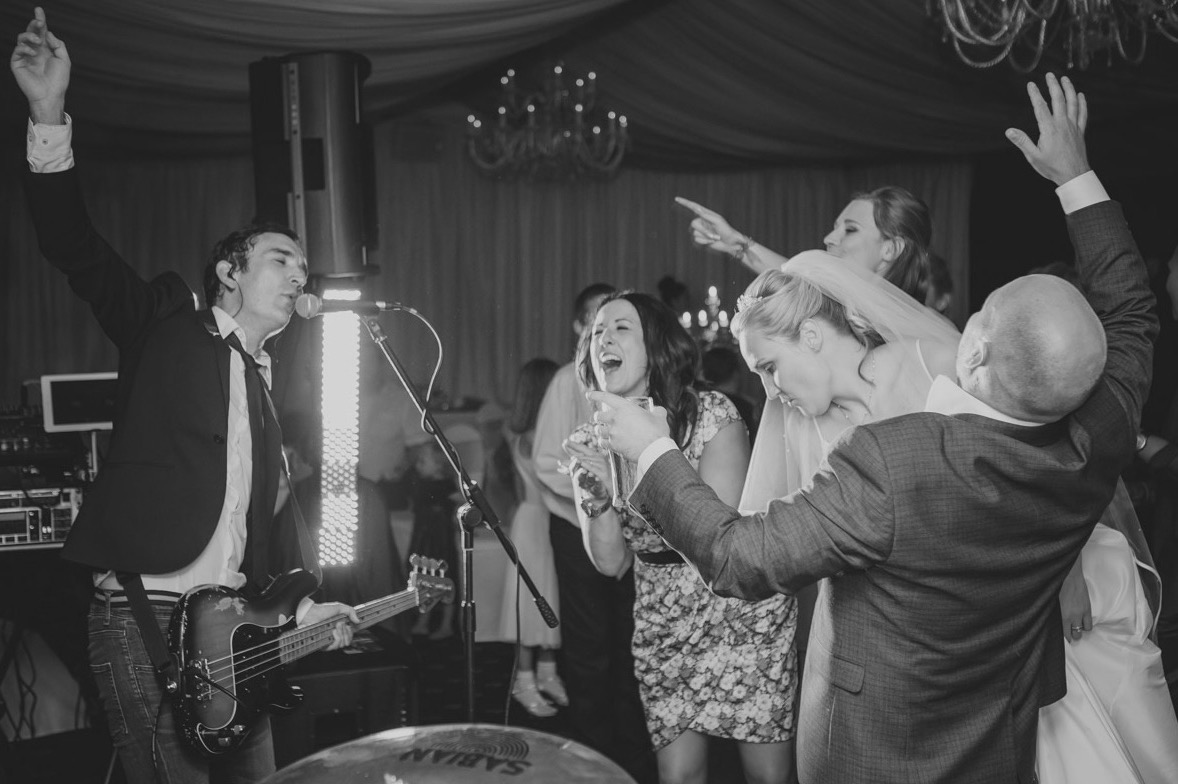 Most of our images are not close ups of the band but of the actual audience dancing along and enjoying our live indie rock party band performances. We want to show you their honest reactions to our live show in our photos. It's never about us, it's always about you and your guests having an amazing time. Consequently as you'll see from our function band photos we get everyone up and dancing and even invite folks up on stage with us from time to time. 'Punch The Air' party band want everyone to be enjoying themselves as much as possible at your event.
Punch The Air Function Band Photos
Karma Salford Hall Wedding Band for Nikkie & Alex – April 2022
Punch The Air took a trip to Pershore, Worcestershire to perform at Karma Salford Hall for Nikkie & Alex. This was their third attempt at getting married as Covid had stopped their plans in its tracks prior. So everyone definitely made the most out of it by singing and dancing their heads off all night long with a super night of rock and roll.
House Party – 18th Birthday Party – Solo Acoustic Musician for Tom – February 2022
Andy performed acoustically for Tom's 18th birthday at his parents house in Shenstone, Lichfield. Tom and all of his mate's are all massive fans of live music having been to Reading, Leeds and Glastonbury recently. But they'd never experienced anything so up close and personal before. Who'd've thought that 18 years old would appreciate live music THIS MUCH eh? There's hope for the future after all eh.
Hoar Cross Hall Wedding Band for Megan & Chris – January 2022
The first wedding for us in 2022 as we fast approached our 9th year together was as a Hoar Cross Hall Wedding Band at Burton-Upon-Trent for Megan & Chris. We performed one long live performance for the bride, groom and all their guests and everyone couldn't have been happier or nicer to us.
Burton Albion Wedding Band for Cheryl & Clare – December 2021
This wasn't the first wedding that Cheryl and Clare had seen Punch The Air perform at. They had actually seen us nearly 8 years prior at their friends wedding. So when they finally decided to tie the knot who did they call? That's right, professional wedding band Punch The Air and we handled all their evenings live entertainment perfectly as expected.
Monmouth Wedding Band for Jodie & Dean – November 2021
Jodie had seen 'Punch The Air' perform years ago at a private party in Bristol and always knew she wanted us for her wedding when it was finally time. So we headed over to Caer Llan in Monmouth and gave her and her new husband Dean the wedding reception they'd aways dreamed of.
Private Wedding Band for Lesley & Peter – October 2021
Lesley & Peter hired private wedding band 'Punch The Air' for their exclusive event at Guildhall, Lichfield. This really is our favourite venue in the whole of the UK.
Limpley Stoke, Bath Wedding Band for Kylie & Ian – September 2021
Your favourite Indie Rock Wedding Band ' Punch The Air' headed over to the beautiful Best Western Limpley Stoke Hotel for Kylie & Ian's little Sunday wedding reception. The venue had a sound limiter so we brought along our state of the art electronic drum kit to keep the volume of the band to the venues specific decibel requirements. A super time was had by all.
Farm Wedding Band for Zoe & Phillip – September 2021
Punch The Air back in the swing and so is everyone else at this farm wedding band set up in Shropshire. We had an amazing time and an incredibly long night partying the night away with the bride, groom and all there guests. Confetti cannons and even a big thumbs up from the grooms father. Happy days.
Bishops Castle, Shropshire Wedding for Emma & Edward – August 2021
Another little jaunt into the beautiful Shropshire border overlooking Wales at Camlad Barns, Bishops Castle. We performed for Emma & Edward and all their friends and family. Emma even joined us on stage for a rendition of 'Valerie' by Amy Winehouse.
Manchester Wedding Emily & Callum – August 2021
We love it up North and we love performing as a professional wedding band in Manchester. The wedding venue that Emily & Callum booked was The Whitworth Locke, 74 Princess Street, Manchester, M1 6JD. We performed downstairs in the underground and it was a good job that we did too as this was one very busy and noisy group of wedding guests. Massive fun.
Hampshire Wedding Band Suzie & Jason – July 2021
We trekked south to The Greyhound on the Test at Stockbridge, Hampshire to perform for Suzie and Jason. Everyone was up dancing straight away and stayed on the dancefloor the entire night. Completely unknown to us Suzie Opacic is a Women's Championship semi-finalist Snooker player.
Clare's 30th Birthday Party Band – July 2021
After a few dates rescheduling we finally managed to perform live for Clare's 30th birthday party in Longdon, Staffordshire. She's a big indie rock fan so we played all her favourite songs including Buck Rogers, Yellow, Stacey's Mom, Teenage Dirtbag and more.
Lichfield Arts Guildhall Winter Beer Festival – January 2020
Enjoying ourselves locally in Lichfield Staffordshire at Lichfield Arts Winter Beer Festival at or favourite wedding venue 'The Guildhall'. Dancing & stomping along were what occurred all night long.
New Years Eve 2019 into 2020 Function Band – December 2019
On 31st December 2019 we performed at Oakridge Golf Club, Nuneaton, Warwickshire for their New Years Eve 2019 into 2020 party. All guests, bar workers and club owners had an amazing time partying all night long with us.
21st Birthday Party Lichfield – December 2019
Performing for Nick at his very high end 21st birthday party at Curborough Hall Farm, Lichfield. This was a young farmers event with Nicks entire friends and family there as a 120 strong guests. This event almost felt like a wedding to us.
Christmas Lights Switch On – November 2019
Once again we were asked back to Lichfield, Staffordshire for their annual Christmas Lights Switch on party. This time we took full advantage of our additional extra we've put together for you and performed a few songs as a four piece with female lead singer vocals.
St Giles Hospice Charity Event Function Band – November 2019
We performed as a fundraising charity band for St Giles Hospice at and everyone had a brilliant time with us handling their live entertainment. Find out more about this event in our charity event band blog.
Hargate Hall Festival – September 2019
Hargate Hall had a little festival and invited us to headline in the evening. There was a massive variant of guests ages from babies, to tweens, to teenagers all the way through to pensioners. The images below prove our broad appeal to all ages.
Lucy & Tim's Wedding Reception – August 2019
On 9th August 2019 we performed for Lucy & Tim at Salford Hall Hotel, Evesham. Here are some images proving what an amazing time everyone had. Theres even a video of 'What The DJ Saw' as well.
Sarah & Daniels Wedding – July 2019
On 27th July 2019 we performed for Sarah & Daniel at Deer Park Hall, Pershore.
Sarah & David's Wedding Reception Function Band – July 2019
On 13th July 2019 we performed for Sarah & David at Mythe Barn, Atherstone. This really is an excellent venue, incredibly well run that we very much recommend.
Bec & Matt's Warwickshire Wedding – June 2019
On 29th June 2019 we performed in a cow shed on a farm in Warwickshire for Bec, Matt and all their family and friends. (Images by Jack Chapman.) Andy set up a camera and captured/edited this wedding reception time-lapse video live performance too. Have you ever seen anything like this wedding video before?
Andy Solo Daytime Wedding Reception – June 2019.
Performing live for Natalie & Jamie during their wedding breakfast at West Carlton Country Guest House, Hull.
---
Don't miss out on important photos for your event.
Did you know that most photographers finish work and go home just after the band gets started when the 1st dance has finished at weddings? Unfortunately this fails to capture some of the most fun moments you'll see during your special day. Including guests letting their hair down and throwing up some amazing shapes on the dance-floor as we rock out indie & live chart performances.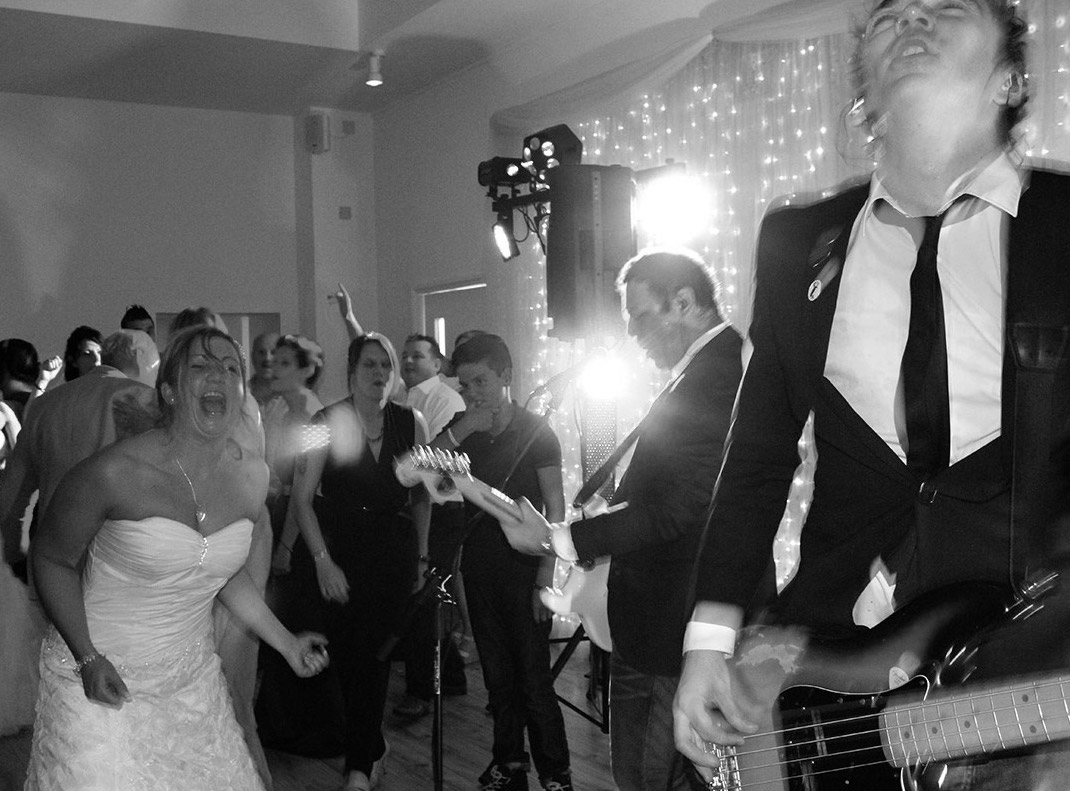 You wouldn't want to miss out on these once in a life time photo opportunities would you? Due to this we've partnered up with an amazing professional photographer and we're able to offer you a really great deal on Evening Photography Services. Our photographer Claire Taylor has a degree in photography from Nottingham Trent University and lots of live music experience. Furthermore she has provided many of the amazing images you'll see across our site. Consequently Claire is able to provide you with digital copies of all the images she's taken in under 10 days. Just advise when contacting us if you'd like a quote for our evening photography services.
Claire can also booked alongside us for any type of event day or evening such as parties, corporate events or birthdays.
---
Older Function Band Photos
'Punch The Air' have been performing live at functions since 2013 and we have built up a huge amount of live photos during this time. If the above small amount of latest photos don't convince you that we're the function band for your wedding or event then click the below links to see our complete archival of photos in descending order.
2019
Party Band Photos Archive 7
Indie Wedding Band Photos Archive 6
Indie Covers Band Photos Archive 5
Wedding Party Band Photos Archive 4
Party Band Photos Archive 3
Function Band Photos Archive 2
Wedding Band Photos Archive 1
2013