Party Band Photos Archive 3
Proving our history through professionally shot live images. We presents Indie rock wedding band photos for 'Punch The Air' from 2016 and 2017. Yes, we've been going that long (Established in 2013) as a book a function band that we had to split all of our many years worth of party band photos across multiple pages. Whenever you're considering booking a party band always make sure they can back up their claims historically. Contact for a quote.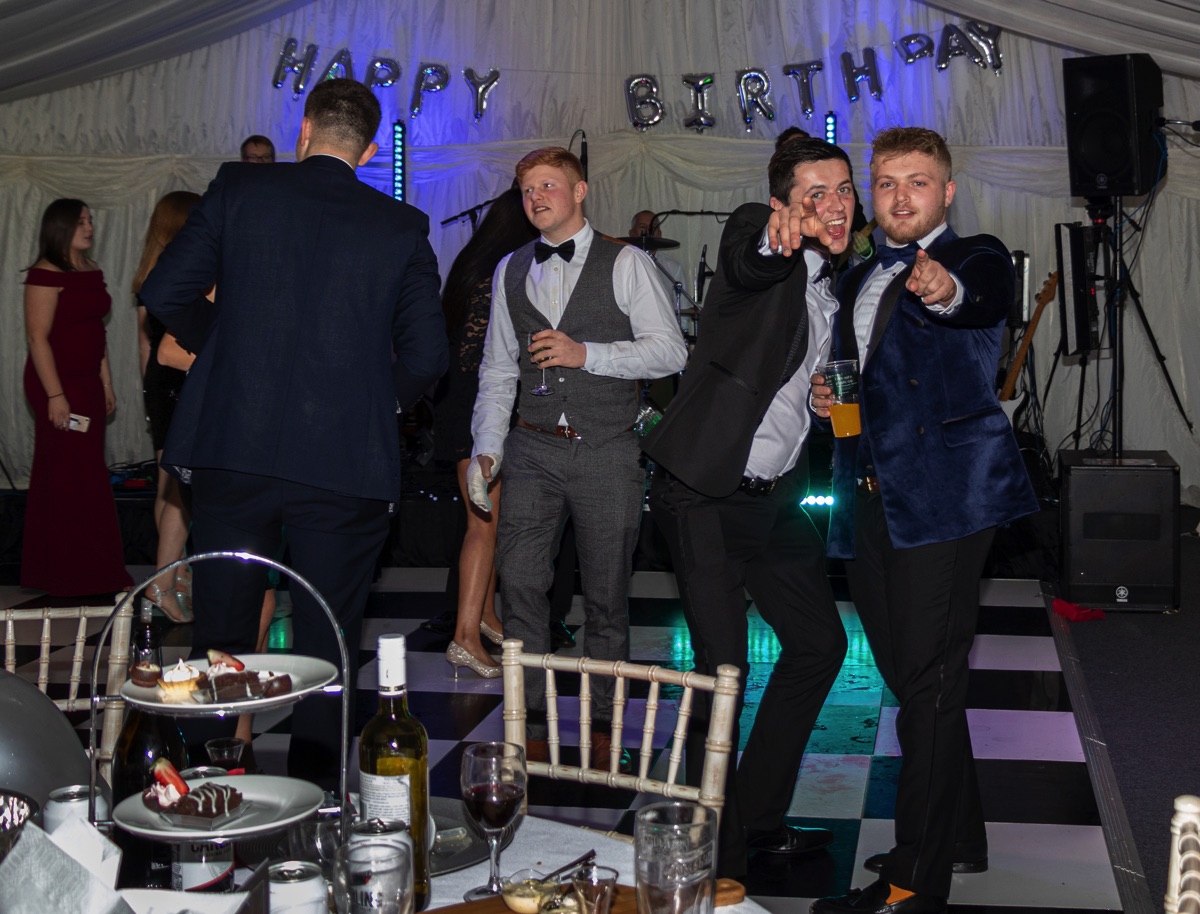 New Years Eve Party Band Photos 2016 into 2017
Performing as a Derbyshire New Years Eve band for 200+ guests. See how we are suitable for all age groups from 20's also up to late 70 year olds. Punters enjoyed our live performances of songs like Best Song Ever by One Direction additionally Don't Stop Me Now by Queen.
Rotary Club International Joint 60th & 100th Anniversary Ball, Bath Assembly Rooms, December 2016
We love a good shin-dig like this one in a 19th century National Trust Grade I listed building in Bath. Even though the venue featured a sound limiter we were still able to perform live for Rotary Club as we have a state of the art electronic drum kit for venues just like this. With amazing live songs like Brown Eyed Girl by Van Morrison and Don't You Want Me by The Human League a splendid time was had by all.
August / September Weddings 2016
Lots of photos from lots of August weddings and September weddings featuring a professional function band. Huge wedding favourites like Ever Fallen In Love by Buzzcocks also Sweet Home Alabama by Lynyrd Skynyrd. Similarly Valerie by Amy Winehouse.
Wednesday Midweek Wedding Reception July 2016
Booking a midweek wedding band Monday, Tuesday, Wednesday or Thursday is a great option to hopefully save some money on your wedding venue. Here we are at Pimhill Barn wedding band, Shropshire at a mid week wedding reception.
Masquerade Ball Party Band Photos – July 2016
When you're raising money for charity (In this case Cancer Research) its a good idea to have a theme. On this occasion we performed live at a Masquerade Ball. This kind of thing can help you sell more tickets giving you the budget to book a professional function band.
40th Birthday Party June 2016
Wedding In Leicestershire May 2016 (Big Top Circus Tent)
Wedding Party Band Photos Start Of April 2016
South Staffs Water / Water Aid (Corporate Event) January 2016
NYE Party Band Photos 2015/2016
All previous and future photos of 'Punch The Air'
Indie Band Photos Archive 7
More Indie Wedding Band Photos Archive 6
Indie Covers Band Photos Archive 5
Wedding Photos Archive 4
Party Photos Archive 3
Function Band Photos Archive 2
Wedding Band Photos Archive 1