'Punch The Air' function band are available to hire throughout the country for your live entertainment needs performing as an indie rock party band. Whether you need to hire a wedding band, hire a birthday party band, book a band for a corporate event, hire a band for a Christmas party. Also you can hire a charity band, book a party band, book a New Years Eve band. Contact now to check on price and availability to hire an indie cover band for an event.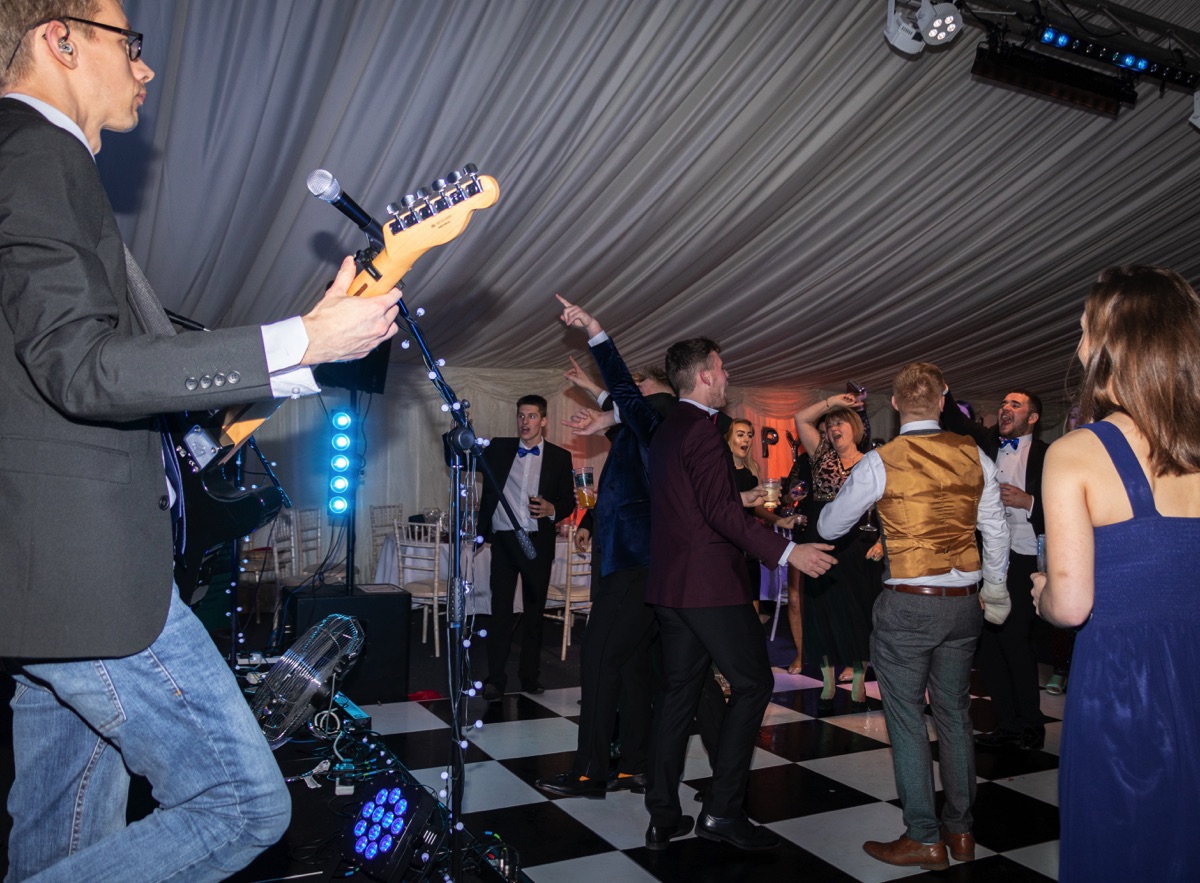 As your function band we'll perform two high energy sets with lots of well known indie rock cover band tracks by artists like Oasis, Arctic Monkeys, Blink 182, The Fratellis, Coldplay, Kings Of Leon, The Killers and more from our indie killers repertoire. We'll also perform chart pop and rock from modern day back through the decades. Also cracking tunes from George Ezra, The Beatles, Amy Winehouse, The kinks, Van Morrison and more. We've honed our repertoire over the years to give you and your guests the best in indie rock and chart pop. You and all your guests will be partying all night to our live function group.
Book a function band who gives you all this.
Punch The Air are a completely self contained (For bookings up to approx 150 guests) so you don't need to worry about organising any other external sound or lighting. We'll even throw in iPad DJ services from the moment we're set up until we leave at midnight (Extendable out past midnight for an additional fee). We'll give you over 90 minutes of high energy live performances with encores. Also we'll supply PA speakers, mixing desk, all mics, cables and stands etc. Add to that some excellent lighting for the dance-floor and the staging area and you know you're onto a winner when you book a function band.
Function band 'Punch The Air' have been together since 2013. We can handle any curve balls that are thrown our way. We've seen it all before, nothing will vex us when we're at your party. The show will always go on no matter what occurs. With over 100 confirmed reviews from previous clients you can trust in our recommended wedding band and top rated party band. 'Punch The Air' are available to book throughout the UK and beyond. Trust in a party band your event with this much experience and history as 'Punch The Air'. You can even book 'Punch The Air' as a four piece and hire a band with female vocals too. Book our function band for parties in The Midlands, Staffordshire, Leicestershire, Derbyshire, Nottinghamshire, Shropshire and beyond. Contact now to check on price and availability to book a top rated party band.