Indie wedding band 'Punch The Air' are one of the most highly recommended wedding bands in the UK. But to be honest its not hard to believe that an indie rock cover band of our calibre and honesty is awarded such high accolades. And did you know that we are recommended by actual wedding venues as well as by wedding clients. If you want to book exceptional live entertainment featuring the very best musicians and the absolute best live music experience then 'Punch The Air' are the recommended wedding band for you. Huge singalong tunes from Coldplay, Oasis, The Killers, George Ezra, Bryan Adams, The Beatles, Queen and more. Contact now for a quote to book a recommended wedding band.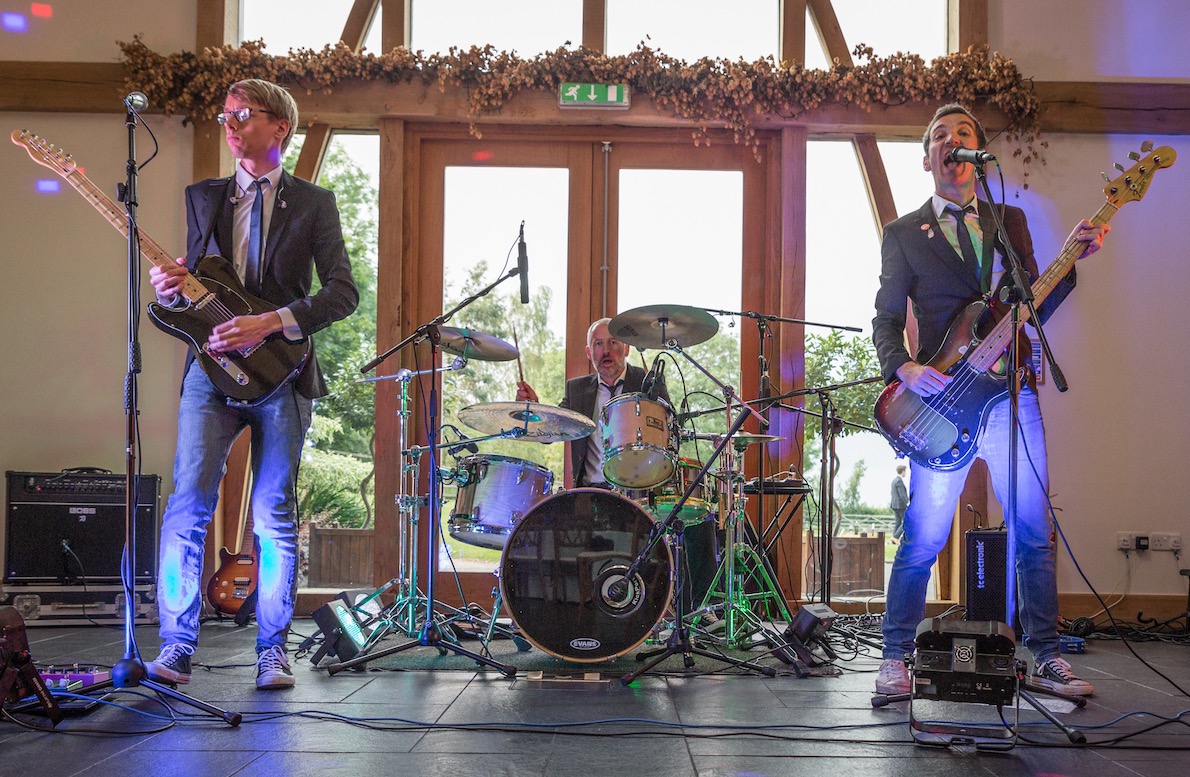 Book a Five Star Reviewed Recommended Wedding Band.
With a 100% successful track record of five out of five star reviews on both Facebook and Google Reviews you know you can trust our quality preferred wedding band. Read reviews from actual wedding venues and wedding clients. You may even see a celebrity endorsement or two as well. We are an in demand, highly sought after, highly praised and regularly commended by recommended corporate event band clients and a recommended party band. We are an approved wedding band for many approved wedding venues such as Pimhill Barn, Shrewsbury, Lichfield weddings at Guildhall and many more. Often singled out as "The most exciting high energy band you will ever see". Wedding function band 'Punch The Air' regularly feature in top ten wedding band lists. We don't need to go in for (Fake) Wedding Industry Awards as our previous clients feedback prove that we are number one in our industry.
Video wedding recommendations and commendations.
Direct from wedding clients at their wedding reception venues, video testimonials of how much they enjoyed our high energy performances on their special days. We go above any beyond any other live wedding entertainment band on the function band scene. Furthermore our wedding party band make sure you are 100% happy with our indie wedding band services. Above all throughout the night we can continue to tailor your event to your exact requirements.
As a three piece indie band we easily fit into any small or large space. As a result we take up less space giving your guests more room to dance along to us and enjoy our highly recommended shows. Watch our professionally shot covers band live videos at actual weddings showing guests honest and open reactions. Watch our Vlogs of the things we get up to on the road and as your wedding reception band. See our many wonderful wedding band galleries.
Find out more about 'Punch The Air' strongly recommended wedding cover band and what we supply when you book us. You can also book a recommended party band for any function band that requires live music. Book a birthday party band.