What is a wedding function band? When you book a wedding function band it will be a group of professional musicians who specialise in performing live music at wedding receptions. The wedding band will perform covers of other famous bands songs. Usually this will be either from one or more genres and/or decades of chart pop music. The function wedding band will not perform original music or songs written by themselves. By booking a wedding function band who are well established on the circuit (Indie rock wedding band 'Punch The Air' estd. 2013) you can be assured that you are booking wedding entertainment with a band who know what they are doing.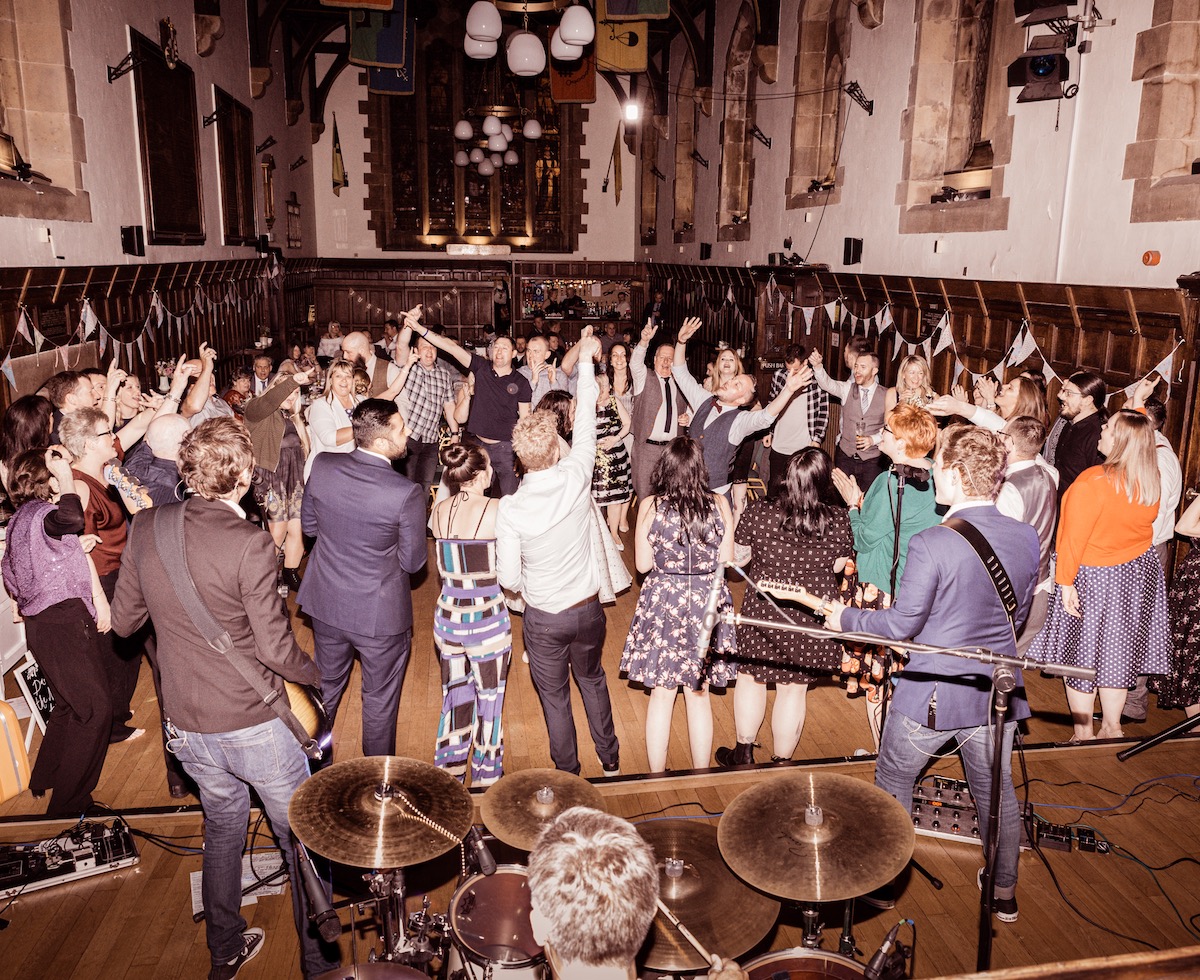 About wedding function bands
Usually all band members will either be full time professional musicians doing this job solely for a living. Or performing live on a semi professional basis. The party band will be out performing at weddings multiple times a week and will be incredibly at ease with what is expected of them during your wedding. Although your wedding will be a unique event to you, most weddings all follow a somewhat similar pattern that your band will have much experience in. Your well established wedding reception band will advise you on what types of schedules work best at a wedding. So do listen to what they have to say. A professional wedding band will have much more experience at weddings than you do.
What happens when you hire a band for a reception?
When you book a professional wedding band you can be assured that all you and all your guests will be happy with all the material the band will perform live on stage. They will play nothing too obscure and will be courteous to all your wedding party. Also a high energy band both on and off stage will be able give your evening wedding reception that extra push it may need after a long day for everyone. A wedding party band will also be able to perform at other types of functions and events too. A function band will also be adept at live performances at corporate events, parties, festival , birthday parties, charity fundraisers and more.
What 'Punch The Air' provide you with.
'Punch The Air' have a vast wealth of all things live at weddings throughout the UK as a wedding supplier. Our wedding band are the ideal wedding reception group for any size venue. Included in our fees are two live high energy performances. Also all sound and lighting equipment. Plus iPad DJ services are also included when the band aren't performing live up until midnight as standard. We will give you an amazing night with a fantastic solid performance using all our previous wedding experience. Our booking process is incredibly straight forward and you will receive a hard copy contract from us too. Contact to book a wedding function band anywhere in the UK and beyond.