Are you looking for a three piece guitar driven indie rock wedding band & chart pop Lichfield wedding band? Are you getting married or having your wedding reception in Lichfield, Shenstone, Streethay, Whittington, Fradley, Hammerwich, Weeford or the surrounding nearby Staffordshire areas? Then Lichfield wedding entertainment band 'Punch The Air' are the wedding band for you. Contact immediately to check on our availability and price.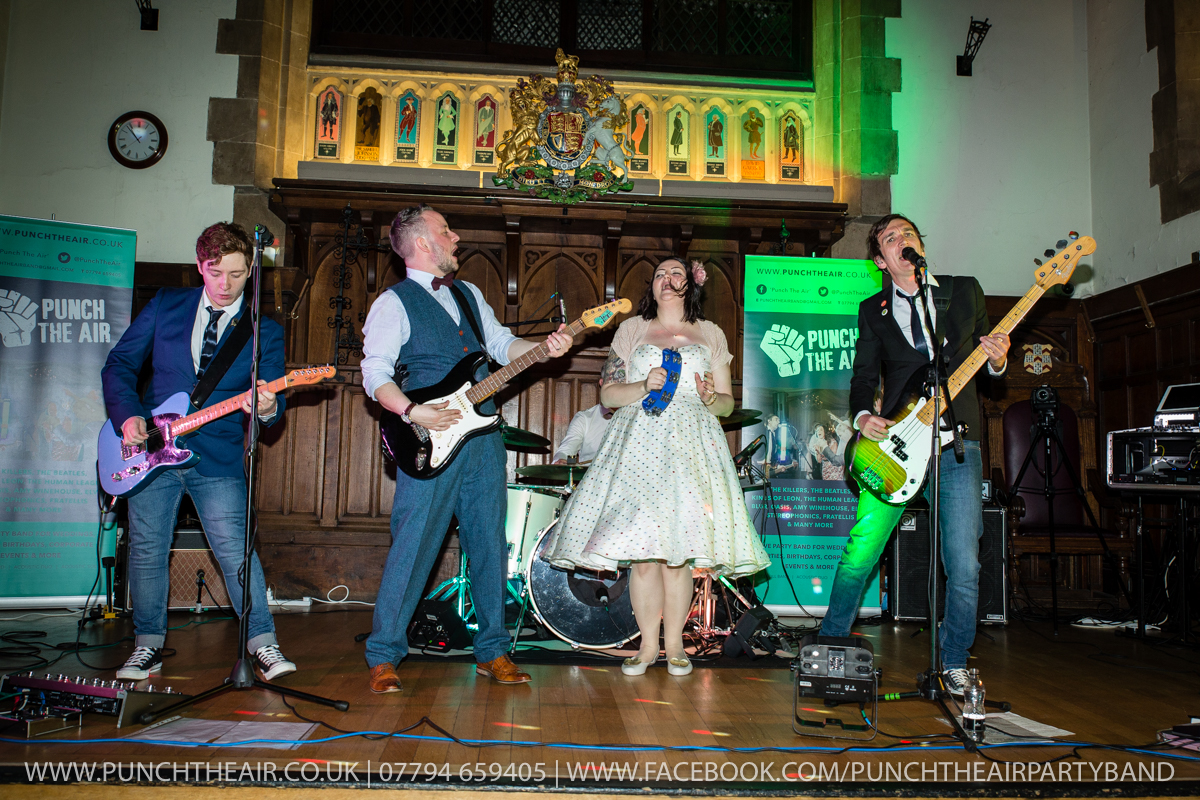 Are you having your wedding reception at any of the following venues?
Lichfield Cathedral
Swinfen Hall
Erasmus Darwin House
St Johns House
The George Hotel
Lichfield Registration Office
Manleys Brasserie School House Restaurant
Whittington Village Hall
Cathedral Hotel
Netherstowe House
Lichfield Guildhall (We are a recommended supplier with them)
Darwin Hall
Christ Church / Martin Heath Hall
Shenstone Village Hall (Read our review of the venue here)
Bilston Brook Wedding Barn
Lichfield wedding band 'Punch The Air' will be the perfect accompaniment to your special day. We're located right in the heart of Lichfield so theres absolutely no way we'd not turn up to your wedding reception under any circumstances (We've actually never cancelled a performance for any reason in the many years we've been together). Our indie rock cover band are always prompt and agreeable. There is nothing handle or problem solve at your Staffs wedding venue.
What sort of wedding band are 'Punch The Air'?
'Punch The Air' indie band are a professional guitar lead three piece Lichfield wedding band with many years experience in live entertainment. We've been wowing guests at weddings since 2013 with our performances of massive Indie Rock & singalong / dancealong chart pop hits from all eras by:
Indie Rock like The Killers, Kings Of Leon, Stereophonics, Oasis, Arctic Monkeys and more.
Modern day artists like George Ezra, One Direction, Florence + The Machine, Amy Winehouse.
1990s big shots like Oasis, Blur, Alanis Morissette and Chesney Hawkes.
1980s colourful characters like Rick Astley, Joan Jett and Tiffany.
1970s rock stars like Queen, The Undertones and Lynyrd Skynyrd.
1960s style icons like The Beatles, Van Morrison and The Kinks.
1950s blues guys who set it all in motion like Elvis & Chuck Berry.
Having performed at hundreds of weddings over many years we firmly believe that the best type of live music for your wedding is a wide range of Indie Rock and also pop music from the last 60 years. This way everyone can enjoy your entire wedding reception with a little bit of something to please everyone. If you check our repertoire we believe you will already know and love every single song there.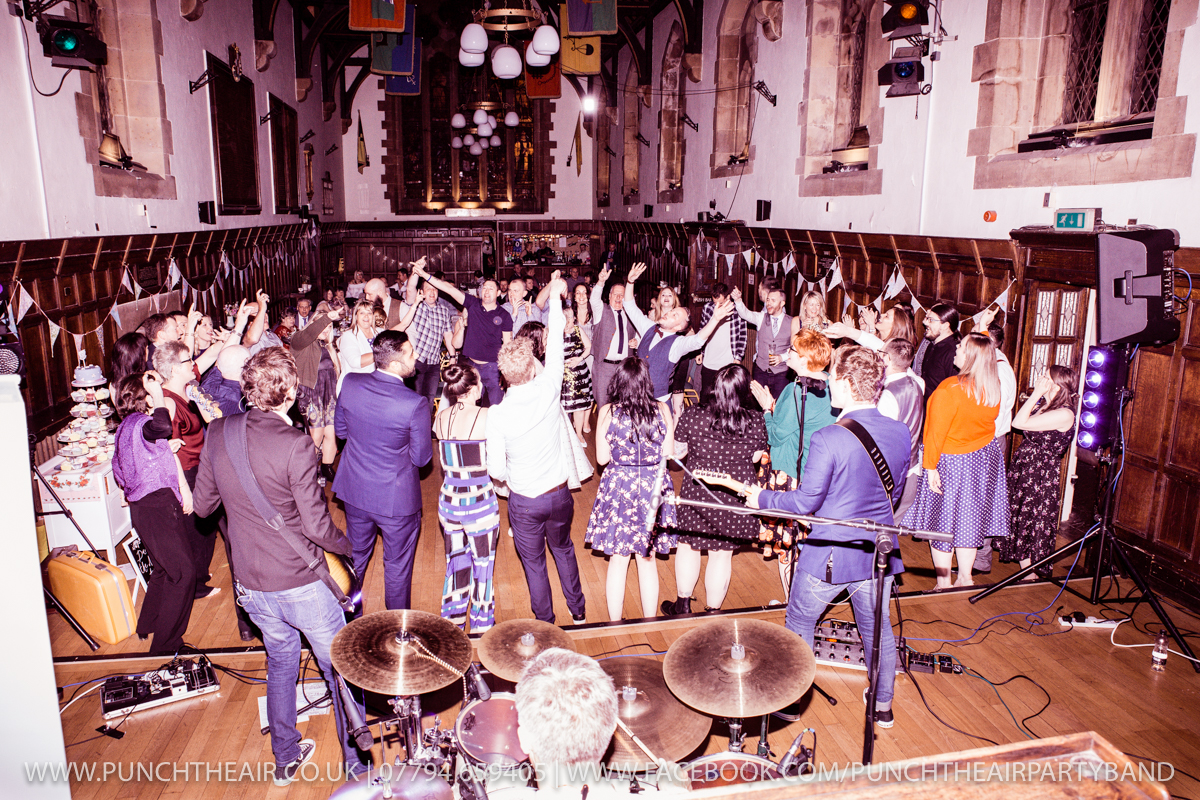 How much does it cost to hire 'Punch The Air' in Lichfield?
Being Lichfield based we can offer you our local and very competitive price. There will be no additional fuel, travel or overnight accommodation costs involved as we live in Lichfield. Every Staffs wedding is different and so prices can vary depending on what time you need us from/until and what services you require from us. Just simply fill in the form below or email us punchtheairband@gmail.com telling us as much about your Lichfield wedding schedule as possible and we'll be happy to quote you a fantastic price.
What do I get for my money when I book 'Punch The Air' for my Lichfield wedding?
Massive singalong/dancealong hits from Indie Rock & the last 60 years.
Live performances 2 x 45 minutes of live, upbeat & high-octane performances (Plus encores).
Professional, 'Hard Copy' Contract
A professional experience from a skilled Lichfield based wedding band from the start of your initial contact right through to when your event ends.
State of the art high end PA system, sound desk and lighting rig.
DJ services before, inbetweeen and after live performances so you can continue to dance the night away.
Public liability insurance and PAT certification.
A very competitive price that you'll be hard to beat.
Why should I book 'Punch the Air' over any other Lichfield wedding band?
We spend a lot of time filming and editing real live videos and Vlogs to prove to potential clients what we're like live. These videos really are 100% live with nothing but live video and live audio recorded from our state of the art digital mixing desk. These are from actual weddings with bride, groom and guests honest reactions to our thrilling live performances. We're not trying to pull the wool over your eyes like most wedding bands do with studio recorded audio which has then been mimed to afterwards in a music video. This is exactly what we are like live on the night in a wedding scenario performing to real audiences.
Live pubic performances.
Sometimes we have local public performances booked in the diary. This is specifically so you can see what we're all about live if you cant already tell from our videos. See when our next free entry public performance is.
What else can can our Lichfield party band offer you on your special day?
We can also offer you the following great wedding options for additional fees: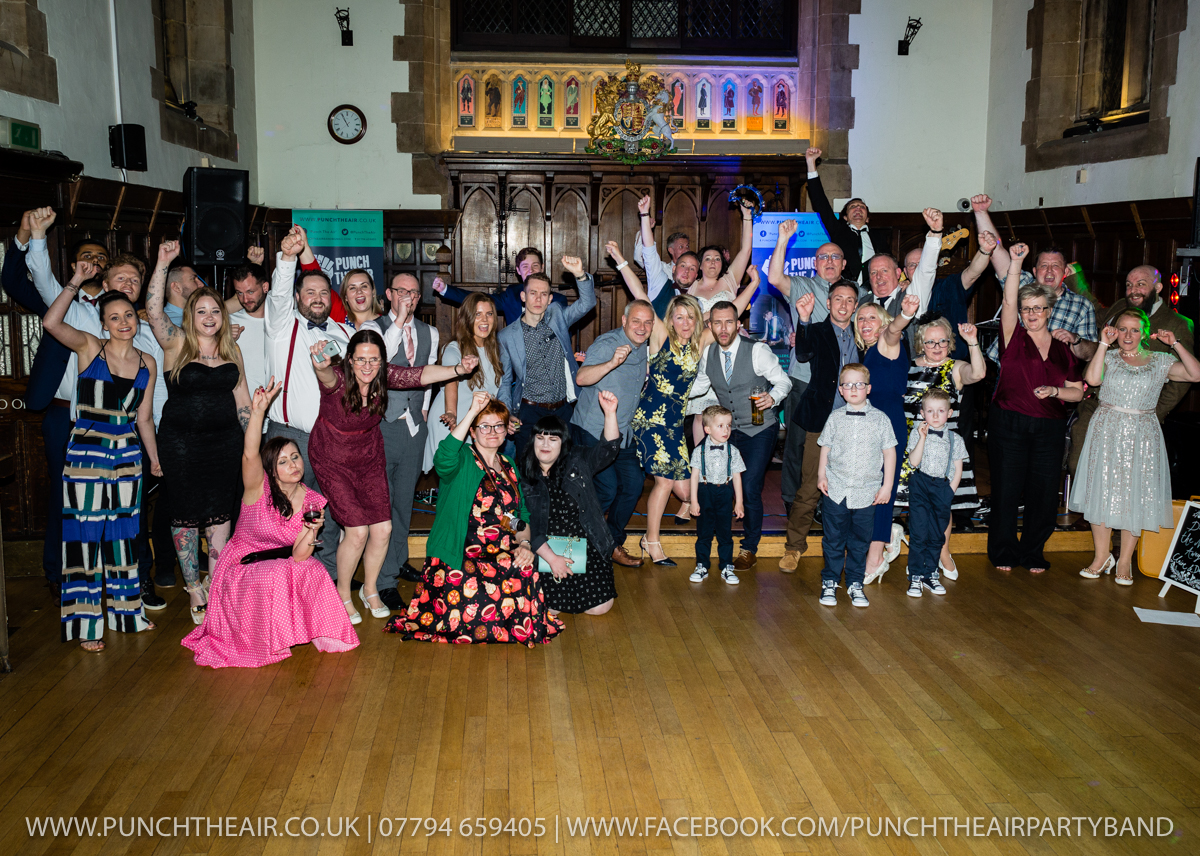 Testimonial from above Lichfield wedding by Dave & Claire Perry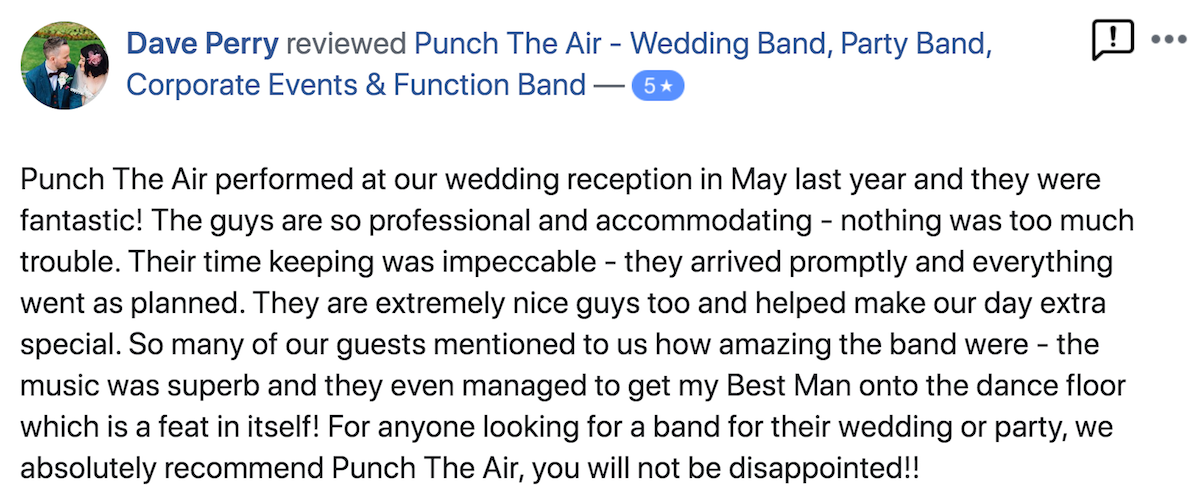 Real reviews for your Lichfield wedding band.
Our 100+ reviews speak from previous Staffordshire function band clients speak for themselves. They prove that we're a really fun and professional Lichfield wedding band, giving everyone what they want all night long….. To be on the dancefloor happily singing and dancing along with us.
Our favourite Lichfield wedding venue.
If we had to pick a favourite venue for a Lichfield wedding band (and it is tough as there are so many great ones) it would have to be Lichfield Guildhall on Bore Street. As you will see from the images on this page of the many times we've performed there live it has the most amazing interior and exterior decor. We love the raised stage area for 'Punch The Air' to perform on with is easy parking and access. This way we can swiftly load in and out without disturbing you and your guests too much.
There is plenty of room on stage for the our Lichfield party band gear and for us to move around on as we perform live for you and your guests. With dancefloor space right in front of the stage and a bar right at the back of the room all your guests have everything they need to enjoy the whole night in one room. The live sound in Lichfield Guildhall is one of the best in the UK due to its size and dimensions.
---
Lichfield Wedding Band contact form:
Are you having problems with the above form? If so you can email Lichfield wedding band 'Punch The Air' for a quote punchtheairband@gmail.com or call UK 07794 659405.
---
'Punch The Air' – Your Lichfield wedding band