Are you looking for a Ludlow Shropshire Wedding Band for your special day? We guess you are and we also guess that you've hired one of the many unique venues for your wedding like Ludlow Brewery. You're going to want Indie Rock and also pop chart hits from modern day back through to the 1950's performed by a professional party band who can take care of all your live entertainment needs. 'Punch The Air' are a three piece guitar based wedding band established in 2013 with all the musical talent you need for your evening wedding reception. Contact to check on price and availability when you hire a wedding band in Ludlow.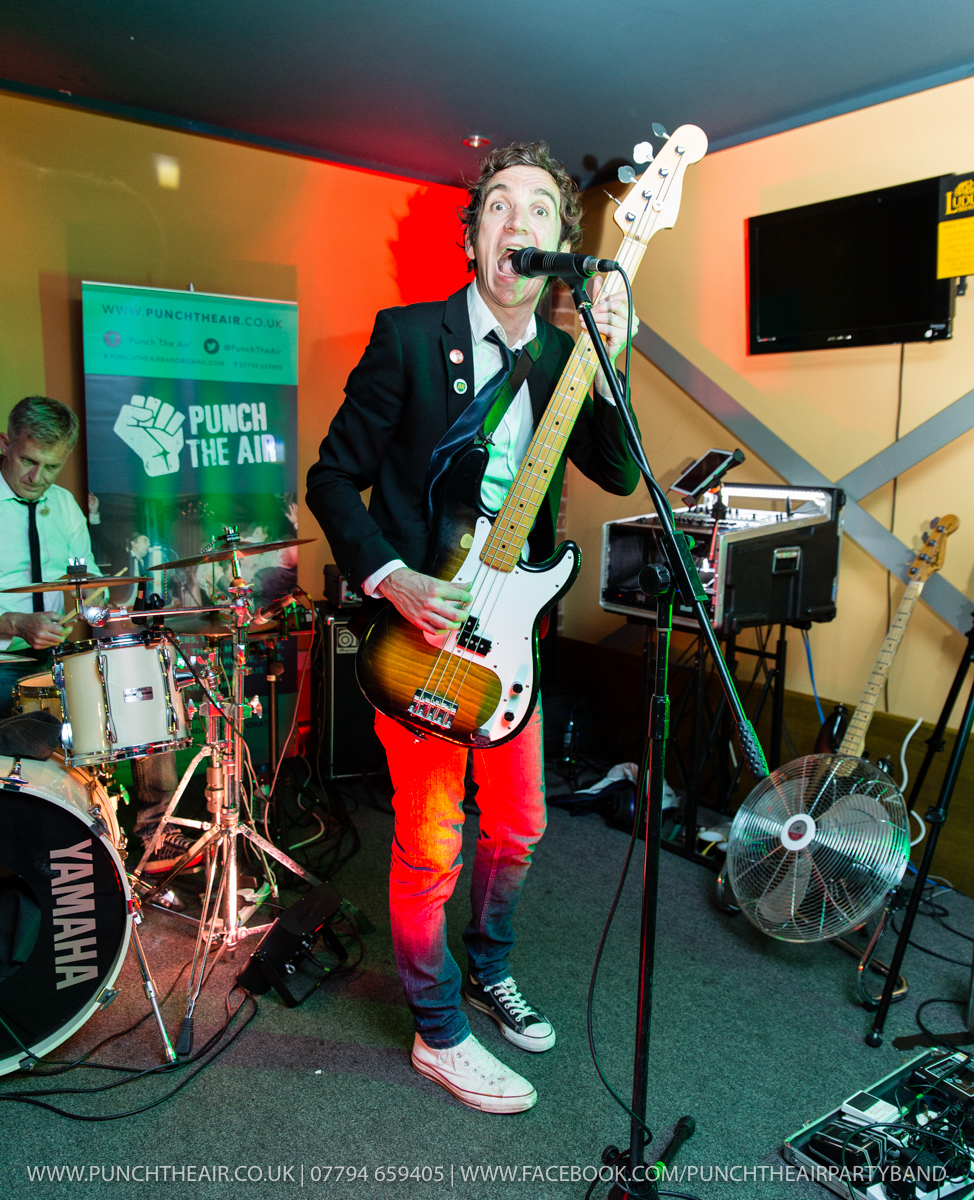 About this Ludlow, Shrops venue
'Punch The Air' have performed as a Ludlow Wedding Band at Ludlow Brewery Shrops on many occasions. We absolutely love the layout of the venue with its band friendly sized stage being nice and close to the side doors. This gives us easy access to our vehicles so we can set up nice and quickly. The sound in the venue is easy for professionals like us to mix as its a very good size room with high ceilings. With our vast knowledge of live sound combined with our state of the art digital mixing desk there's absolutely no possibility of squealing feedback or any loud noises with 'Punch The Air' at your wedding.
There is a bar at the rear of the room and you can also see all the beer brewing vats, making this a most none ordinary wedding venue. There is even a mezzanine floor above the stage area where you (Or even your band…hint-hint) can chill out between live performances. What could be better than sipping on award winning ales while singing and dancing your hearts out to 'Punch The Air'? This is all why we really do highly recommend Ludlow Brewery wedding & music venue for your special day.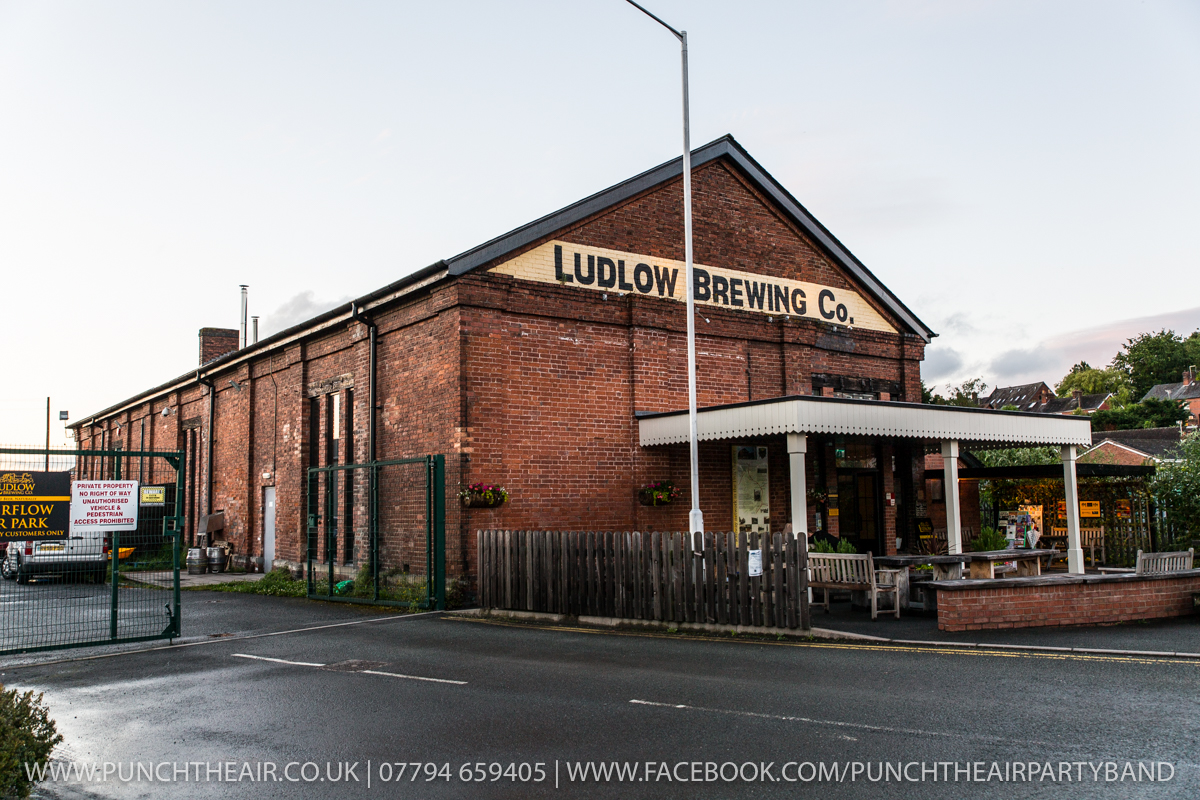 Live video of 'Punch The Air' performing as a Ludlow Brewery wedding band.
On the slightly noisier side of indie rock wedding band 'Punch The Air' second set here we are performing (at the clients request) the 1987 huge hit 'Fight For Your Right' by Beastie Boys. This is us live on stage at Ludlow Brewery performing to the actual clients and all of their guests. All the audio and visuals in this video are 100% live, this is exactly how we sounded on the night. All of our videos show clients and guests honest reactions to how we perform on stage and how fantastic our live audio is. This is how all wedding entertainment should be in our eyes.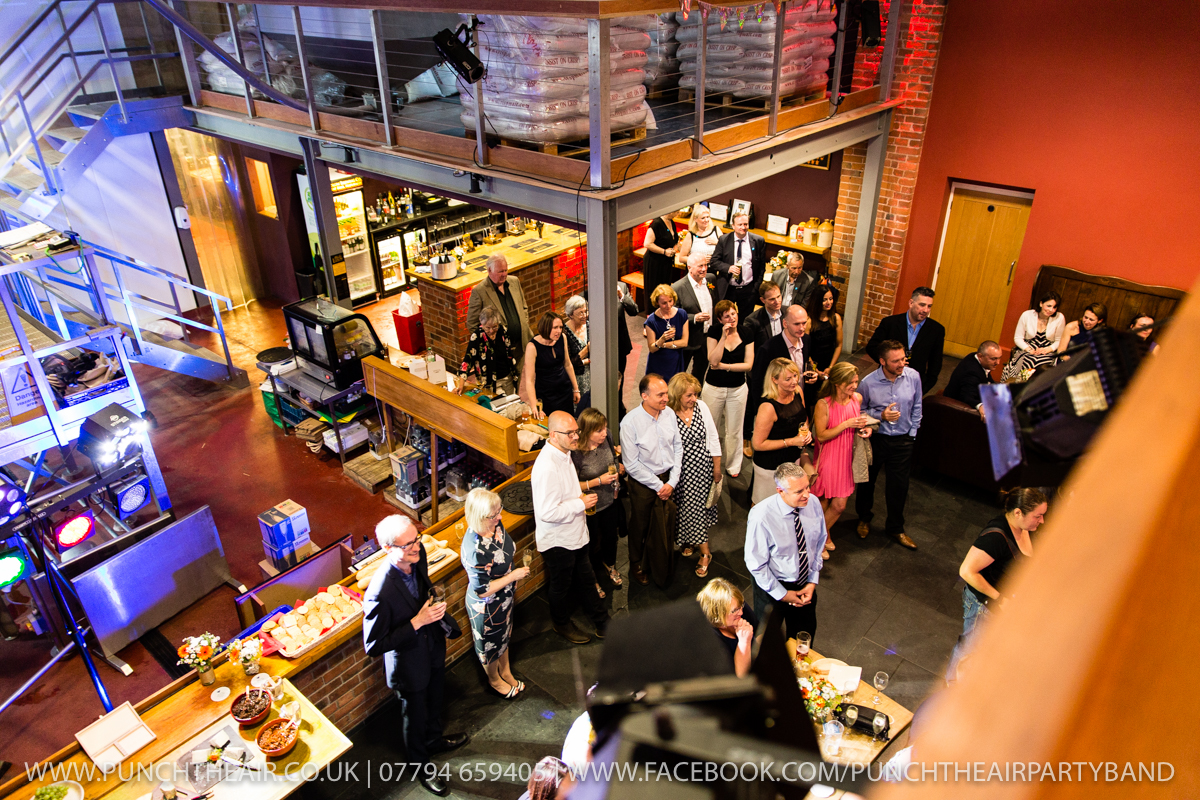 Punch The Air – Ludlow Shropshire wedding band. What you get.
Massive Indie Anthems plus singalong/dancealong hits from the last 60 years by:
60s – Beatles, Van Morrison, Monkees.
70s – Queen, Lynyrd Skynyrd, Undertones.
80s – Human League, Rick Astley, Tiffany.
90s – Oasis, Blur, Ocean Colour Scene.
00s (And onwards) – Kings Of Leon, Arctic Monkeys, Amy Winehouse, Killers, George Ezra, One Direction.
Full repertoire
2 x 45 minutes of live, upbeat & high-octane performances (Plus encores).
Professional, 'Hard Copy' Contract
A professional experience from your initial contact right through to when your event ends.
State of the art high end PA system, sound desk and lighting rig.
DJ services before, inbetweeen and after live performances so you can continue to dance the night away.
Public liability insurance and PAT certification.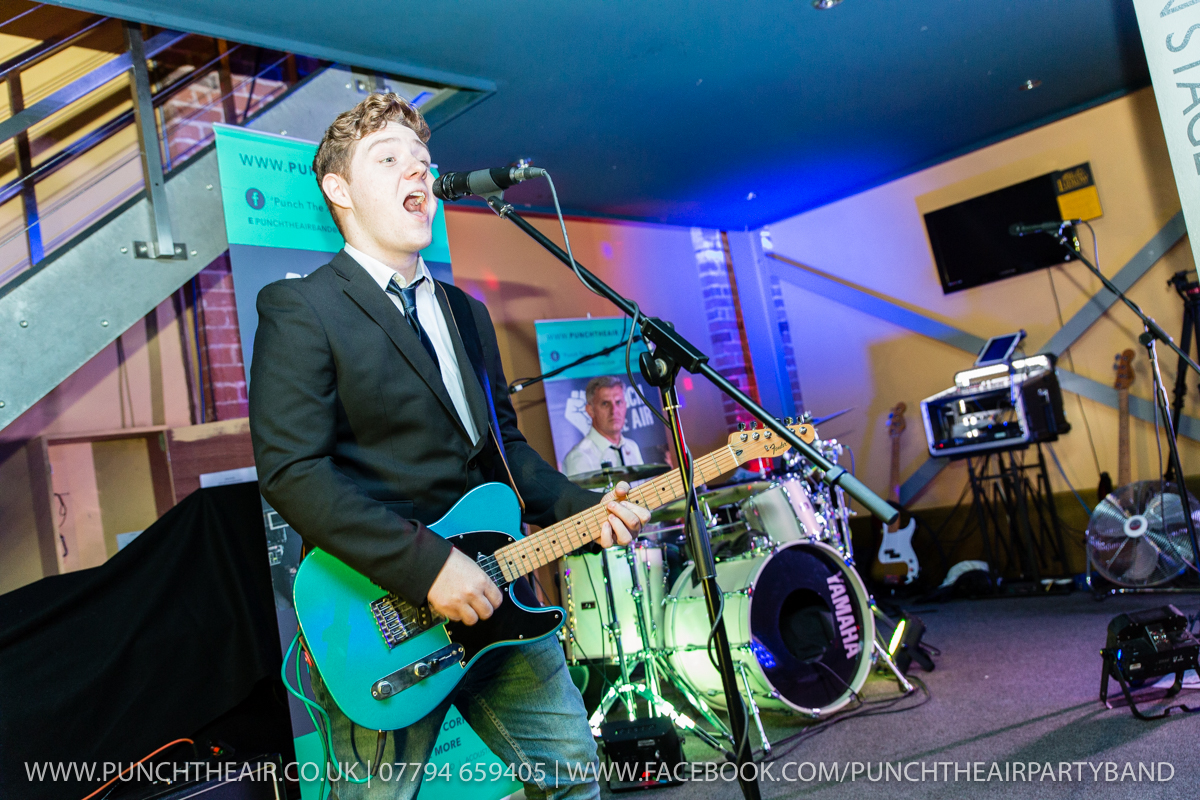 Ludlow Brewery wedding client testimonial.
Here is Jane & Paul Instone (The Bride & Grooms) testimonial from the above wedding that the video was shot at. As you will read they were very happy with our live entertainment services throughout the whole of their wedding reception. Check out all of our other 5 STAR testimonial reviews.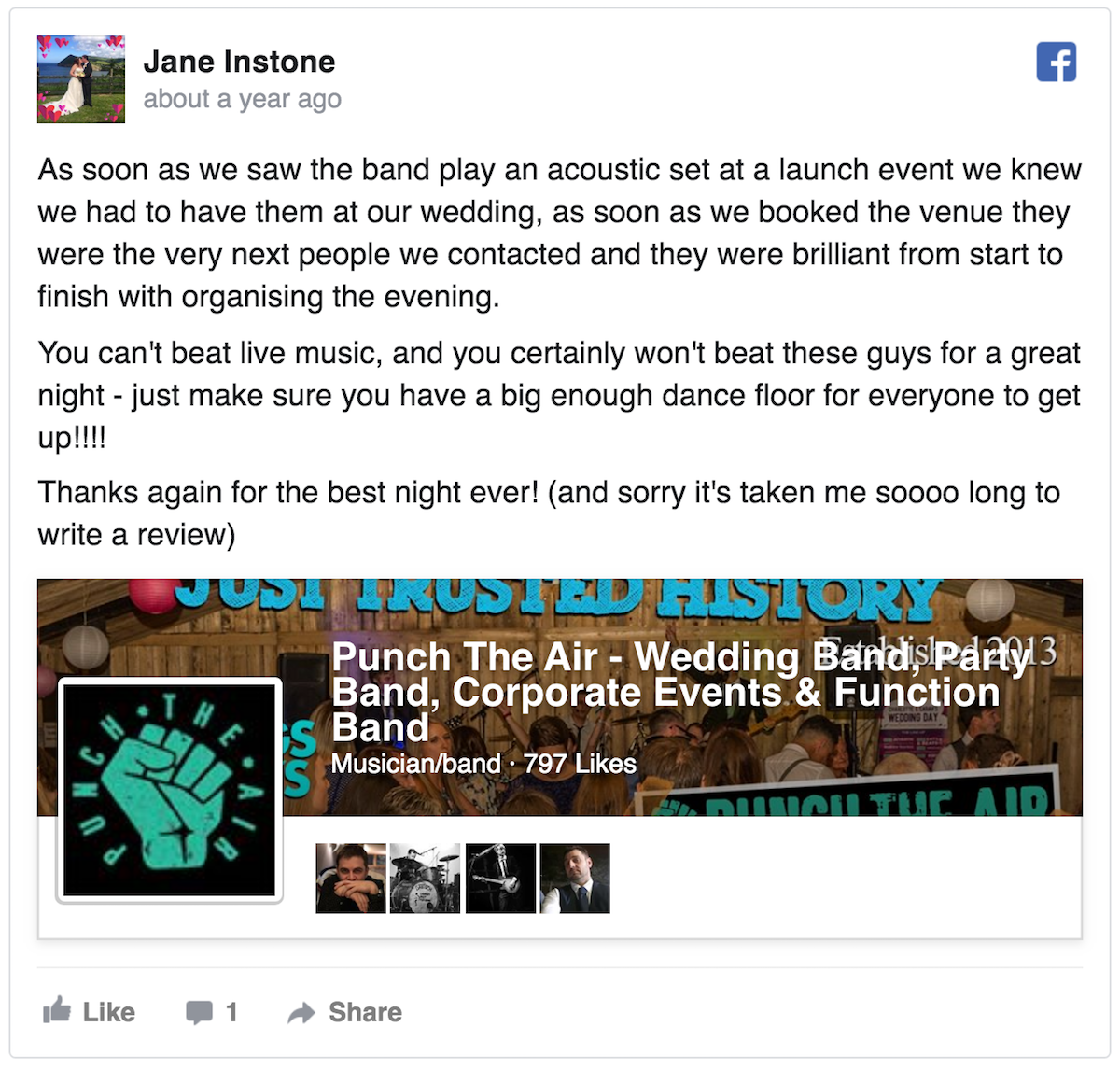 Our Wedding Vlogs
Here is a Vlog style video of what a day in the life is like for professional wedding band 'Punch The Air'. You'll see how well we mingle with your guests, how much they enjoy our performances and what we get up to before during and after we play for you all. There are lots more videos you can watch too. As you view them you'll see why Punch The Air are a highly recommended wedding band.
Additional chargeable services we can offer you on your wedding day:
Late night DJ services (Past midnight).
Acoustic performances (Solo/Duo/Trio) throughout the day.
Fog.
Customised projector lighting featuring your names, the date and a custom logo.
PA hire for your speeches.
Professional photographer for your evening event.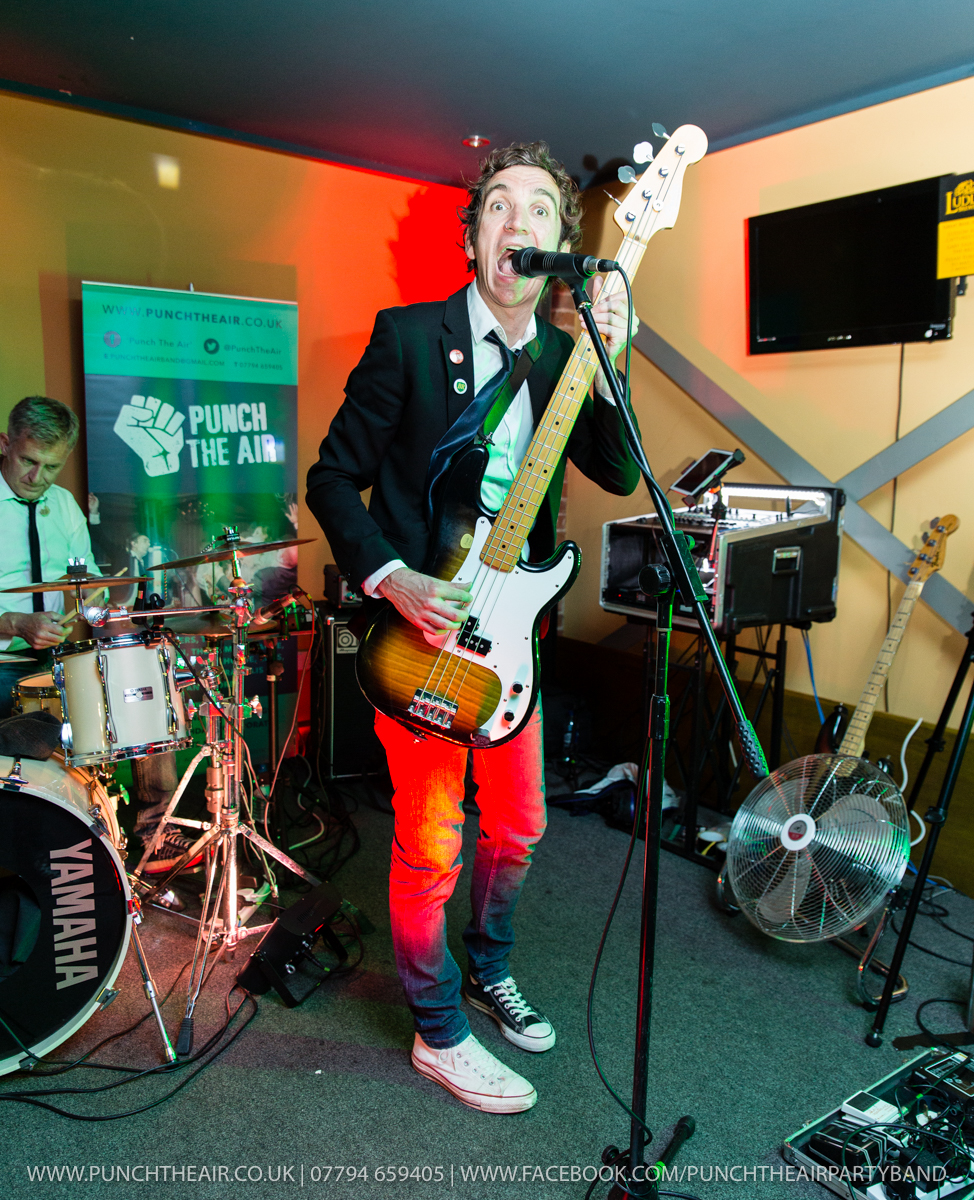 ---
You can also hire Shrewsbury wedding band for weddings receptions at:
Bitterley Village Hall
Delbury Hall
Fishmore Hall Hotel
Henley Hall
Ludlow Castle
Ludlow Mascall Centre
any other Shropshire wedding venue
'Punch The Air' are also available to hire as a wedding reception band in Wales, Cheshire Wedding Band, Staffordshire Wedding Band, Worcestershire Wedding Band & Herefordshire Wedding Band.
Ludlow Brewery Wedding Band contact form
Are you having problems with the above form? If so email punchtheairband@gmail.com or call UK 07794 659405.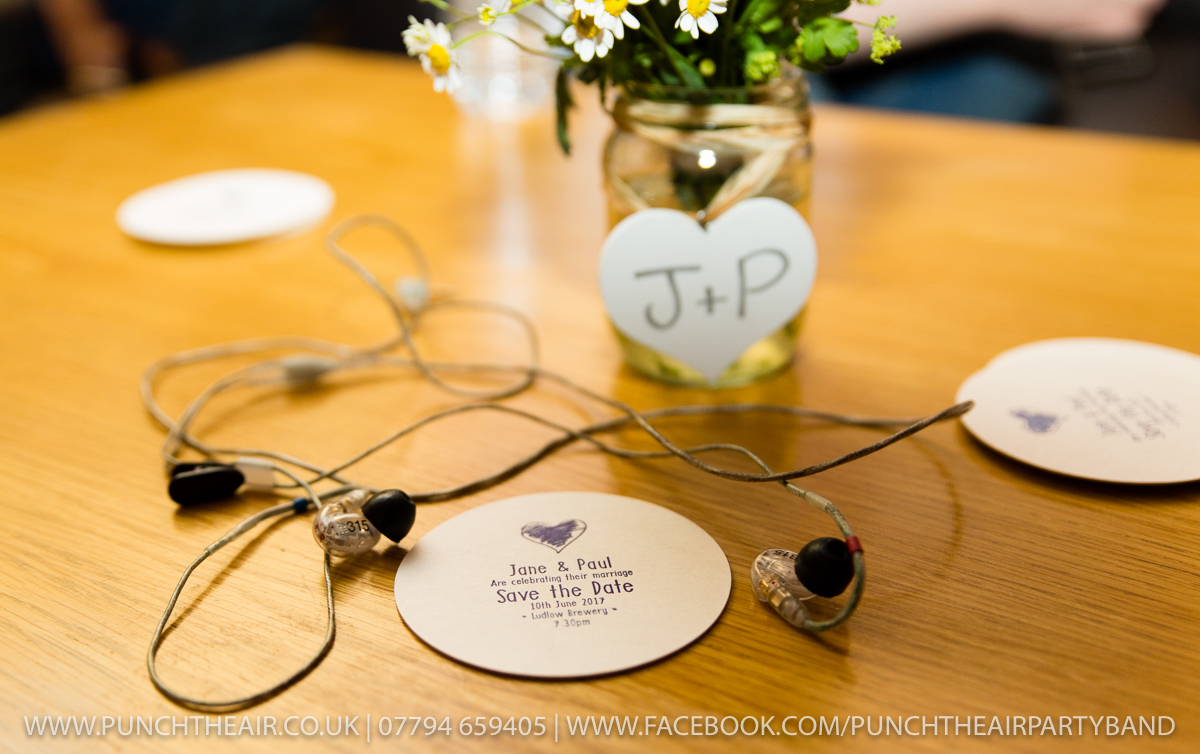 'Punch The Air' – Your Ludlow Shropshire Wedding Band