At only 20 minutes away from where we're based in Lichfield, 'Punch The Air' are easily able to perform as a Brook Marston Farm Hotel wedding band……At such a short distance you'll be safe in the knowledge that no matter what happens along the way we'll always be able to get to your wedding. We've never actually missed, or been late for any performance of any kind since we formed in 2013. Check out our live party band reviews for our indie rock wedding band they don't lie. Then contact us to check on our availability for your special day.
So what do you want to know about first, the band or the venue? Let's start with the band shall we.
'Punch The Air' are a three piece pop indie rock wedding reception band. This is where 90% of our bookings come from. Brides and grooms just like yourselves getting in touch to see what services we offer, what songs we perform live and probably most important how much we charge. Prices start from just £999 if you want to book us as your Brook Marston Farm Hotel wedding band. Hire a wedding band in Sutton Coldfield.
What music do 'Punch The Air' perform?
We perform a brilliant mix of indie rock and also very well known new and old pop tunes. 'Punch The Air' take it all the way from modern artists like George Ezra, The Killers and Kings Of Leon to Elvis, The Rolling Stones and The Beatles. Our wedding party band play everything in-between too, so:
Light hearted Punk from The Undertones
Synth classics (But played on guitars) by The Human League
Massive kings of rock songs by Queen
Rap from the Beastie Boys
80s cheese/coolness (You decide) by Rick Astley
Indie Rock big hitters by Blur, Arctic Monkeys, Kings Of Leon, The Killers, Oasis and more.
If you head on over to our band repertoire you'll see a large selection of what we perform live. As you'll see there is Indie Rock and then something for all ages so everyone will get their chance to enjoy themselves on the dance-floor for many songs during our performances. This is tried and tested solid wedding entertainment you can trust.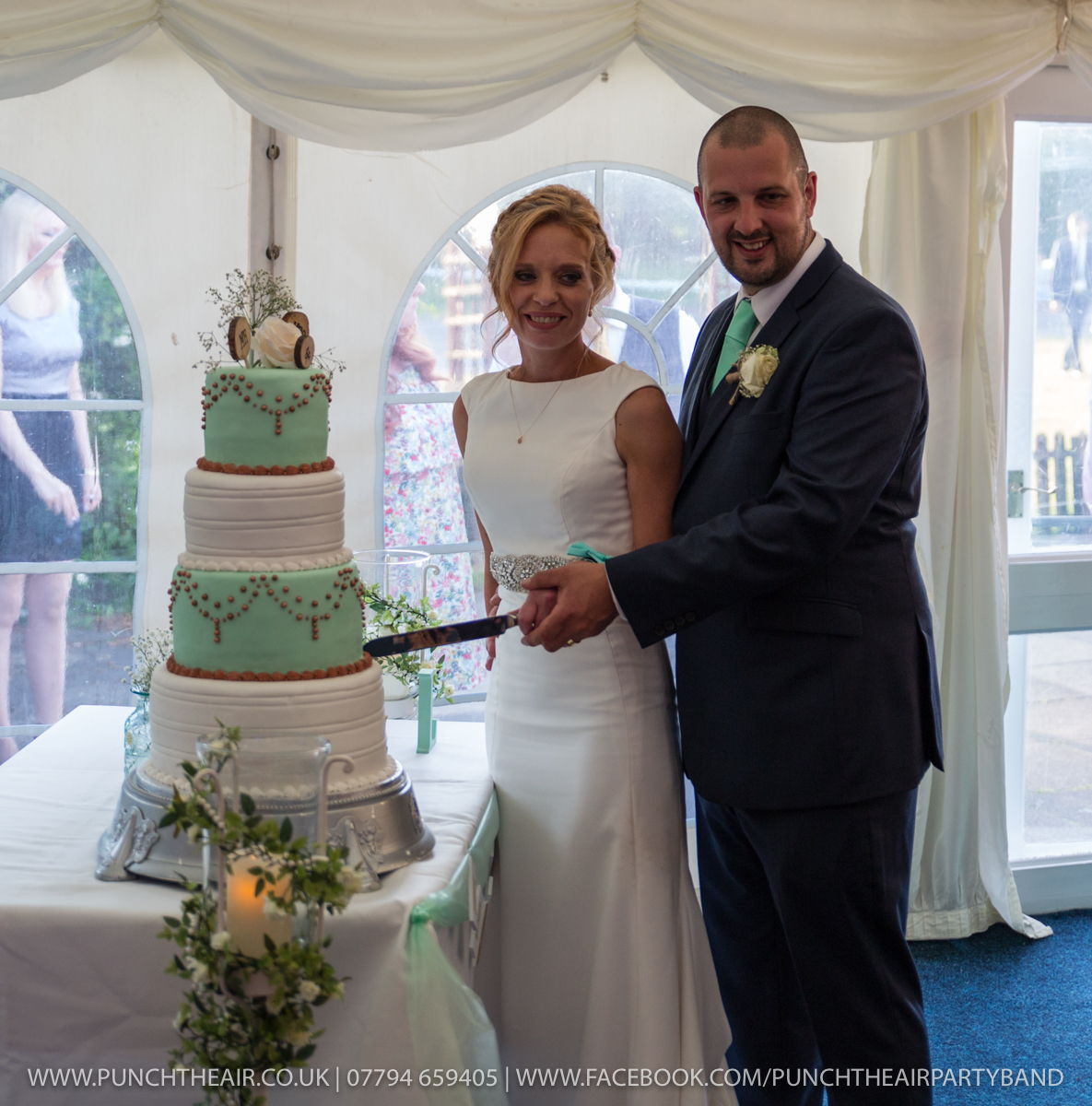 What do I get for my money when I book 'Punch The Air'?
A professional experience from your initial contact right through to when your event ends.
2 x 45 minutes of live, upbeat & high-octane performances (Plus encores).
Hard Copy Contract.
State of the art high end PA system, sound desk and lighting rig.
DJ services before, inbetweeen and after live performances so you can continue to dance the night away.
Public liability insurance and PAT certification.
Savings of over £200+ by not using an agency.
Peace of mind booking a band that have performed at Brook Marston Farm Hotel on many occasions and so understand exactly whats required of them.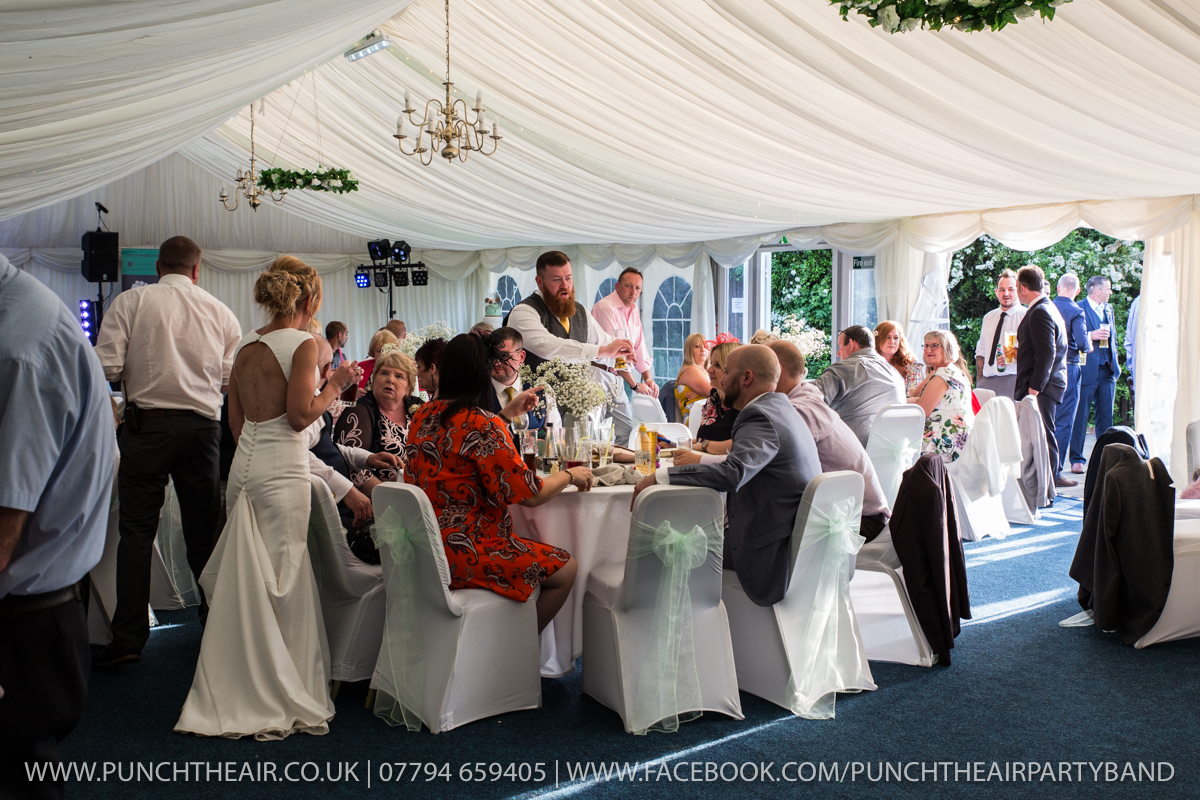 How do I book wedding band 'Punch The Air'?
It's very simple to confirm 'Punch The Air' as your Brook Marston Farm Hotel wedding band. All you have to do is give us the go ahead you require our services for your special day, then send the 50% deposit with our 'Hard Copy' contract signed and returned to 100% secure the date. The other 50% balance is then payable 30 days before the event. It really is that simple. This way there is no worrying about large sums of cash being handled during your wedding reception….Its just one less thing to worry about on your big day. Once you've confirmed us there is zero percent chance that we will ever cancel on you. This is what we do professionally for a living and our livelihoods depend on it. (Read the honest truth about us over on our Facebook Reviews)
A little about the venue and why we like performing there so much.
As well as being very local to us Brook Marston Farm Hotel is one of our favourite venues to perform at for many reasons. We can get our vehicles nice and close to the wonderfully sized marquee (And then move them out of sight later) so we can set up nice and rapidly without disturbing you and your guests too much by lugging our heavy gear around . Once inside the marquee we set up in the corner at a forty-five degree angle so you can utilise the dancefloor and we can still play across the room to all your guests and the bar area so everyone can hear us.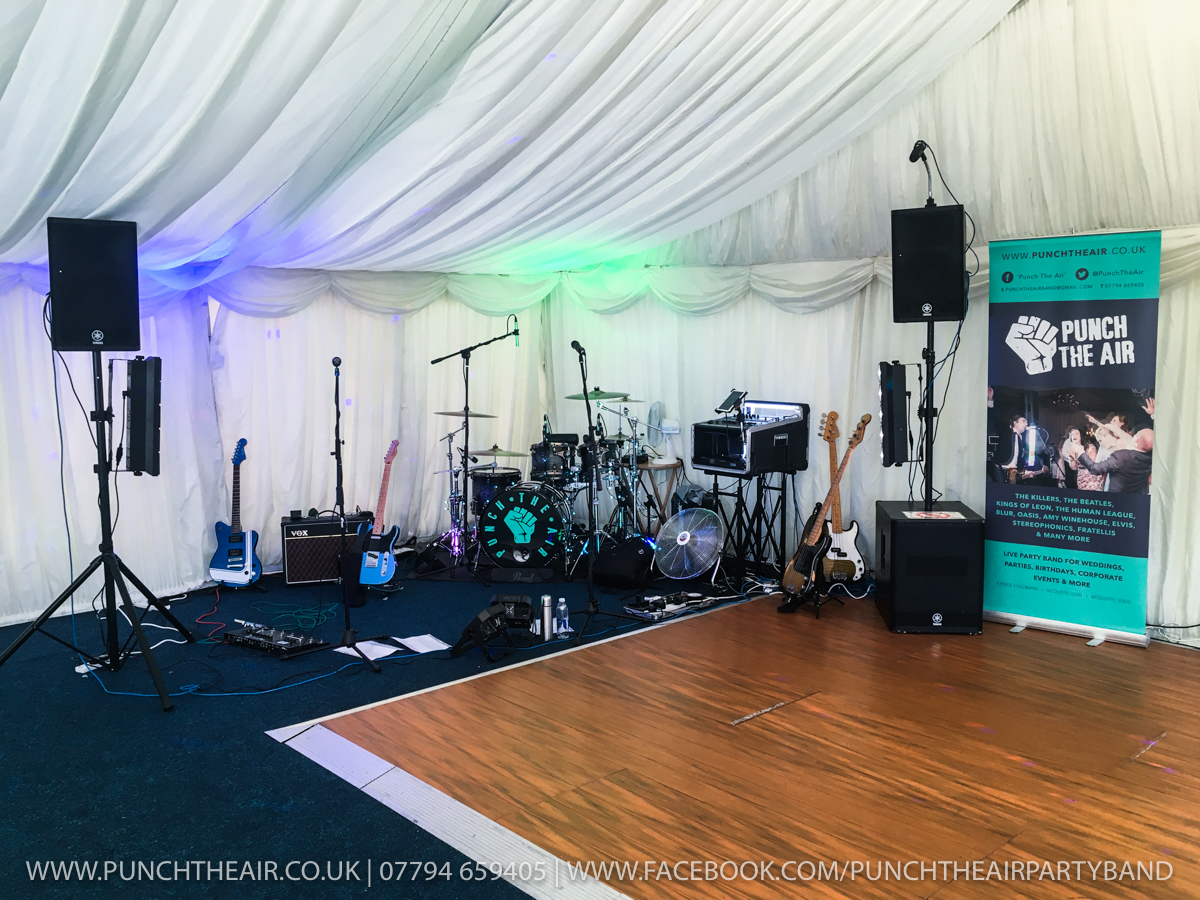 Whats the sound in the venue like?
The sound in venue is very easy for us to EQ and obtain a sweet mix from with zero chances of bad feedback due to our state of the art digital mixing desk. Being only a three piece band 'Punch The Air' don't take up that much room in the marquee whereas four piece or larger bands would take up most of the wooden dancefloor leaving you with no actual space to dance on.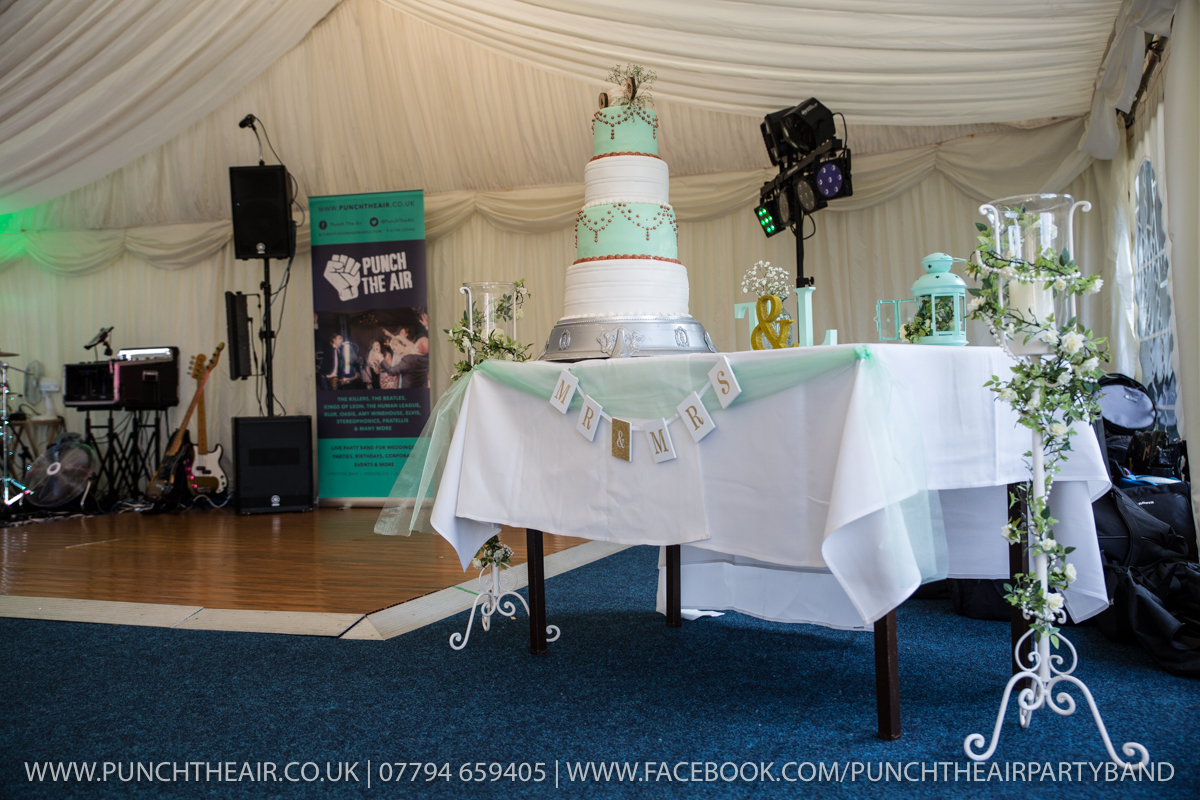 A little more about the venue.
The venue itself is nice and close to the M42 (Yet due to all the trees and foliage in its grounds you can't actually hear the motorway) so it is very easily accessible to all your guests without having to drive into a big bustling major city. It is in a very green and relaxing area with a large field and even a tennis court. The marquee is attached the main building and has its own bar in the same room as where the band perform.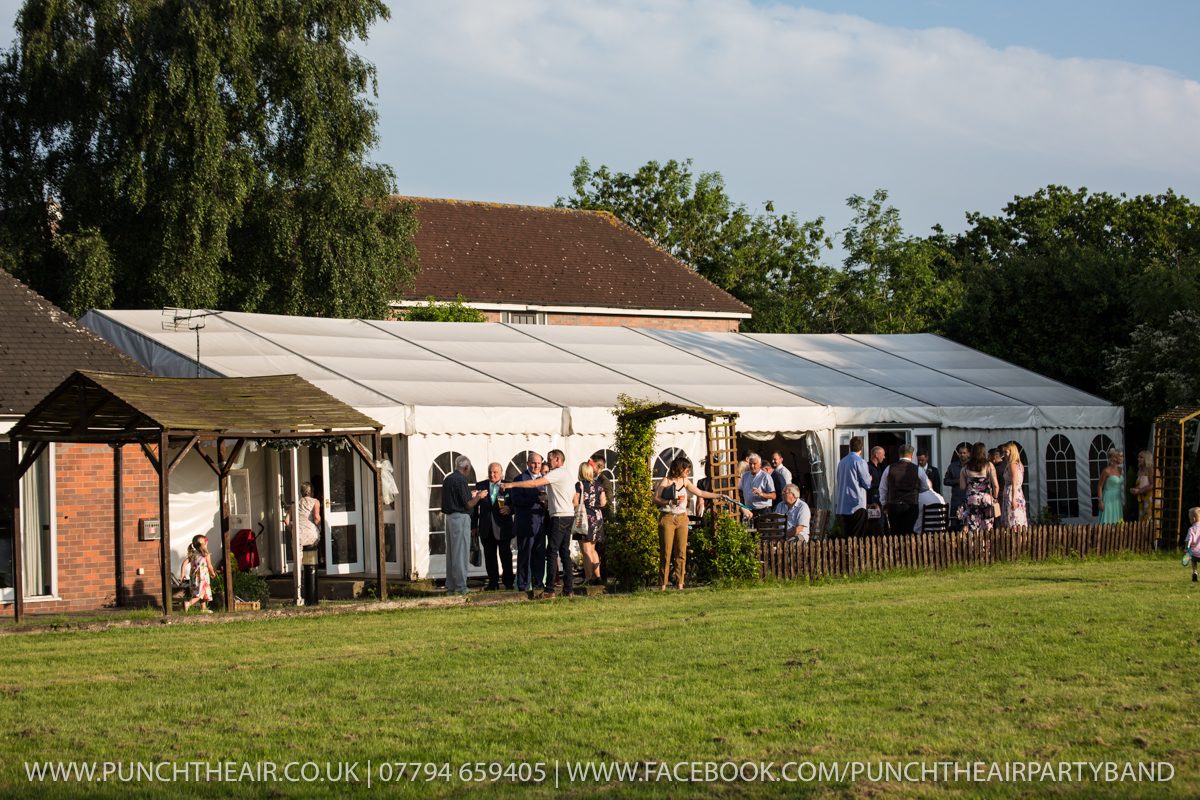 It has a lovely courtyard area between the hotel rooms and the marquee with tables and chairs to chill out on if you want to get away from it all for a short while. Lee will be your main point of contact there during your wedding. He and his staff are very attentive and polite and they will help your wedding go as smooth as possible.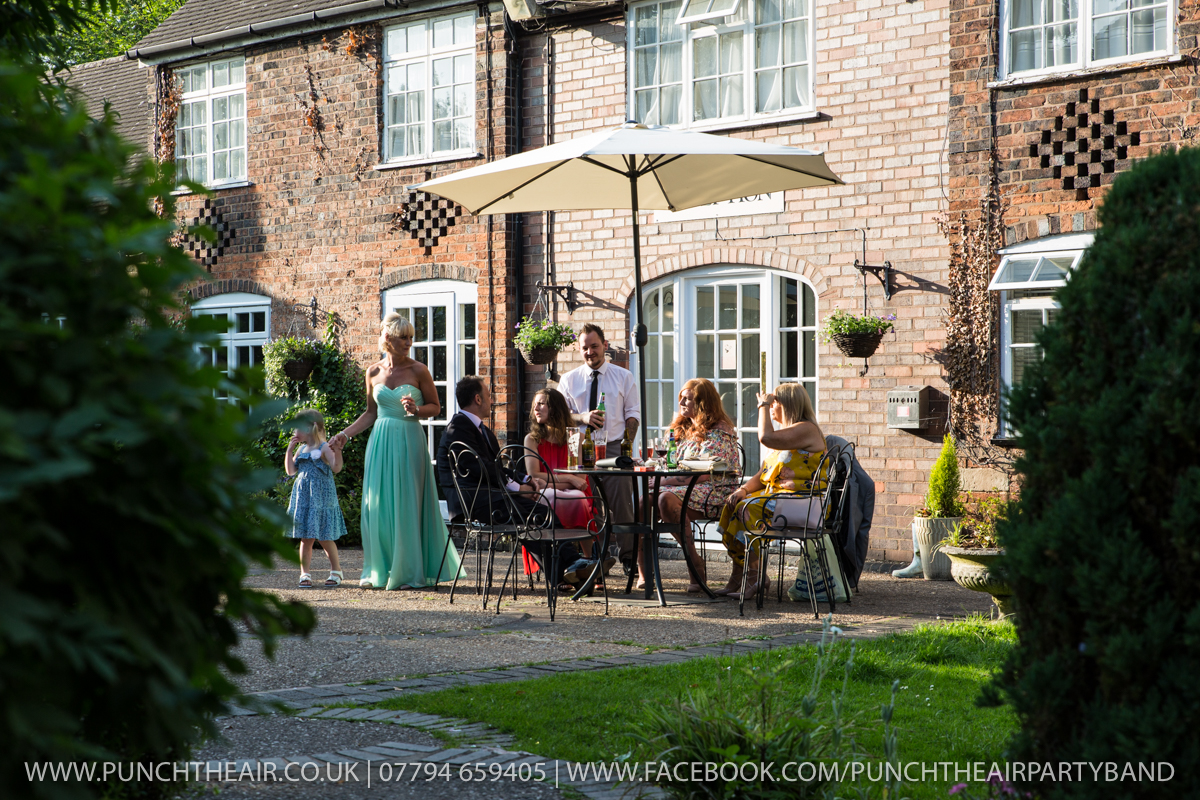 What sort of evening schedule works best for a wedding reception at Brook Marston Farm Hotel?
We can work to whatever schedule you have for your day but we've always found that the following seems to work best at at Brook Marston Farm Hotel:
6:00pm –Brook Marston Farm Hotel wedding band 'Punch The Air' arrive, set up and soundcheck (Approx 60-90 mins).
Approx 7:30pm – Your evening commences with light DJ services provided by 'Punch The Air'.
8:15pm – Cake cutting followed by your first dance as a married couple. 'Punch The Air' will be waiting on stage ready to kick into our first live performance.
9:00pm – DJ services / Buffet.
10:15pm – 'Punch The Air' perform their second live set.
11:00pm – DJ services.
Midnight – Event ends. Coaches & taxis arrive to collect guests.
Videos of us performing live.
You'll find that most bands won't have REAL live videos on their websites. They will have recorded the audio separately in a studio for many hours then they will have mimed to this pre-recorded audio in their video. It might sometimes be hard to spot, but you can usually tell as its never filmed in front of guests at an actual wedding.
'Punch The Air' on the other hand ONLY have 100% live videos. You'll see and hear real live guests singing and dancing their hearts out to us. We pride ourselves on showing you what we can do live and we don't hide behind pre-recorded/mimed to videos. Check out our Vlog style videos below showing you exactly what happens when you book 'Punch The Air' for your special day.
Additional chargeable services we can offer you on your wedding day at Brook Marston Farm Hotel: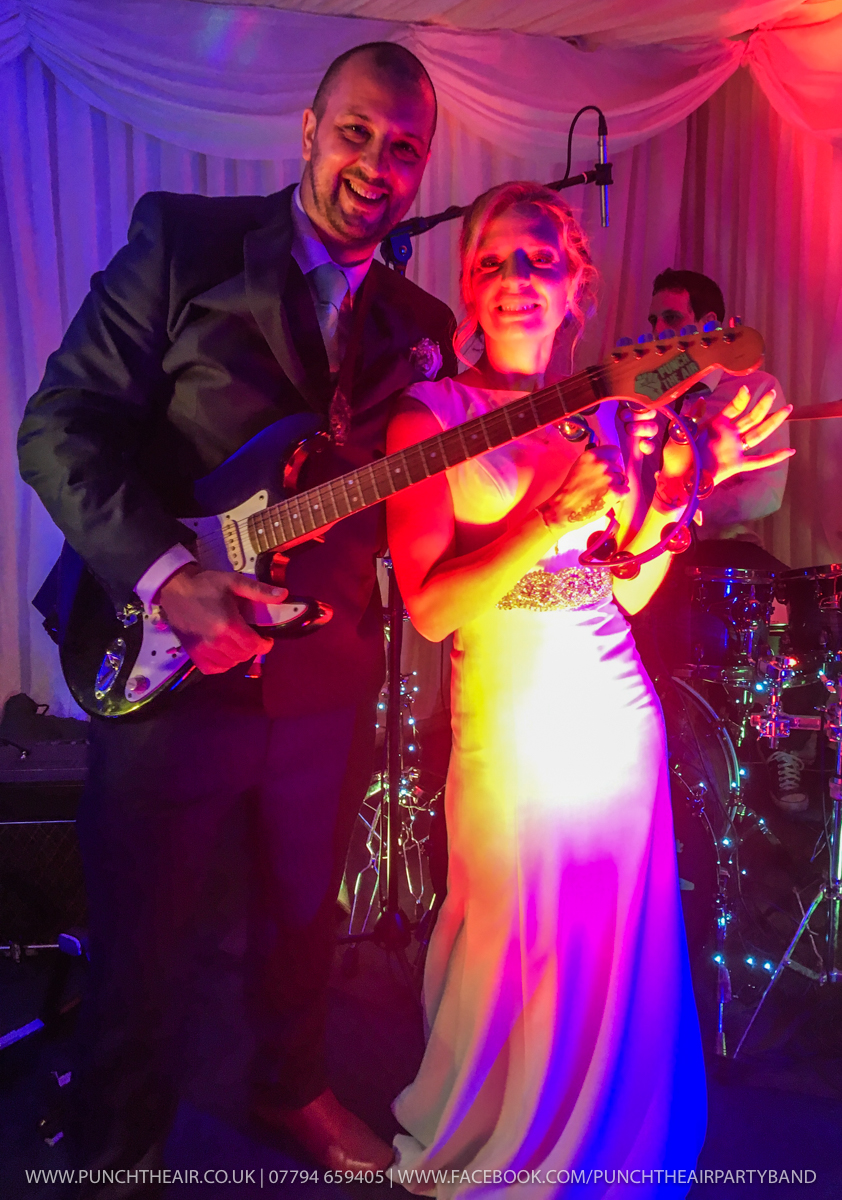 Brook Marston Farm Hotel is located at
Brook Marston Farm Hotel, Bodymoor Heath Lane, Sutton Coldfield,
West Midlands, B76 9JD. It is very near by to Kingsbury Water Park, Lea Marston, Wishaw and Curdworth. Close by is The Belfry Hotel & Resort and Moxhull Hall wedding band venue.
Brook Marston Farm Hotel endorsement of 'Punch The Air'.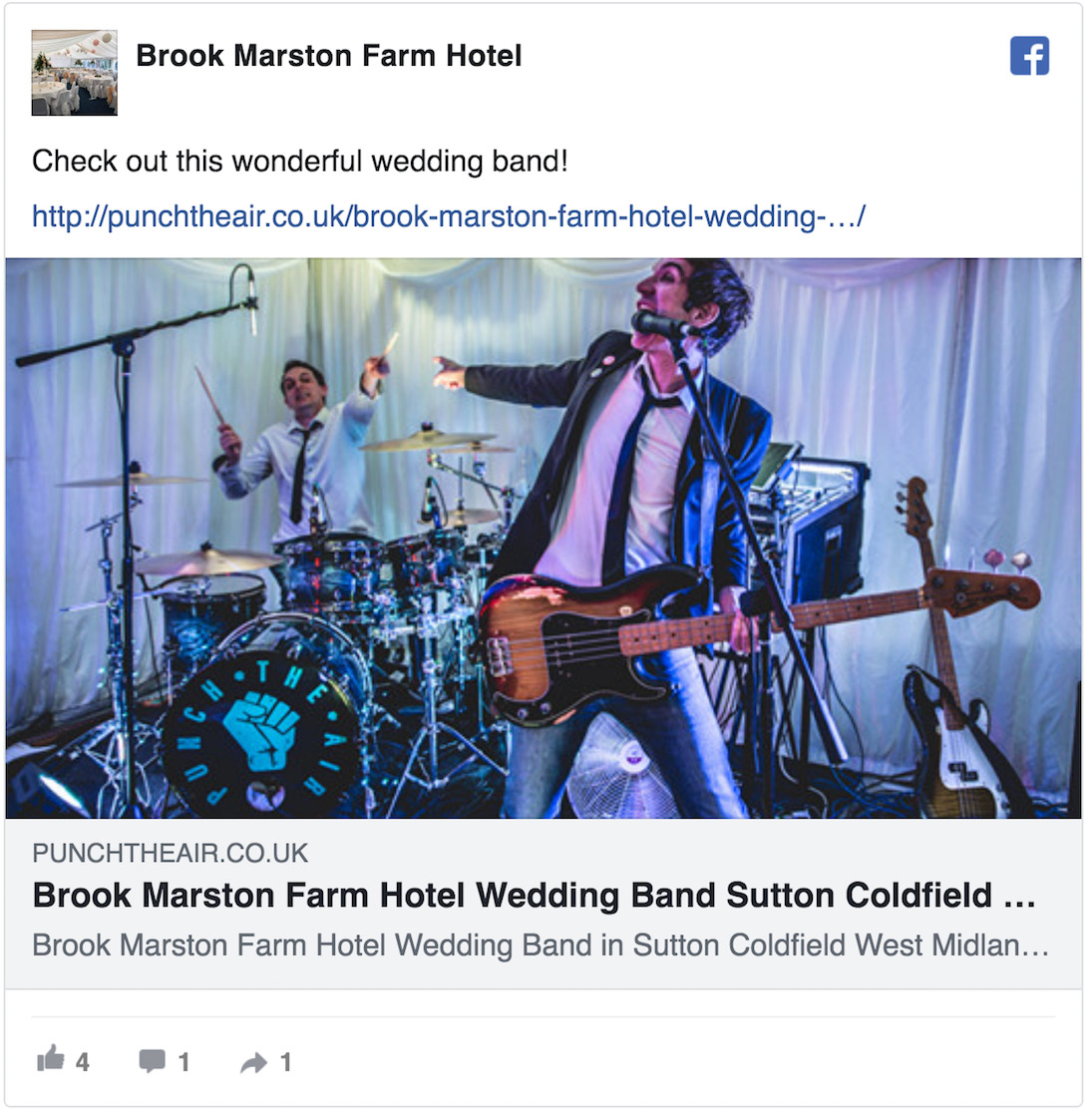 You can also book us for live entertainment at other wedding venues nearby such as:
Shustoke Barn
Middleton Hall
Bourne Brook Farm
New Hall Hotel & Spa
Fazeley Events
in Birmingham wedding band, Tamworth, Wishaw, Atherstone, Coleshill, Kingsbury and more.
Brook Marston Farm Hotel Wedding Band contact form.
Are you having problems with the above form? If so you can email us for a quote at punchtheairband@gmail.com or call us on UK 07794 659405.
---
If you have any questions then you can hop on over to our Frequently Asked Questions page or just drop us an email at punchtheairband@gmail.com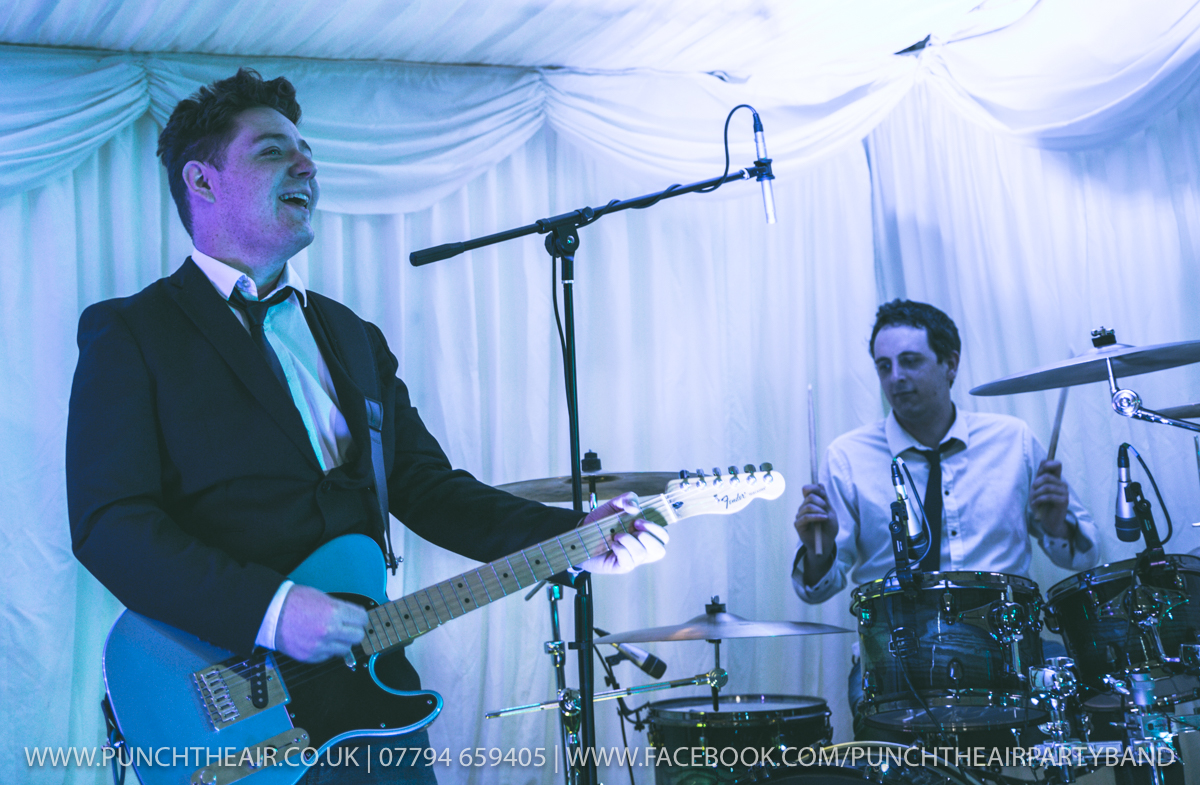 'Punch The Air' – Your Brook Marston Farm Hotel Wedding Band