Book a Coton House Farm Wedding Band Whittington Lichfield. This Staffordshire wedding venue is perfect for professional wedding band 'Punch The Air' to entertain all your guests at. If you love your indie rock music then our indie rock covers band we will be ideal for your wedding reception. Banging tunes from Artic Monkeys, Oasis, Stereophonics, Blink 182, Blur, The Killers, Kings Of Leon, Foo Fighters and more from our indie covers band repertoire. Don't worry, we wont forget about your parents, friends, work colleagues and other family members though. For them we'll play a fantastic Lichfield Bandselection of pop tunes from modern day through the decades. Expect to hear pop music from The Beatles, Amy Winehouse, George Ezra, Lynyrd Skynyrd, Florence & The Machine and more. Prices start from £999 so contact to check on our availability as soon as possible.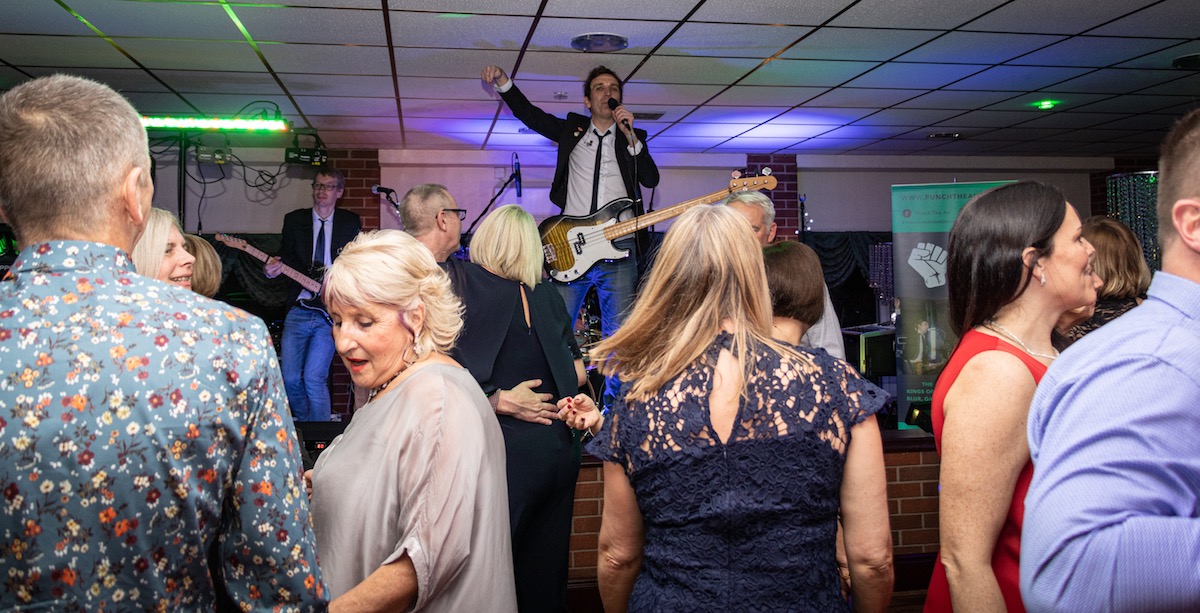 Hire a Coton House Farm Wedding Band Whittington Lichfield
You're guaranteed a fantastic and incredibly easy going time with indie rock cover band 'Punch The Air' handling all your live entertainment at your Coton House Farm wedding reception. You won't find a simpler way of hiring a wedding band than our Staffordshire wedding band. All we require is the return of our contract and a 50% deposit and you're all booked in with us. You won't need to hire any other equipment from third parties as we're a fully self contained band. 'Punch The Air' will bring along the bands entire backline, PA system and lighting.
We'll even thrown in free iPad DJ services for the entire night up until midnight. Read our 100s of reviews and you'll soon see that were the type of band that instantly gel with you and all your guests. Nothing is too much trouble for us, thats why we are a recommended wedding band for clients wanting to hire a wedding band in Whittington, Lichfield.
A Wedding party band for your Whittington wedding.
Coton House Farm wedding venue is located on Vicarage Lane, Whittington, Lichfield, Staffordshire, WS14 9LQ. It is just off Fisherwick Road, down the road from Whittington Cricket Club and Bit End Field. Our wedding party band love this exclusive use oak wedding barn venue. You can tailor the venue to your own special theme. Also this Whittington wedding venue has wonderful outdoor area views of the Staffordshire countryside. With a possibility of holding 120 guests daytime and 220 guests in the evening you know you will have enough room for all your friends and family to dance the night away to us.
What could be better than having a Lichfield band perform at your Lichfield wedding reception. Book a live indie rock wedding band performance in Lichfield for your wedding venue including:
Hire a wedding band in Lichfield Staffordshire wedding band, 'Punch The Air' are available to book throughout:
Lichfield
Shenstone
Curborough
Streethay
Huddlesford
Fradley
Elmhurst
Pipehall
Wall
Whittington
Boley Park
Chadsmead
Christ Church
Darwin Park
The Dimbles
Leomansley
Nether Stowe
Sandfields
Stowe
Trent Valley
Weeford
and surrounding areas of Lichfield and Staffordshire.