Having only performed live at party two days prior to tonights, all of 'Punch The Air' NYE Party Band gear was already loaded into my vehicle. Thus saving me a good 20 minutes loading time. I arrived at the venue at approx 6.30pm as the evening wasn't due to start until 9pm. Our indie drummer had already arrived and advised that we were playing in the main room this New years Eve. Again the lovely bar staff help us in with our gear (Which took up most of the space in venue) and we start to set up. We're informed that 300 tickets have been sold, so its going to be a rammed and lively NYE for everyone. Contact to book an NYE party band for your event.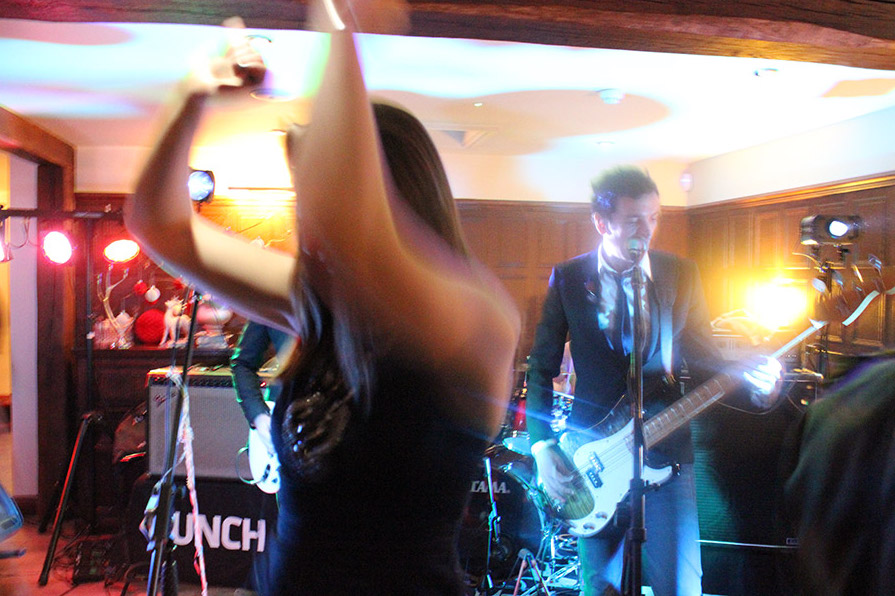 Setting up NYE Party Band
There's plenty of plug sockets around, but unfortunately they are none standard round pin type (Possibly due to the age of the building). The staff don't seem to realise what the problem is so we scour the building for "Normal" plug sockets. We find only two which are located slightly around the corner……luckily this will just about suffice. So with a long extension lead and some black tape to secure it down with (so no ones trips over them) we're finally ready and set up for a New Years Eve party and for a great night.
The venues have a bit lower ceilings than we're used to. This means a few issues trying to set up lights on PA stands, but we get there in the end. We actually have a nice rectangular section of the venue to play in. Then we tape off our "Stage area" on the floor with a bit of yellow and black hazard tape so we can call out to the audience "Please do not cross the line" when they will no doubt start to get a little over excited later on.
It's only just gone seven o'clock and punters are already starting to pour in and secure their seating for the evening…..they won't be sitting still for long mind you 🙂
It takes quite a while to set up our Indie rock cover band as I've bought most of our lighting rig in addition to what we normally bring. But its sounding good. There's no daft ringing sounds, echoes or other bizarre noises. This is something you sometimes find in old buildings (And have to try and EQ out). The soundcheck takes next to no time and we proceed to move all of our flight cases back to our vehicles.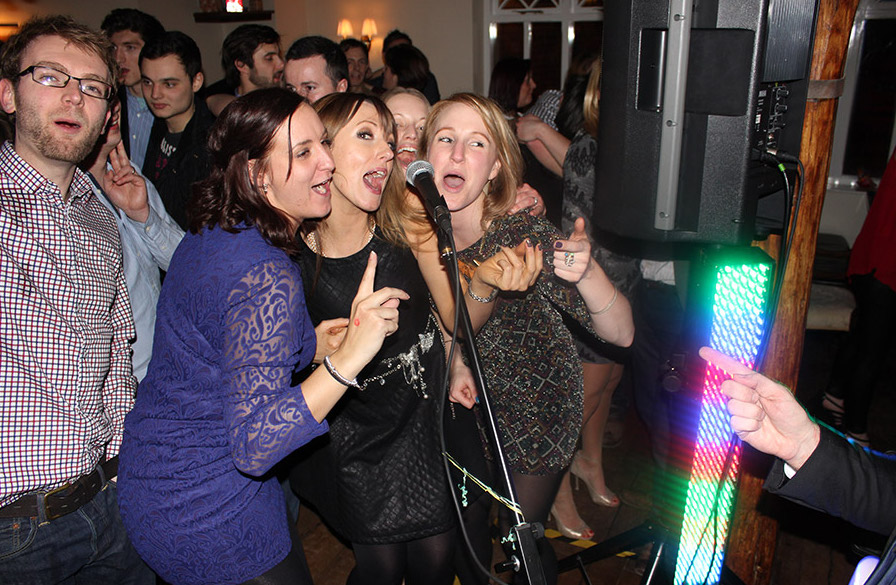 Pre live performance DJ services
Its 9pm and so the DJ set goes on. As its still Christmas party time really its 40 minutes of classics by Slade/McCartney/Wizard etc. Starting the night with keeping everyone in the festive mood. The alcohols flowing, the pizzas and burgers look and smell ultra tasty. We decide to go on a little later than proposed to allow every a chance to settle in a bit better.
I move the DJ set onto some more modern tunes (Bruno Mars/Robin Thick/Jessie J/Will.i.am). Then I switch it over to some classic 80s tracks just as our friends arrive (Its nice to play somewhere public for a change). Its now VERY busy in all sections of the venue and so I'm guessing most guests have arrived by now.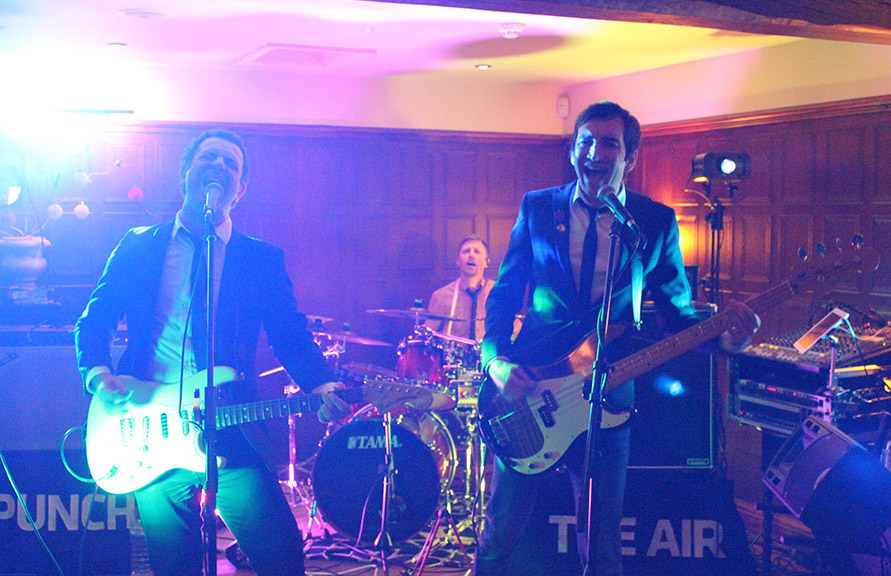 First set live performance NYE Party Band
Its 10.15pm and time to get this NYE party band started. We arrive onto the stage area to the disco version theme tune to Star Wars and its a solid 45+ mins of classic material from 1950s to the mid 90s. Not two songs into our indie rock party band set and people are already up and dancing their little hearts out. A notable crowd favourite track is 'Tubthumping'. "If they're enjoying singing/shouting along to this so much now then just wait until they get to our 2nd 'Party set' later on" I think to myself). There's a slight hiccup with the power for a second (I knew just 2 plug sockets weren't going to sustain us all evening long) but its hardly even noticeable.
It's been a really warm first set, so we all leave the stage sweaty and red. I pop a little Disco on to keep everyone up and dancing. Its getting close to midnight and Ive already pre-prepared The Westminster Chimes and 'Auld Lang Syne' to play at midnight, but as there will be fireworks going off outside so no ones really going to hear it all.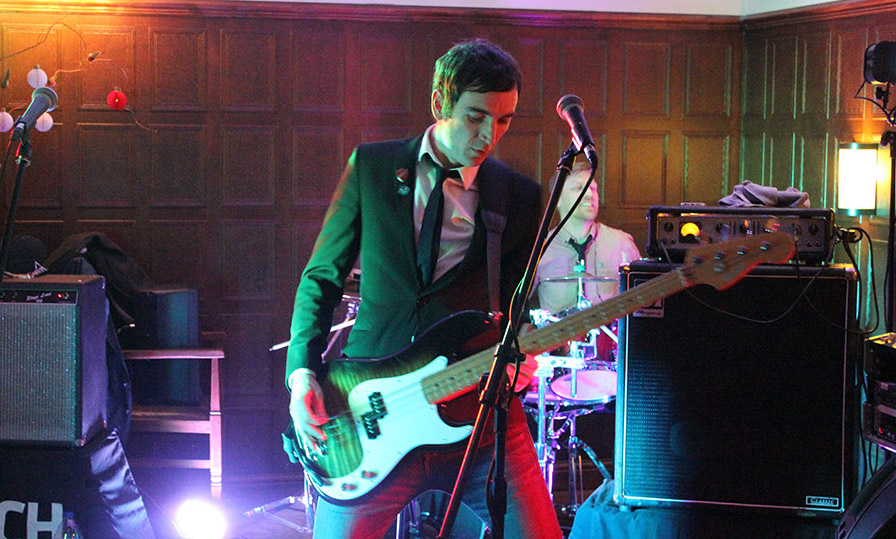 Midnight on NYE – Its a New Year Celebration
Midnight comes and I crank the PA up as loud as it will go so hopefully everyone can hear the chimes etc outside. The fireworks display is a huge success and everyone hugs and kisses everyone else wishing each other Happy New Year.
Punters start to stomp back into the venue, its 12.15am and we're away with the second party set. There's some classic punk numbers to start with to whip the crowd back up into a frenzy again .The dance-floors full in seconds. Onto some Kaiser Chiefs, Oasis, Blur and Primal Scream. I get the audience to sing-a-long with the main riff to Seven Nation Army by The White Stripes. Then we're into a couple of 80s numbers. There's stage invasions, & people singing down microphones. Cameras flash in our faces constantly and the audience shout their heads off to I Love Rock n Roll, Parklife and Sex On Fire.
The NYE party band set finishes and we're straight into the second and third encores with the crowd chanting "Four more songs, four more songs". Twenty minutes later and our live set ends with Jets – Are You Gonna Be My Girl. Then we're all slumped down on the stage floor completely knackered. I pop on a few more party tunes from the DJ set and we start to pack away.
Ending the night….The obligatory fight
A scuffle ensues outside (It wouldn't be New Years Eve without something like this happening would it). I start to wind down the volume and the tone of the DJ set. This helps calm everyone down so they're ready to start heading home. The Police arrive…..and I don't mean Sting and the rest of the guys (again it wouldn't be NYE without seeing the Police).
Bar staff, friends and family help us to pack away. People are still coming up to tell us how great we were, how much they've enjoyed the party. They ask if we can play just one more song? (Our amps, guitars and drums are now back in the vehicles at this point 🙂 ) Two couples ask "Can we book a New Years Eve Party Band for next year". Hopefully that us out again then in 364 days time.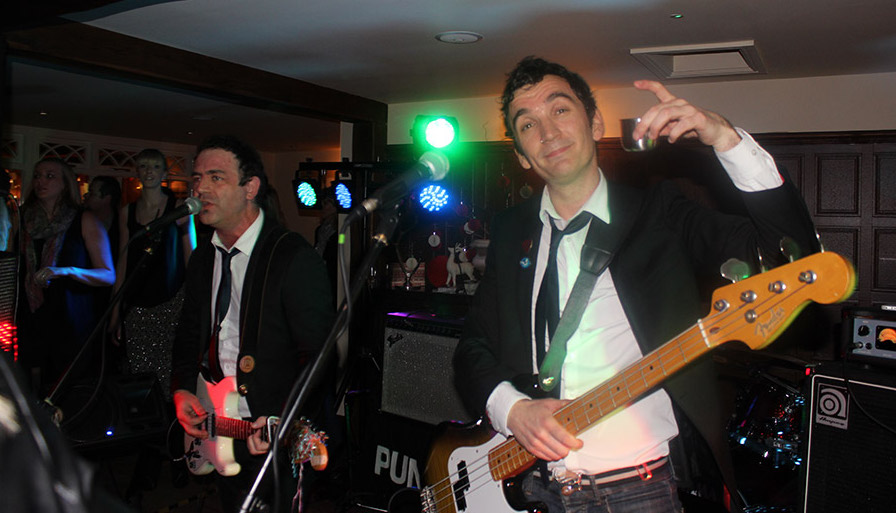 I leave the venue at about 2pm and arrive home at about 2:30pm. Its quiet at home as all of my lot who were there tonight have gone to bed early far too drunk. So I toast the success of the night with my first beer and a hand full of peanuts. Then I start to type up the blog you're reading now.
It was the best 'Punch The Air' have ever performed. The best audience reaction we've ever had and the most fun we've had on stage yet. So, Happy New Year everyone and thanks for starting it with with us the best way possible.
---
Book an indie rock cover band for your New Years Eve party or wedding reception party. Get in contact for a quote and to check on our availability.