Wedding Party Band Photos Archive 4
The UK's number one indie rock wedding band 'Punch The Air' with wedding party band photos archives from previous wedding venues. Also images from other types of previous parties. Proving how long we've been performing together as a wedding band. Also showcasing the amazing time wedding clients have had with us over the years. When you book a wedding band always remember to check back on their claims. Also history & years established to make sure it all adds up. Professional wedding party band 'Punch The Air' were established in 2013 all of which can be proven from our massively catalogued history below. Book professional musicians for a wedding reception with over 100+ 5 Star Rated independent reviews.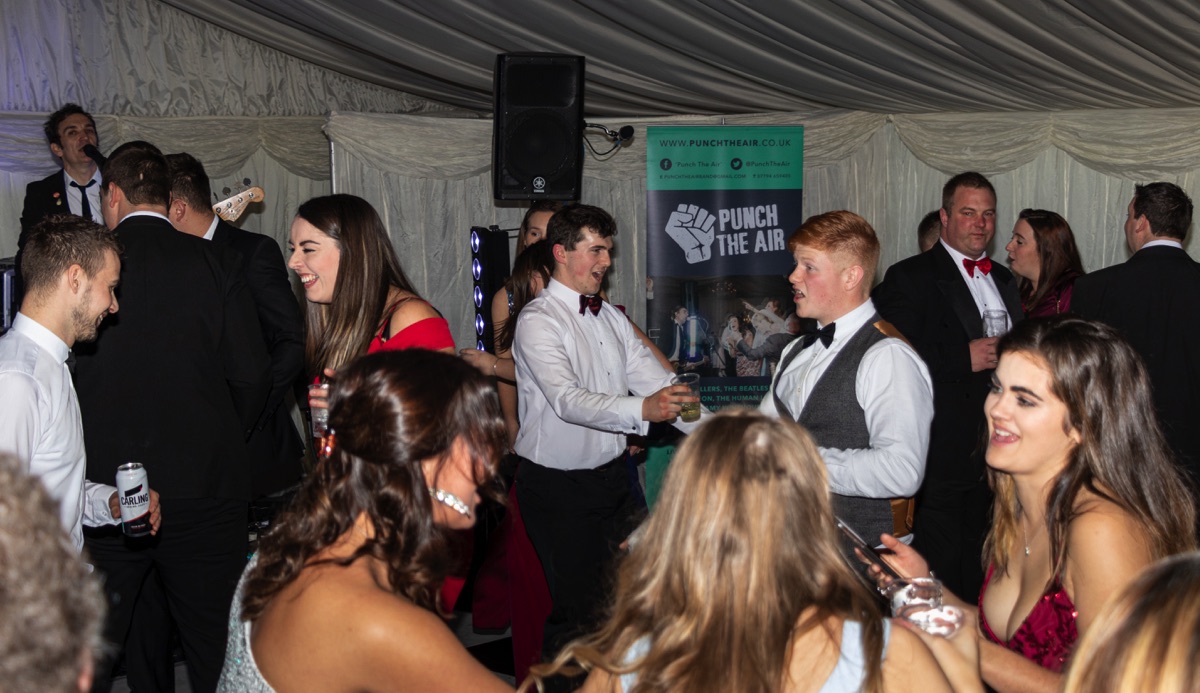 Lesbian Wedding Party Band – September 2017
We perform at a lot of same sex wedding party venues. Here we are hire a band for Hargate Hall wedding venue, Buxton, Derbyshire.
Showcase Performance For Potential New Clients – Shrewsbury – August 2017
Occasionally party band 'Punch The Air' get the opportunity to perform at public venues. So new wedding clients can see the band before booking. Certainly see if and when we're playing live next near you on our public performances pages.
50th Birthday – Bashall Barn, Clitheroe – August 2017
One of our favourite northern wedding venues, Bashall Barn, Clitheroe is highly recommended by Punch The Air. Also a fantastic venue to hold a birthday party in too.
A Wedding at Ludlow Brewery – July 2017
Who wouldn't want to hold a wedding reception in an award winning brewery? This bride and groom got married in Cornwall, then a few days later booked a wedding reception at Ludlow Brewery.
Showcase Performance – Shrewsbury – June 2017
Find a band performing publicly before booking a wedding band. Afterwards book a professional wedding band whenever you're ready.
Corporate Party – Edale, Derbyshire – May 2017
We love it when clients book a Peak District, Derbyshire wedding band or even for their corporate party.
A Lovely Wedding in Lichfield Guildhall – April 2017
Our favourite wedding venue in Lichfield is Guildhall. Professional band Punch The Air perform here a few times a year. Also we are one of their recommended suppliers.
A Wonderful Wedding in Shepton Mallet March 2017
Wedding venue Charlton House, Glastonbury is a great place to book a wedding reception at. All guests thoroughly enjoyed our live performances shown in the wedding photos below.
A Super Wedding in Evesham February 2017
Dumbleton Hall, Evesham is a classic wedding venue in Worcestershire wedding band. Furthermore this Cotswold manor house will be perfect to book a wedding band at.
Same Sex Wedding Reception Band
at Hargate Hall, Buxton – January 2017
Another same sex wedding reception band performances in Derbyshire wedding band. Above all a great time had by all. More images on our Punch The Air Party Band Facebook page.
All previous and future party band photos of 'Punch The Air'
Indie Party Band Photos Archive 7
The UKs best Indie Wedding Band Photos Archive 6
Indie Covers Band Photos Archive 5
Wedding Party Band Photos Archive 4
Party Band Photos Archive 3
Function Band Photos Archive 2
Wedding Band Photos Archive 1