Indie Party Band Photos Archive 7
If you're considering an indie party band for your function or event then here's what you should do. Check your live band can prove all their claims that they're out performing live as much as they are. How do you do this? Well, look back on their indie party band photos and see if they have as many galleries as we have. Our professional live band try our best to consistently document most of our live performances. A lot of which are all below. Contact to book an Indie rock party band 'Punch The Air' for your function or event.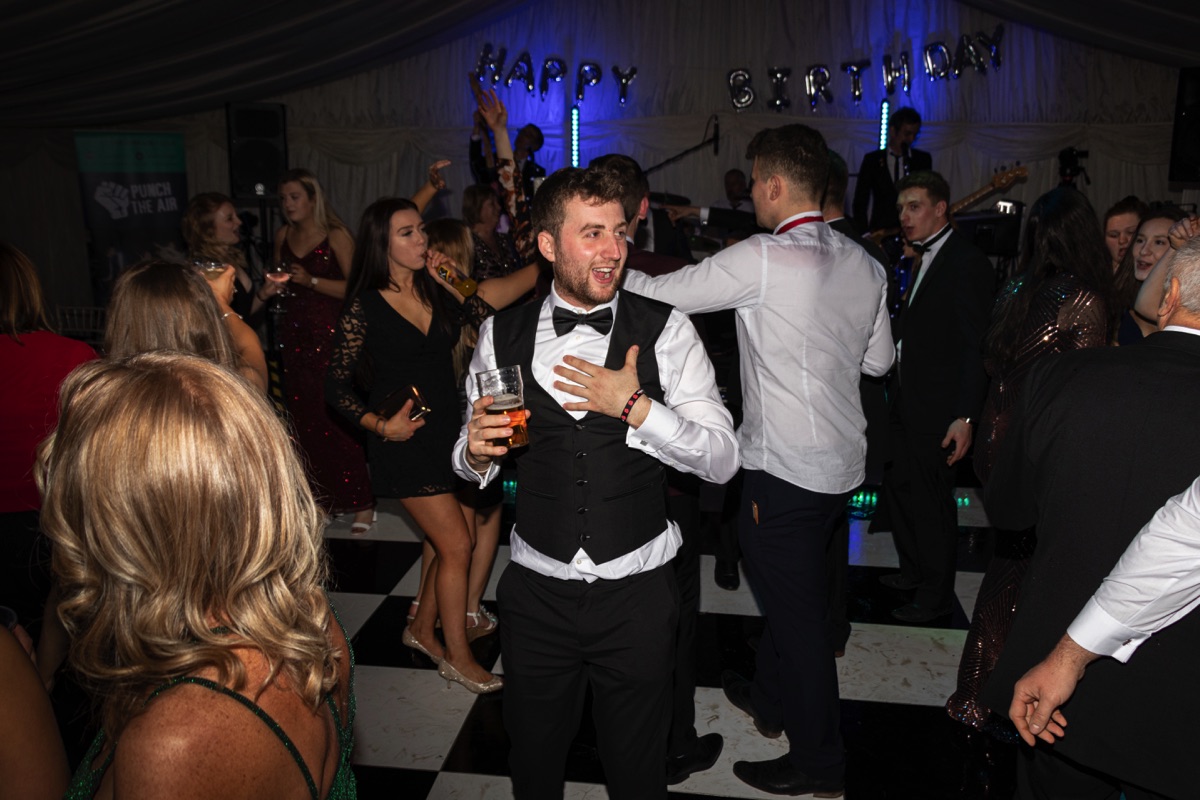 Andy Solo at a Festival – April 2019
Starting off here's professional musician Andy Starkey performing solo live music at a festival in Birmingham city centre.
Laura & Sams Wedding Indie Party Band Photos – Nottingham – March 2019
Pics from Laura and Sams lovely wedding reception at The Carriage Hall, Plumtree, Nottingham.
40th Birthday Party – Lichfield – February 2019
Performing for Lindsay and all her friends and family at her 40th birthday party at Brewhouse & Kitchen, Lichfield.
30th Birthday Party – Andy Starkey Solo – January 2019
Here's band leader Andy Starkey performing live at a 30th birthday party in January 2019 in a little pub. As you can see everyone always has a great time when Andys around. Andy encourages everyone to sing and dance along with him helping to keep the party going all night long. Find out more about acoustic solo musician Andy Starkey options.
40th Birthday Party – Lichfield – January 2019
Once again we performed at one of our favourite Lichfield venues St Johns House. This time around at this luxury B&B it was for Davids 40th birthday party. As its quite a small venue and with restrictions on volume levels we brought along our state of the art electronic drums kit so we could easily adhere to the volume levels required. Who says you cant experience live music at appropriate volume levels in small venues eh? The guests and ourselves all had an amazing time with us performing tonnes of modern and older tunes catering for all musical tastes……We're already booked in back there later in the year for a wedding too.
More images from Lichfield Christmas Lights Switch On with Indie Party Band Photos – December 2018
There was a friendly chap watching us perform right at the front of the crowd throughout our entire performance at Lichfield Christmas Lights Switch On. After our thrilling performance he introduced himself to us on Facebook and very kindly sent over all of these amazing images he took for us to use. Big thanks to that man Jonathan Fletcher.
A December Christmas Wedding – Bridgnorth – December 2018
Not only did Hayley & Tom have a December wedding, they also chose to have it on a Thursday too. And why not we say. The venue was The Mill Barns, Bridgnorth and you couldn't wish for a more lovely and modern wedding venue, with excellent staff on hand on a very mild evening. Later on Hayley & Tom even joined us on stage for a rendition of 'Last Christmas' by Wham. View the crowdsourced video we compiled together for them on YouTube too.
Lichfield Christmas Lights Switch On Indie Party Band Photos from November 2018
Andy and the guys were thrilled to be asked to perform at Lichfield prestigious Christmas Lights Switch on for 2018. Over 4000 people turned out to watch us perform and singalong with us to Last Christmas, Santa Claus Is Coming To Town. Also Merry Xmas Everybody as well as party favourites from George Ezra. Similarly Sam Smith, One Direction and lots more.
Andy Starkey – Lichfield Musician – November 2018
Professional musician Andrew Starkey is based in Lichfield but travels all over the country performing with his full band 'Punch The Air' and also solo acoustically. Andy is available to hire to perform in pubs, bars, restaurant. As well as for weddings, parties, corporate events and also birthday parties. Below are some fantastic images from a swanky bar performance.
Acoustic Duo Wedding Party – Nottingham – October 2018
The day after the below performance Andy & Matt headed off to Nottingham for Rachel & Dominics wedding party. It was held upstairs at The Herbert Kilpin, Nottingham live band. The lovely couple had got married on a different day with only family in attendance. Andy performed solo at the ceremony too as you can see further below. But they had their party on another day for friends and work colleagues to attend. With many guests in their early 40s everyone was up dancing all night long to "Age appropriate" tunes by Oasis, Blur, Pulp. Also hits from James, Ricky Martin, Alanis Morissette and many various other 90s artists (Plus the usual none 90s classics too).
All previous future and also previous photos of 'Punch The Air'