Shenstone Village Hall is a fantastic Lichfield wedding venue to have 'Punch The Air' perform as your wedding reception band or event due to its incredible stage. The size and height of the stage gives Indie Cover Band 'Punch The Air' Shenstone wedding band plenty of room to move around and entertain guests in a real "Rock & Roll" scenario. Loading the bands equipment in and out of the venue is very easy as there's a large car park on the premises. There is plenty of room for our indie rock wedding band extensive lighting rig to be erected on stage with the band without it getting in the way of guests. Punch The Air are able to walk onto the stage either up the side steps or from the dressing rooms at the rear. Contact to check on availability to book a Lichfield wedding band for your wedding reception.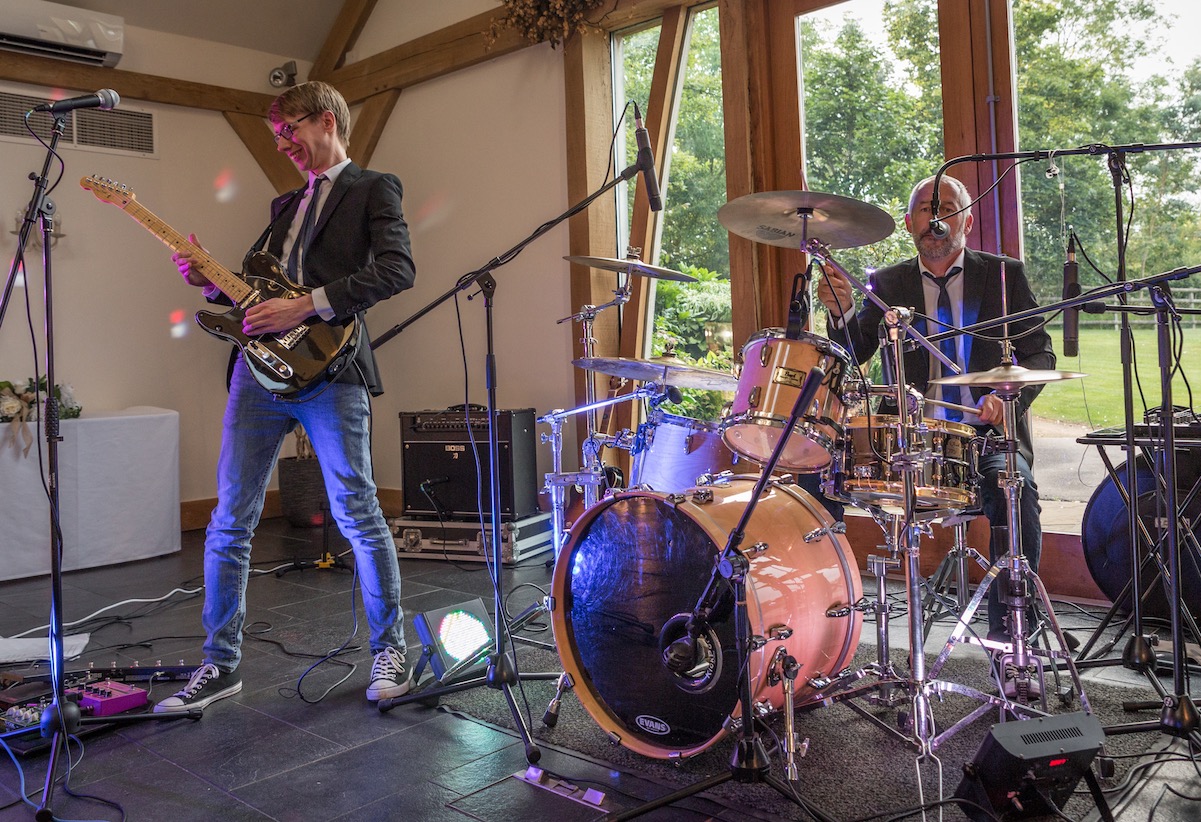 Shenstone Wedding Band at the Village Hall
The main room in this WS14 village hall is a fantastic size for live entertainment, It's nice and wide and also just the right length. Some echo off the rear wall can be heard bouncing back onto the stage when you hire a wedding band in Shen Stone. But only when there are no guests in the room. So it is soon soaked up when guests arrive at this Staffordshire party venue.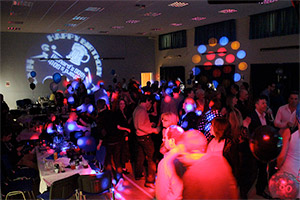 The is a small rear room which is fantastic for serving drink and nibbles from. There is also a side room where you can set up your buffet. The Village Hall Staffs is visible from the main Birmingham Road. But you have to drive through a winding estate to actually reach it. In the main room tables are best pushed to the sides of the room. This give guests plenty of space for dancing on the hard wooden floors.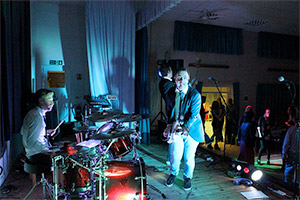 Shenstone Wedding Band live performances.
Indie Rock Cover Band 'Punch The Air' will perform live Classic Anthems of Indie Rock from artists like The Killers, Kings Of Leon, Stereophonics and also classic pop hits repertoire from modern day by artists like George Ezra, Amy Winehouse going all the way through the decades back the 1950s. Shenstone Village Hall does not have a sound limiter. So a full acoustic kit and large PA system can be utilised when you book live wedding entertainment.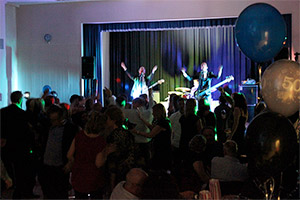 Do we recommend Shenstone Village Hall for Weddings and Parties
We can highly recommend Shenstone Village Hall for your wedding reception, corporate event or birthday party. This due to its fantastic size and its wonderful proper stage. Unfortunately there seems to be no real website for the venue. Although you can book the venue using the below contact details.
Shenstone Village Hall, Barnes Road, Shenstone, Lichfield, Staffordshire, WS14 0LT
Phone: Teresa Rock 07890 499956 or 01543 481504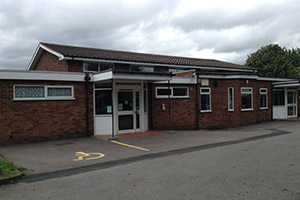 More images of Punch The Air performing as a Shenstone Village Hall wedding band and many other venues across the country can be viewed on function band photos page.
Wedding party band contact 'Punch The Air' for your Shenstone, Lichfield or Staffordshire wedding reception band.