Wollaton Hall wedding venue is a beautiful 16th Century Grade 1 listed country house. It stands on a small but prominent hill in Wollaton Park, Nottingham, England. It is a thoroughly breathtaking building to have Wollaton Nottingham Wedding Band 'Punch The Air' perform at for your special day and is actually a superstar itself. The outside of Wollaton Hall was used for key scenes in the 2011 Batman film 'The Dark Knight Rises'. What could be cooler than having your wedding reception at Bruce Waynes 'Wayne Manor'? Contact indie rock wedding band 'Punch The Air' to check on our price and availability for your Notts wedding venue.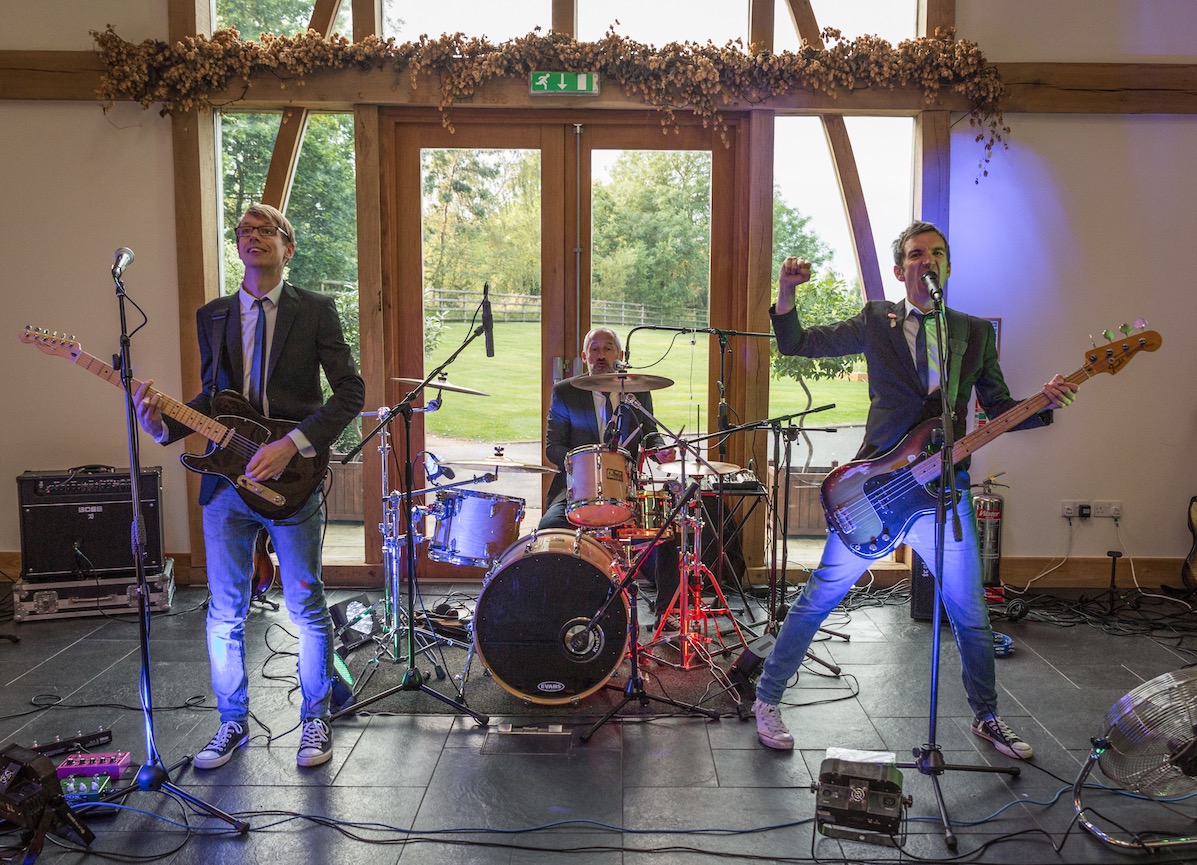 Exterior Wollaton Nottingham Wedding Band
The entrance driveway to Wollaton Hall, Notts, NG8 2AE is off the A609 Wollaton Road. You then drive up a very long road through the park providing you with a stunning view of the venue. It is very close to The University Of Nottingham, Travelodge in Beeston. Which is very handy when you hire a wedding band in Wollaton.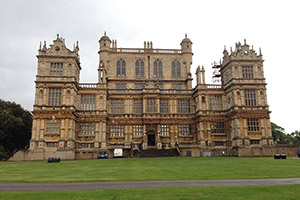 'Punch The Air' Wollaton Nottingham Wedding Band perform in the Great Hall. It features stone archways and a hammer beam ceiling. It is approx 15m x 9m in size with room for approx 150 standing guests. Access to the Grand Hall for wedding party band Punch The Air is up the main front stairs. Then to the rear side of the room by a hallway. The Great Hall does not feature a limiter but volume should be kept to a befitting level so as not to disturb paintings.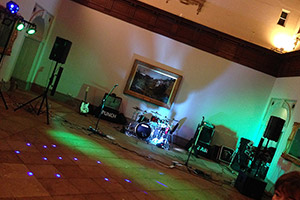 Our professional wedding entertainment band are able to gain access to the room via the rear side doors where there are numerous power sockets. This 'Stage area' is then best used solely for the party band to perform in. The room features a lot of reverb and echo due to its bare walls and stone floor, so reverb and echo settings are best kept to a minimum when our covers band perform live.
What are 'Punch The Air' like?
The band perform Classic Indie Rock Anthems and also a repertoire of chart and pop music from modern day all the way back to the 1950's. We come supplied with PA, mixing desk, lighting and DJ services. Find out more indie rock party band about 'Punch The Air'.
Where to place the rest of your wedding reception within the Hall
To the one side of the room is a bar area area which you can use for serving a buffet. Surrounding the Great Hall are various hallways. Incidentally at the rear of the Great Hall is a room full of taxidermied animals such as buffalo, birds, cats and various other strange creatures. Our indie rock cover band found this incredibly entertaining,.
Its worth noting that gates are locked at midnight so as such the evenings entertainment needs to be completed by 11.30pm.
We highly recommend Wollaton Hall, Nottinghamshire for your special day as its stunning beauty provides the perfect romantic atmosphere with elegant surroundings……..and of course for the fact that you can pretend you're Batman.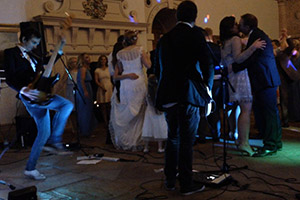 More images of Punch The Air performing at Wollaton Hall and various other Nottinghamshire wedding band venues.