Update 26th April 2021: Covid restrictions are starting to be lifted again and up to 15 guests are now allowed at weddings once again. When Covid restrictions ease further we will attempt to make sense of the specific rules and update this page.
You can read wedding band Punch The Air new page regarding getting your wedding back on track after 21st June 2021 which includes the Covid Wedding Calendar. This advises you how many guests can attend your weddings on which date of each of the four steps.
---
Previous Coronavirus wedding information.
Updated Wednesday 9th September 2020 – Social gatherings are back down to no more than six people but Weddings are excluded from this "Rule Of Six / 6 People Limit". So read on…..We still live in uncertain times regarding wedding with 30 guests or wedding with 15 guests with the Covid-19 epidemic still around. Even with everything laid out by continuously by the government the virus situation is still very unclear. Can you or can't you currently get married with the outbreak still controlling the country? Should you even get married at this moment in time or should you still isolate or be in quarantine? How will your wedding be different to everything you ever dreamed it would be? Are you allowed Covid wedding entertainment?
Good news: Rule Of Six / 6 People Limit does not affect Weddings. (Hands. Face. Space.)
Now that regular Government press conferences have ended how will you be able to keep up to date with the latest wedding Covid-19 do's and don'ts? What WHO World Health Organization advise is often too long winded to read in its entirety for some people. Below we outline what you can and cant do at a wedding with 30 guests during Covid-19 Coronavirus pandemic.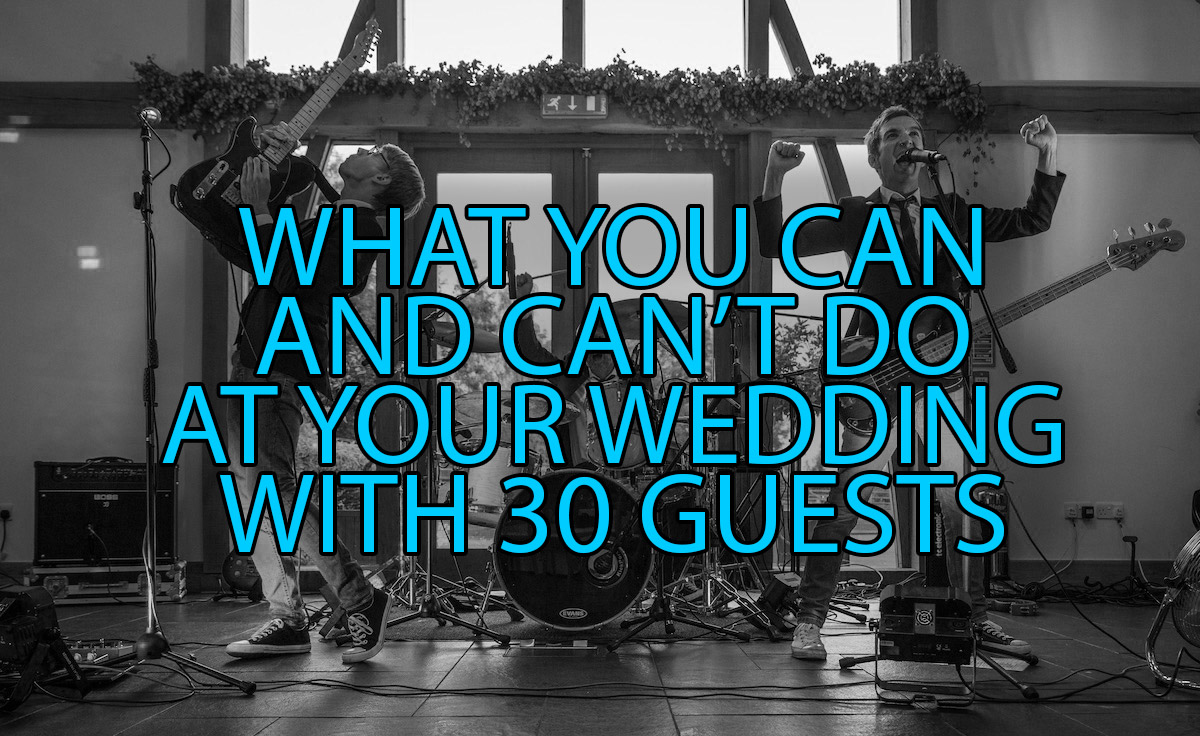 Can a wedding band perform at my Covid wedding? The bad news first.
Before we get into these questions and answers we have some bad news for you about wedding bands. Simply put, under the current government rules and guidelines (Updated as of Wednesday 9th September 2020) you cannot have a live band perform at your wedding. For this, any many other good reasons you might even ask yourself, "Is it worth getting married right now, even if I can?"
That said it's never too early to book a wedding band for a future date. So why not book a Covid secure secure wedding band 'Punch The Air' to take care of all of your live entertainment? With our Coronavirus Deposit Refund Guarantee you won't loose anything if the virus is still around at the time of your wedding and need to cancel/delay. We're Covid Compliant and ready to take your booking whenever you feel safe and ready to do so. Also don't forget our No Price Increase Promise over 2020 and 2021 for Coronavirus weddings.
You can book us when you're ready at todays prices until the end of 2021. Thats as long as someone else hasn't already booked our wedding band on your wedding date. So contact 'Punch The Air' as soon as possible to check if your date is still available.
Our previous post about Weddings With A Maximum Of 30 Guests threw up more questions than answers. So we're going to attempt to answer some of the most asked questions here regarding Covid secure weddings. We will update this page regularly as and when the government provide us with more information. It will feature all the latest wedding rules during Coronavirus. So please remember to bookmark this page for future reference. You can also read more about planning or rescheduling your Coronavirus wedding in 2020 / 2021.
(Latest update Wednesday 9th September 4:30pm)
Questions and answers about weddings with thirty guests. What can I and what can't I do at my wedding with 30 guests.
These are your unanswered questions about the new thirty guests at a wedding rule.
Can I get married now?
Yes, as of 15th August 2020 you can now get married again…With up to 30 guests attending your wedding ceremony. Guests names and addresses will need to be supplied to assist with Test And Trace contact tracing. "Ceremonies need to be kept as short as reasonably possible. Limited as far as reasonably possible to the parts of the ceremonies that are required in order for the marriage or civil partnership to be legally binding".
Can I have a same sex civil partnerships wedding or civil ceremony?
Yes, see above for marriages.
More of what you can and can't do at weddings on / after Saturday 15th August 2020.
Can I get married in another venue thats not a place of worship/church?
Yes but marriage ceremonies should only take place at COVID-19 secure environments.
Do bridesmaids, flower girls, ushers, groomsmen, photographers, staff etc count towards my 30 guests?
Yes, bridesmaids, flower girls, ushers, groomsmen etc do count towards your 30 guests. This also includes photographers and security. But it does not include staff employed by the venue or any third party catering staff.
Does the vicar/marriage officiant count as one of my 30 guests?
Yes, your vicar/marriage officiant does count as one of my 30 guests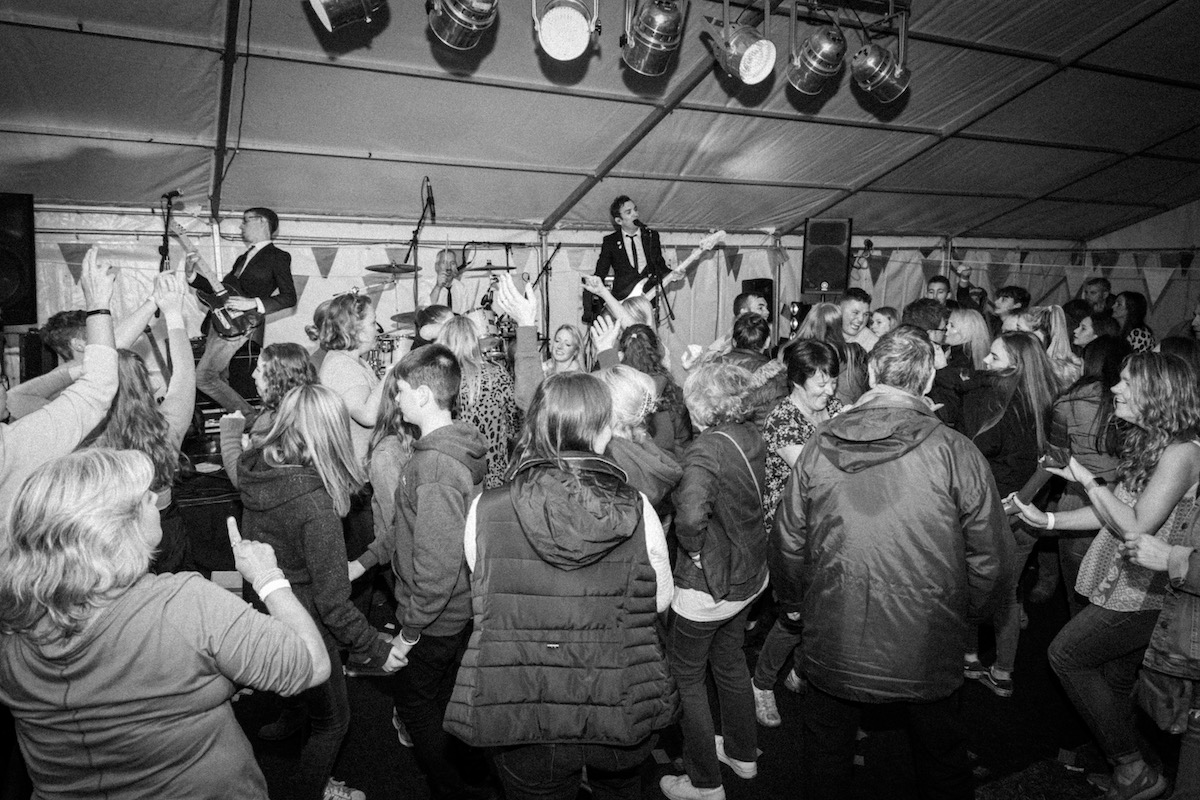 Entertainment, music and singing.
Can I have a wedding band play / have live music at my wedding?
No. Government guidelines state "At this time, venues should not permit indoor performances, including drama, comedy and music, to take place in front of a live audience. (Update to follow soon, possibly from 15th August 2020)". Helping to stop spread the infection is quite rightly more important than entertainment right now. Can I have a band at my wedding covid? No.
Can I have a band play at my wedding within a place or worship, Covid secure wedding venue?
No although the guidance states "Where required for the marriage or civil partnership, only one individual should be permitted to sing or chant, and the use of plexi-glass screens should be considered to protect guests, as this will further prevent transmission and the screen can be easily cleaned." So in theory a Covid Secure acoustic wedding singer musician could perform for you as you walk down the aisle.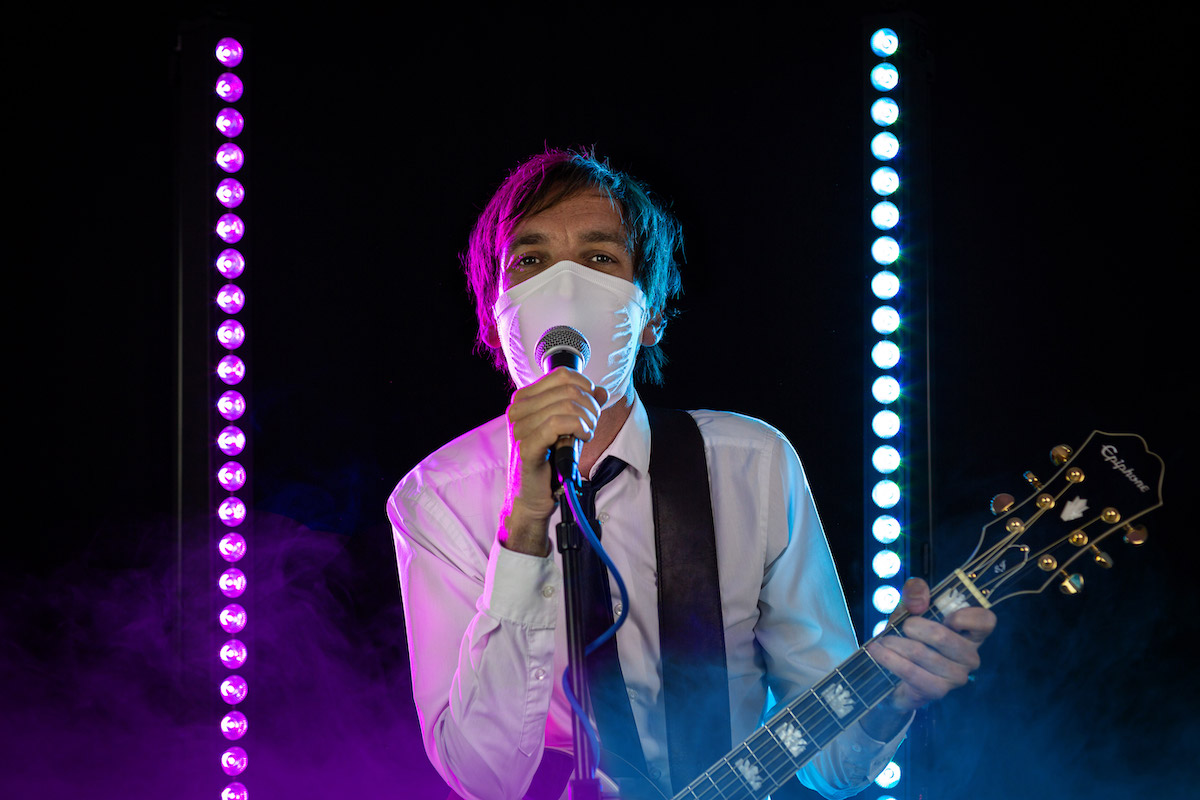 Can we sing songs / sing along at our wedding ceremony?
No. You must refrain from singing at your wedding ceremony. This (as with everything on this page) is to mitigate the risks of contagion of Coronavirus transmission.
Can we dance at our wedding?
If you are not allowed wedding music of any kind then what will you actually be dancing to? The government state "Wedding receptions or parties should not currently be taking place" but have not mentioned anything about the wedding couple dancing together. When in doubt use your common sense.
Questions and answers about the numbers of guests at a wedding and social distancing.
Is it 30 guests plus myself and my parter as the bride or groom or 28 guests plus the bride and groom?
It is 30 people at a wedding full stop. So that is the couple getting married plus 28 other people/guests.
If I book a wedding band for my wedding reception are they part of the 30 allowed guests?
Wedding bands and live music are currently not allowed at weddings of any kind. As to whether band members will be classed within your number of guests in the future is currently unclear.
Do babies count as wedding guests covid?
Yes, babies are classed as a full guest at a covid wedding.
Do we still need to observe one plus metre social distancing rules with friends and family from outside our home at our wedding?
One plus metre social distancing should still be adhered to under all circumstances.
About the wedding breakfast and wedding reception.
Can we have a wedding breakfast / sit down meal with our 30 guests?
Yes, we presume…but this is still slightly muddy. The Government document states "Sit down meals for no more than 30 people and subject to Covid-19 Secure guidance. This change will not take place until at least 15 August, at the earliest." So does that mean you can or you can't have a wedding breakfast as long as with Coronavirus secure guidance is adhered to?
Can we have an evening wedding reception / wedding party?
No, not as in a wedding reception in a wedding venue. The guidelines state "Wedding receptions or parties should not currently be taking place." But it then goes on to state "Any celebration after the ceremony should follow the broader social distancing guidance of involving no more than two households in any location or, if outdoors, up to 6 people from different households.". Which we assume means along lines of its OK if you go back to someones house after the ceremony. NOT a full blown party in a wedding reception venue.
If I have a wedding reception, are waiting, serving and bar staff classed as guests?
Wedding receptions are currently a no-no situation. As to whether waiting, serving and bar staff will be classed within your number of 30 guests moving forward is currently unclear. Although we assume the number of guests will increase in the future and then waiting, serving and bar staff will be included in this number. Or a new separate number of "Staff" will be added to the equation.
---
Summing up the 30 wedding guests rule.
There is a LOT of conflicting information supplied by the Government right now. And to sum up there is not currently 100% clarity on what you can and can't do at a wedding with only 30 guests. If you want a fully functional/normal wedding then you may want to possibly hold off a little longer when social distancing restrictions will be lifted further. Then you will be able to have your wedding more like the way you have always dreamed of.
If you have any further questions regarding the above rules and regulations then please message us on our Facebook page. We will do our best to answer your questions as fast as possible.
Professional indie rock wedding band 'Punch The Air' would love to play a large or small part of your very special day once we are able to. We'll give you two high energy live performances and include all sound and lighting equipment. Massive singalong tunes by Stereophonics, The Beatles, Oasis, Amy Winehouse and The Killers. Also huge chart pop by George Ezra, Queen, Kings Of Leon, Blink 182 and more. Contact for price and availability to book a Staffordshire wedding band or a Derbyshire wedding band. Also book a band for a wedding in Shropshire and hire a wedding band in Leicestershire. In fact you can book 'Punch The Air' for weddings all over the UK and beyond. We'll come to you no matter where your wedding reception is.
---
Sources of information and statements about weddings and entertainment:
14th August 2020 – The most recent information on this page is taken from GOV.UK – Guidance COVID-19: Guidance for small marriages and civil partnerships (Updated 13 August 2020).