Book a UK Coronavirus Party Band and celebrate your health and wellbeing. Now that Covid-19 Coronavirus has been eradicated from the UK and there is a Coronavirus cure, all is safe & it's time to party again. Since Pfizer, BioNTech, Johnson & Johnson, Moderna, Novavax, Oxford and AstraZeneca Coronavirus vaccines have been found to be 90% effective in preventing people from getting the virus. Also there are still many more vaccines currently in the final stages of testing so we are well on our way to eradicating Covid-19 completely and having a Coronavirus cure.
Life is now back to normal and we've been told by the government to "Get on with or lives". There are no more lockdowns, social distancing or even having to self isolate. The mass roll-out of the Coronavirus vaccine that occurred across the UK throughout 2021 was a huge success. Contact to book a party band.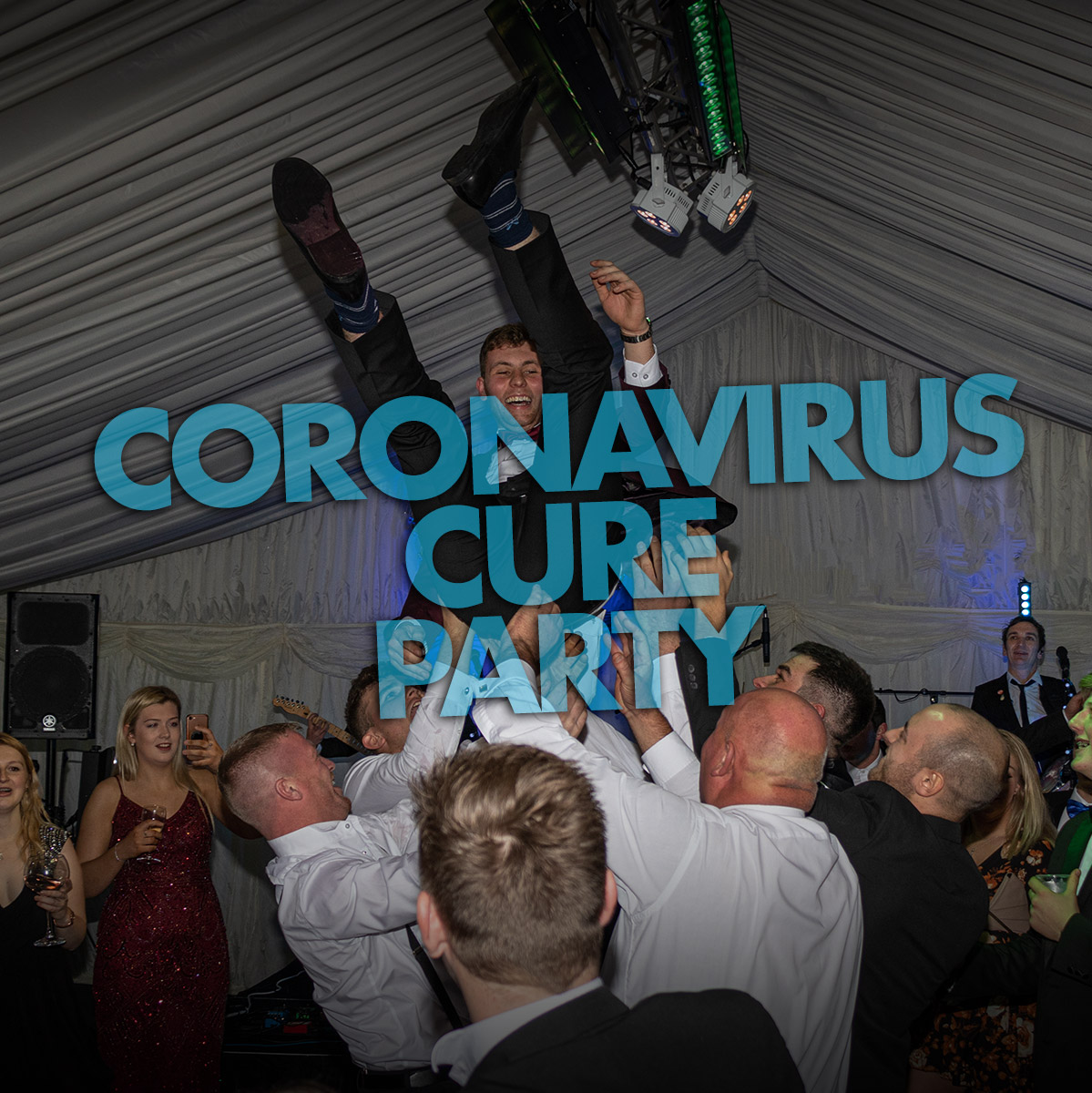 Covid vaccine party
Celebrate with a UK Coronavirus Party and have indie rock party band Punch The Air handle all your live entertainment. Big chart tunes from modern day back through to the 1950s and massive indie rock bangers too. Live performances of songs by Walk The Moon, The Killers, Amy Winehouse and Stereophonics. Also The Beatles, Kings Of Leon, Blink 182, The Undertones and more. Contact now to check on price and availability. With the combination of herd mentality, the vaccine, antibodies and everyones hard work we are now all able to hold parties again.
Have the party or wedding reception you've been holding off months and months for and we'll give you high energy performances guaranteed to get everyone up dancing. Throw away those masks, remove the PPE as the epidemic is over and get booking a party band.
Book a UK Coronavirus Party band
When you Book a Coronavirus Party band we'll provide you with absolutely everything. So you won't need to hire in any third parties. We'll save you tonnes of money and also give you a night you'll never forget. For most parties our services include as standard:
PA sound system.
Lighting for the stage area and dancefloor.
The bands entire backline of guitars/amps/drums/mics/cables etc.
Two live performances of banging indie tunes and chart sensations.
DJ services until midnight (Extendable out with our late night DJ services).
Hard Copy Contract
Saving a minimum of £200 by not using an agency.
Optional extras you can chose from to make your Covid-19 Party even more special include:
The curve has been flattened and similarly theres no need to isolate anymore as the pandemic is over. Stop social distancing and get out and party like it never happened. The death rate is now next to nothing but also the R rate is so low that the spread of infection has completely stopped too. As well as the vaccine developed by Pfizer and BioNTech, Hydroxychloroquine has also helped so many Covid-19 sufferers and the lockdown period and second wave and third wave have now ended too. It's no longer a national emergency as the vaccine has worked. Book a Coronavirus Party Band and have the party you've promised yourself so long for. Contact 'Punch The Air' for a great price and also to check on our availability.