Coronavirus advice you've probably not even considered…..We understand that no one really wants to think about 2021 or 2022 yet. What with everything thats currently going on across the world with the Covid-19 pandemic. Whether you want to believe it or not though it has and continues to affect every single wedding supplier in the wedding industry. Also it continues to affect every person on the planet. One way or another too. Previously it had massively affected 2020 weddings and 2021 weddings. And it's now even affecting 2022 weddings and twenty twenty three weddings too. Heres how were helping you organise a Covid secure wedding and book a Covid secure wedding band.
Keeping you up to date with all the latest Coronavirus party band news.
'Punch The Air' have lots more Covid-19 articles to help you make sense of all the latest regulations when hiring a live band during the Coronavirus outbreak. We are constantly updating these articles from UK Government Guidelines and from WHO World Health Organization information.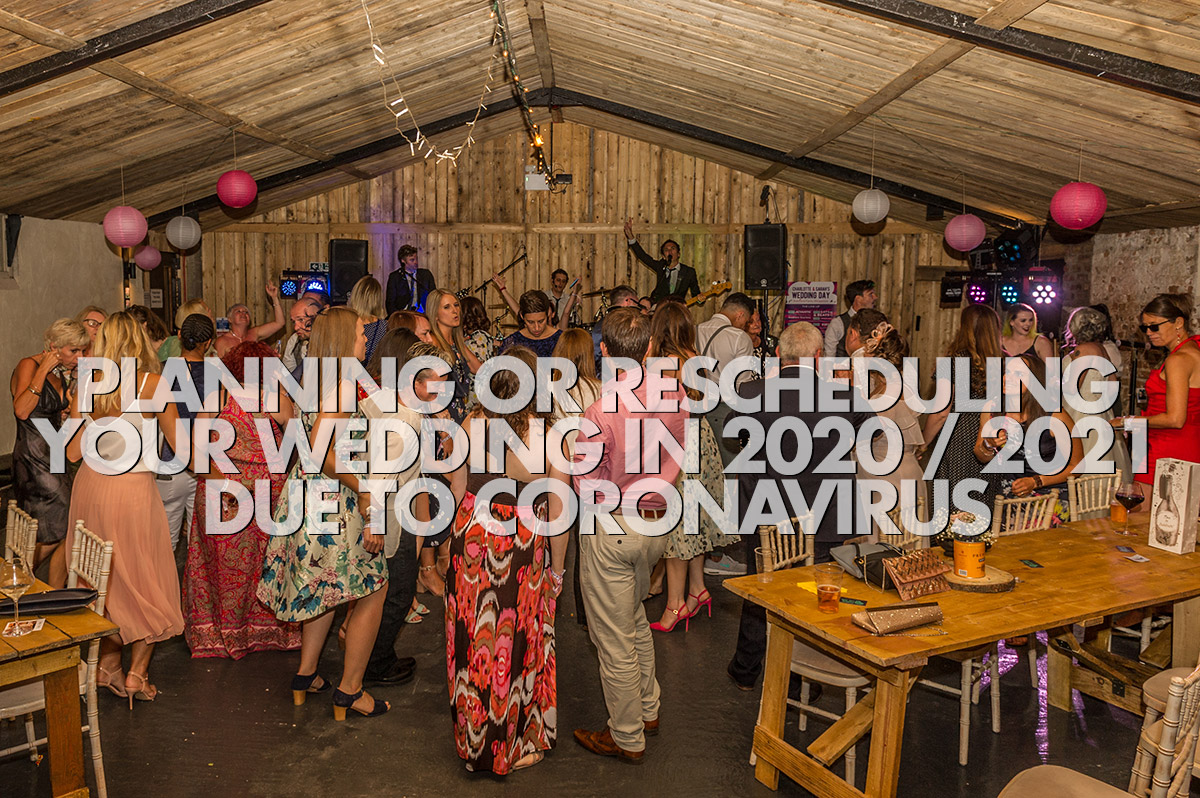 The Coronavirus in 2020 is already affecting future 2021 wedding bookings.
Brides & grooms looking to book 2021 wedding entertainment, wedding venues etc need to be aware that the coronavirus in 2020 is having a knock on effect into 2021 already. Wedding advice coronavirus: Most of our wedding live music bookings in 2020 affected by the Covid-19 pandemic are being rescheduled and moved forward by one year into 2021. Therefore many, many 2021 wedding dates have already been secured by 2020 clients. Rescheduling weddings will no doubt be the same across the board with all other wedding musicians and wedding suppliers across the UK.
Coronavirus Advice: Planning a 2021 wedding.
If you are planning on getting married next year in 2021 we urge you to get in contact with your potential wedding band, wedding venue, wedding photographer etc ASAP. As stated above 2021 dates are being used up by 2020 wedding clients rescheduling their weddings due to the Coronavirus. If you don't take immediate action and start confirming your wedding venue, and wedding band etc you may find yourself disappointed. Your preferred wedding date, band, photographer or videographer may have already been taken by Coronavirus rescheduled parties.
Coronavirus Advice: Rescheduling 2020 weddings affected by Covid-19 pandemic.
If you have a wedding booked over the forthcoming weeks or months in 2020 and want to postpone or reschedule it to later in year in 2020 or to the following year 2021 then please contact your wedding suppliers ASAP to check on their future availability. The sooner you do this the better. It will give you more of a chance to again secure your preferred wedding band or wedding supplier for your wedding day.
It really is quite the scramble right now. So the sooner you start your enquires the less hassle and stress its going to be in the long run. Preparation and good planning is everything when it comes to weddings. And the rescheduling and replanning of weddings is no different.
There are less available wedding dates in 2021 due to Coronavirus.
So far 'Punch The Air' indie rock wedding band have been able to help out all of our current 2020 wedding clients. They all got in touch with us quick enough looking to reschedule their wedding dates. As stated above though the problem is that there are now a lot less 2021 wedding dates left available. Possibly we are going to reach the point where there aren't enough dates left in the year. And we wont be able to accomodate new wedding bookings in 2021. So do please get in contact ASAP to check on our availability and price. Also remember to do so with your other chosen wedding suppliers as well. Photographers especially. Professional wedding band 'Punch The Air' here to help you and offer you advise from many years in the wedding industry. So ask us anything you like.