Hednesford Town FC Football Club (The Chase Room) is an excellent sized venue that can hold up to 180 people for a Hednesford Football Club Party Band. Above all it is the perfect venue for your party, Hednesford wedding reception, birthday or corporate event with Indie Rock Party Band 'Punch The Air' performing live for you and all your guests.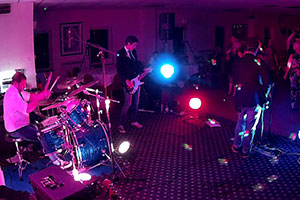 Info on Hednesford Football Club Party Band Wedding
'Punch The Air' perform indie rock anthems from The Killers, Coldplay, Kings Of Leon, Oasis, Arctic Monkeys, Foo Fighters and more. In addition we also perform chart hits from modern day through to the 1950s. We'll play music by George Ezra, The Undertones, Bryan Adams, Queen, Kaiser Chiefs, The Beatles and much more from our repertoire. Read more about 'Punch The Air' Indie Rock Party band and what equipment we'll bring to your party, (The short answer is everything, we take care of the lot). Contact for a quote on your party, wedding or for corporate entertainment at this Staffordshire venue.
The Hednesford FC party venue
Hednesford Town FC features an excellent sized permanent wooden dance-floor. Which is carpeted around the sides helping to absorb unwanted noise and ringing from the band PA system. It has a good sized licensed bar serving draught beers and a selection of other spirits and soft drinks. Catering can be provided from a simple buffet to a four course waiter service. We'll provide you with all your live & DJ music when you book a wedding band in Hednesford.
Hire a Hednesford Football Club Wedding Band.
Audibly it is a very good room with no ringing or echo for our indie rock cover band. Thus it is very quick and easy to mix a good quality sound for our Hednesford Football Club Wedding Band. Loading in is easy due to the small lift for the heavier gear. Then the rest of the bands gear we recommend is carried up to the second floor.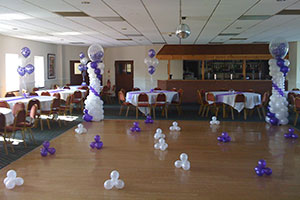 Party band 'Punch The Air' are able to store bags and cases on the outer side of the rear doors meaning less carrying back and forth to vehicles. It would be easier if the band could gain access to the lower rear gates though. Consequentially this would making loading in and out even easier with less disturbances to guests. There is plenty of parking for guests and band members. Our band vehicles can be pulled up right outside the venue to load in pretty much directly into the lift. There looks to have once been a limiter in the room but it is now no longer in use. Hire a top rated party band for your special event.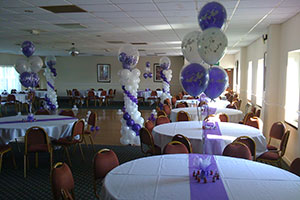 Hednesford party band.
There is a great view of the football pitch and it is in a nice and green/leafy surrounding. In conclusion we highly recommend Hednesford Town Football Club for your hire a wedding band, hire a party band, book a birthday party band. Book live entertainment from a professional party band.
Hednesford Town Football Club is located at Keys Park, Hednesford Football Club, Hednesford, Staffordshire, WS12 2DZ. Just off Hill Street (B4154) between Hednesford and Heath Hayes. Also nearby for a nice walk is Old Brickworks Nature Reserve leading to Wimblebury Park.
Number of guests – Up to 180
Room dimensions – We're not exactly sure