This evening indie rock cover band 'Punch The Air' are performing as a Corporate Event Live Band for an Awards Dinner ceremony. Its in the largest venue we've ever played at 'Stoke Town Kings Hall'. We're playing for an Automation Control company called Capula. They have a £6 billion turnover that make control panels for nuclear power stations. The venue is capable of holding 1300 theatre style, 450 diners (27.5 metres long by 21m wide). We're taking a 4.5Kw PA system with us tonight which is over double what we would normally use for a wedding band or smaller sized event. Contact live party band 'Punch The Air' to check on price and availability for your corporate event, awards dinner, charity fundraiser or company party.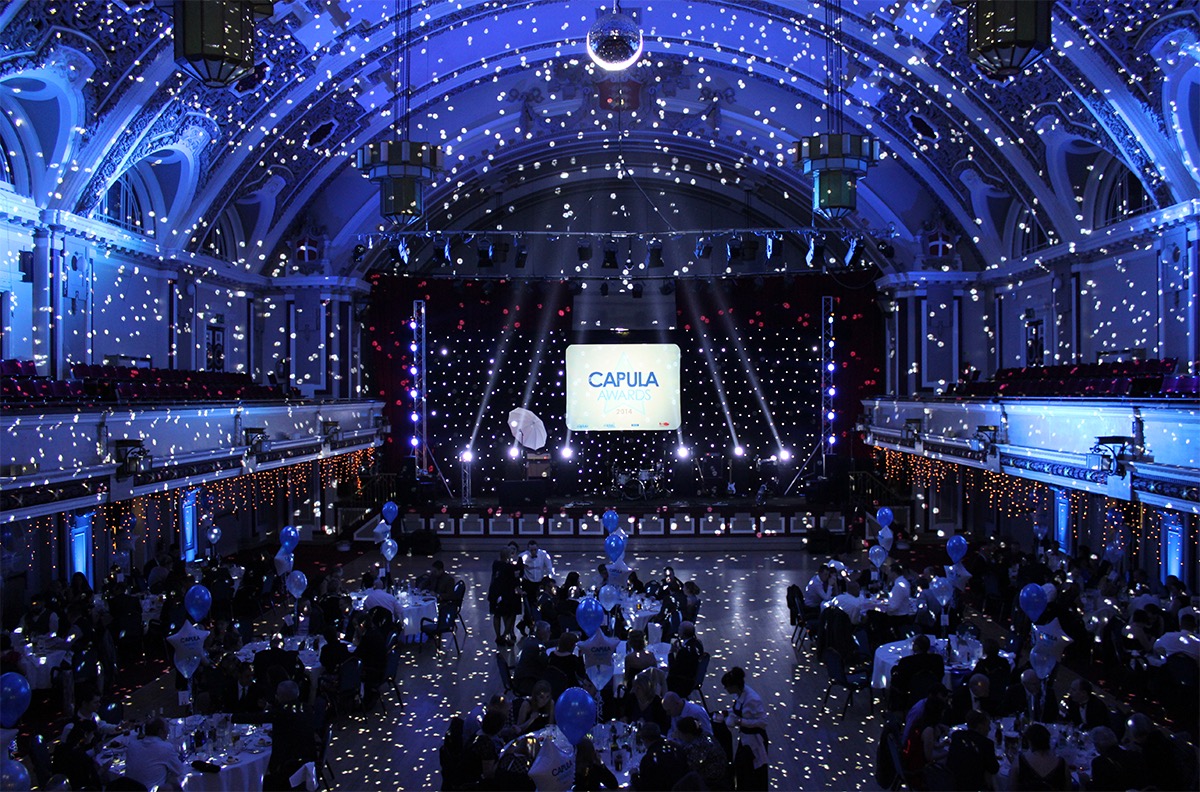 3.25pm – I loaded the van up with some last minute extras earlier on today. Now I'm off to pick up my good friend/sound engineer Brendan who very nicely just happens to live around the corner from me.
And we're on the way as a Corporate Event Live Band
3.30pm – He's on board now and we set off for the corporate event. West towards Stoke (Bare with me we need to go west to get on the M6 before we head up North). There's a 50mph speed limit all over the M6 still but at least we're doing a constant 50mph. 'Todd Terje' keeps us amused on the radio with his brilliant new release 'Its Album Time'. Dusk appears in the distance.
4.20pm – 40 minutes ahead of schedule already we pull up out the front of Stoke Town Hall. I'm not exactly sure where we're supposed to load into for corporate entertainment and park. I pop my head into the hall and WOW…..My jaw drops and I'm instantly blown away by the size and beauty of the room and the lighting rig. (Supplied by Hilton Studios). The room looks absolutely incredible washed in blues and reds with huge beams of light coming off the massive stage. They point towards a mirror ball which intern splits the light shining it back onto the walls and ceiling. For a moment I consider loading in through the front but decide to head off in the van. I find the service yard entrance to hopefully gain access to the back of the stage area.
4.45pm – We're still driving around the crazy one way system of Stoke trying to find the service entrance. Eventually we find a small little entrance road and wait patently at the gate for someone to walk over and let us in.
Loading in an indie rock cover band
4.55pm – We start to load in through the back of the venue up a few steps past the back of the stage area directly onto the stage itself. Its much quicker having a fourth set of hands this evening and we're in in less than 10 minutes with the van parked nice and near for a quick load out later on this evening. Hire a company event band.
5:06pm – Brendan starts to set up the PA system leaving me to set up my own gear, the mixer, mics etc. James calls….he's been driving around trying to find the service entrance and now he's lost. I direct him to the front of the venue then I get in his car and show him the way. He waits around again for someone to come and let him through the barrier while I head back in to continue setting up.
Stoke Town Hall Party Band
5.20pm – I'm still in awe of the venue. We're going to be a fantastic awards dinner live band tonight. I take a photo of how it all looks from our on-stage point of view. Set up is going smooth as silk for our corporate event live band, we wonder if there's going to be enough leads, but we're OK (Note to self, order EVEN MORE leads).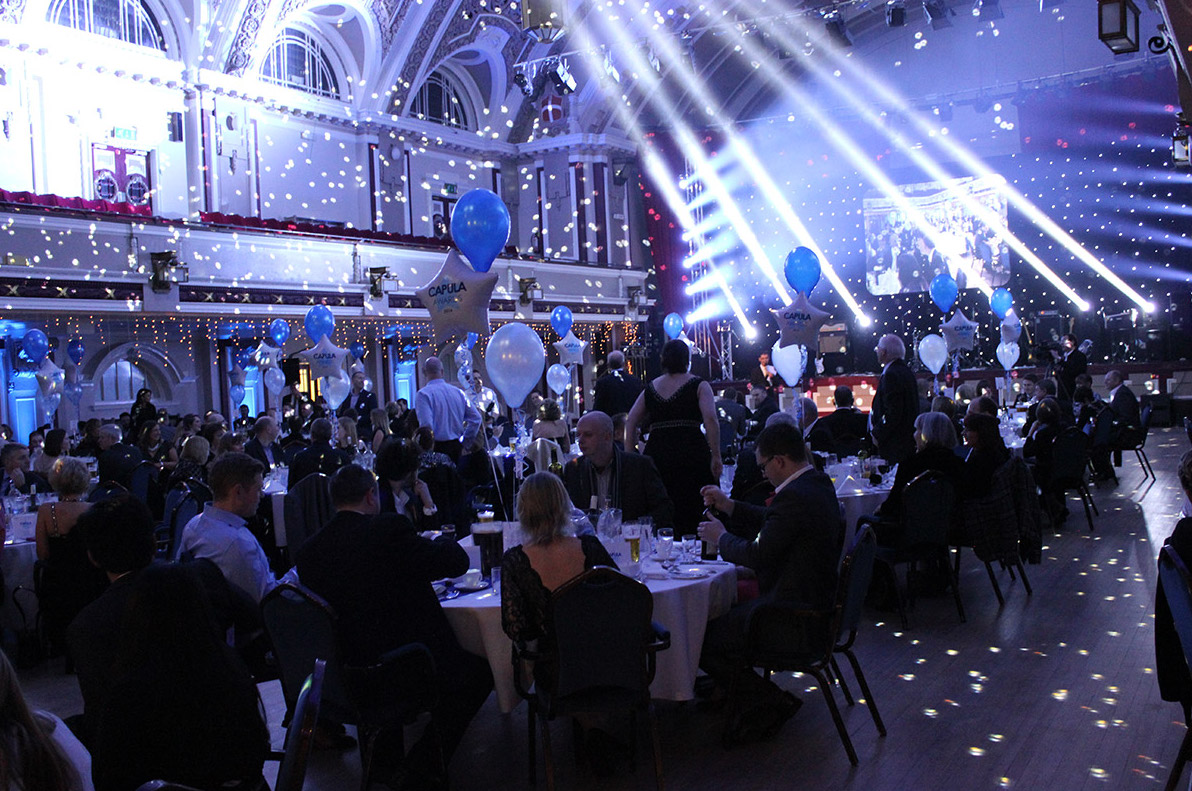 5.45pm – Stuarts drum kit is ready, the amps are all up, the guitars are all tuned, the mics are all set up and we're ready to sound check.
5.55pm – Its a good job we've got a larger PA this evening and its being run at nearly full volume. Brendan walks around the venue with iPad in hand mixing the sound. There are no feedback issues at all due to us all using in ear monitor systems and theres not much need for any digital reverb from the desk as there's so much natural reverb in the hall already.
Sound checking indie cover band "Punch The Air'
6.05pm – We blast through a few tracks of different volumes and styles just to make sure everythings level sounding, Brendan gives us the nod and we're done soundchecking.
6.10pm – We're 20 minutes ahead of schedule and one of my corporate event live band contacts for the evening (A very pretty and smiley young lady) comes over introducing herself saying how brilliant we sound…..ah bless.
6.15pm – We start to pull all the excess cases etc off the front of the stage to store them at the rear where they wont be seen, then we head on upstairs to the dressing room. Its a very funny old 1970s looking room which is very cold, but there's plenty of room for us and we even each get our own desk and mirror. (No one ever said this would be glamorous). We all get changed into our 'Punch The Air' uniforms and try to decide what to do next as there's a lot of time to kill before we're on stage this evening.
6.40pm – We head down to the main hall to grab a drink and have our pictures taken. I speak with the photographer Paul Briscoe whose a really, really nice guy. We laugh about how he's covered in specks of white paint as he's spent the day painting his studio for a big photoshoot tomorrow. He asks where our other band members are, I reply confused "Thats it, we're a three piece", he tells me that we've got one heck of a massive sound for a three piece.
Checking out the venue hire a corporate event live band
7.20pm – I wonder around the venue taking various photographs and video and even head up into the stalls for better views and photos. My other corporate event contact for the event introduces himself and we chat for a while. He's really buzzing and can't wait for the live music to start at their company party. We pop out a few promotional flyers while mingling with other guests. The mighty Phil Upton (BBC Radio DJ) is the compere for this evening, and a damn entertaining job he does throughout the event.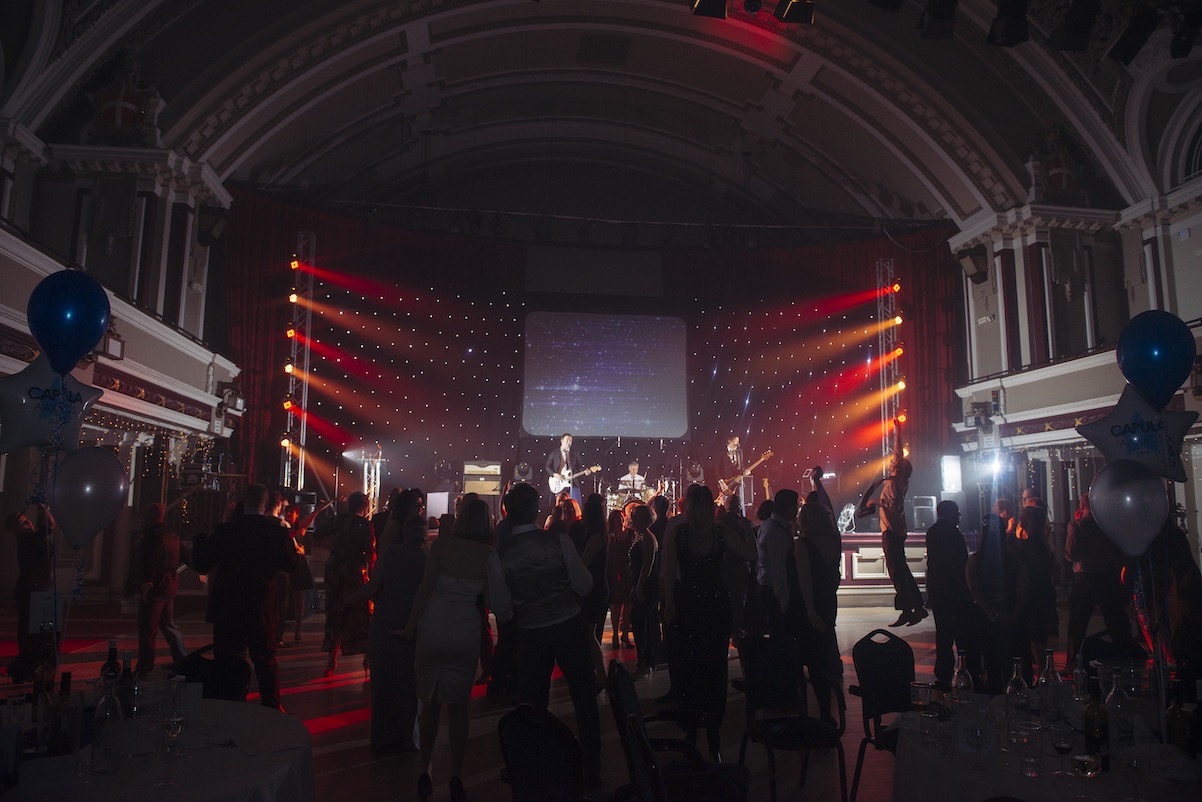 7.55pm – We're seated and being served our fancy three course meal for the night. It would seem that things are already running about 30 minutes late. I doubt that will improve as the evening continues, but hey, this is Rock N Roll. The client brings us some soft drinks vouchers for the bar. She says if we need anymore to just ask.
9.15pm – We're on pudding (But it should be the Awards ceremony) and we laugh about a few recent gigs we've played together. Also the large scale corporate events due in the next couple of weeks.
9.45pm – I head on stage and set up some video cameras to capture the bands performance. Hire a company party band who can entertain your guests the entire night.
9.55pm – I chat with Photographer Paul again about the kind of shots I like featuring the band at these types of corporate events. He says he'll probably be around until about 11pm. So he should at least be able to get a few shots of us in.
Awards Ceremony live band
10.10pm – The Awards start, there's lots of big-beat dance tunes played while people are accepting their awards.
10:40pm – It sounds like the Awards Ceremony is coming to an end so we start to warm up our voices and get ready to re-tune guitars etc.
10:50pm – This corporate event live band is ready to go. Due to how late the night is now running we have to cut the first set short by a few numbers which is a shame, but that's how it goes sometimes at corporate events. We start the set with 'I Fought The Law' followed by a few more 1960s numbers. Just to warm everyone up. People are up and dancing from the off set enjoying themselves and singing along to 'Brown Eyed Girl' with us. The lighting really is phenomenal, complementing the music wonderfully. Brendan wonders around the room tweaking the sound, boosting the volume for solos. He's also taking pictures and recording some video himself (He's earning his money this evening)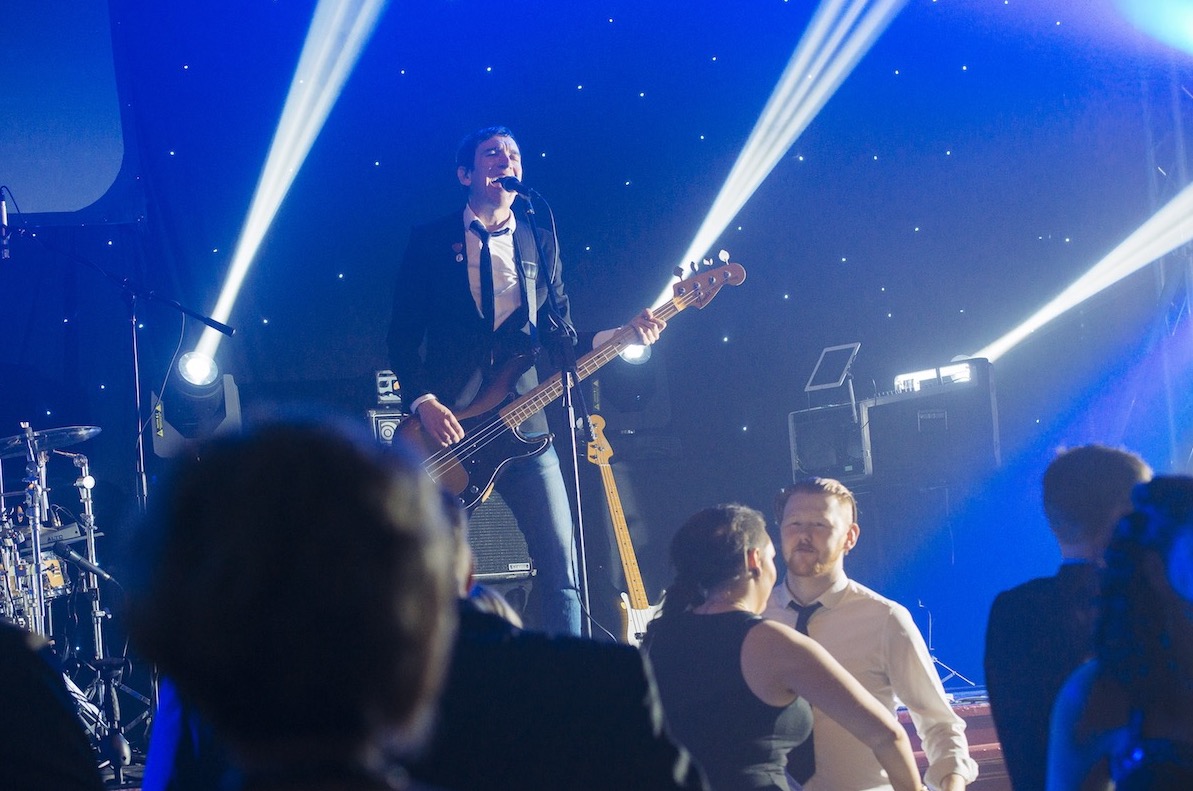 11:15pm – The first set is finished and we head off stage and take a quick 5 minute break. I pop on some tunes over the PA…….that was short and sharp. Its a fantastic stage with plenty of space for crazy antics.
Onto the second indie rock band set book a corporate event live band
11:20pm – The second set starts with the lighter side of punk. Followed by some big 1970s singalong hits and massive indie rock cover band Britpop numbers. Most of the guests are up on the dancefloor dancing and singing their little hearts out. I spot photographer Paul doing his stuff (Ahhhhh, he stopped later than 11pm – Good man). There's so much room on stage that we have the chance to really ham it up tonight with our live entertainment. So of course we do.
James appears through my legs at one point. We throw out some classic rock moves much to the crowds enjoyment. Everyone's got their hands in the air for indie cover band 'Place Your Hands' by Reef, 'Can't Buy Me Love' by The Beatles. There's a massive arms around each other moment for 'Wonderwall' by Oasis. We end the evening with 'You Really Got Me" by The Kinks with an excellent extra long gratuitous solo by James. The crowd throw up some air guitars of their own proving we are a top rated party band.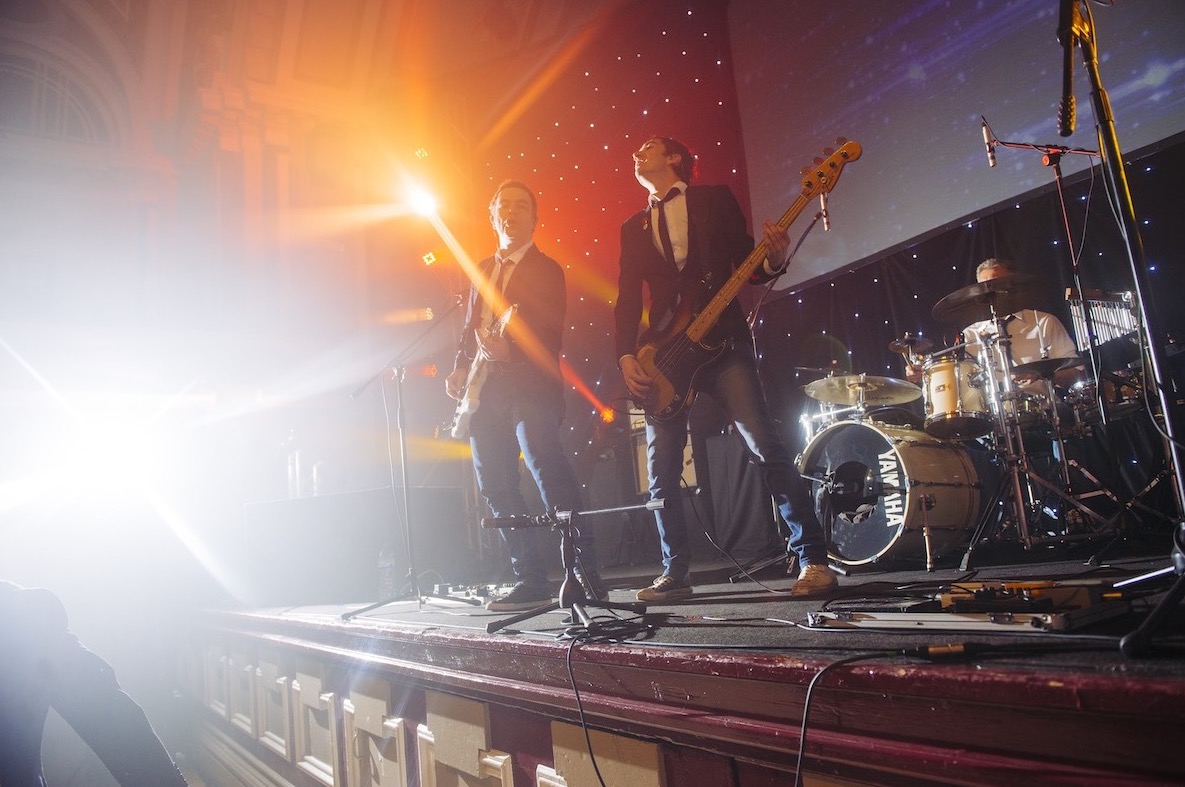 12:10pm – A few announcements about the bar closing/taxis/buses etc and we're done. A little bit of DJ material goes on while we head off to the dressing room. We get changed back into civilian clothing. Then we start to pack everything away. Some guests come up to congratulate us asking for business cards and contact details. Phew, what an amazing night at this splendid corporate event.
Time to pack away
12:40pm – Packing down is always a LOT quicker than setting up and we're ready to load the gear back into the van again.
12:50pm – We wait patiently by the barrier (Again) waiting to get the vehicles out.
1:00pm – We're now on the road heading back home. Brendan and I discuss how mysteriously smoothly the evenings events went.
1:40pm – I drop Brendan off at his house and wish him well. Then I head back to mine just down the road.
1:50pm – I'm home and earlier than I suspected which is always great. I'm so glad we bought the extra PA system with us tonight and also Brendan was a massive help. I look at my phone and see we've had a text at 1am from the client (see testimonials below) . What a lovely end to the evening and what an amazing corporate event.
Testimonials
Mike Fawcett – Capula Finance Director "Thanks a million for tonight it was truly awesome" (By text at 1am)
Jade Hughes – Capula Senior Project Administrator – "We're getting fantastic comments back from everyone who attended on how good you guys were so a massive thank you"
Venue – Kings Hall, Stoke Town Hall, Kingsway, Stoke ST4 1JH
Photography – Paul Briscoe
Lighting – Hilton Studios
Compere – Phil Upton
'Punch The Air' can also be booked to hire a wedding band, hire a party band, hire a birthday party band. Contact to check on price and availability.