Are you looking for a live indie rock wedding band for your wedding at Moxhull Hall, Wishaw, Sutton Coldfield, Midlands wedding band? Then look no further. live entertainment wedding band 'Punch The Air' have performed at this wonderful venue on many, many occasions. We know how to entertain all your guests and keep them happily dancing the whole night through. Do you want massive chart hits and indie classics that everyone will know and love? Then contact 'Punch The Air' to check on price and availability to hire a Sutton Coldfield wedding band.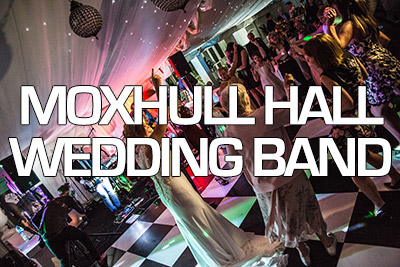 Videos of Moxhull Hall Wedding Band 'Punch The Air'
As you will see from the above covers band videos (Shot live at Moxhull Hall) we've made everything look and sound just perfect on the day, so you can easily see exactly what we can achieve for you on your wedding too. We're NOT some boring standing still looking down at guitars kind of band, we're an energetic, bouncing around, fun bunch of guys who engage with guests and encourage everyone to sing and clap along with us. You never know, we might even get you up on stage with our indie rock wedding band too. We'll bring along everything needed when you hire a wedding band in Sutton Coldfield.
As a three piece band we perform a wonderful array of indie rock, pop & rock music starting from the 1950s going all the way through to modern day tunes. So thats 50s Elvis & Chuck Berry, 60s Beatles & Stones. The 70s Queen & Undertones, 80s Human League & Tiffany. Also 90s Oasis & Blur, 00s The Killers, Amy Winehouse & Kings Of Leon. Thats a full repertoire featuring something for everyone with our live wedding performances. We are a highly recommended wedding band by both the venue and all our our previous clients.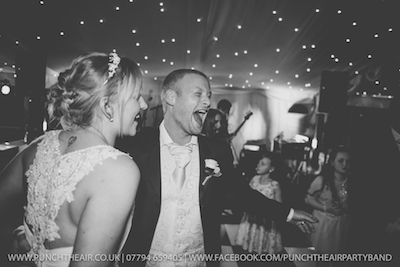 Grandma and Grandpa will have their moments on the dancefloor, so will kids and aunties & uncles and friends that you didn't even realise ever wanted to dance. If you want to party then we're the live wedding band for you.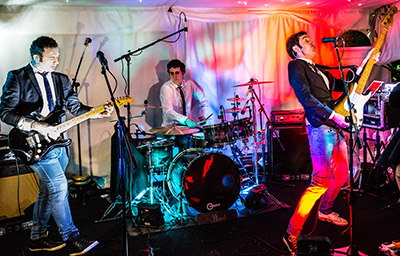 By the end of the night you and your partner and all your guests will have sore feet and hoarse throats from singing and dancing along with us all night long.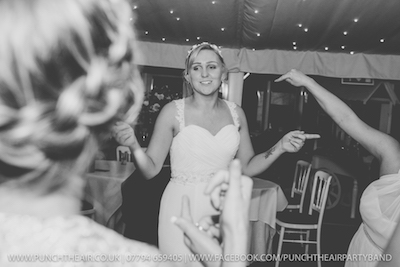 Included in our wedding package is:
2 x 45 minute live performances.
All PA audio equipment.
Stunning state of the art lighting rig to light the dancefloor.
DJ services before, in-between and after live performances until midnight.
Hard Copy Contract.
So we have your entire wedding entertainment package sorted. There's no need to hire an additional DJ, lighting or sound equipment helping you keep your Moxhull Hall wedding on budget.
You can even extend the night out to the small hours of the following day with late night DJ services for an extra fee if you require. Book a Sutton Coldfield Wedding Party Band now.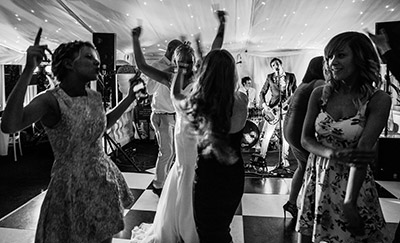 Your perfect day at Sutton Coldfield wedding venue.
All the photos on this page were taken during our various wedding performances at Moxhull Hall.
Having performed at Moxhull Hall many times before Punch The Air know exactly how to get the venue sounding absolutely perfect for your special day. Band members having degrees in sound engineering combined with award winning amplification equipment.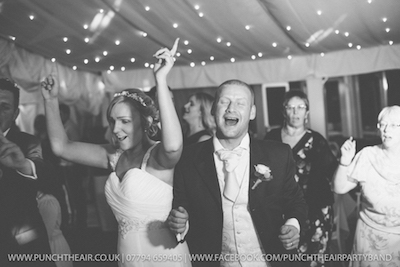 Don't just take our word for it though, here are some lovely testimonials from previous Moxhull Hall clients:
"You guys were certainly a focal point of our wedding, all our guests thoroughly enjoyed your performance and you achieved exactly what I'd dreamed about happening on my wedding day.… A FULL DANCE FLOOR!!!!!!" – Amy & Karl
"Big thanks from myself and my new husband for the fantastic job you guys did playing at our wedding! We had a great evening and so many friends and family came up to me saying how good they thought you were. Very professional band and great fun, thoroughly recommend! Thanks again guys!" Kelly & Joe Hunt
"On behalf of both of us we would like to say a HUGE thank you for being apart of our wedding and giving the evening the energy for people to be off their seats and dancing! You, along with the band were awesome and everyone complimented your talent, thanks guys!!" – Brittanie & Paul Taylor
---
Moxhull Hall is located on Holly Ln, Wishaw, Sutton Coldfield, B76 9PE. Its just off the A38 and A446 Lichfield Road. Nearby you have The Belfry Hotel & Resort, Bassets Pole & Wishaw Golf Club.
Moxhull Hall Wedding Band