You wouldn't trust any other part of your wedding to anything but a professional would you? No way! So of course you should hire a professional wedding band to perform live music at your wedding reception too. Hire competent and experienced quality musicians 'Punch The Air' wedding entertainment on your special day and don't leave it up to chance. Established in 2013 with literally hundreds and hundreds of wedding performances under our belts, Andy Starkey and his wedding cover band will have all your worries completely sorted. We will take care of your entire nights live music and even throw in free iPad DJ services when we're not performing live too. Our wedding band will provide you with a full PA system and lighting too. If thats not enough we have lots of extras for you to choose from too. Contact to check on price and availability for a pro wedding band in your area.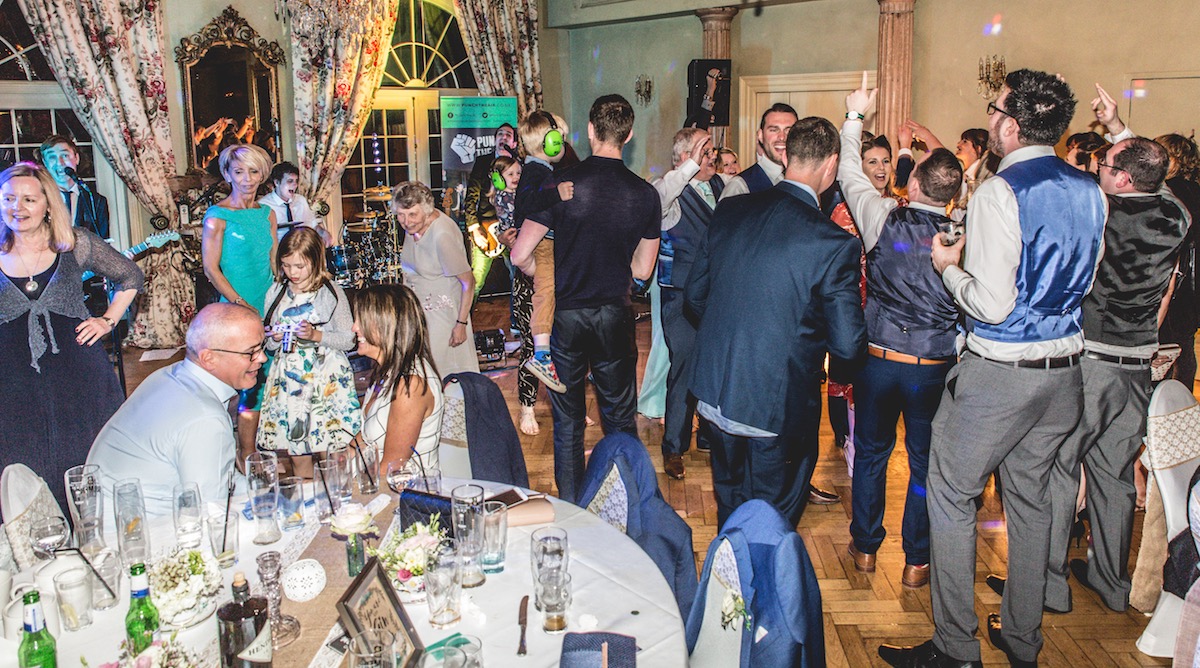 Book a Professional Wedding Band for your wedding reception party.
We are professionals in our trade with many years of knowledge and experience handling any type of event or situation. Some bands may fall apart the second something goes wrong on stage (This is LIVE music after all) or even off stage. Not 'Punch The Air' indie rock wedding band. We are proficient problem solvers with the skills to keep your party going no matter what. We've dealt with blackouts, floods, fights, stage invasions, fires and just about anything you can think of. One way or another we'll always make sure the party continues when its safe to do so. Plus we'll even do our best to help get your event back on track again if its delayed. All this with smiles on our faces. Also, don't expect to hear any deafening feedback coming from amps or the PA either unlike some bands….we're destroyers of unwanted feedback.
Live indie rock and chart pop music for your wedding party by competent & experienced quality musicians
Our wedding party band know what brides, grooms, family members and guests want to hear at weddings. So we perform a fantastic mix of indie rock and chart pop from the last 60 years. Big indie tunes by bands like The Killers, Coldplay, Stereophonics, Blink 182, Oasis and more. Then huge chart pop by artists such as George Ezra, Amy Winehouse, Bryan Adams, Queen, The Mavericks, The Beatles Elvis and more. Book a highly recommended wedding band with hundreds of happy previous wedding clients as your wedding reception band.
With over 100 confirmed reviews on Facebook you can be assured of our attention to detail and quality performances.
Hire professional musicians for a wedding reception.