Here we are Indie Rock party band 'Punch The Air' performing for St Giles Hospice charity event band at Baddesley Ensor Social Club, Atherstone, Warwickshire. We helped to raise over £3000 from ticket fees alone with our live entertainment. We've also worked along side Water Aid, Teenage Cancer Trust and more. Hire a charity event band now by contacting us.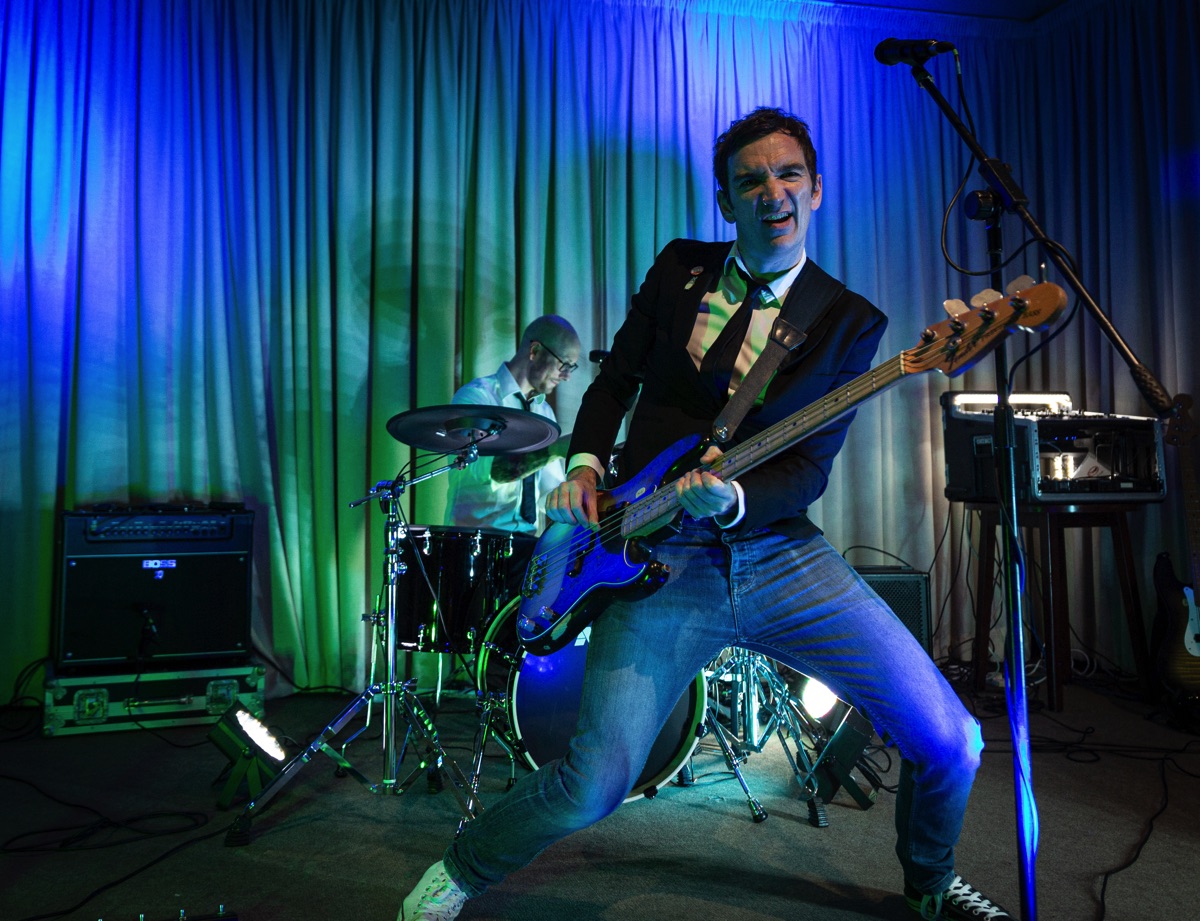 Why use a charity event band for your fundraiser?
A live band is a fantastic way to help you raise money for your good cause. When you charge a reasonable amount for a ticket it gives guests a reason to feel that your event is actually worth something. 'Punch The Air' are a top rated party band enjoyed by all.
If you charge a low ticket fee or even say its "Free entry" there is more chance of guests deciding on the night that they simply can't be bothered to turn up after all due to poor excuses like:
The slightly drizzling weather outside
Forgetting to book a babysitter
Feeling ever-so-ever-so slightly unwell etc.
So charge for tickets and give guests a good reason to get dressed up and get excited about your event over the upcoming weeks and months. After all they have spent good money on that ticket and will intend to use it.
More guests at your charity event band mean more ways to raise even more money for your charitable cause. You'll see more tickets sold for raffles and auctions, more guests playing interval games like "Roll A Pound", "Heads & Tails" Table Quiz" and more.
Live images of our Charity Event Band
As you'll see from the below images everyone had a great time with us performing live music for their charity at this North Warwickshire wedding venue.
Guests loved our selection of classic indie rock covers and hits from the present day back to the 1950's. There's something for everyone with hits from Oasis, George Ezra, Kings Of Leon, Chesney Hawkes, Amy Winehouse, The Killers, Queen and more from our repertoire.
Here's a glowing review from event organiser Sarah Chetwynd.

What you get from us.
We can provide absolutely everything you need entertainment wise at your event. Thats all the bands gear, PA system, mixing desk, all leads and cables, stage and dancefloor lighting. We can handle all the DJ sets inbetween taking requests and making announcements. You can even use our microphones for raffles or we'll do all the compèring for you at no extra cost.
About Baddesley Ensor Social Club, Atherstone.
Baddesley Ensor Social Club is an excellent social club, very modern and clean inside and very well arranged interior to suit a live band performing in there. All the staff and party arrangers couldn't have been nicer to us. It has a very easy load in practically straight onto the great size stage. There's a dressing room for the band as well.
Punch The Air highly recommend this venue if your having a:
This Atherstone venue would be great for a Warwickshire wedding band to perform at an Atherstone wedding reception.
Contact function band'Punch The Air' to check on our availability for your fundraising event.