Andy from birthday party live band 'Punch The Air' takes you on a journey of what a professional band get up to preparing for, traveling to, setting up at and performing at a birthday party at Bashall Barn, Clitheroe. Let's get our indie rock party band tunes on shall we. Contact our top rated party band to check on availability and price to hire a birthday party live band.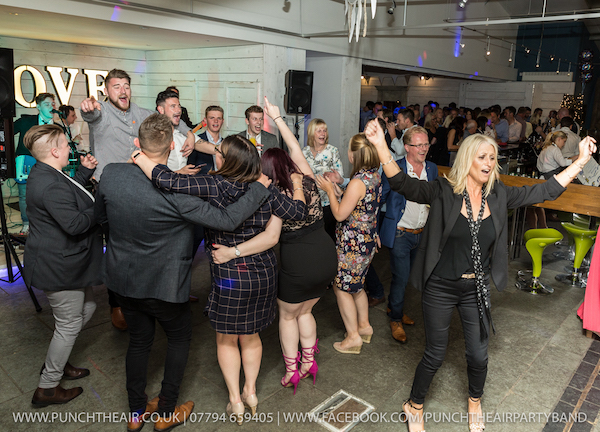 You'll see the sights, the sounds and the smells as we travel up to Lancashire. Having to eat and drink on the road to make up time from getting stuck in traffic jams on the motorway. Then watch a time-lapse of us setting our gear up in this live band venue. Listen to how we make the room sound fantastic during soundcheck. Also check out the high end equipment we use. See what we get up to once we've set our gear up. Then watch us performing live indie rock party songs 'Parklife' by Blur, Sex On Fire by Kings Of Leon, Don't Stop Me by Queen. Watch to the end of the live entertainment video and you'll see our client Tim. He was incredibly happy with our performance. So he left us a glowing review on social media.
If only all professional bands bothered to take the time to show clients exactly what happens in this manner eh?
Hire a birthday party live band 'Punch The Air' – More about us
'Punch The Air' have been on the live music scene since 2013 and we have a mass of experience handing birthday parties of any size and shape. Our repertoire is a fantastic mix of Indie Rock and pop and rock chart hits from modern days, back through the decades to the 1950's. Everyone will know and love every single song we'll perform live for you. Included in the price is 2 x live perfomances (Or one long performance), all backline and front of house equipment. You also get iPad DJ services until midnight and even lighting.
Clients review of birthday party live band 'Punch The Air'
"Well, what a night .. The band were ace, enjoyed by all with lots of great comments by all my guests on my big birthday. They really made the night a massive success by performing so many great dancealong tunes. Cheers lads". Tim Hamlet.
---
Contact to book 'Punch The Air' for your birthday party live band, wedding band or any live event call UK 07794 659405.