You've said to yourself "I Want To Book A UK Wedding Band" but you don't just want any function band. You want a wedding party band who can actually entertain your guests as well as perform all your favourite indie rock songs live. A high energy band who pass their liveliness and enthusiasm onto your family and friends, keeping them happily dancing throughout the entire night. You want a mini concert for your live wedding entertainment, everyone with their hands in the air chanting along. You want it all, and we'll give you all this and so much more. We are indie rock wedding band 'Punch The Air' and we are your UK wedding reception party band. Contact right away to check on our price and availability then book a wedding band.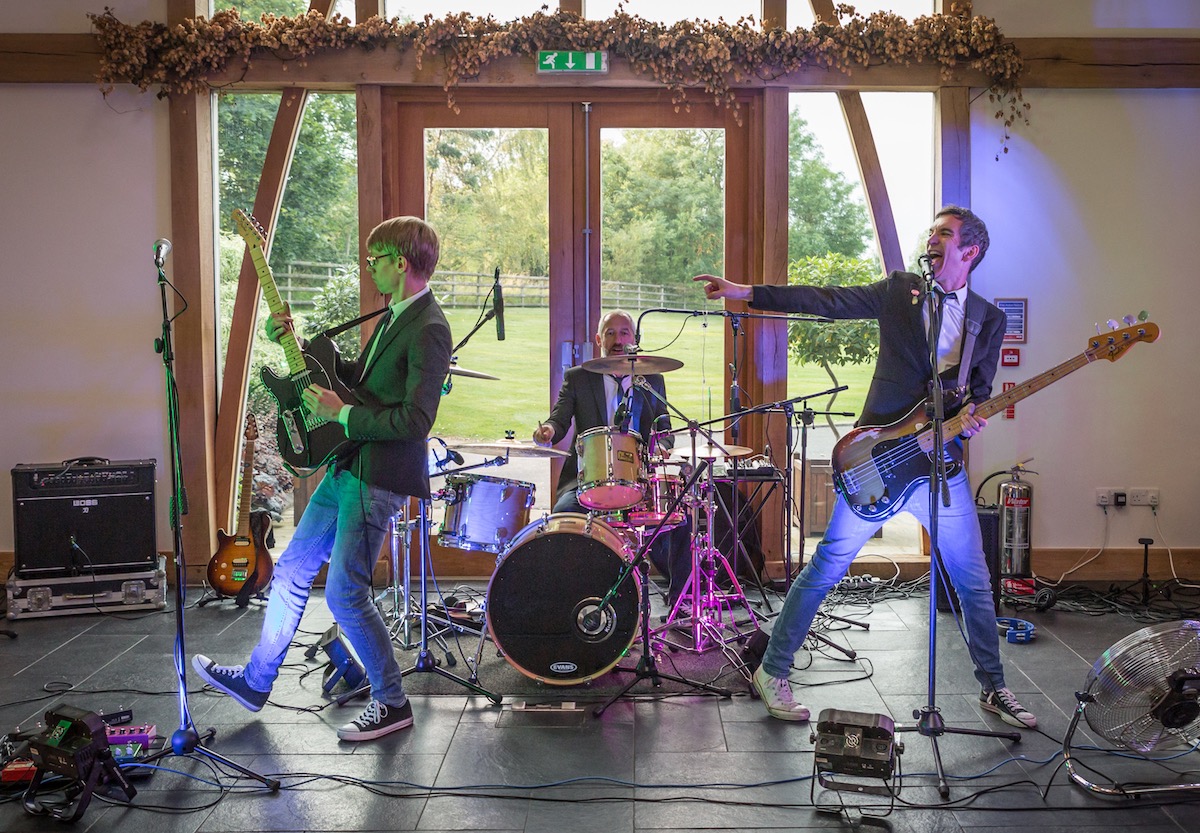 I Want To Book A Wedding Band.
Formed in 2013 our wedding party band has hundreds of happy brides and grooms (And their guests) reviews you can read to prove all of our credentials. Subsequently we come highly recommended. We've never had a mediocre or bad review ever. Thats a 100% track record from the very start to this very day. Clients who book a wedding band love our indie rock covers, ease of booking, friendly and professional attitude and our high energy performances. Sometimes clients and guests join us on stage to perform too, sometimes they are hoisted in the air and crowd surf. But at every single performance they never want the night or live entertainment to end.
Our covers band will perform huge banging indie rock covers like Mr Brightside, All The Small Things, Yellow, I Predict A Riot, I Bet That You Look Good On The Dancefloor, Don't Look Back In Anger and There She Goes. Also indie anthems like Wonderwall, Chelsea Dagger, Place Your Hands, Parklife, Disco 2000 and more from our indie rock repertoire.
Don't worry though, we haven't forgotten about your other guests who aren't into indie rock covers so much. For them we'll delve deep into the past and also look closely at the present. We love other genres too, just like they do. They will absolutely love our live performances of songs by Queen, Bryan Adams George Ezra, Van Morrison, Chuck Berry, The Beatles, Lynyrd Skynyrd, Elvis Presley and more.
What you should look for when hiring a function band.
We've performed at every single kind of United Kingdom wedding venue you can think of. So you know we'll be able to handle live music at your chosen wedding reception venue too. Mansions, stately homes, barns, outdoor festivals, community centres, village halls, golf clubs. Also country clubs, vineyards, farms, banquet halls, churches & cathedrals. We can perform at any sized venue you chose for you reception. We'll bring along our state of the art PA sound system and LED lighting rig. Also we'll include free iPad DJ services throughout the night until midnight at no extra charge. Doesn't this all sound just perfect for your special day?
When you book a wedding band 'Punch The Air' we also have many optional extra for you to chose from including:
Hire a wedding reception band throughout the UK
'Punch The Air' perform all over the UK from the far South up to most northern North. Hire a Staffordshire wedding band, book a Derbyshire wedding band, hire a West Midlands wedding band. Also book a wedding band in Shropshire, hire a Warwickshire wedding band and hire a wedding band in Nottinghamshire.