It's finally time to book a Summer wedding reception band for your June, July or August wedding. And you've certainly come to the exact right place to book live entertainment. Formed way back in 2013 and having performed at hundred and hundreds of weddings over the years Summer Wedding Band 'Punch The Air' are the high energy professional group for you. It'll be warm and sunny outside and we'll be performing a blazing hot live show on stage entertaining you and all of your guests. If you enjoy music by indie rock artists like Blink 182, Coldplay, The Killers, Feeder, Muse, The Fratellis and Kings Of Leon then hire Summer wedding musicians. We'll also perform a great mix of chart music from across the decades by artists like Queen, Amy Winehouse, The Beatles, Bryan Adams, George Ezra, Walk The Moon and more for you too. Contact to hire a summer wedding band Punch The Air for a reception party.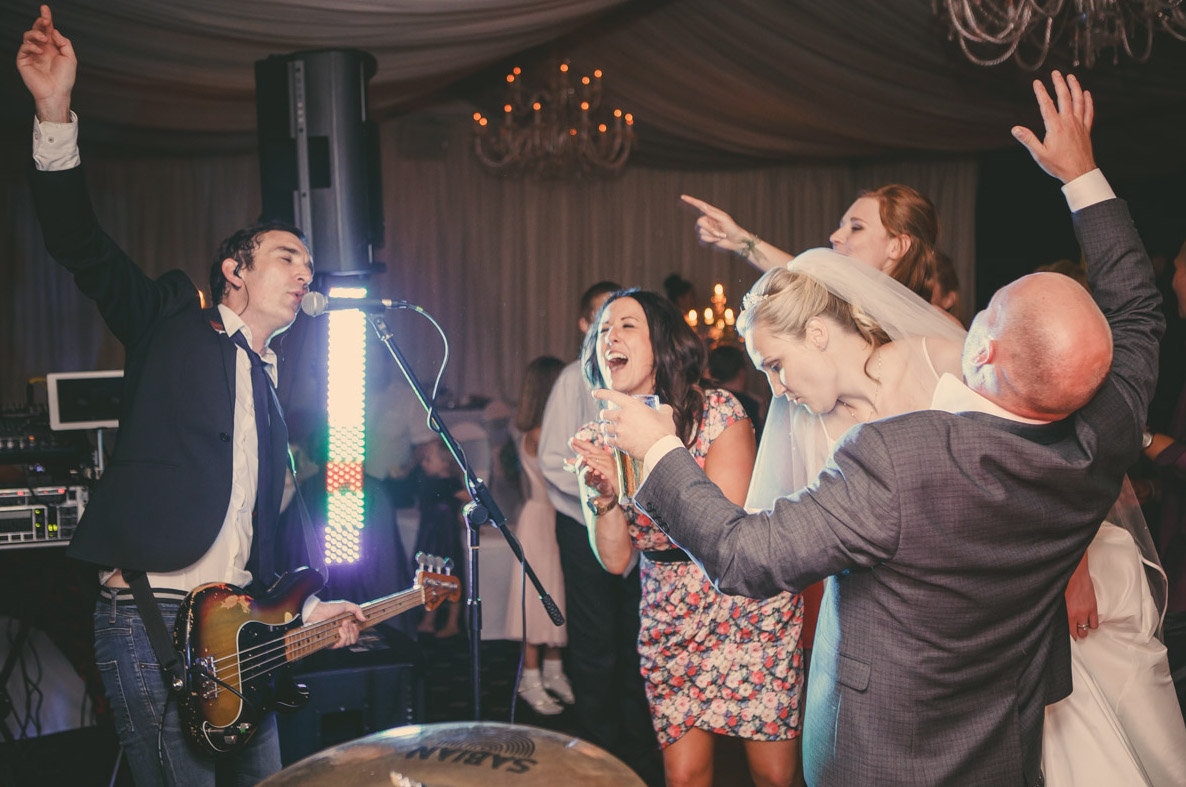 Hire a Summer Wedding Reception Band
Summer Brides and Grooms really appreciate our professional attitude toward their special day. Nothing is too much hassle for us, as all we want to do is give you the most amazing Summer day you'll never forget for the rest of your lives. From your initial contact with band leader Andy Starkey all the way through till we pack up and go home you can expect to see nothing but smiles on our faces. We love weddings and we love making sure our clients are 100% happy with every aspect of our services. Many of our previous clients still keep in touch with years and years after we have performed for them at their Summer weddings. And we love hearing how they are enjoying their lives together and what they've been getting up to since.
Book a band for a Summer wedding reception.
We'll bring everything along to your June, July or August wedding during the Summer months. So that's all the sound and lighting equipment but also we'll throw in DJ services throughout your Summer wedding reception until midnight as standard. You won't need to hire in any extra equipment or pay for a separate DJ. So you'll be saving money and time when you book our professional Summer band. DJ wise we can play whatever songs you like before, in-between and after live sets. You pick the songs and we'll play them for you.
When we arrive at your Summer wedding venue while you're celebrating with the cold beer, prosecco and wine and enjoying the fun and sunshine alfresco you can just leave us to get on with setting up. We know exactly what we're doing from many years of previous wedding experience. We'll make your wedding venue sing with zero chances of screaming feedback or poor sounding audio.
Trust in our 100% verified wedding reviews.
We have amassed a huge amount of 100% verified reviews. VERIFIED is a very important word. Don't be duped by possibly made up TEXT reviews on other bands websites. Make sure they are VERIFIED reviews typed in person by previous clients on a trusted review site like Facebook Reviews or Google Reviews. Our satisfied (and verified) clients leave us wonderful reviews so you know you're safely booking a professional band that really do know what they're doing and are not some pub band playing at being wedding musicians for the day. Make sure you can always click on a review to take you to the proper place it was actually reviewed on. If you can't its probably made up by the band themselves.
What type of wedding are you planning in June, July or August?
Punch The Air can handle live entertainment at any type of Summer wedding you've got planned. Indoors, outdoors, whether you're camping, glamping, having a BBQ, hog roast or a more traditional sit wedding breakfast. It's all fine by us. With Summer usually being warm/hot with little chance of rain maybe you're planning a festival style Summer wedding? Can you image the amazing time you'll have with us blasting out huge festival anthems like Don't Look Back In Anger, Buck Rogers, Stacey's Mom, Parklife, Mr Brightside and Sex On Fire? You and all your friends and family will be going nuts, singing and dancing your hearts out. What a day to remember eh.
Having problems seeing a wedding band performing live somewhere?
We do try our best to perform publicly, but most of our year is taken up with private parties. Don't worry though, the whole ethos that summer wedding band 'Punch The Air' work to is that you can see what we're like live, even if you can't catch us performing live anywhere. If you have a look across our website you'll see 99% of the videos are 100% live on here. You can see brides, grooms and guests honest, open reactions to our high energy live performances. The audio you'll hear is exactly how we performed it at the wedding. We don't use studio recorded audio, we don't need to as we really are this good. We've got that many videos from 2013 onwards that you'll struggle to watch them all. No other band goes further to prove what they do week in, week out than we do.
So now it's time to contact Punch The Air to check on our price and availability to hire a Summer wedding reception band. We can't wait to hear from you and give you everything you've ever dreamed of on your big day.
BST British Summer Time is from the last Sunday in March until the last Sunday in October. So there's more daylight in the evening for you to continue enjoying your big day with. it's worth noting that during school summer holidays (last week of July to the first week of August) these are our busiest times for bookings. Usually we will be out performing at clients weddings every single day during this period. So if you are planning on booking a summer wedding band during these summer weeks please get in contact as soon as possible to secure your date with us.