Tim and Lucy had wedding party band Punch The Air perform as their Karma Salford Evesham wedding band and what an amazing time everyone had. We performed huge Indie rock wedding band numbers and a great selection of music from current day right back to the 1950's so everyone was catered for. If this sounds like the kind of thing you want at your Evesham wedding reception then contact Karma wedding reception band 'Punch The Air' to check on our price and availability.
Karma Salford Evesham Wedding Band
Karma Salford Hall was built in the 14th century as a living space for monks from the nearby Evesham Abbey. Of course it has since been converted into a wonderful hotel for weddings, corporate events, live music events and much more. It features thirty six traditional style bedrooms, a coach house, feature period paneling and chandeliers and even 4-poster beds. This is a fantastic wedding venue due it being in Wychavon near to the localities of Worcester, Stratford-Upon-Avon, Cheltenham and Gloucester. Emily Louise and the rest of the team there couldn't be nicer, they even made us a cup of tea upon arrival, this was a great start to the night for our live wedding band.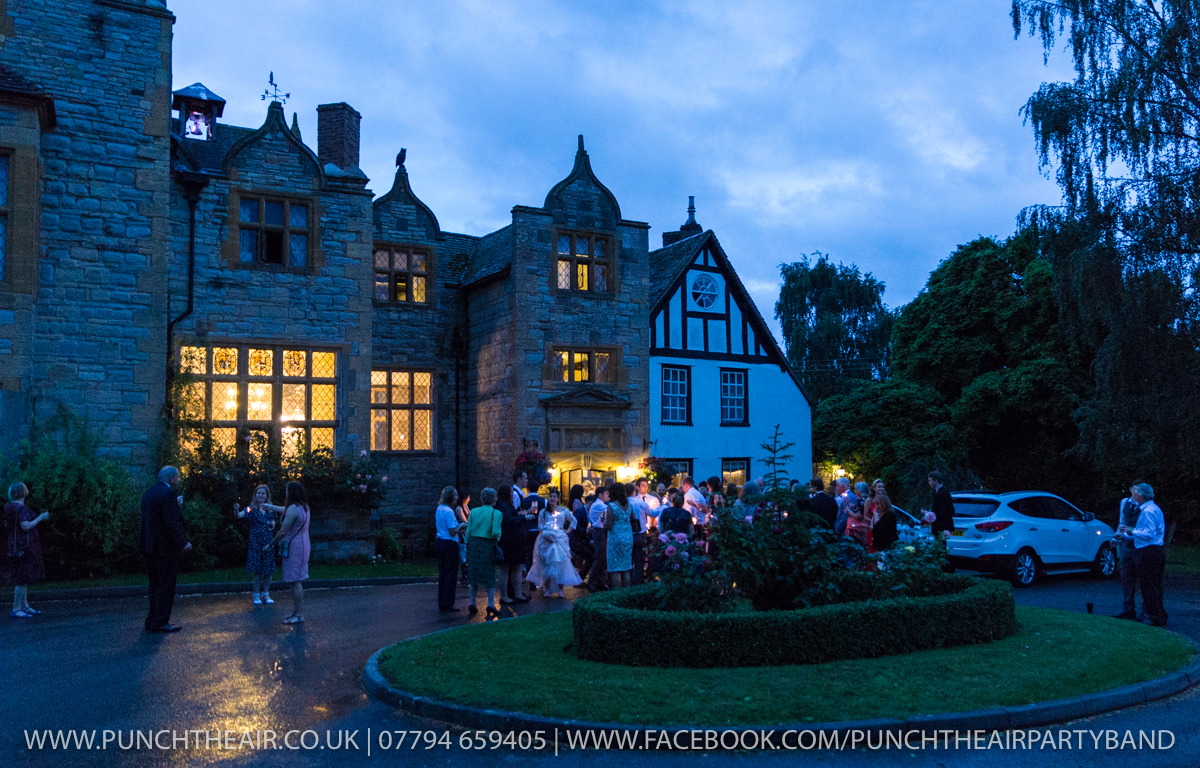 How clients trust us to handle their live entertainment
As with most other wedding clients Lucy & Tim had found us online, we'd never met them personally before, nor had we performed at the Worcs wedding venue previously. Most of our clients decide to book us based on the high quality of live video footage we constantly produce. Otherwise it's via a recommendation from someone whose seen us as a wedding party band before. You can see more of Karma Salford Hall wedding band party band videos before you hire a wedding band in Evesham.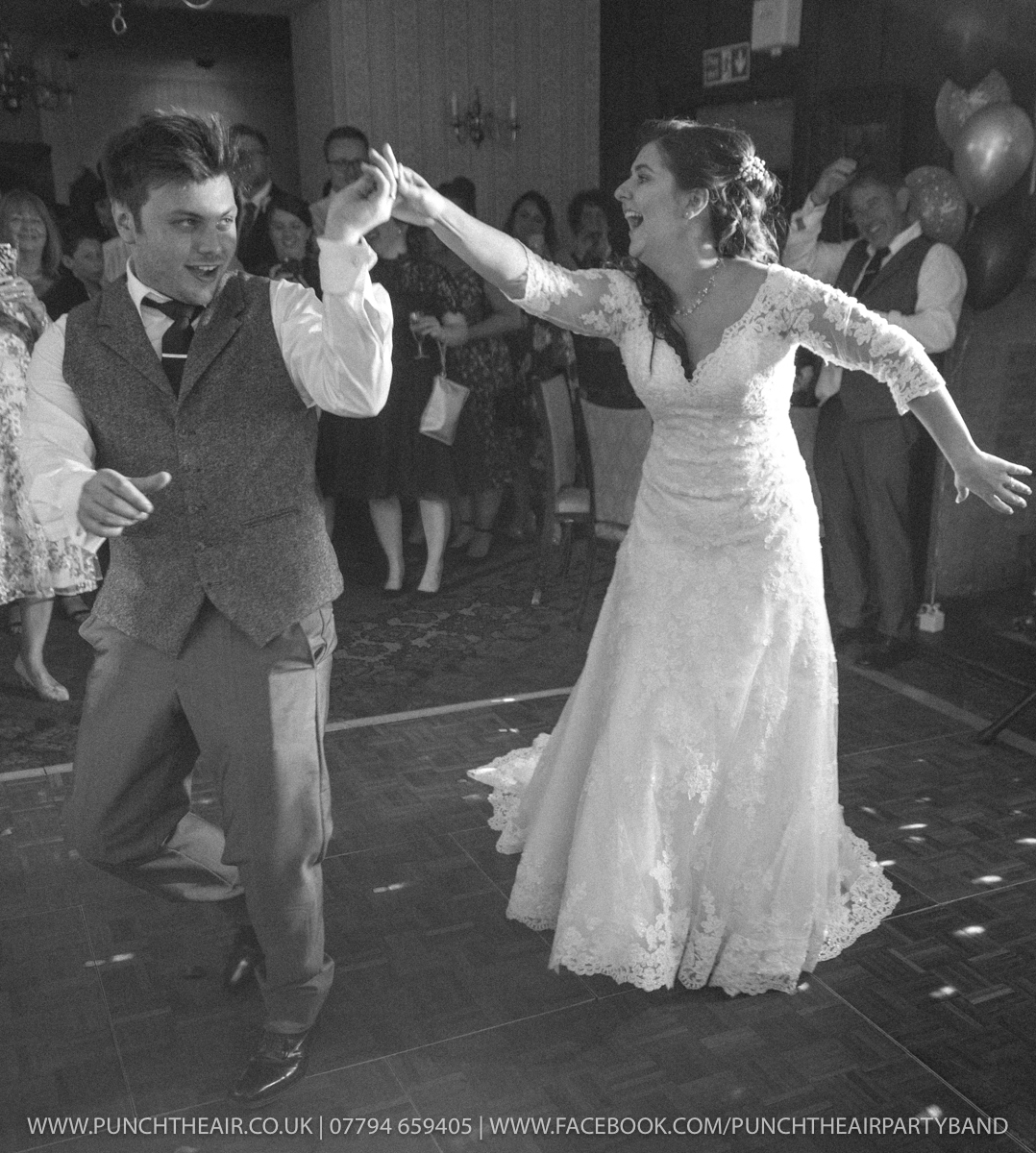 Lucy & Tim had seen our indie rock wedding band videos online and just knew straight away we were the band to handle live entertainment at their wedding. With about 80 evening guests to entertain and quite a smallish area to set up in (Encroaching slightly onto the dance-floor unfortunately due to it being set back too far) our wedding cover band still knew we could give Lucy, Tim, all their family and friends a night they would never forget. They loved our high energy wedding entertainment and so will you. We performed massive danceable tracks from Queen, The Killers, Coldplay, George Ezra, Oasis, Amy Winehouse, Blink 182, The Beatles and more.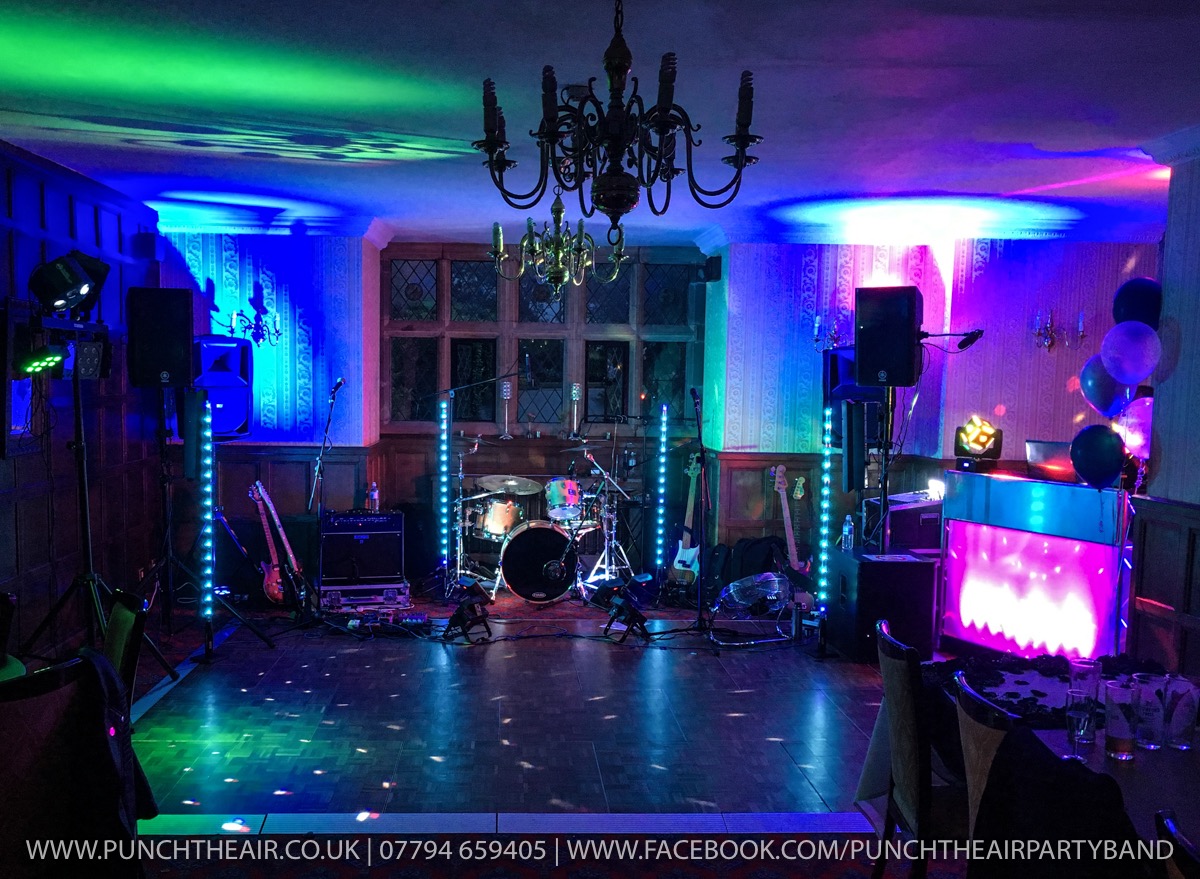 DJ Services
At Karma Salford Hall Hotel you get DJ services included in your wedding package (Otherwise its no problem for 'Punch The Air' to handle this aspect at any wedding too) and resident disc jockey DJ Rob Bates from R&D Entertainments was on hand. DJ Rob is the type of professional who really knows his stuff. He actually cares about what he's playing, tailoring the music around what the crowd want to hear.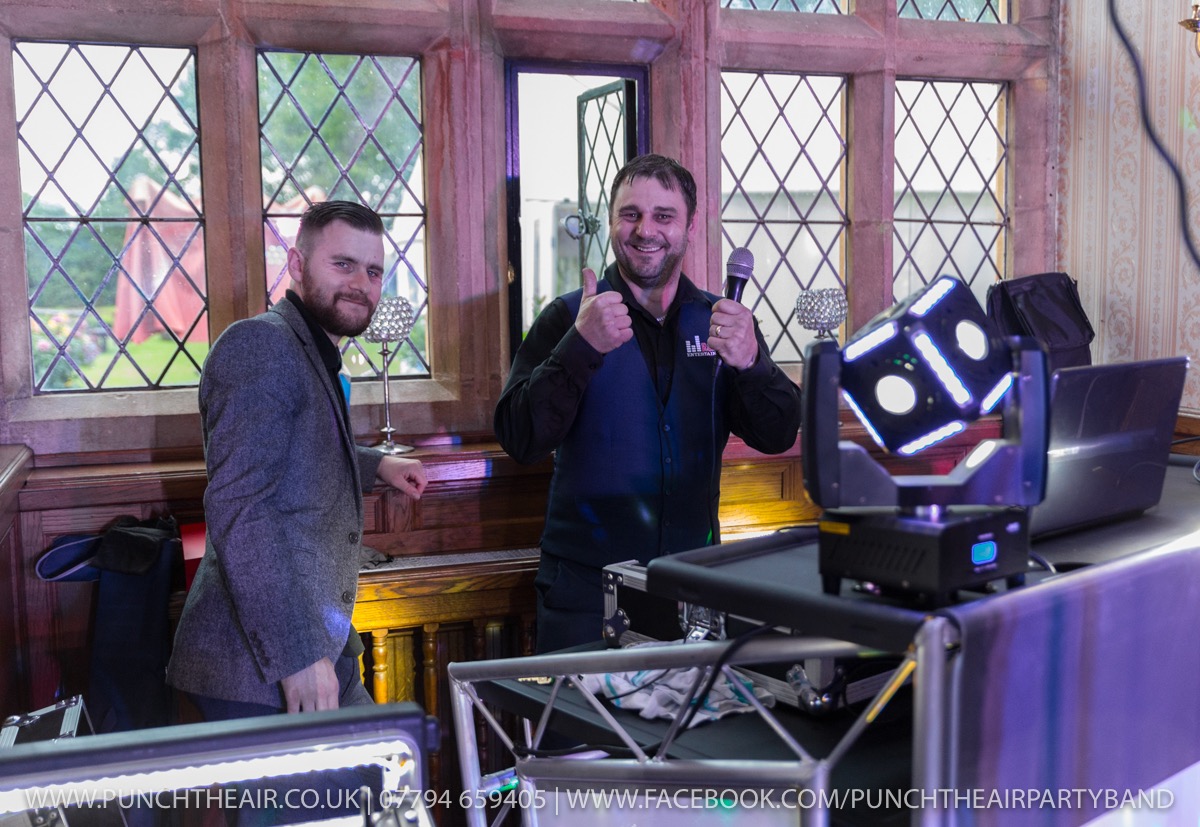 What The DJ Saw.
DJ Rob is such a lovely guy that off his own back he shot some video footage on his phone. Subsequently he then very kindly sent them over to Andy who created this "What The DJ Saw" video from it. As you will see Lucy & Tim had an amazing time with 'Punch The Air' performing live for them. The bride, groom and all their guests danced and sung their hearts out all night long as you can see below. We had lots of very flattering comments from guests on the night, some of which had come from as far away as Manchester and Bedfordshire.
Are you considering a Salford Evesham Wedding Band?
If so then you should check out the seven, yes SEVEN reviews we had from this one wedding there alone. That's not just from the bride, groom, family members….Reviews also came in from the venue itself and the DJ. Our wedding function band definitely left a great mark and can't wait to return back there again soon. If you want to enquire on our price and availability for your wedding then please contact 'Punch The Air'.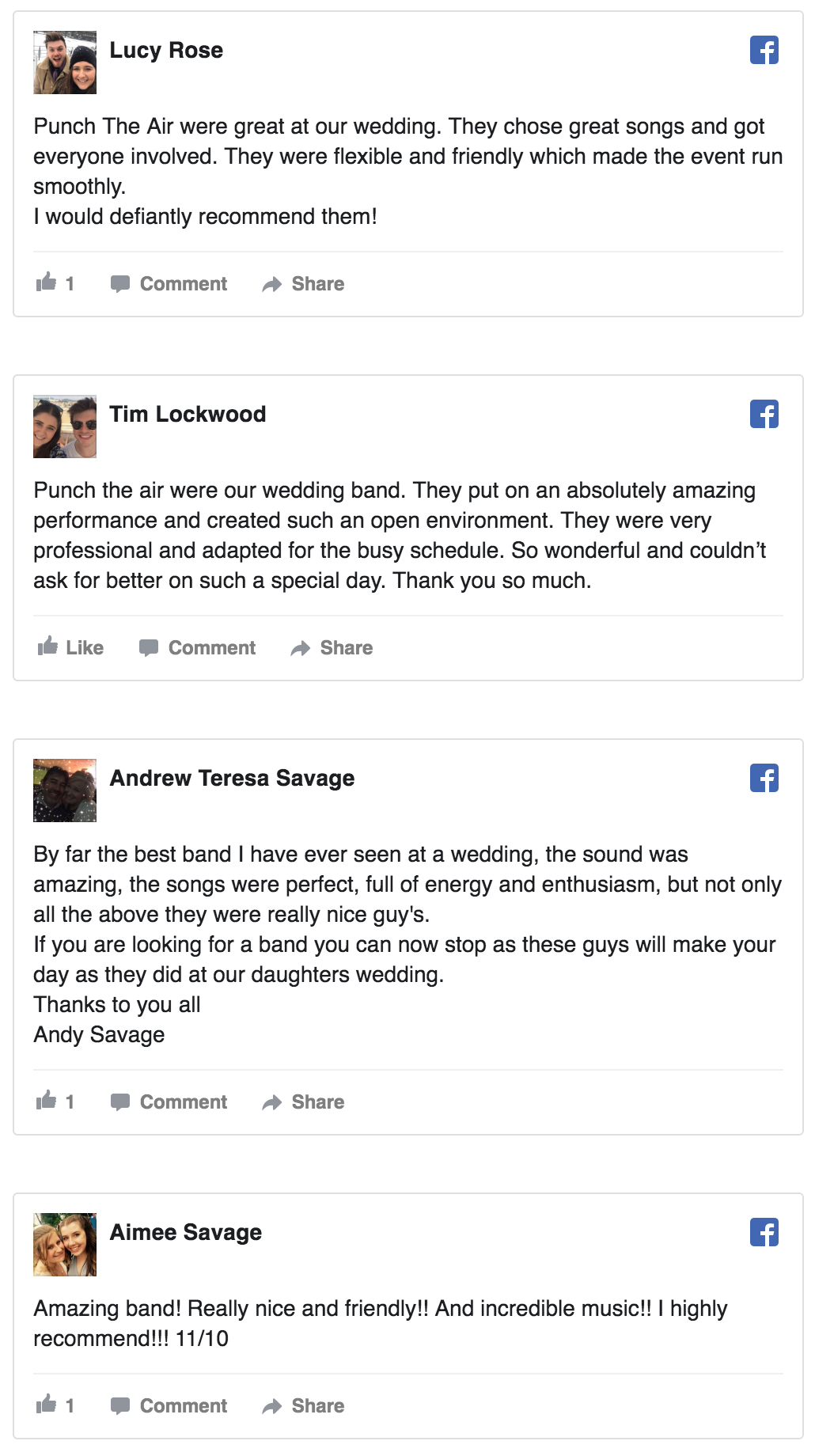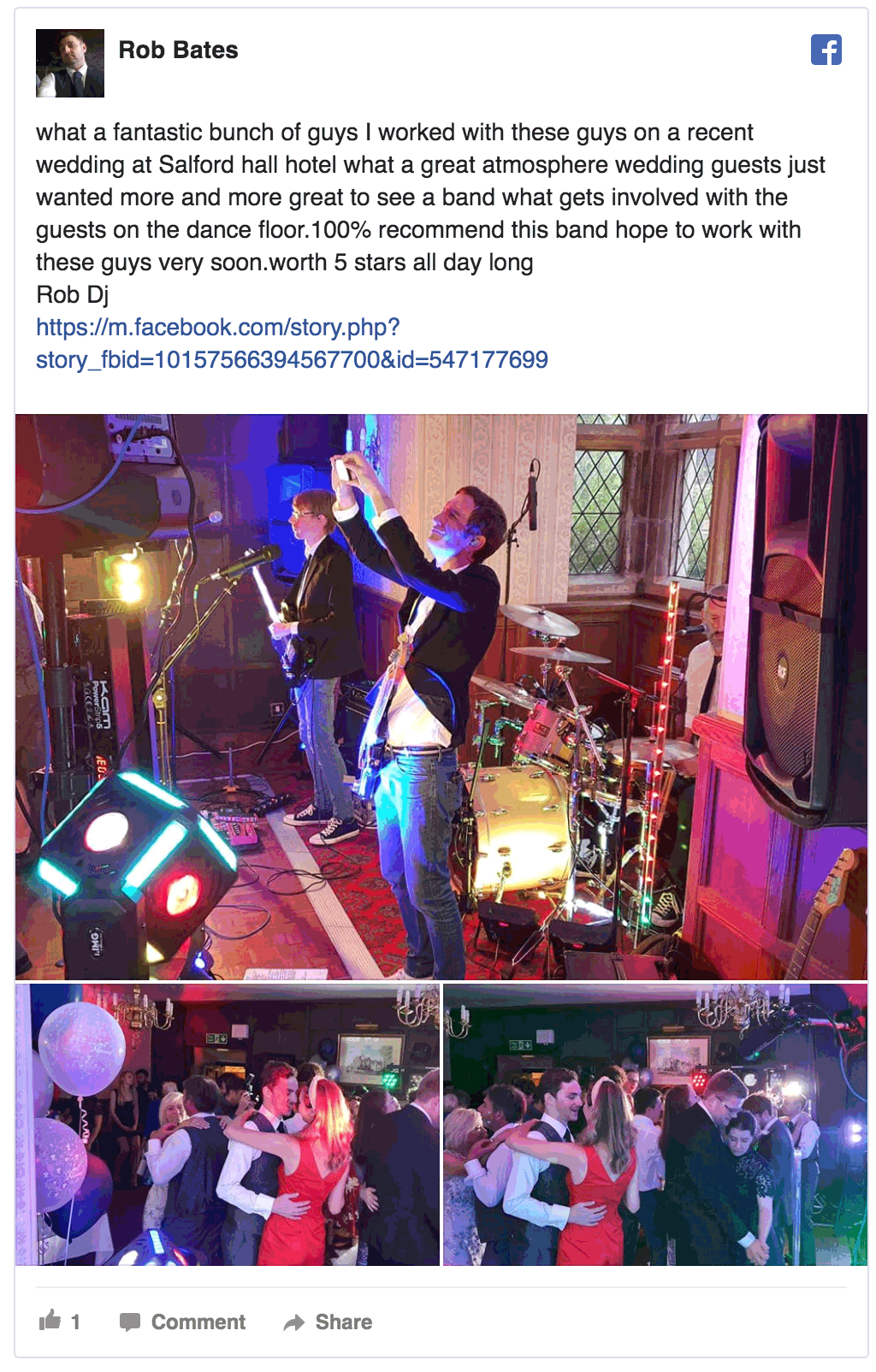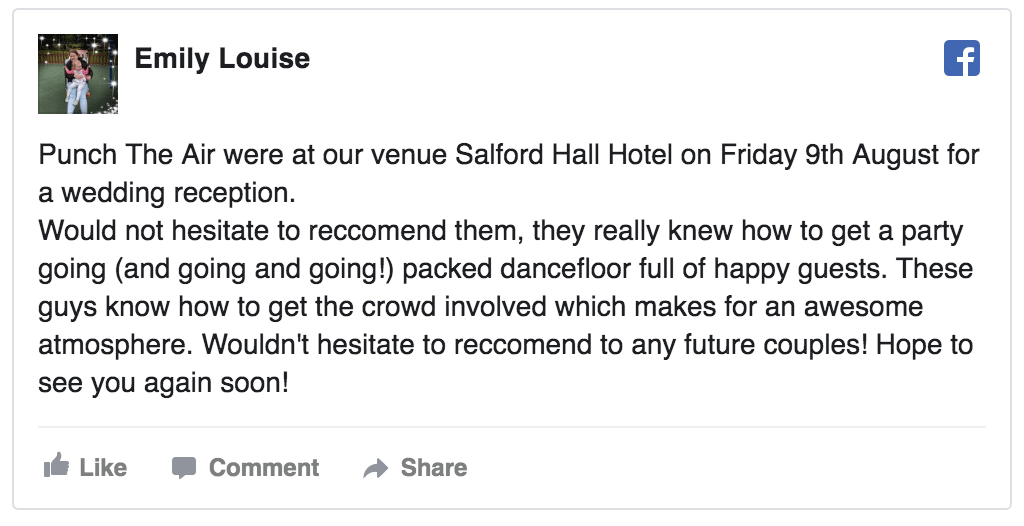 Having a wedding reception somewhere else in Evesham?
Punch The Air are also available to perform at other Evesham Worcestershire wedding band venues such as:
Cotswold House Hotel & Spa
Dumbleton Hall Hotel
Evesham Hotel
Hilton Puckrup Hall
Kings Hotel
Northwick Hotel
Raphaels Restaurant & Garden
Sudeley Castle
Upper Court
Vale Gold & Country Club
Wood Norton
and many other Evesham wedding venue.
You can also check out more photos from this wedding on our photos page.