Hire East Midlands Wedding Band 'Punch The Air' for your indie rock wedding band. Leicester wedding band, Nottingham indie wedding band, and Derby indie rock wedding band are available for your live entertainment. Contact to book a live wedding band and hire a wedding band in the East Midlands.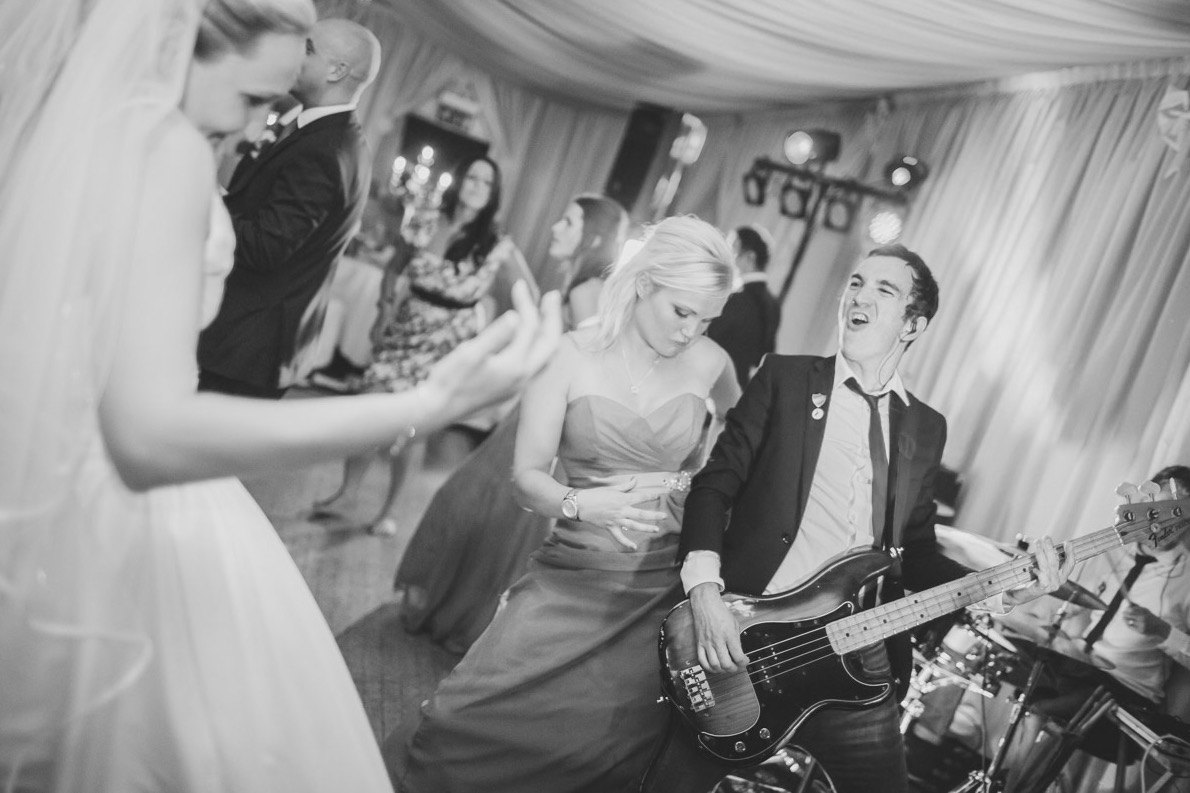 Book an East Midlands Wedding band performing Indie Rock
Hire an indie rock wedding band for your Loughborough wedding, Northampton wedding reception, Mansfield wedding party or Lincoln evening wedding reception. 'Punch The Air' will give you the indie beats you've been searching long and hard for. For you and your partner we'll give you classic indie rock tracks by The Beastie Boys, Foo Fighters, Oasis, The Killers, Kings Of Leon, Kaiser Chiefs, The Fratellis and more from our indie rock repertoire. Then for your guests and friends we will perform family friendly pop songs from modern day all the way back through to the 1950's. Consequently everyone will love our songs by The Beatles, Any Winehouse, Queen, The Human League, George Ezra and more. Seriously enjoyable and fun live entertainment at your wedding.
Hire an indie rock wedding band with quality live videos shot at actual wedding receptions.
First of all with East Midlands indie rock wedding band 'Punch The Air' you don't need to worry along the lines of "What will my Chesterfield wedding band actually sound like live though?". (As you will have to with most other wedding bands out there). Because we provide you with quality live videos shot at previous Boston wedding band clients weddings. Most other Corby wedding bands out there are pulling the wool over your eyes. Their videos are NOT live, its all fake. They're just tricking you by miming over studio recorded audio. Is this fair? No way, its disgusting really.
Everything you see and hear on our Grantham indie wedding band website is 100% real and furthermore one hundred percent live. Therefore really do sound this good on stage and put on a great performance in front of your Hinckley wedding band guests. As a result you can view all of our other live videos, images, read our Blogs and watch our Vlogs. Furthermore no other indie wedding band works this hard to prove to you what they get up to on a weekly basis. Book a wedding reception band with fantastic wedding entertainment.
Our favourite East Midlands wedding band venues include
Osmaston Park, Ashbourne Derbyshire
Swancar Farm Country House, Trowell Nottingham
The Pumping House, Newark
The Shottle Hall Estate, Shottle
Rufford Mill, Rufford Country Park, Nottinghamshire
Sketchley Grange Hotel & Spa, Hinckley Leicestershire
Also Catthorpe Manor, Lutterworth
As well as even more wedding venue in Kettering, Newark-on-Trent, Skegness, and Wellingborough wedding band.
Contact indie wedding band 'Punch The Air' to check on price and availability and therefore hire a wedding band in East Midlands area.