3:15pm – Its a 21st birthday party band night for Indie Rock cover band 'Punch The Air' that we're performing at tonight. So I load the van up with a few bits and bobs and then head to my friends house to pick up my extra stage lights that I let him borrow last week.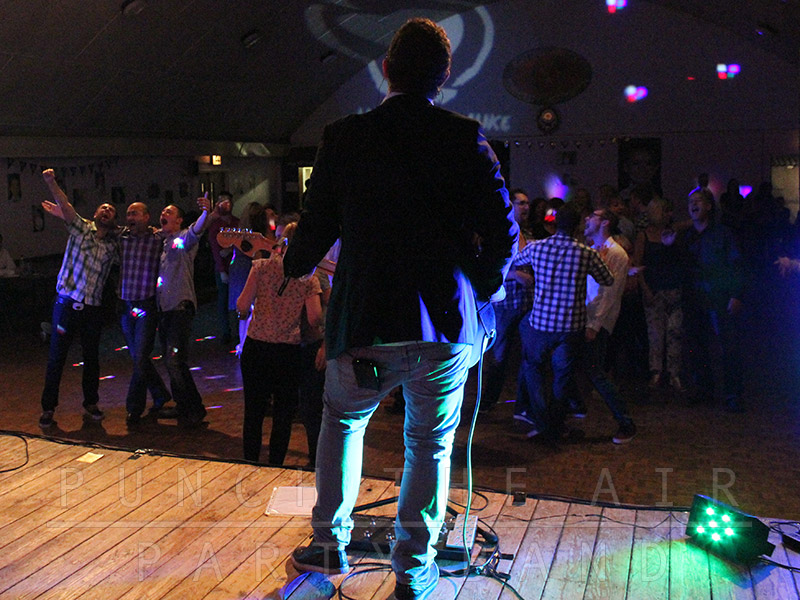 3.30pm – I leave my musician friends house exactly on schedule, so I'm off to a good start.
4.30pm – I've been on the road for about an hour now and luckily the roads and motorways are pretty clear apart from a 50mph section of the M40, but its only for about a mile so there's no real hold up. The van is running very smoothly having just past its first MOT while in my possession (with no advisories). I've listened to a couple of great driving playlists and have just completed 'Rubber Soul' by the Beatles. I wonder to myself if there are any 21st Birthday specific songs?
5.15pm – I've reached J14 of the M25 and marvel as aeroplanes fly low over the motorway.
Arriving at 21st Birthday Party Band
5.28pm – I arrive at the community hall we're performing at two minutes earlier than planned (124.2 miles taking 1 hour and 58 minutes with no major speeding incidents). It's now absolutely boiling hot outside. I check my phone and see thats its 24 degrees, so its going to be one hot and sweaty affair for a live band and guests this evening. I speak to the client (The father of the 21st birthday boy) who is happily sticking up huge blown up pictures of his lad on the walls in various places.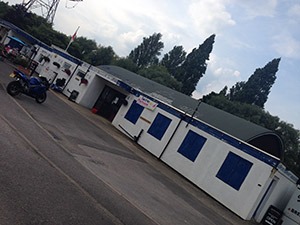 He buys me a pint of shandy and I start to cool down a little. We discuss times of live entertainment etc and I start to load in the PA lighting and my bass rig from the van. We've got a really decent sized stage (amateur dramatics stylè) so they'll be plenty of movement from us tonight. I place the speakers and sub on the floor in front of the stage (and also the dancefloor lighting) to give us maximum stage space.
6.00pm – James arrives and I continue to set up while he brings his amp and function band guitars in.
6.15pm – Matt arrives (Slightly late as he had to pop back home 5 minutes into his journey to pick up his drum mics…doh!). He starts to bring his gear inside and starts to assemble his drum kit.
Seeing what the birthday party venue has to offer
6.25pm – I notice that there are various onstage and hall lighting switches hidden behind a side curtain, so give then a quick flick….most do nothing, some add a little more ambient light. This may help our live birthday band somewhat.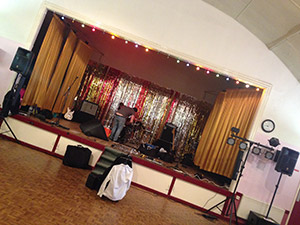 7.15pm – We've nearly finished setting up but there is no sound coming from the mixing desk into my in ear monitoring system….. yep, the leads gone kapput. It gets quickly replaced and we're all ready to sound check. Its a very echoey room as its got a wooden floor, and no sound dampening on the walls or ceiling, but it still sounds really great. A few tweaks here and there and we're ready just in time as the guests arrive.
Cranking up the DJ set
7.30pm – I meet the birthday boy (His actual 21st Birthday Party Band was a few days ago in the week) and we have a quick chat about a few things. I'm surprised he's not plastered yet. The arrival music DJ set goes on we head outside to cool down a little.
7.40pm – I head back in slightly worried that its a little too bright in the hall. So I find the bar manager who turns off most of the lights. Its now looking a lot better with our dancefloor lights doing their things. The clients customised projector logo that I designed for him (featuring his favourite bands logo) shining nice and clearly on the wall. I head back outside again and join the rest of the band.
8.35pm – We get changed into our on-stage clothing and head to the stage for a final tune up.
Time for the first live performance at this 21st Birthday Party Band
8.45pm – Live music commences with the first song of the first set underway but unfortunately James breaks a string one minute in. (Its only a top E, they always break). No one else has noticed and we continue on with the song anyway. A very quick swop over of guitars after the first song and we're into the rest of the first set. Its fast and furious and very hot on stage and the audience are happily dancing away. The birthday boy runs screaming to the front of the hall singing his head off to each new song. There's Beatles, Amy Winehouse, Primal Scream, Stereophonics and much more.
9.05pm – The client joins us on stage for some expert tambourine playing during 'Jumpin Jack Flash' and all the cameras come out. Then its straight into some Kinks, Monkees and Lynyrd Skynyrd and some Indie rock covers.
9.30pm – The first set ends to whoops and claps and we head off stage to get some much needed air outside and down a couple of pints of water each. Its still really hot outside, but at least its cooler than inside. After a few minutes the buffet arrives (Pizzas) so we tuck in to keep our energy up. The client thrusts his iPod into my hands and asks if we can play his playlist over the PA. "No problem" I tell him and disconnect our DJ gear. I pop on his favourite rock tracks for him and his friends to enjoy while eating. So far its seem to have been a great 21st birthday party band for us and the guests.
Second live performance
10.10pm – We head back on stage, to tune up just before we kick into the 2nd set. There's songs from The Jam, Kaiser Chiefs, Pulp before we get the audience to sing the 'Happy Birthday' song to the client. Then we crack into the Ramones version of ourselves (RIP Tommy Ramone) . Followed by some 80's, some 70's and a decent slab of Britpop from Oasis, Blur and Reef. Everyones dancing now and although there aren't many guests at this event they're all dancing and singing their hearts out to us. Highlights include the whole room singing the riff to 'Seven Nation Army' by The White Stripes back to us.
10.57pm – After 3 encores we end the set with the screaming 'Are You Gonna Be My Girl' by Jet. There's rapturous applause and the live sets are done. The client comes on stage and shakes all of our hands thanking us for a brilliant night.
The end of the night
11.00pm – The end of night DJ set goes on and we head off stage (looking like a complete sweaty mess) to catch some much deserved air outside again. Guests come up to thank us and talk about the evenings events with. We head back in and start to break down some of the gear. The client comes up and thanks me again. Saying that his son had said it was exactly what he wanted for his 21st birthday. He tells me how happy he was to have found us to hire a 21st birthday party band.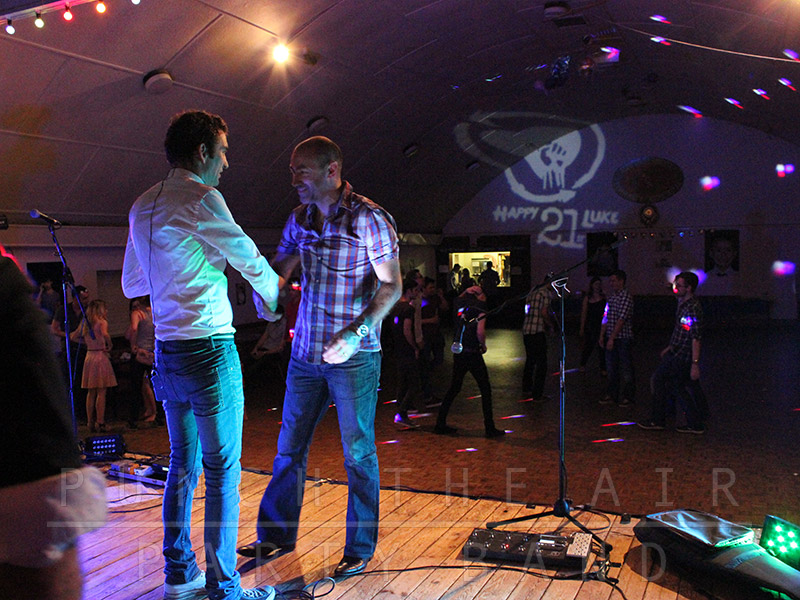 12.00am – The lights go on and we start to load the van and cars up. It doesnt take too long as packing away is MUCH quicker than setting up. A quick goodbye again to everyone and I'm back on the road again at 12.15am
1.00am – Crazy amounts of rain keep me awake on the way home, as does some excellent music by Blondie and The Clash.
2.15am – I arrive back at home (Much earlier than I thought I would do) and settle into a cold beer. Popping on an episode of 'American Dad' while I chill out before heading off to bed. Its been a really great 21st birthday party band and we were all happy to have been a part of it all.
Contact Indie Rock cover party band 'Punch The Air' for a quote as a wedding band, party band, corporate event band, birthday party band. Choose from all our party packages. Book a 21st birthday party band.