5.50pm – …And I'm off to the venue to a 'Punch The Air' local wedding band. Even the M54 has roadworks currently, so that's now every motorway around me. It was pretty clear sailing / driving and I arrive at the venue Pimhill Barn, Harmer Hill, Shrewsbury, Shropshire wedding band 20 minutes earlier than planned (arrival time was supposed to be 7pm). James had just arrived so we had a wander around the lovely farm, gauged that the speeches were still taking place and so chilled out for a while as Matt arrived.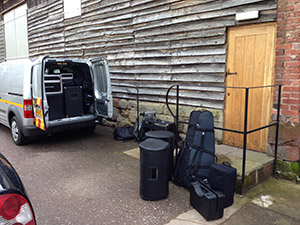 Local wedding band loading equipment in
7.10pm – (Schedule only running 10 mins late) We are able to move our vehicles right up next to the load in doors of this Salop venue so its a very easy load in (and out later). We help the serving staff move the tables for this evening wedding reception so we can get our indie rock wedding band gear in and get setting it up. Its a beautiful looking barn and we have the end 1/3 section. There are cool large retro styled bulbs hanging from the ceiling and a large wooden illuminated star on the wall right behind where drummer Matt will set up his drum kit. We speak with the bride and groom quickly and we're ready to start setting up.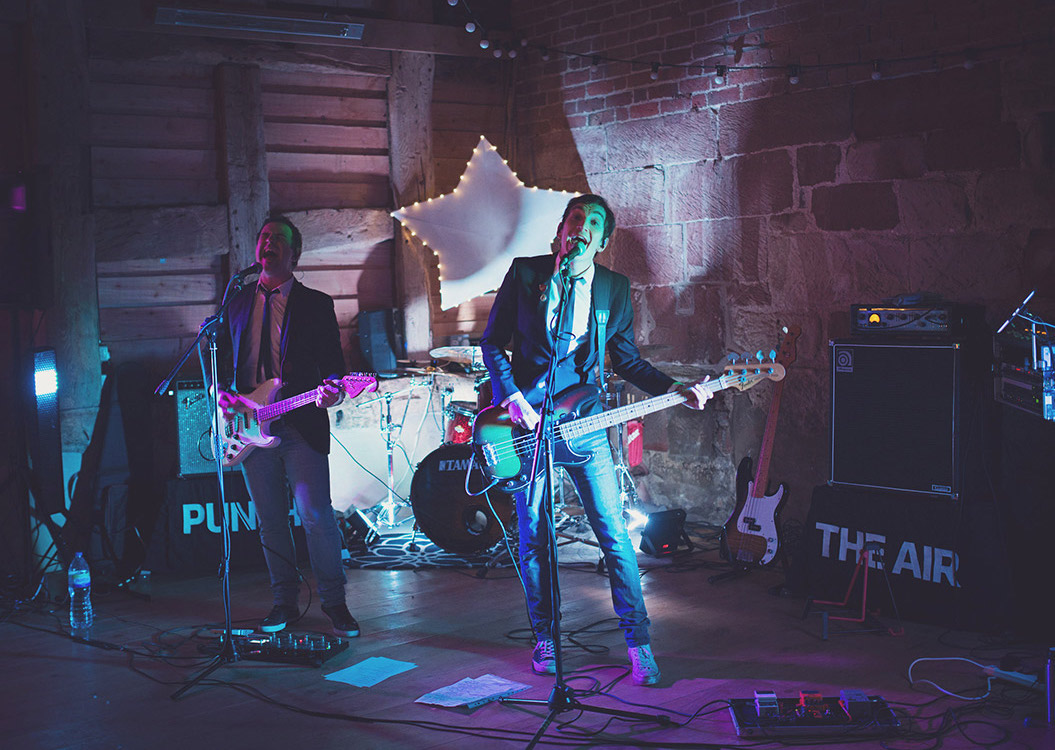 7.40pm – Its all going very smoothly and stress free and there's plenty of room for our live wedding entertainment, the PA and the lighting (including our new high powered lighting rig) at this Shropshire wedding band. Apart from one cable being connected into the wrong input and one XLR deciding to break on us there are no further set up issues at all….this is now one seriously tight ship.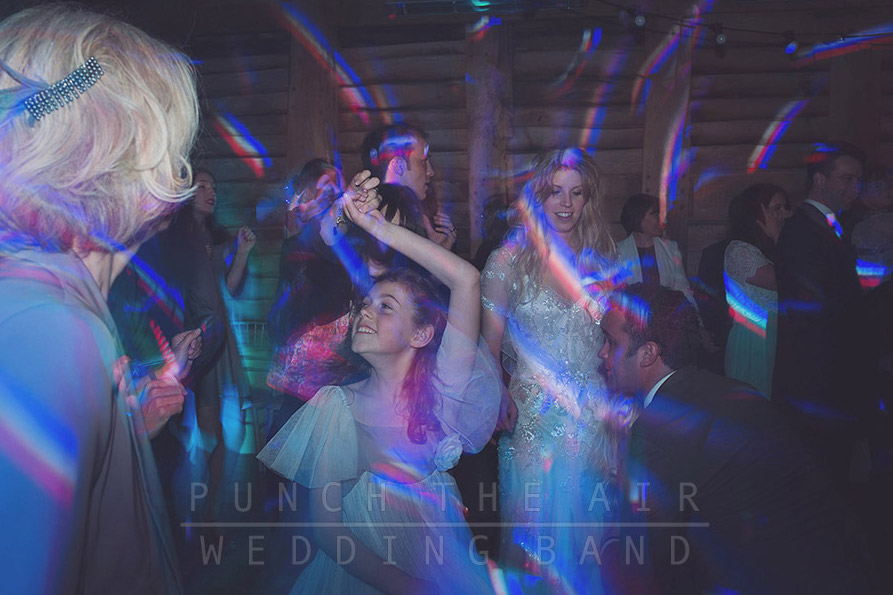 Soundcheck sorted
8.20pm – Only 70 minutes have elapsed and we're set up and have already sound checked our live wedding band (Knocking 20 minutes off our usual 90 mins wedding band set up time – This is what we can achieve when there are no Bridezillas or anything else is running very late).
8.25pm – We go off to get changed into our dapper wedding party band on-stage clothing, a quick dab of deodorant and trussing of hair takes place and we're back on stage waiting for the bride and groom to arrive for the first dance.
8.40pm – We don't usually do first dances, but the client had asked if there was any chance we could learn "Here Comes The Sun" and with us all being huge Beatles fans how could we resist? The bride and groom approach the dancefloor at this SY4 postcode venue as we kick into said song…..the photographers snapping away as we do our best to not ham it up Rock n' Roll style while they happily dance along to our rendition. Before the song finishes many others have also joined them on the dancefloor and then we kick into the rest of the "Beatles heavy" first set.
During the first live performance
9.00pm – We're well into live entertainment of the first set now with no real issues. Local wedding band guests are happily continuing to dance along to us while playing their legs like guitars and sloshing alcohol all over the floor (Mental note to self "Get serving staff to mop the dancefloor at half time"). We go out onto the dancefloor and play our guitars along side them merrily dancing away much to their enjoyment.
9.30pm – The first set is over, there's a huge round of applause for our professional wedding band. The buffet is about to be served, so we head off to get some fresh air and a cold drink.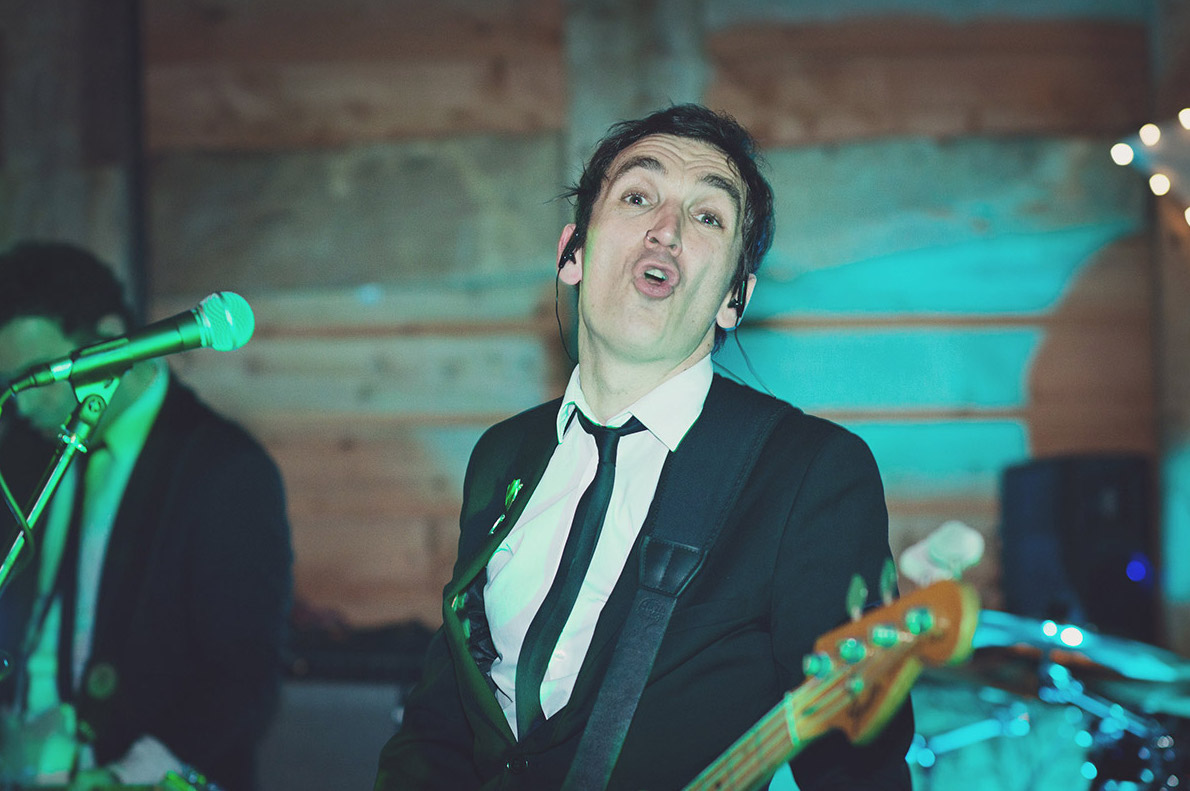 9.55pm – We tuck into hot pork and stuffing baps, strong cheeses and are informed that we have a tab behind the bar and to "Help ourselves" 🙂
10.15pm – I chat with the bride for a while checking that she's fine with the evenings entertainment so far (Which she is of course)….I'm surprised she's still quiet sober :). I then have a chat with the groom about when they would like us to go back on stage. Originally we'd planned for 10.45pm, but we both agree that 11pm would be better.
Wedding running late, no problem for your local wedding band.
11.10pm – Batteries are changed in our in ear monitoring systems and a little later than planned. We crack into the second Indie Rock Cover Band "Party set". There's a couple of light hearted punk numbers to start with and then onto a new song. "Common People" by Pulp performed in our own unique style. Guests are going crazy at this point jumping up and down, climbing the beams of the barn. They even attempt to invade the stage area.
11.40pm – Its in full swing and the guests are enjoying themselves as much as we are enjoying performing for them. They sing-a-long to the huge chorus's of "I Love Rock n' Roll", "Sex On Fire", "Parklife", "Wonderwall" etc. A quick encore and its….
Midnight – The second sets over and we say our thanks and start to pack away and the DJ set goes on. But apparently its not over yet. The groom comes over and starts to barter with us for more live material…..how can we refuse 🙂 So we start putting the gear back together again, another quick change of batteries and we're into a third set. We let the guests decide which songs they want us to play so we perform "Valerie", "There She Goes". Then "Seven Nation Army" (With massive crowd participation) and a few other great numbers.
Third live set completed
12.30am – The third live set is now complete and it really is time to start packing away. The guests continue to happily dance along to the final 30 minute wind-up/wind-down DJ set we've put together for them. This complimenting us for our "Kick-ass live show" as one guest says….."What a remarkable wedding band" another guest remarks.
1.00am – That's it, the nights entertainment is over. The lights go up, guests drink up and start to leave the venue. We continue to pack away the rest of the PA and lighting and start to load up our vehicles. It lightly rains outside. We chat again to guests and the bride and groom. It sounds like they have all really enjoyed their entire day and our evenings entertainment.
1.30pm – We say goodbye to the bride and groom, set our sat navs to HOME and we're off. There's still roadworks on the way back (No doubt it won't be the last time I see them). I think to myself that it was one of the best and least stressful weddings we've ever performed at. I'm very happy with how it all went.
2.20pm – I finally arrive back at home and fall asleep on the sofa until 3.30am
Two days later we receive an email from the client:
Many many thanks for Saturday night – you were fantastic! Lots of people commented on how good you were. I apologise if I pestered a little too much, and for the impromptu request for an additional set. I was a little worse for wear by that point! We hope you had a good time. We'll most certainly be recommending you to whoever we can for a local wedding band.
Many thanks
Tom and Hannah
……ah…..bless em' 🙂
Contact wedding party band 'Punch The Air' for your local wedding reception band.
Shropshire wedding band video.