40th Birthday Party Live Band
What could be better than booking a 40th birthday party live band for your big four-oh? Then what could be better than watching a video summing up what happens when you book a professional function band for your party? Our below Vlog video was shot during our live performance at the Robin Hood Golf Club, Solihull for Olivers 40th birthday party. Watch the effort we have to go through loading gear up the stairs. See how much equipment we have to set up to get the perfect sound and volume for the venue. Then listen to the live recording of the audio during the live performance of the video. Yes, it's all completely live, we really do sound this good. Contact a fortieth birthday party live band to book us for your event.
Book a 40th Birthday Party Live Band
In the above Vlog Facebook style video you'll hear our live versions of Johnny B. Goode by Chuck Berry and Common People by Pulp . Also I Predict A Riot by Kaiser Chiefs, the classic Happy Birthday song and also Rocks by Primal Scream.
Punch The Air party band are experts at performing Indie Rock & Chart Rock & Pop at birthdays. You'll hear huge songs by artists like Oasis, Blur, Blink 182, Stereophonics, Killers, Kings Of Leon and more from our repertoire. We'll also dip into songs by George Ezra, Amy Winehouse, Queen, Lynyrd Skynyrd too. It's all just great party music to keep everyone dancing all night long. We'll provide everything thats needed for a party up to approx 150 guests. So thats the bands entire backline and PA system. We'll also bring lighting and include DJ services in the price too. You can use our microphones to make announcements and speeches and ask us to play whatever songs you like DJ wise.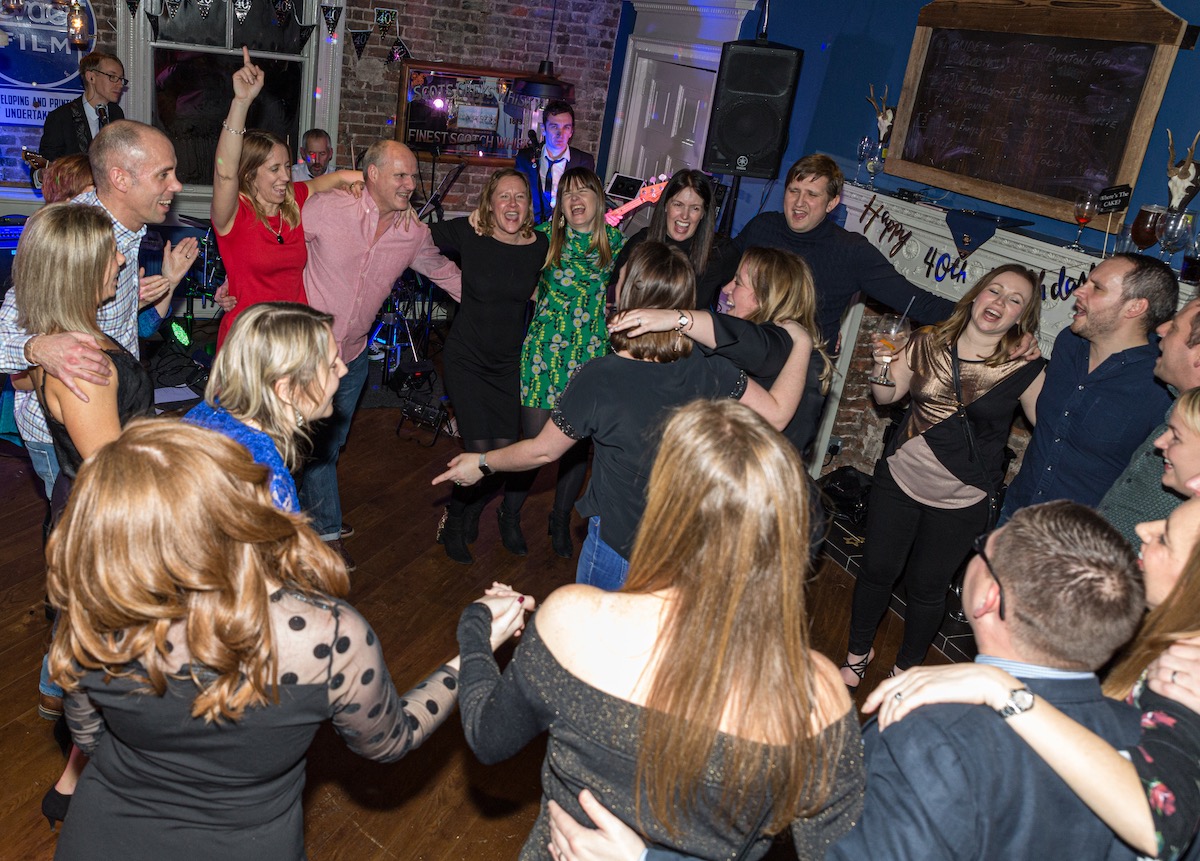 When you book an indie rock cover band you too will have an amazing time with us handling all your live entertainment. We're professionals at live music reproduction having formed all the way back in 2013. But you don't need to take our word for it. Read over 100 5 Star reviews from previous happy clients amazing experiences with our live party band. To book Punch The Air for your birthday party contact or call UK 07794 659405.