When you've been around as long as Indie Rock cover band Punch The Air have (since 2013) you think you've seen it all, then wedding guests go crazy and do something new. Just like the below wedding band video of what happened at a recent indie wedding….Suddenly you're glad you spent time setting up video cameras to capture it for all the world to see. Indie wedding band 'Punch The Air' smash to smithereens what you once thought a wedding band was supposed to be. At your wedding party band everyone will be going absolutely crazy for our blend of indie rock covers and chart pop music from the last 60 years. You want to hear Blur, The Killers, Coldplay, Kings Of Leon, Kaiser Chiefs, The Fratellis and more indie rock cover band songs.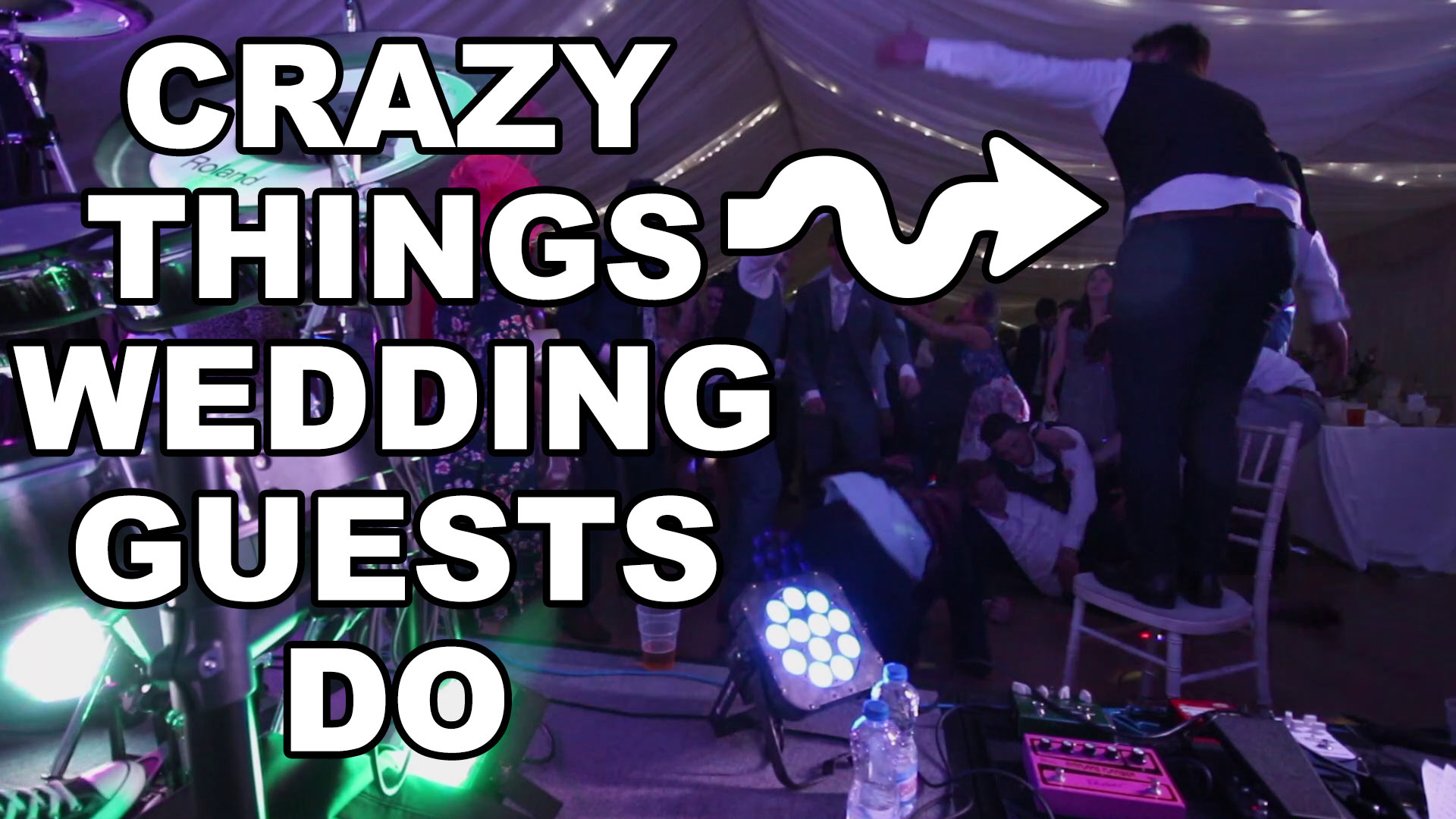 You're family and friends will want to hear Elvis Presley, Lynyrd Skynyrd, Chesney Hawkes, The Monkees, The Beatles, Amy Winehouse. Contact indie cover band 'Punch The Air' to check on price and availability for your indie rock wedding band. Find out more about what we can bring as your wedding band. Book live entertainment for a wedding.
When Wedding Guests Go Crazy
What occurred here was a wedding guest was happily dancing along to indie wedding band 'Punch The Air'. He then pulled up a chair and his friends pushed him around the dance-floor for a while. All reasonably fine so far right? For whatever reason then (Lets presume he'd had a lot of alcohol to drink) he decided to stand up on the chair on the dance-floor. His friends then decided it would be really funny to push him off his chair. Luckily the wedding guest wasn't injured and continued to party along to our live wedding entertainment band. Book a Lichfield wedding band.
So what specific song makes wedding guests go crazy like this? Apparently it's Tubthumping by Chumbawama. "I get knocked down, but I get up again" how apt eh….So either do or don't request this song at your peril at your wedding venue and see what happens. You have been warned 🙂 Book a Wedding Reception Band for your wedding venue.
Both videos on this page were filmed at Norbury Village Hall, Norbury, Bishops Castle, Shropshire, SY9 5DX. Below you will see our live wedding function band promo video of many songs from this wedding venue.
Contact 'Punch The Air' to check on our price and availability for your live wedding entertainment. Find out more about the band. Book a Staffordshire wedding band or hire a Warwickshire Wedding band. Book a wedding band in Shropshire.