Pre-checks
6.30am. I woke up early to get ready for the day promoting 'Punch The Air' indie Wedding Band as a Wedding Fair Live Band (Thank you extra hour in bed "Mr Greenwich Mean Time"). In 30 minutes I'm showered and shaved and I'm all good and ready.
8.00am. The car has been loaded up (Filling up about half of it), hair has been suitable coiffed, jackets & ties are packed for later and its time to set off (via a quick stop for a spot of Mc Donalds breakfast en route).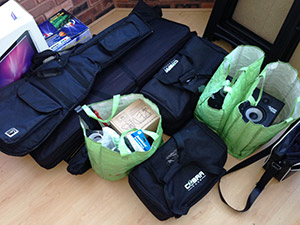 Arrival
8.15am. My partner and I arrive at the wedding fair venue at Little Aston Golf Club, Roman Rd, Streetly, Sutton Coldfield B74 3AN. It's a short four trips from the car park to the marquee and all the gears in and ready to be set up. Very luckily we have a corner table so we're looking at maximum exposure here.
Setting up our Wedding Fair Live Band
8.20am. We start to set up the Indie Rock Wedding Band gear and today we're using an iMac with two powered monitor speakers for our showreel. A laptop for slideshow photos of the band, another laptop to display the website (that you're looking at now) and a portable DVD player playing live footage. I connect two sets of headphones to it so brides and grooms can watch at the same time. But there doesn't seem to be any power supply anywhere so I have to go and have a word with the wedding fair organisers who promise to sort something out. The black backdrop (That took me over an hour to iron last night) is hoisted up nice and easily and has remained uncreased throughout its journey. The colour scheme of the table is looking really great all in black and light blue, all I need now is some lighting.
Eventually I am shown a single power point across the other side of the room, so its a good job I decided to bring my own huge extension cables and gang ways. I'm down on my hands and knees taping over the wires so no one trips up on them (Is this really my job?), the rest of the hall is still pretty much swamped in darkness and no one else still has power. Gradually people come over to me asking if I can help with their power issues, so I'm off supplying extension cables and I'm back on my hands an knees again installing them and taping them up for them (Signed off by the head honcho mind you).
Nearly ready to go
9.20am. We're nearly ready now. The lighting goes up, the custom projector gobo goes up, the computers are turned on, posters go up, I pull out an acoustic guitar and a bass (To make it a bit more obvious what we're actually trying to sell), pop out some flyers onto the table and we're ready for the day at 9.28am. I shine some of our lights on the photography business just around the corner from us to try and help them stand out a little more (A nice couple from Colourstone Photography, Aldridge, Walsall). They made me laugh when they said they'd been looking at the names of the other businesses there today and wondered what we did…..they thought we might have been balloon modellers…brilliant 🙂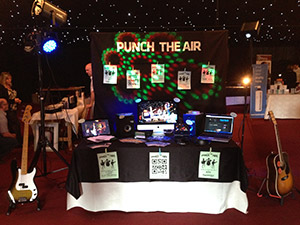 9.45am. Other exhibitors are still arriving (So much for all being ready for 9.30am as was advised) and cutting it very short.
Opening Time
10.00am. OPENING TIME of the wedding fair…..I guess, as no one potential clients have made it into our marquee yet.
10.20am. Finally brides & grooms start to trickle through….very slowly looking for some wedding entertainment and wedding products.
10.23am. I engage with the first potential client directly by walking out from behind the stand and telling them about what the band can provide for them on their special day……You've got to be proactive haven't you.
11.15am. I've spoken to quite a few people now and its great to get feedback on what they're after. Or have already booked for their special day. Some say they hadn't even thought of having a band. Others say they have already booked a band. Some say their friend is in a band and he's doing it for them….(ah that old chestnut) A few folk just want a DJ, and some people aren't having any music at all for their evening do (Very strange if you ask me). I even get a "We don't like music" from someone (quote of the day). We're even asked if we play birthday parties too…which we do of course.
Other Musicians There
11.25am. I have a chat with an instrumental guitarist over the way from me (A really nice guy called Derek Brock) We talk about how its been going, bookings etc. We discuss how we may even play a little number together if we get a spare moment later on.
12.30am. It must be time for lunch and so a nice homemade pre-prepared bagel is pulled out. One bite and I'm back up talking to another potential client. I sit back down again for two seconds, take another bite and I'm back up again. We're giving out lots of flyers and info today so there are sure to be some big hits on the website over the next few days.
Slowing Down?
1.05pm. Things are starting to slow down a little now (Maybe people are having lunch themselves?), so I suggest to my partner that she pops back home for a bit and enjoys the rest of her day off "I can handle it"….I say, and I do just about.
2.18pm. I'm starting to feel a bit like a stuck record now at this wedding fair telling people about the band, how long we perform for, what gear is included and all about the DJ service.
Booking Confirmed for this Wedding Fair Live Band
3.05pm. A lovely couple that I spoke to about an hour ago return and we have our first official booking of the day at Swinfen Hall, Lichfield wedding band next year. Then another soon to be bride and groom enquire about us being their Little Aston wedding reception party band.
3.15pm. I'm chatting to another great young couple who seem really keen to secure us for October 2015 at Packington Moor, but they dont have a date 100% confirmed yet. They pop off for a few minutes to discuss it together.
2nd Booking Confirmed for our Wedding Fair Live Band
3.25pm. They're back and we have our second booking of the day confirmed (Even though there isn't a date quite yet).
Winding Down & Packing Away
3.34pm. Things look like they're starting to wind down a little now. Other exhibitors at the wedding fair are even starting to pull their stands down. I give it ten minutes and then start to do the same. My partner arrives back to help out (I always call her my Little Helper Monkey). It takes less than 15 minutes to get it all down and back in the car. I have another quick chat with Derek. Brilliantly we find out we've both been booked for Swinfen Hall on the same date. It's brilliant that we'll get to see each other again soon.
4.05pm. The photographers next to us say they did OK today too, and so do the wedding dress people on the other side of us. So we bid our farewells and then we're in the car heading back home.
4.20pm. We arrive back at home, unload the gear (I'll put it all away properly tomorrow). We pop down the pub for a quicky tipple to discuss whats occurred today. I'll be busy sorting contracts etc for the rest of the week. It was well worth the time and effort I put into this today though.
……..9.15pm. (Yes, only 9.15pm) Time for bed as I'm absolutely knackered and can't keep my eyes open.
---
Get in contact with Indie Rock Wedding Band 'Punch The Air' for a quote.