Hire a Telford Wedding Band for your Shropshire wedding venue and have Shropshire's premier party & function band 'Punch The Air' handle all your live entertainment and DJ sets. Book a night of high energy music & an exciting stage show in the Shrops area with us cuz we're ready to rock your wedding. Epic party classics hits from Queen, Oasis, The Beatles, George Ezra, Blink 182 and more. No nonsense fast set up and sound-checks (As fast as walking across Iron Bridge in Ironbridge…well almost) . All sound and lighting equipment included in the price. And a simple booking process (a simple as walking up The Wrekin) make us the obvious choice for your TF1, TF2, TF3, TF4, TF5, TF6, TF7, TF8 wedding. Contact for price and availability.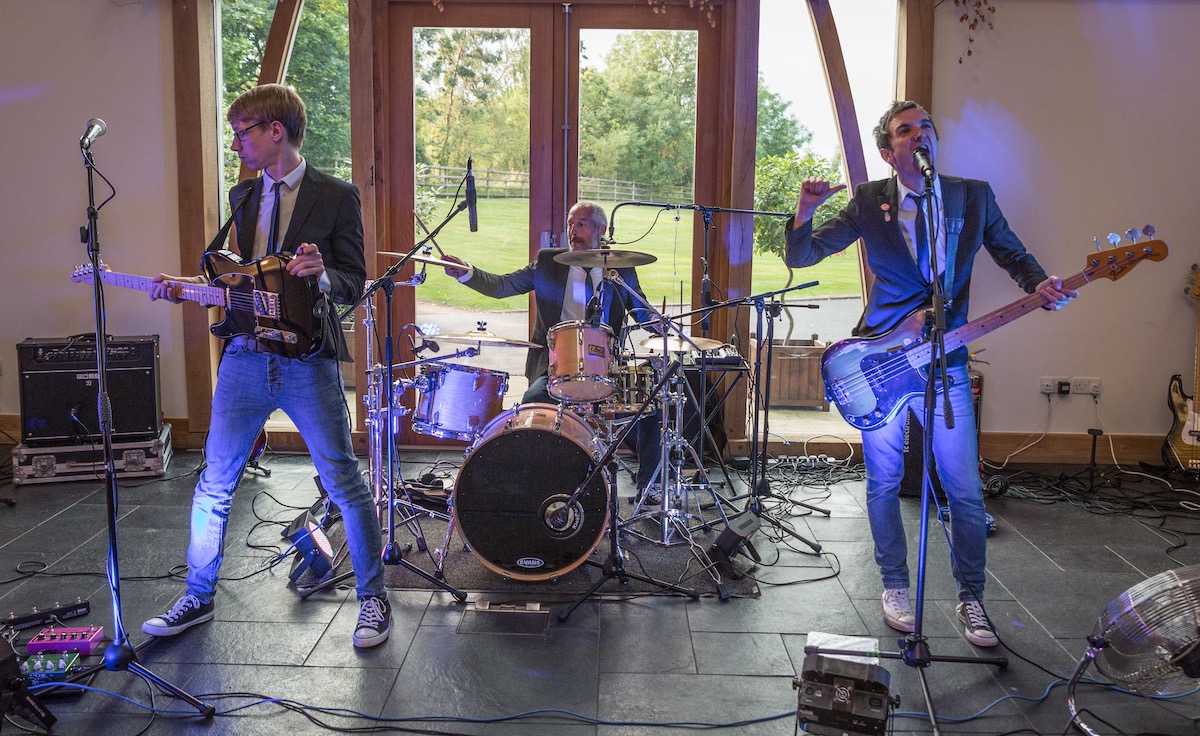 A Telford Wedding Band with everything you'll ever need included in the fee.
Punch The Air live band will rock & pop your wedding around Shropshire including Telford, Shrewsbury, Oswestry, Bridgnorth, Newport, Ludlow, Market Drayton, Whitchurch, Shifnal, Church Stretton and more. Above image by Telford, Shropshire based female photographer.
At previous Telford weddings we've had award winning female DJs tell us how we created a sonic boom of sound and joy for brides & grooms. We managed to "Completely KO the dancefloor". Later they added that we gave clients a "Wembley Experience" at even the smallest of wedding venue we performed at together. "Comparable to a diamond or platinum wedding package at much higher costs". When you hire a wedding band in Telford we'll bring it all to your new town.
Female singer wedding band options.
You don't need to hire a separate DJ when you book our wedding band. We'll spin you up a peachy mix of diamond cut classics at no extra cost. You can also hire a band with a female singer and increase us to a four piece mixed vocal party band. We'll take care of announcing the cutting of your cake and make sure you're up on the dancefloor for your 1st dance as man and wife. We won't play any face-melting drum solos or extended guitar solos as we want you to spend your time together WITH the band. Becoming one with us. An extension of us and the music we play for you on your wedding day.
Some of our favourite Telford wedding venues include:
Mercure Telford Centre Hotel.
The Shropshire Golf Centre.
Haughton Hall Hotel & Leisure Club
and more.
Our Shrops wedding band are all about showing you what we can do live. NOT in a sterile studio set up. Thats why pretty much all of our videos are 100% live filmed at weddings and parties. Watch clients rock out to 'Punch The Air' in the totally live YouTube sensation video below. If you ever thumb through Guitarist Magazine you might find some super peachy pix of us in there too.
Shrops function band
Find out everything we get up to on a regular basis by visiting our party band Facebook profile. Interact and communicate with us over there if you wish. Maybe catch our public performances at Alberts Shed, Alberts Loft or Alberts Pour House. You'll find it's not hard to handle our style of indie rock covers and chart pop. If you know of a guitarist of the year more capable of handling crowds of all sizes then us do let us know. Or contact for further info to book a Telford wedding band.