Having been producing live music videos for indie rock cover band Punch The Air since its inception back in 2013, band leader Andy Starkey thought he'd try something a little different while at home in-between performing. He decided to see if he could produce a Teenage Kicks Undertones Cover Version video for his cover band completely on his own. With no one else holding a camera or helping out setting up any equipment. Just exactly what could be achieved with zero budget and a punk rock DIY attitude? Only using one single camera (More about that later), lighting and background equipment he already owned…All in his own home?
What you see below is a self filmed, self edited video of Teenage Kicks Undertones Cover Version Video.
So Andy transformed his dinning room into a full on music video studio. In an area measuring only 2.6 metres by 4.5 metres the video was always going to have its limitations. But would you even know it was filmed in and with these limited conditions otherwise? Andy used as many tricks of the trade as possible while filming the video such as using an Edelkrone motorised slider and a DJI Ronin S Gimbal. The entire video was shot on a Canon EOS 200D camera apart from one angle which was shot side by side also using a Canon 700D. (See if you can spot it). So can you see what is possible with a knowledge of film making, some decent lighting & cameras?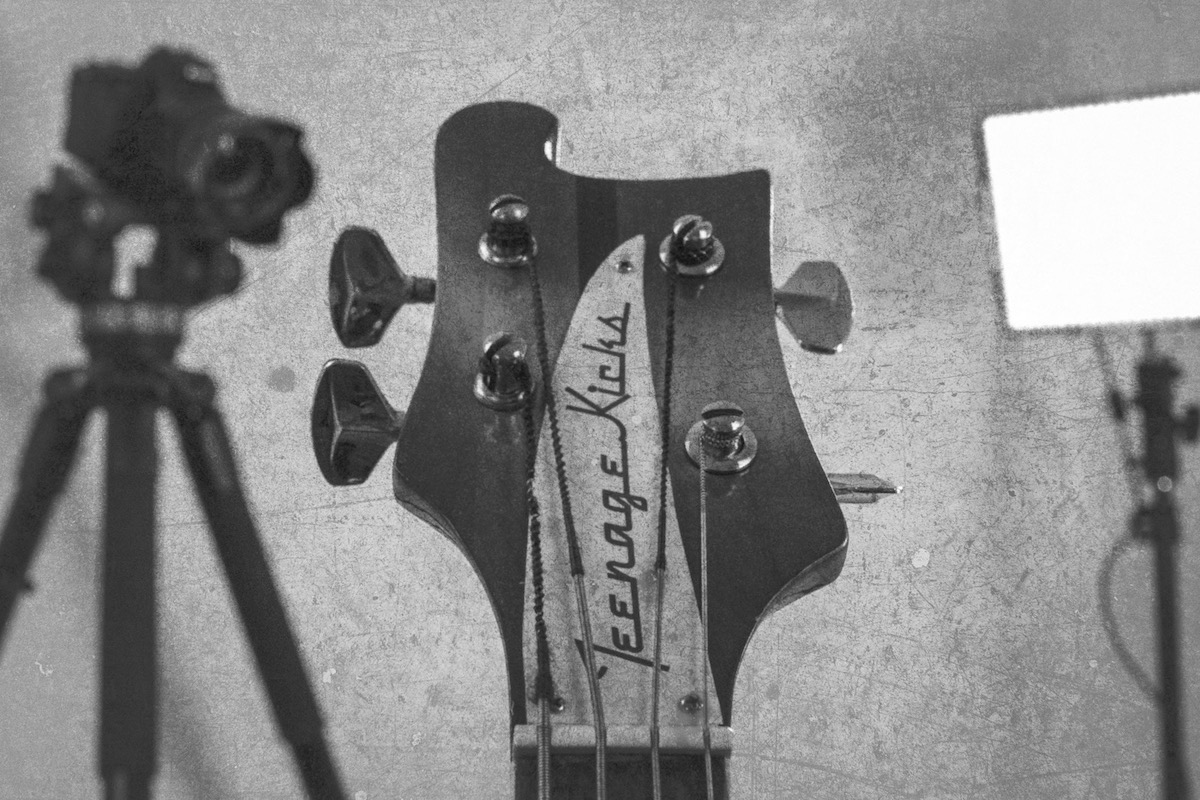 Various lenses were used including a Canon 50mm F1.4, Canon EF-S 10–18mm f/4.5–5.6 IS STM and multiple other angles lenses. Filming was done on a very relaxed time schedule over the period of a few weeks as Andy continued to work on other projects. He then edited the video on Final Cut Pro X over the space of a few days correcting exposure, colour, skin tones and adding some flair.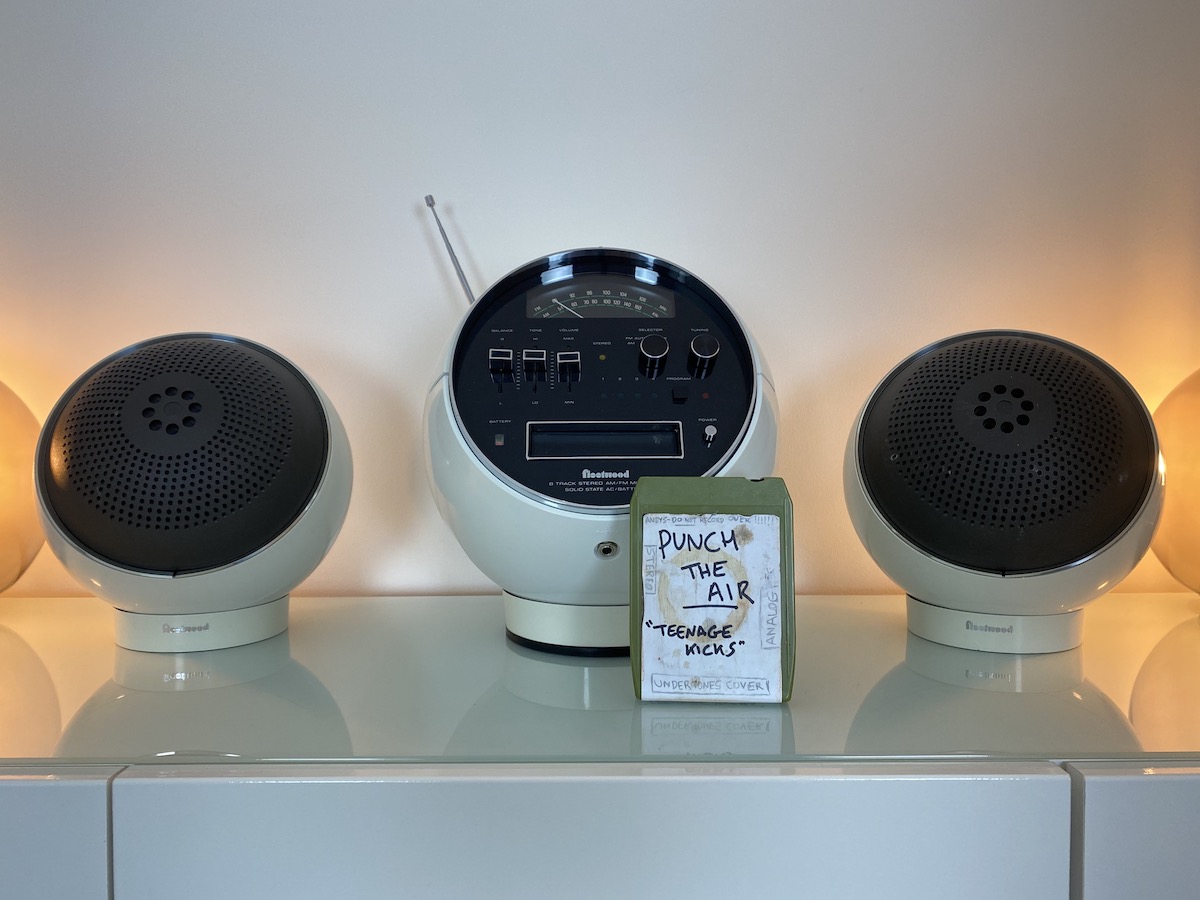 Some cool background equipment featured includes a Weltron 2001 8-Track Tape Player and speakers and Fake Rickenbacker Copy Hondo II bass guitar (Check out the headstock). Also an aged 8 track cartridge was created to add some 70's authenticity. Furthermore a projector displaying the original video in negative was projected onto the wall and over Andy himself. Andy tried every camera angle possible in his small room including an overhead drum camera, close ups and wide angles of guitar and bass.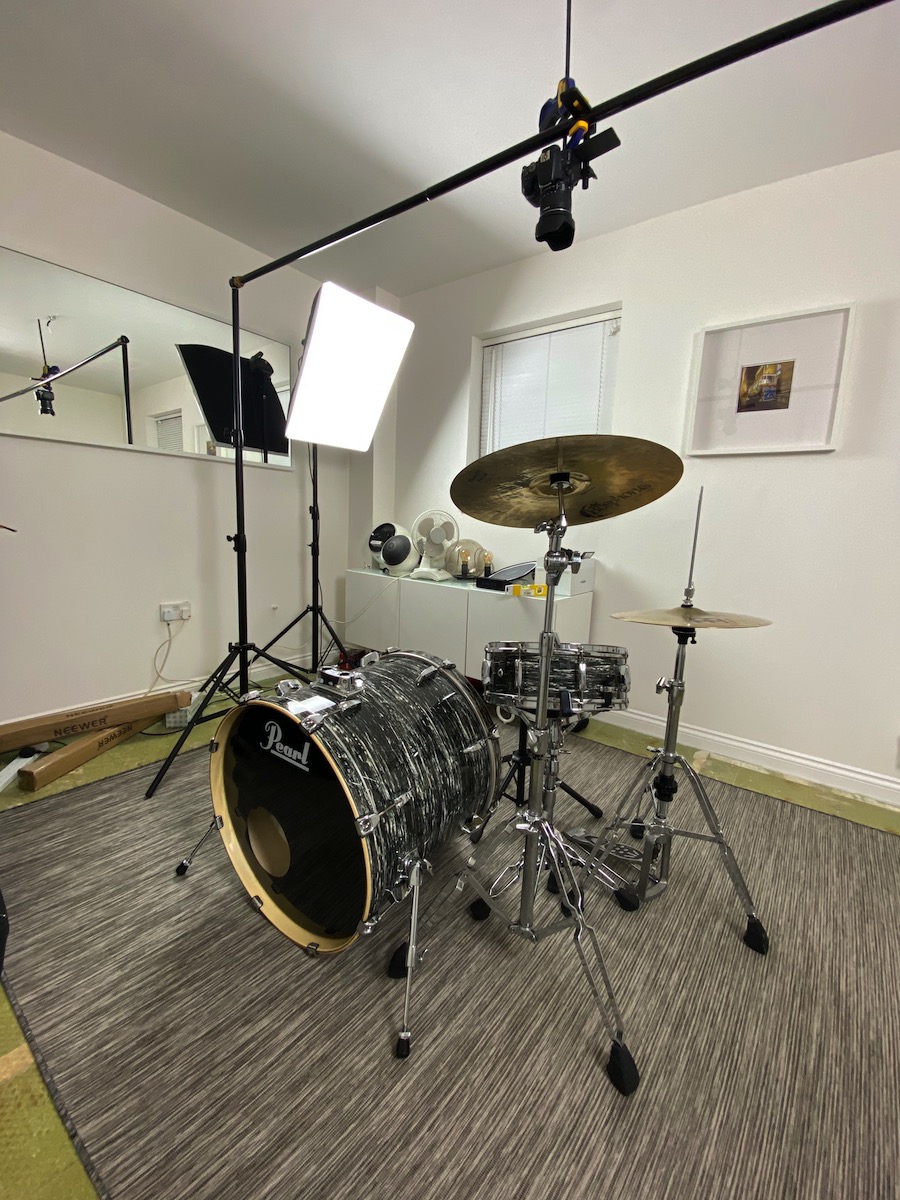 Why perform Teenage Kicks Cover Version?
Some folks think of 'Teenage Kicks' by The Undertones as a very overly played song when you hire a wedding band. And they're pretty much right it is. So why would you play Teenage Kicks cover version? As a musician it's always great to have this punk song in your arsenal. It's simple, catchy and with only two verses (That repeat themselves) easy to remember. Also it features a pretty simple enough guitar solo. But by no means does that make it a throw away song. Whenever cover band Punch The Air perform live together you can bet your life a number of guests will request this fan favourite.
Sometimes they even ask for it to be played AGAIN for a second time. (See John Peel section below) Yes, it really is that much of a phenomena. It doesn't matter that its classed as a Punk Rock number. It's stood the test of time and has just become a much appreciated staple pop song. So what better way to showcase this fantastic song from our indie rock repertoire than by paying homage creating a music video for it.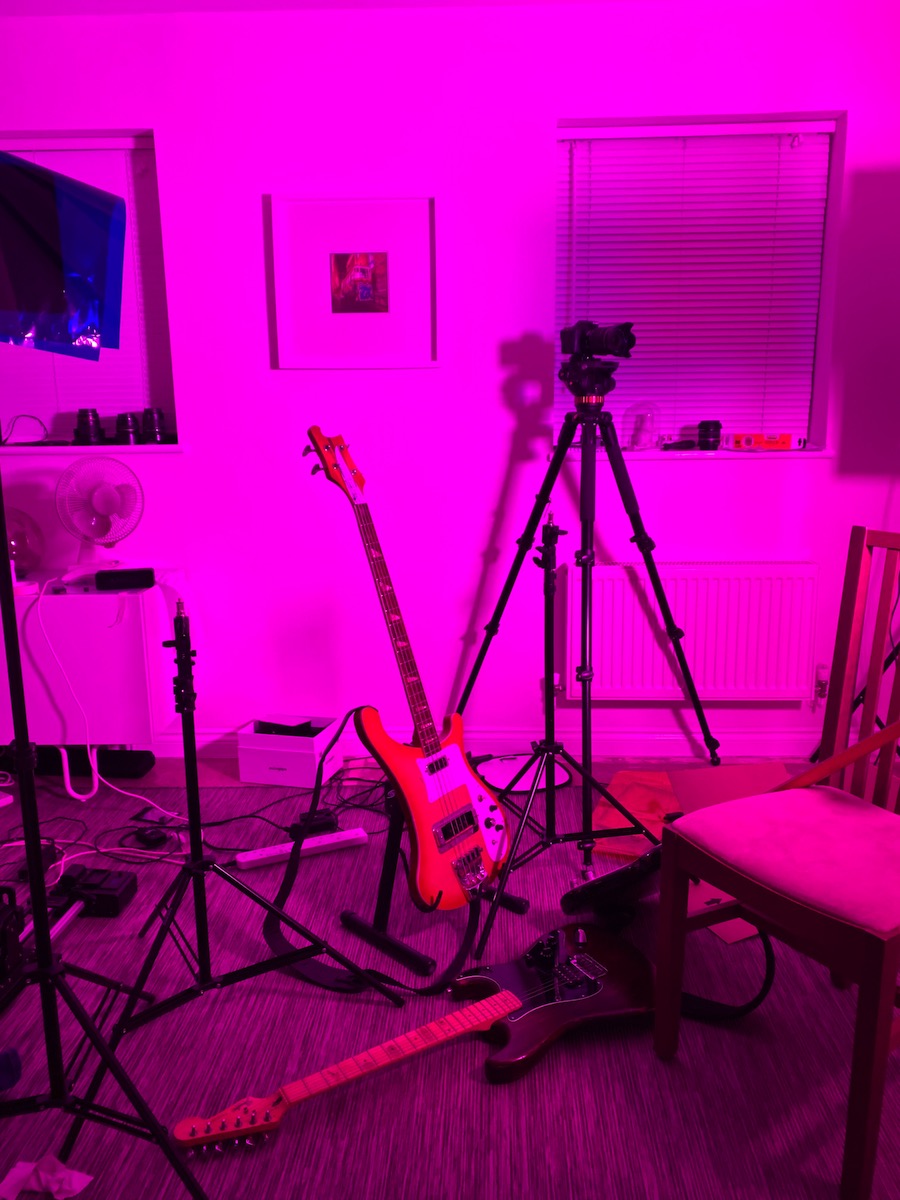 Is Teenage Kicks by The Undertones the first punk rock song?
Oh no, 'Teenage Kicks' is by no means the first punk song. That is often considered to be 'New Rose' by The Damned (Released 22nd October 1976).
But Irish Punk band 'The Undertones' song 'Teenage Kicks' has the honour of being the favourite song ever by ex BBC Radio One DJ John Peel. Peel also specifically requested sections of the lyrics of the song be engraved upon his tombstone as you will see below. John Peel was know for is massive vinyl collection which is now curated by his widow wife (lovely referred to as 'The Pig' by John). On one occasion, John Peel is known to have played the song back to back twice in a row. Explaining to his audience, "It doesn't get much better than this".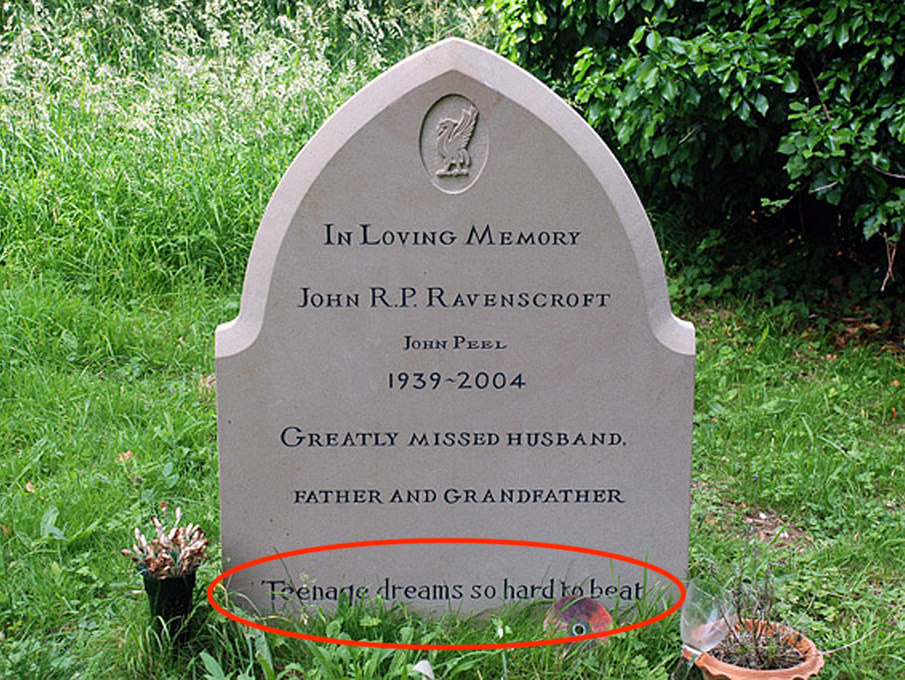 The B-side to Teenage Kicks was "True Confessions" which too is a great song taking influences from bands like Wire.
Further information about The Undertones.
Teenage Kicks was written by The Undertones principal songwriter & rhythm guitarist John O'Neill. It was recorded in Wizard Studios and released on Sire Records on 21st October 1978. The track was produced by Davy Shannon which there is practically no information online anywhere. It peaked at number 31 in the UK singles chart.
At the time of recording Teenage Kicks, The Undertones band members were:
Feargal Sharkey
John O'Neill
Michael Bradley
Billy Doherty
Damian O'Neill
The Undertones split in 1983 after considerable chart success with other hits like Jimmy Jimmy, Here Comes the Summer, My Perfect Cousin and It's Going to Happen! Then in 1999 they decided to reform, but Feargal Sharkey declined the opportunity. So Paul McLoone stepped into the vacant frontman position. Feargal Sharkey had a very successful musical career post The Undertones and scored a massive number one hit with the pop song "A Good Heart" (His third number one solo single). Here Comes the Summer is often trotted out every year for supermarket TV and radio commercials about Summertime spending.
The Undertones are on tour in 2022 and 2023 so you can still catch them live to this very day. At what point in their live performances do you think they play Teenage Kicks though? Do you think they still love the song even after all these years or do you think they loathe it by now?
Boy Band 'One Direction' covered "Teenage Kicks" (in a medley with Blondie's single "One Way or Another") entitled "One Way or Another (Teenage Kicks)" for the 2013 Comic Relief single. Which, unlike the original actually made it to number one in the UK charts.
Singalong with the Karaoke / Lyric video Andy also produced
Teenage Kicks Lyrics
A teenage dreams so hard to beat
Every time she walks down the street
Another girl in the neighbourhood
Wish she was mine, she looks so good
I wanna hold her wanna hold her tight
Get teenage kicks right through the night
I'm gonna call her on the telephone
Have her over cuz I'm all alone
I need excitement oh I need it bad
And it's the best, I've ever had
I wanna hold her wanna hold her tight
Get teenage kicks right through the night
All right
---
Behind the scenes photos from The Making Of 'Teenage Kicks'
Below you'll see images captured during the filming process of Teenage Kicks Undertones cover version video. How shots were filmed and how scenes were set up and created. They all tell the story of how one guy achieved so much with such little space and with no help from anyone else.
Our other crowd favourite punk track is 'Ever Fallen In Love' by Buzzcocks. You'll often hear us playing this back to back with 'Teenage Kicks' to really get the event going. This party-favourite-guest-friendly tune hits the mark at all weddings, birthday parties and other function band occasions. Contact to book an indie rock cover band for an event.