Your Rodbaston Hall wedding band 'Punch The Air' are here to advise you on how to use this Penkridge wedding venue to your best advantage. We've performed at Rodbaston Hall on so many occasions now we've actually lost count how many. If you are looking for an Indie Rock wedding band who perform songs by Oasis, Blink 182, Killers, Blur, Arctic Monkeys, Kings Of Leon then hire a wedding band. We also perform music for all ages from modern day through to the present from George Ezra, One Direction, Florence & The Machine, Amy Winehouse. This is the Staffs wedding band for you. View our videos, watch our Vlogs, read up more about what you get when you book us as your wedding band. Then contact 'Punch The Air' to check on price and availability.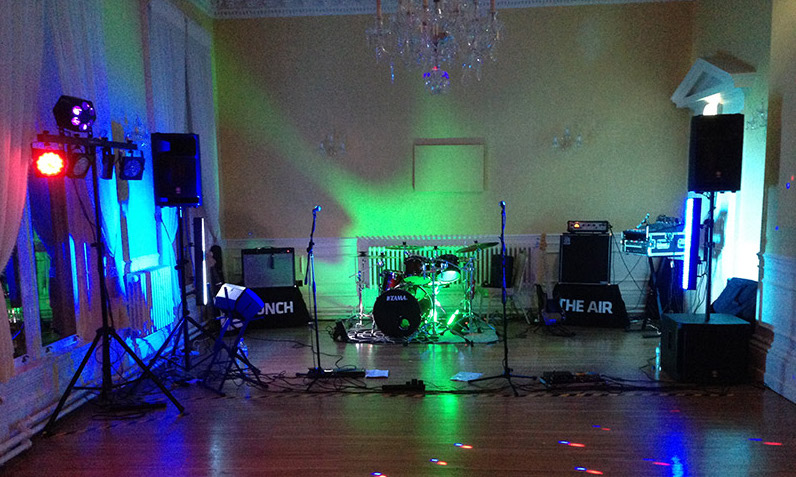 About Rodbaston Hall Wedding Band Penkridge Staffordshire
This Staffordshire wedding band venue is situated at the end of a long road after Rodbaston Farm on Rodbaston Drive and is a beautiful 19th century building on a 180 hectare country estate. It features lovely leafy trees with plenty of green extensively landscaped outdoor space. Rodbaston Hall is hired on an exclusive basis. This means you and your guests will be the only party taking place there on the day when you hire a wedding band in Penkridge. Thus adding that little extra something to your special event. Penkridge wedding band 'Punch The Air' think this is one of the many good reasons to hire a wedding venue like Rodbaston for live entertainment.
The room that your Rodbaston Hall wedding band 'Punch The Air' perform in is actually three rooms. Separated by screens that open up into one long large room. This works really well so that cover band 'Punch The Air' can perform at the one end where tables and chairs have been cleared away from the dancefloor area. The rest of the room can be kept for holding your buffet in. The stage area is a very decent size with plenty of space for 'Punch The Air' to move around and entertain guests.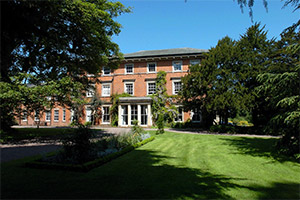 Rodbaston Hall doesn't feature a noise limiter and has hard wooden floors. Due to the long narrow shape of the room the bands sound doesnt bounce around too much. Consequentially no echo can be heard coming from the back wall from your indie covers band.
Hire a wedding band in Penkridge
Loading in Indie Rock Cover Band Punch The Air's gear is pretty straight forward with parking by the kitchens. Then its just a short walk past the kitchen area to the stage area with no stairs to climb for your wedding Party Band.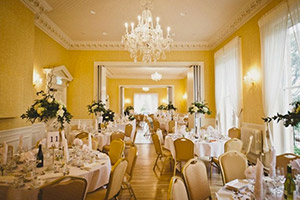 We recommend this Penkridge Staffordshire wedding venue
We can highly recommend Rodbaston Hall for your special day and Wedding Entertainment. You can have either a traditional or a more modern wedding reception. This is due to its beautiful gardens, accessibility and exclusivity.
Staffordshire Wedding Venue details.
Rodbaston Hall, Rodbaston Drive, Penkridge, Staffordshire, ST19 5PH
Phone: 01785 710509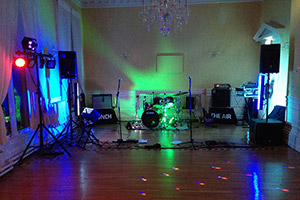 More
photos
of
Punch The Air
performing at Rodbaston wedding band and many other venues across the country.
Contact
the band for price and availability.