'Punch The Air' professional indie rock party band appeared as a pub cover band at The Feathers Inn, Lichfield on Friday 21st February 2020 from 9pm onwards. We performed massive indie covers by The Killers, Kings Of Leon, Blink 182, Oasis. Also songs by James, Kaiser Chiefs, Stereophonics, Arctic Monkeys, Fratellis and more. Plus Classic pop from 1950's through to present day. If you would like to hire an indie rock band as your pub cover band or restaurant band contact to check on price and availability. Check to see if we have any live public performances near you soon.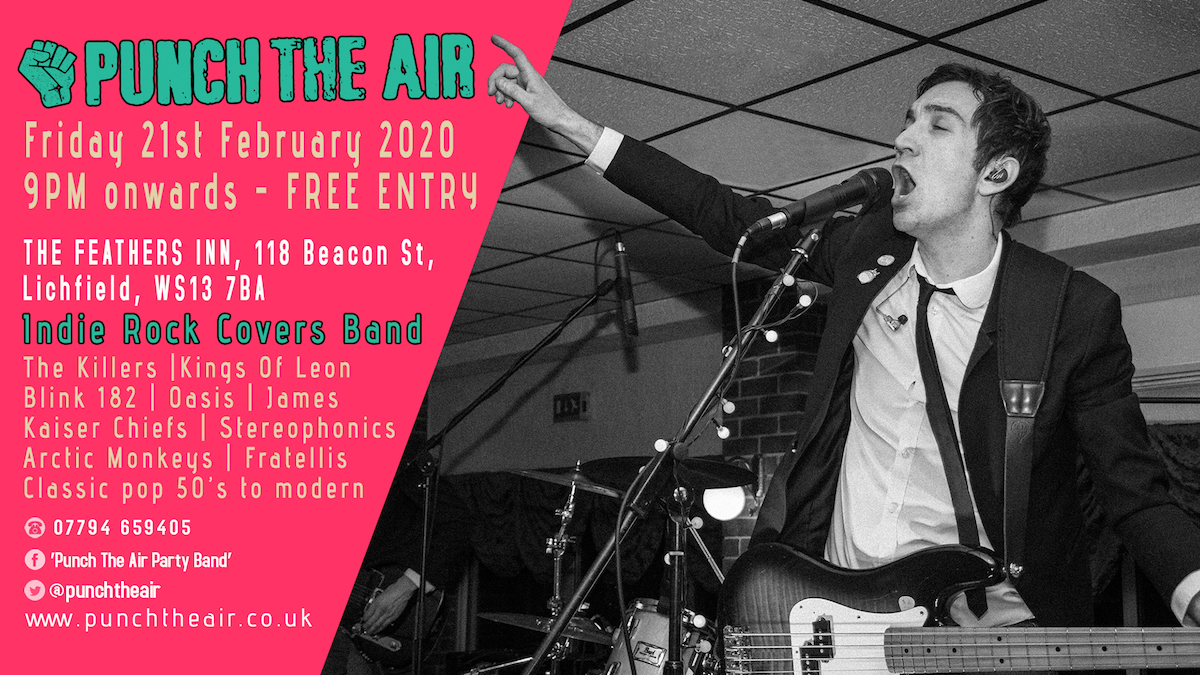 Hire a Pub Cover Band
We don't often get the chance to be able to perform live publicly. This is because we are usually booked up with private events where we perform as a wedding band, corporate event band, birthday party band and more. This live public performance was a great opportunity to come and watch our function band for free. You would have been able to see how our party band performed on stage. Also most importantly guests and punters reactions to our live show.
If you're planning a wedding reception or party in Staffordshire, Derbyshire, Birmingham, Leicestershire, West Midlands, Shropshire, Warwickshire or surrounding areas then this is a very easy venue to get to. The Feathers Inn is located just outside Lichfield city centre and has ample parking on site. The bar is run by Mike & Tracey and their staff who are some of the nicest folks you'll ever meet. You can also grab a bite to eat at The Feathers pub from their 5 star rated Trip Advisor menu.
Venue address: The Feathers Inn, 118 Beacon Street, Lichfield, WS13 7BA
Be reminded of this event on Facebook.
Even if you were unable to attend this live performance by our function band, don't worry as we have many, many live videos for you to enjoy. All of which prove our credentials as a top rated party band in Staffordshire and across the entire UK.