New Years Eve Band 2022 2023
Are you looking for a live New Years Eve Band for your 2022 / 2023 party? Want an indie rock cover band that also plays something for everyone? Do you want a band that can put on a brilliant live show, entertain you and all of your guests making sure everyone is singing, dancing and clapping along? Unfortunately you may end up with a hoarse throat and sore feet come the end of NYE…but thats OK right? How about DJ's services and lighting included in the price so you can continue to party the night away until the small hours of New Years Day?
If so then 'Punch The Air' are the New Years Eve band for you. We'll even make sure Big Bens bongs go off at the stroke of midnight too. Usually we are booked up a year in advance, but you never know your luck, we might still be available last minute. Prices start from £1999 within and counties nearby to Staffordshire. But we are available to hire all over the UK for New Years Eve parties.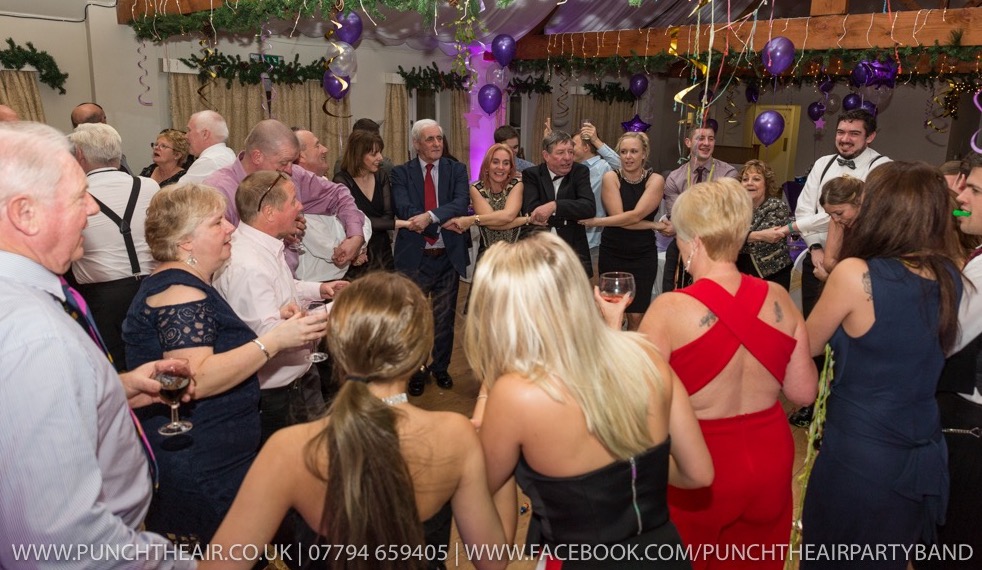 A little about your New Years Eve Band 2022 2023
'Punch The Air' have been performing live since 2013 and know exactly what makes for a brilliant New Years Eve party band. Expect indie rock classics and pop from The 50s (Elvis & Chuck Berry), The 60s (The Beatles & Van Morrison), The 70s (Queen & The Undertones), The 80s (Rick Astley, Human League & Tiffany), The 90s (Blur & Oasis) The 00s & 10s (Coldplay, Kings Of Leon, Kaiser Chiefs, The Killers, Amy Winehouse) and loads more in-between. Our repertoire will let you know more songs we perform live and you can read more about Indie Rock party band too.
We can cater for any size NYE party from 50 to 50,000, indoors, outdoors, in a restaurant or bar, on a boat, on a farm…….It's all fine by us. We've done it all before, so nothing will be a surprise to us when we turn up to your event. Book a New Years Eve band now. Punch The Air have performed on every single NYE since our inception in 2013 and two thousand and twenty into two thousand and twenty will be a big date for us too.
Whats included when you book 'Punch The Air' as your New Years Eve band?
Massive singalong/dancealong hits from the last 60 years by:
60s – Beatles, Van Morrison, Monkees.
70s – Queen, Lynyrd Skynyrd, Undertones.
80s – Human League, Rick Astley, Beastie Boys.
90s – Oasis, Blur, Ocean Colour Scene.
00s (And onwards) – Kings Of Leon, Coldplay, Amy Winehouse, The Killers, George Ezra.
Two New Years Eve live performances played with an upbeat & high-octane style (Plus encores).
Professional, 'Hard Copy' Contract
A professional experience from your initial contact right through to when your event ends.
State of the art high end PA system, sound desk and lighting rig.
DJ services before, in-betweeen and after live performances so you can continue to dance the night away until 1am (Can be extended to later for an additional fee).
Public liability insurance and PAT certification.
A very competitive price that you'll be hard to beat.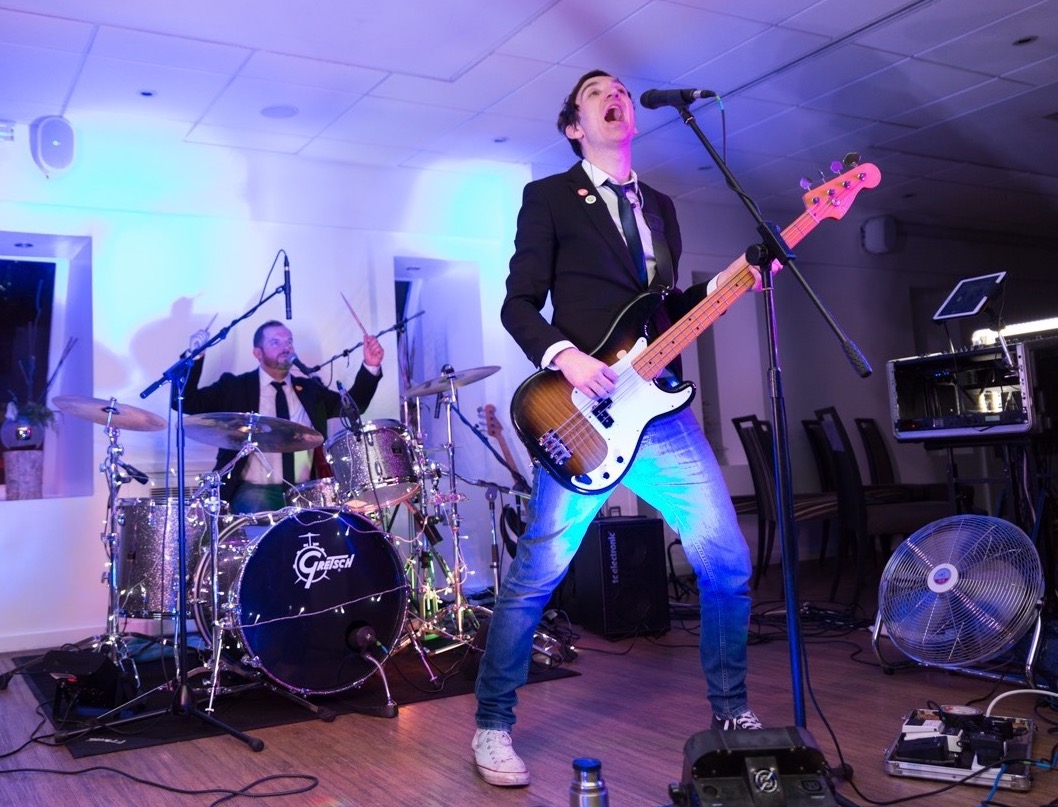 Why not see everything else your NYE band are capable of
Have a look around our website and also check out the below video to see how much fun can be had with us performing at your New Years Eve party. More videos of NYE party band. 'Punch The Air' are also a wedding band, party band, corporate event band, fundraising charity band, indie rock festival band and can handle live entertainment at any type of event. View our packages for more information. Book a NYE band now,
NYE Party Band previous client testimonials:
"Two years we've had Punch The Air perform live for us on New Years Eve. Each time they have surpassed our expectations and put on the best performance guests could possibly hope for on the wildest night of the year." – Judy Johnson – Oakridge Golf Club, Nuneaton 2021 into 2022
"With 200 guests to satisfy I'm so glad we finally found Punch The Air party band. They were everything they claimed to be and more. Our guests danced all night long to their live performances. Some throwing up some very strange shapes indeed. We've had fantastic feedback and can't thank you enough for making our New Years Eve so very, very memorable." – Judy Johnson – Oakridge Golf Club, Nuneaton 2019 into 2020
"Punch The Air provided live entertainment on New Years Eve for us at The Hilton, Glasgow. They were incredibly easy to work along side with and even helped us keep the event running to schedule. Their performance was impeccable with all of our 600 guests up and dancing from the get go all the way through to the early hours of New Years Day. I can highly recommend them for any type of corporate event." – Isabella Sullivan (The Hilton, Glasgow) NYE 2018 into 2019
"Punch The Air have performed as our NYE party band at our venue on multiple occasions and we've also had them in for weddings too. Once again they did a marvellous job helping us see in 2017 to 2018" – Wendy Livingstone (Bentley Brook Inn) NYE 2017 into 2018
"Thanks so much to our New Years Eve party band 'Punch The Air'. Totally professional and took into consideration the size of the venue and mixed age of the guests. Well Done!" – Wendy Livingstone (Bentley Brook Inn) NYE 2015/2016/2017
More end of the year testimonials:
"It was a fantastic NYE party night guys. Punch The Air are great lads and the set catered for everyone!" – Matt Thomas (G-Casino, Manchester) NYE 2014 into 2015
"You did a fantastic job at our New Years Eve party and all our guests that I spoke to thought you were amazing. Thank you very much for getting so stuck in and letting us get on with our side of things!" – Charles Graham (Birmingham City Football Club) NYE 2013 into 2014
"A really, really nice bunch of guys, who bend over backwards to give guests and staff a fantastic New Years Eve party band to remember. Lots of great tunes from modern day back to the 50s" – David Johnson (Krank Club, Leicester) 2012 into 2013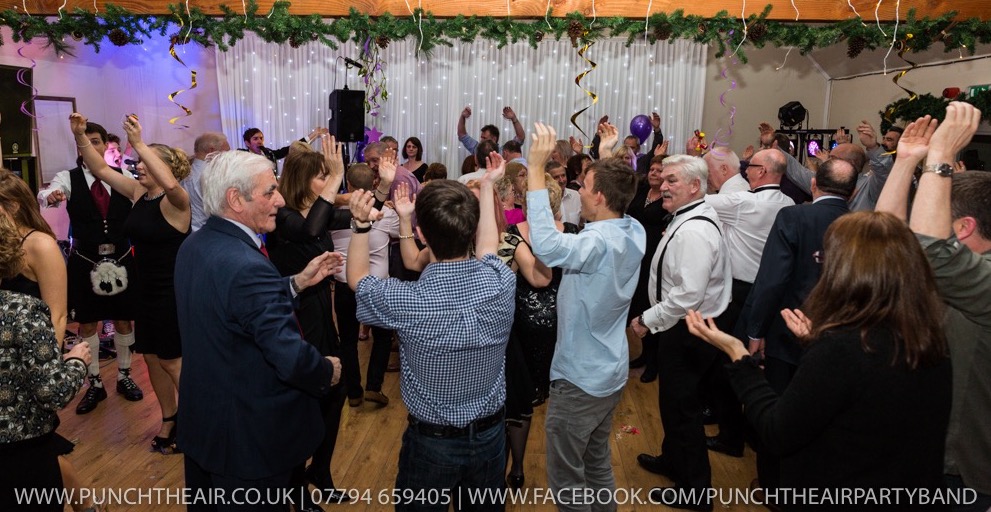 New Years Eve Band 2022 2023 Contact Form
Are you having problems with the above form? Email for a quote punchtheairband@gmail.com or call UK 07794 659405.
---
If you have any questions then you can hop on over to Function Band FAQ page or email punchtheairband@gmail.com