Latest Updates
How far into 2019 are we already?
It'll soon be 2020 (What will we call this decade? "The Twenties"? Again? Its going to get confusing isn't it) so its time to get thinking about booking your wedding band, birthday party band or corporate event band for 2019, 2020 and beyond. As you trawl through our website you'll see that there's no band more capable of handling your live entertainment than 'Punch The Air'. Being fully self contained with PA, lighting and iPad DJ services included you don't need to bother booking any external services saving you both time and money. Get in touch with us now here and let us know what you need.
Start of 2019
We've got over eleven new completely live videos for you so far in 2019. First up is a shorter version of our Mega Vlog of what happens when you book us for your wedding. One is from our performance for Lindsays 40th birthday featuring huge massive singalong tunes selected by her. Another other is our own rock cover version of "Best Song Ever" by "One Direction" for Lichfield Arts Festival. The third is from Henrys 21st Birthday party. The fourth is a live music quiz video (Yeah, something a little different there then). The fifth is Andy performing live at a birthday party. The sixth is a best of performance at a festival. The seventh is Andy performing songs from the year 2000 and onwards on his own……Hey look, just check them out below OK 🙂
Is there any other band out there proving what they do week in week out with professionally shot live videos as 'Punch The Air' do?…..We think not.
Corporate Christmas Party – December 2018
We headed over to Conference Aston (Again) this year for Shakespeare Martineau's corporate Christmas party (Our second year performing for them). Andy quickly edited this slideshow video together for you all to see so it would still be relevant over the Christmas period.
A Christmas Wedding? – December 2018
Yes, its true, some folk do get married in December…and some also on a Thursday in December. We headed over to the lovely Mill Barns in Alveley, Bridgnorth during a very mild Thursday evening and performed songs both modern and new also including some Christmas tunes live for Hayley & Tom at their request. Below you will see them rocking out with us live on stage to Wham's "Last Christmas".
Christmas Is In Full Swing – End of November 2018
We performed at Lichfield Xmas Lights Switch on 25th Nov in Market Square to a strong crowd of over 4000. Lots of Christmas tunes and singalong party hits from modern day back to the 1970s were performed and everyone had a brilliant time. Its not too late (Or early) too book us for your Christmas party. Click here to find out more.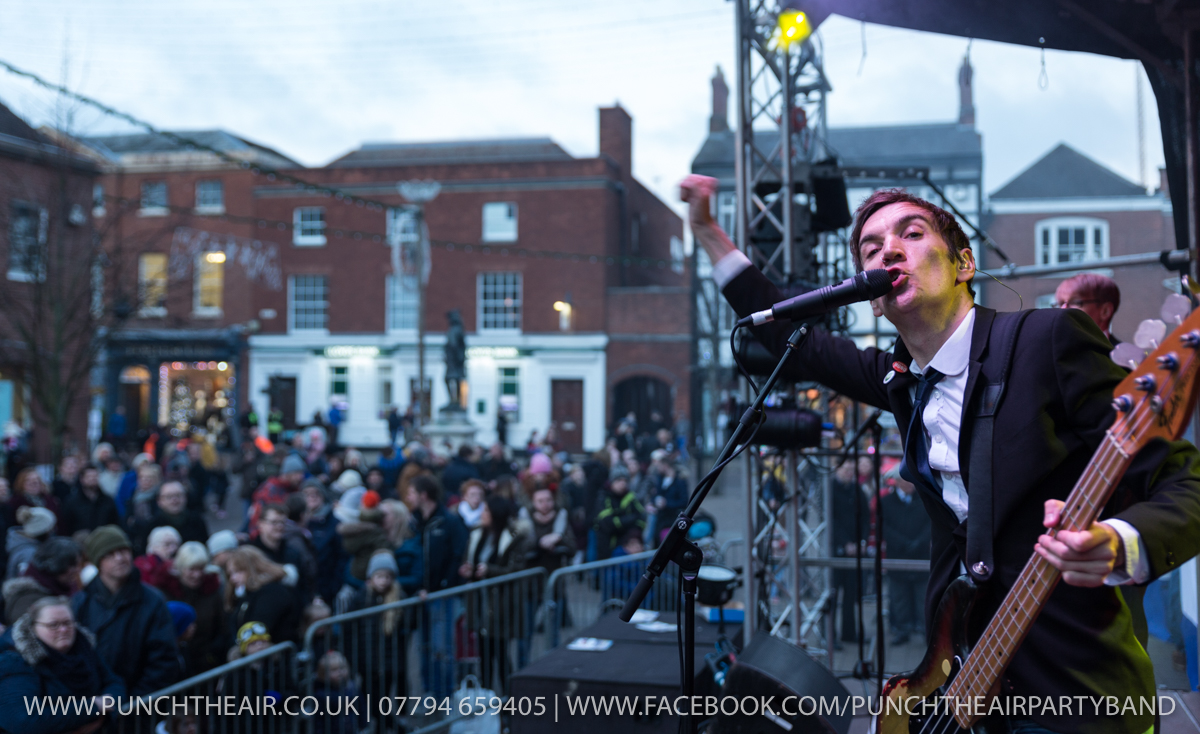 ---
Mega Vlog – November 2018
A few weeks back Andy performed four gigs over the space of three days. He filmed the entire thing and has spent the last few weeks editing it up into a story about what we get up on a regular basis. Over the next 17 minutes you can view things from our perspective, hear many client testimonials and see the fun everyone has at our live performances. Why would you book any other band for your special day or event?
---
Previous Updates: Is Wedding Season Over for 2018 yet? – October 2018
Clearly its not as we still have more weddings booked in for the remaining months of 2018 than any other type of work (They even go up to the end of December). We've been that busy in 2018 that we're struggling to edit all the brilliant videos and images we've taken over the summer months but we'll hopefully get them all online soon. Metallic confetti cannons have been one of the most used wedding accessories this year and they really help to add a little extra sparkle to the venue (Even if you're finding the pieces in your guitar case for weeks to come afterwards). Here's a picture Andy took of one mid explosion. Speak to us about adding these fun accessories to your wedding when booking here.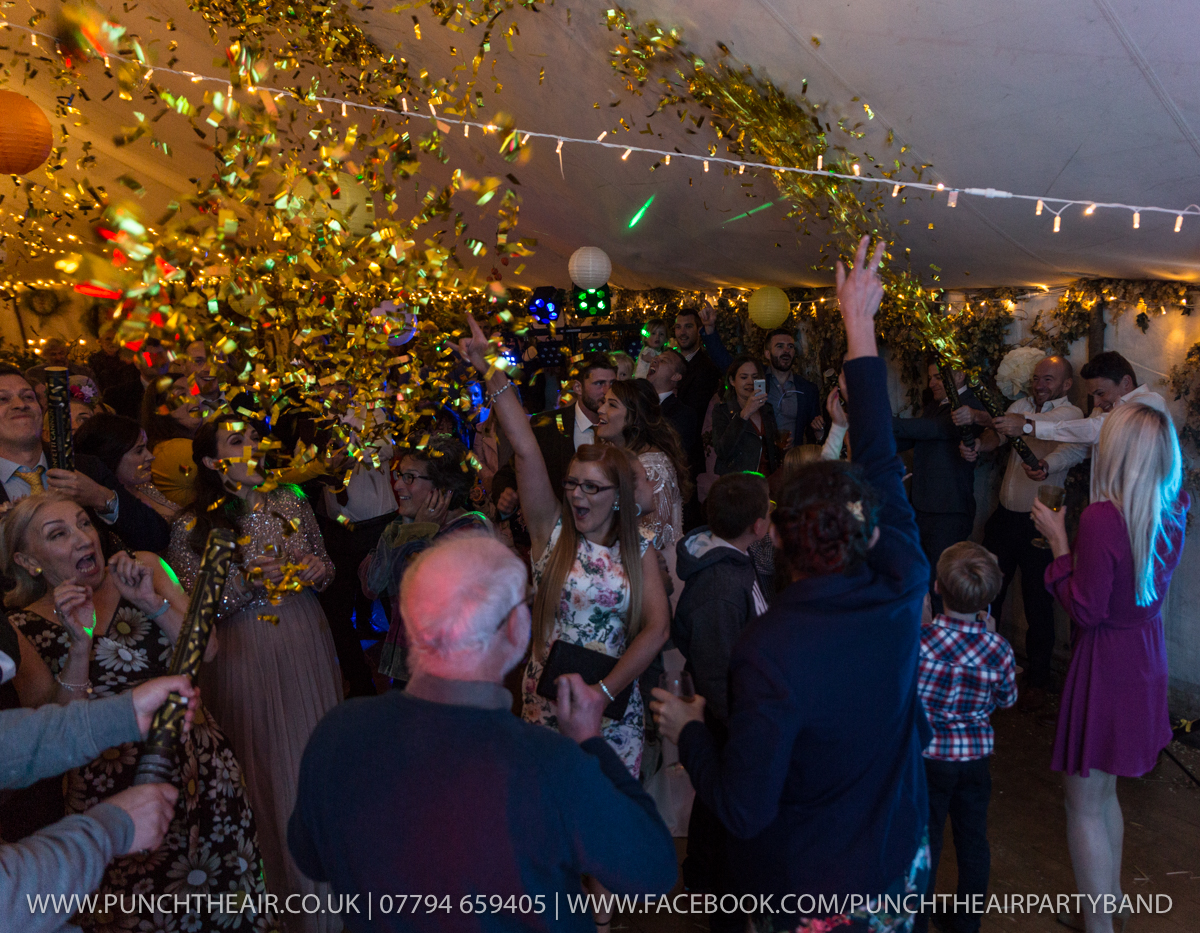 One of our brilliant sport brides sent us this video of her rocking out on stage with us and you've just GOT TO WATCH IT UNTIL THE END
---
Previous Updates: Bride & Groom on stage with us – August 2018
We love it when a bride and groom want to join us on stage and become rock & roll stars themselves, and Vicky & Ashley were exactly that. We also love to ham it up with clients big time. This video was crowd sourced and made up of "Fan footage" filmed by guests on their phone phones which was then combined with our camera footage and the audio from our desk.
---
Previous Updates: Client testimonial video 25th August 2018
We'd only just finished our second set for Vicky & Ashley at Hoar Cross Hall, Burton-Upon-Trent when we they gave us this amazing testimonial video. We only found out at this point that Ashley is a massive Oasis fan so we played him lots of Oasis songs for him in the second set…..Most of which he joined us on stage for living out his Rock Star dreams. (Video currently being edited)
---
Previous Updates: Client testimonial video 4th August 2018
We performed at our third same sex marriage on 4th August 2018 for Sarah & Charlotte, below you will see their actual testimonial at the end of the night. As you will see they were very happy with what we provided them with and it was our absolute pleasure to handle every single aspect of their live entertainment needs throughout the entirety of their special day. It started with Andy performing solo acoustic for them in the day time, then supplying the PA for their speeches, then DJing throughout the day & night until 1am. Of course 'Punch The Air' also performed live for them and all their guests too. (Full video currently being edited)
---
Previous Updates: Acoustic Duo at Birmingham Food Festival 7th July 2018
Andy & Matt returned to Birmingham Food Festival on the day that England beat Sweden two nil during the 2018 World Cup quarter finals and performed a set of crowd pleasing tunes which there are two videos of below. The second includes 'Three Lions' (Football's Coming Home) which we performed for the first time ever together. Of course we had an amazing response from the crowd.
---
Previous Updates: Thursday 14th June 2018
Latest updates: We're well into wedding season now and we do our best to try and capture as many photos from live performances as we can. If you head on over to our images page here you can see some of the weddings we've performed at this year. We've performed in the West Midlands, Derbyshire, Lancashire, Staffordshire, Shropshire and many other counties. We'll travel anywhere in the UK to make your wedding or party a fantastic night you will never forget.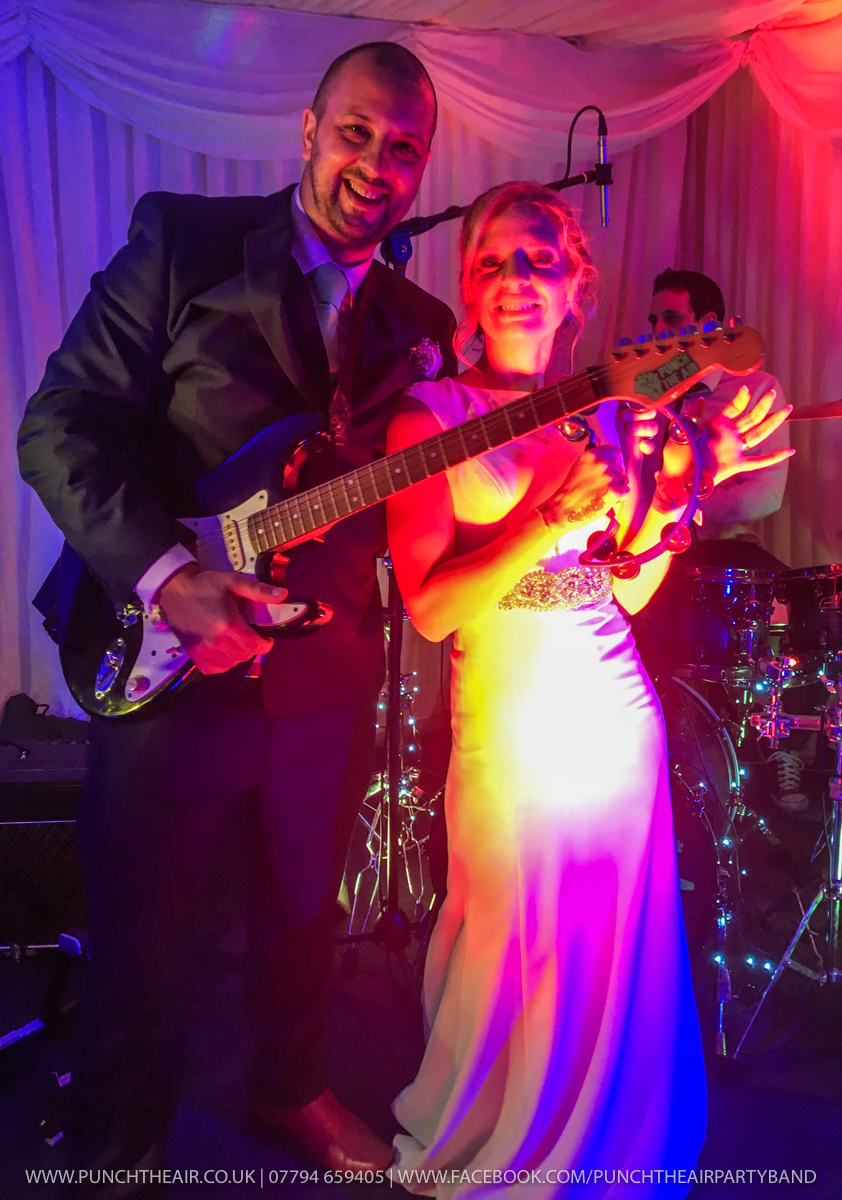 ---
Previous Updates: Saturday 12th May 2018
Latest updates: We're very excited to present to you our latest Vlog from Rachel & Steves wedding at Lower Damgate Farm, Ashbourne, Derbyshire during April 2018. We had an absolutely brilliant time as did the bride and groom and all the guests. Everything in this video is 100% live. All the audio was recorded at the actual wedding and is exactly how it was performed live on the day.
You can also view lots of photos from Rachel & Steves wedding here and images from other weddings we've done in 2018 & 2017 as well.
You may or may not be aware that we're now in the busiest time of the year for us as its now wedding season. So you will see a lot of new videos and photos of us performing live on this website shortly. We're #AllAboutLive and everything you see and hear on this website will be 100% fully live.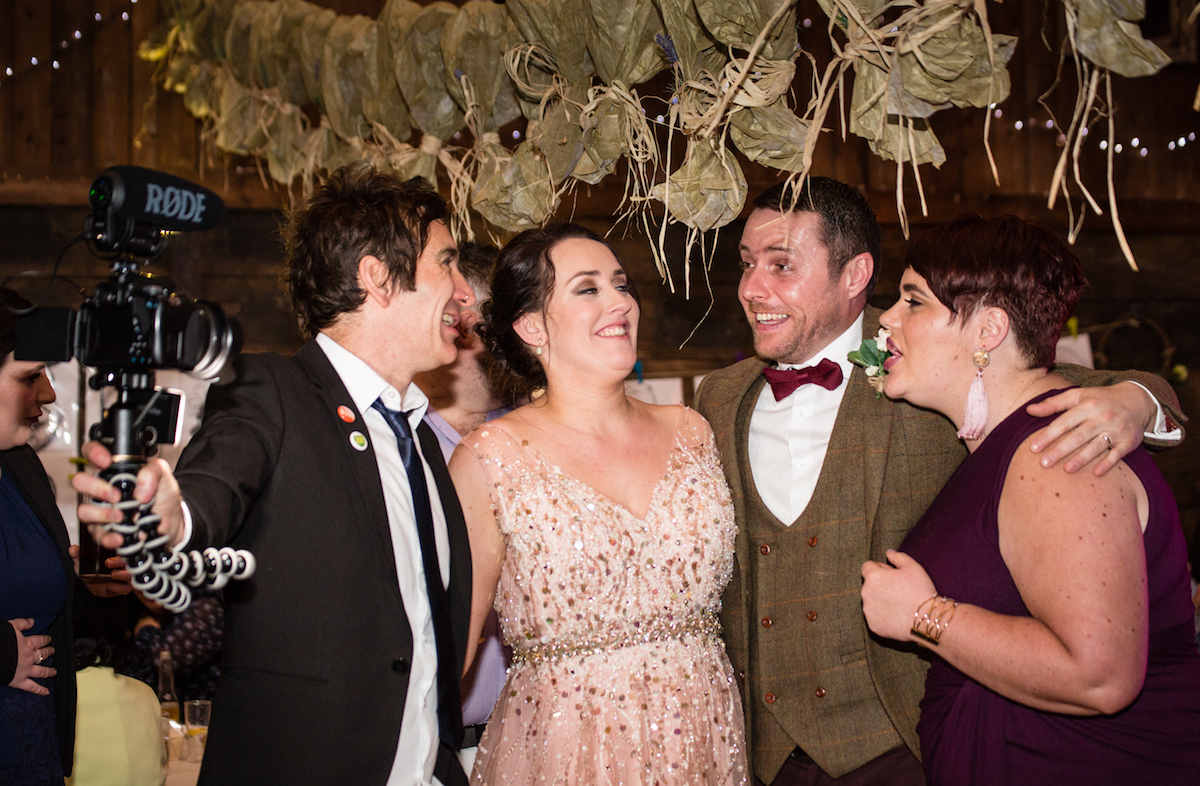 Before booking your live entertainment…
Ask yourself "Is this video I'm watching actually LIVE"? There's a good chance if you're NOT watching a 'Punch The Air video' then its just been recorded in a studio environment and then mimed to later.
'Punch The Air' are the only band constantly producing quality live videos and Vlogs so you can see exactly what we are like live and how well clients and their guests react to our fabulous performances. Below is our latest Vlog showing what we got up to at a recent wedding in the West Midlands.
If you head on over to our Facebook page you'll see lots more of what we do on a weekly basis.