Indie Wedding Band Photos Archive 6
More images from professional indie wedding band 'Punch The Air' proving just how often we are out performing live. Many clients purchase our additional option of an evening photographer and so are provided with amazing photos like those below. Brides, groom, family members and guests all enjoying our live indie killers performances. Massive indie beats from The Killers, Stereophonics, Blink 182, Arctic Monkeys and more. Contact to book an indie wedding band.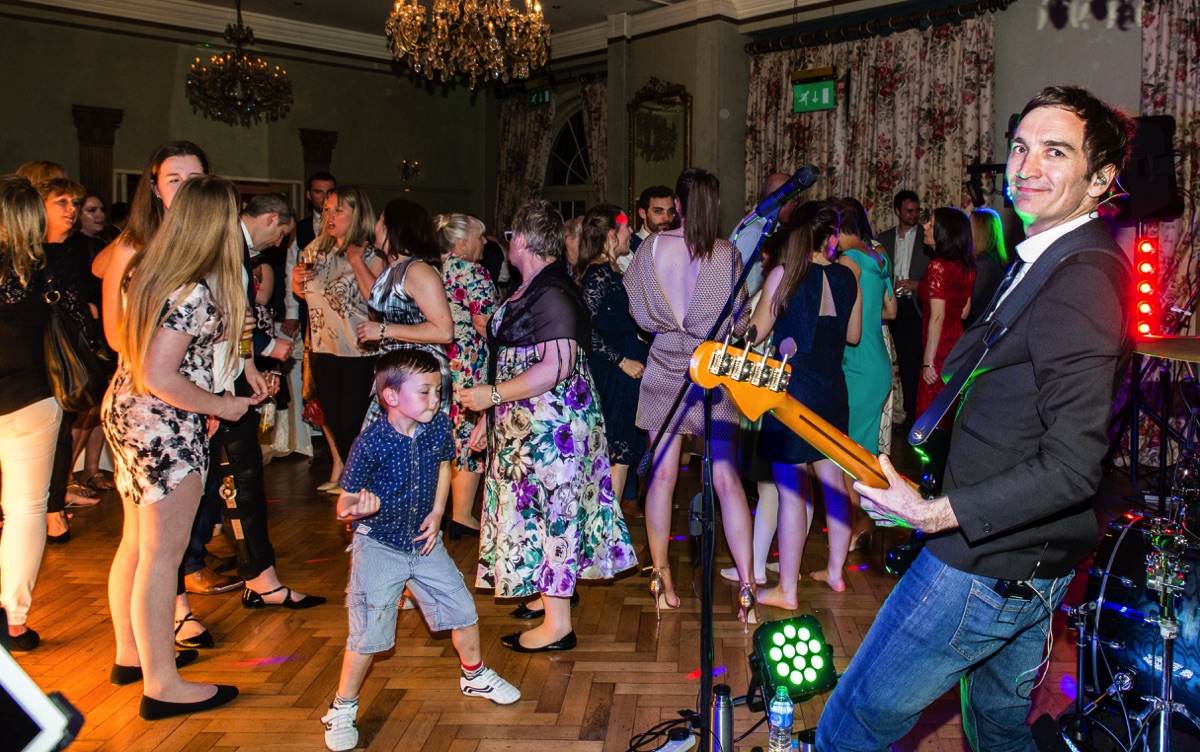 21st Birthday – Clitheroe, Lancashire – October 2018
At the start of October we once again we headed back up north to Clitheroe for a previous clients son's 21st birthday party in Tithe Barn at Browsholme Hall. The venue really was something special with its ultra cool modern interior and lighting yet still retaining its barn like old skool style charm. In keeping with the age group of the party we performed a number of new songs including Shotgun by George Ezra and Promises by Calvin Harris & Sam Smith which went down brilliantly. (Both number one hits at the end of 2018) Lets just say that all guests were very happily merry and leery come the end of the night 😉
Indie Wedding Band at Evesham, Worcestershire – September 2018
In September we performed in a large marquee for Esther & James's Wedding on the top of a hill overlooking the whole of Worcestershire. It was a brilliant and relaxed wedding reception with everyone up and dancing for the entire night from the go. We supplied multiple confetti cannons and fog which enhanced our lighting rig beautifully…We also had a stage to perform on.
Solo Wedding – Staffordshire – September 2018
Andy Starkey performed solo acoustic for Lisa & Joe on 8th September 2018. It was only a small affair, but the bride, groom and all guests spent the entire night on the dancefloor, partying the night away. Andy even performed 'Mysterious Girl' by Peter Andre which his learned in his break time between the two sets as a very special request for the groom and his best men.
Wedding Ceremony – Nottingham Register Office – September 2018
Andy performed a couple of special songs solo for Rachel & Dominic while they signed the register in September 2018 at West Bridgford Register Office. They opted for our acoustic wedding singer package with "You & Me Song" by The Wannadies and "Can't Take My Eyes Off You" by Andy Williams. The whole room burst out in song for the "Der-ders" and chorus in Cant take My Eyes Off You….then the couple burst out in tears…..Bless them. Andy also performed a little later on at their wedding breakfast entertaining old and young with lots of great party tunes and even learned "Baby Shark" to keep all the kids amused too. A few weeks later Andy & Matt then performed acoustic duo at their wedding party which you can see images of above.
Hire an Indie Wedding Band for Hoar Cross Hall, Burton-Upon-Trent – Aug 2018
On a very busy weekend at the end of August we performed four times in three days. One of those performances was for Vicky & Ashley at Hoar Cross Hall. Groom Ashley had always dreamed of performing on stage with a rock & roll band so of course we had him up on stage with us for numerous songs. You can see a video of Ashley & Vicky on stage with us here and also their video testimonial here. Images kindly supplied by Barry James Photography.
Wedding – Stanford Farm, Shrewsbury – August 2018
On 4th August 2018 we performed out our third same sex marriage for Sarah & Charlotte at Stanford Farm, Shrewsbury. Andy took care of the clients live entertainment needs from 2pm all the way through until 1am the following morning. In the day time he performed a live acoustic set, then later on supplied the PA for speeches, then DJ'd throughout the afternoon and evening. Later on 'Punch The Air' took to the stage as a full band and performed two knock out sets for both brides and all their family and guests. We all had a brilliant time as you will see from the below images.
Wedding, Lilleshall Hall, Newport, Shropshire – July 2018
Our last wedding of July 2018 after a very, very busy and hectic month. We spent it all of it rushing around the UK week in, week out. The finale was at the beautiful Lilleshall Hall wedding band on fantastic grounds for a lovely chilled out couple.
Acoustic Duo – Birmingham Food Festival – July 2018
Andy and Matt returned to Colmore Food Festival again in July 2018 performing acoustically with a cajon. We performed as England beat Sweden two nil during the 2018 Russia World Cup quarter finals. As soon as the announcement came through that England had won we performed 'Three Lions' (Football's Coming Home) live for the first time ever. As you will see from this video here, it of course went down very well.
Another Indie Wedding Band booking at Bashall Barn, Clitheroe, Lancashire – June 2018
Another trip up north to our favourite Clitheroe venue at Bashall Barn for the wedding reception of Lindsay & Mike. It was only a very small affair with about 60 guests but everyone had a brilliant time, as did we. Did you know we have a whole page dedicated to Bashall Barn here? It tells you more about what you can expect from the venue. Also its hard working staff. Plus more information about our many performances there and what you can expect from us.
Wedding – Brook Marston Farm Hotel, Sutton Coldfield, West Midlands – June 2018
A nice local performance for us in a marquee on a very warm summers day for Louise & Tom's big day near Birmingham at Brook Marston Farm Hotel. As you will see from the pics their colour scheme matched our 'Punch The Air' colour scheme nearly preciously.
---
All previous and future party band photos of 'Punch The Air'
Indie Party Band Photos Archive 7
Lots more Indie Wedding Band Photos Archive 6
Indie Covers Band Photos Archive 5
Wedding Party Band Photos Archive 4
Party Band Photos Archive 3
Function Band Photos Archive 2
Wedding Band Photos Archive 1