Live images from corporate parties, weddings, photoshoots and more.
We've performed at many corporate events over the last few years including Coca-Cola, OK Magazine, Marks & Spencer and the BBC to name but a few. We have also performed at many many weddings, 18th / 21st / 30th / 40th / 50th & 60th birthday parties and celebrity bashes where our favourite professional photographer does her best to try and capture the coolest split second moments you see below. Unfortunately we can't photograph every event we play at, but below you will find some of our favourite live shots showing what we do best. You will also find below some of our more recent photoshoots.
New Years Eve 2017 into 2018
Performing at our favourite bar in Shrewsbury, Shropshire (Pics by Marcus Hart) – November 2017
Staffordshire wedding band Punch The Air are big fans of Moxhull Hall as we perform here on a very regular basis. It has some wonderfully interesting grounds and the layout inside is very well thought out around a live band performing there. It is run to a very high and professional standard and the food is really something special too.
Wedding Fair – September 2017
Lesbian Wedding – September 2017
Wedding – Pimhill Barn – Shrewsbury – August 2017
At Pimhill Barn we are a recommended supplier. Also we have a Blog of our first of many wedding performances at Pimhill Barn, Shrewsbury here. Its one of our favourite venues in Shropshire and here is another little write up on it of how you can arrange the room and what to expect.
Showcase Performance For Potential New Clients – Shrewsbury – August 2017
Showcase Performance – Shrewsbury – June 2017
Corporate Party – Edale, Derbyshire – May 2017
Wedding – Lichfield Guildhall – April 2017
Wedding Shepton Mallet March 2017
Wedding Evesham February 2017
Wedding – Same Sex Marriage - Hargate Hall, Buxton - January 2017
New Years Eve 2016 into 2017
Rotary Club International Joint 60th & 100th Anniversary Ball, Bath Assembly Rooms, December 2016
August / September Weddings 2016
Wednesday Midweek Wedding July 2016
Masquerade Ball Party July 2016
40th Birthday Party June 2016
Wedding In Leicestershire May 2016 (Big Top Circus Tent)
Wedding Start Of April 2016
South Staffs Water / Water Aid (Corporate Event) January 2016
NYE 2015/2016
Wedding August 2015
Wedding July 2015
Wedding 2015
Corporate Dinner Party 2015
Corporate Event 2015 – Awards Dinner (Some images by Paul Briscoe Photography)

New Years Eve 2014-2015
Even More Wedding Fun 2014
More Wedding Fun in 2014
21st Birthday Party
Corporate Event 2014
50th Birthday Party 2014
40th Birthday Party 2014
Unused Images From 2013
New Years Eve 2013/2014
Photos from our Showreel video shoot – September 2013.
Here are a few images from our new showreel video that can be viewed here.
Showcase – June 2013
Here we are performing one of our very occasional showcase gigs so potential clients can come and see what we are like live.
Festival – May 2013
Some lovely images of us performing at a festival mid 2013 at Lichfield Guildhall.
Two Piece Acoustic
For clients with a tighter budget we are also available as an acoustic duo. We perform with smaller PA equipment, but you still get a really great sound, a splendid light show and everyone always has a super time. This set up also works perfectly as background music while your guests are arriving at the venue making your day that extra bit special.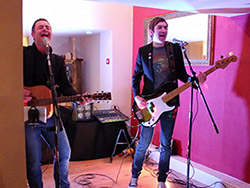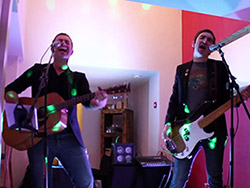 You can also view more images of us on our Facebook page here.
Get in contact with us here for a quote.
by