Here Is Archive Videos 4 Midlands Indie Pop Wedding Band
When you've been around since 2013 (Yes, two thousand and thirteen) you want to constantly prove the work you do. Consequently you end up having a lot of Midlands indie pop wedding band videos. Here is our fourth page of many, many archived videos proving what we do week in week out. Check out a small amount of footage from 'Punch The Air' below. Then contact to hire professional musicians for an event.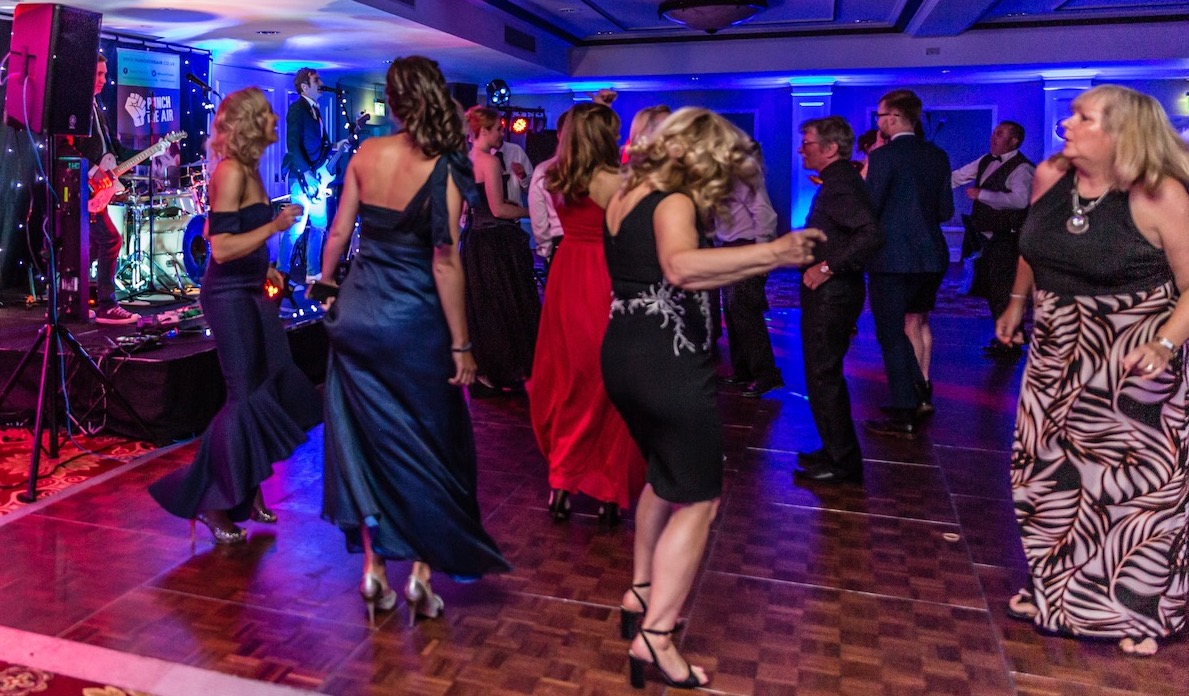 40th Birthday Party Band
Lindsay hired us for her little 40th Birthday Party at Brewhouse & Kitchen, Lichfield, Staffordshire. As you will see from the below video Lindsays guests all new how to party to the max. There were dance routines to multiple songs, lots of nice speeches, a huge cake and lots of singing along to us. Check it all out below. Songs by The Killers, Reef, Beatles and more. There are lots more Indie Pop Wedding Band Videos on this page.
Christmas Songs performed by Punch The Air
Performing at Lichfield Christmas Lights Switch On in Staffs. You'll hear Wham, Slade & more. Check out all the audience going crazy for us.
Corporate Christmas Party
Here we are performing for Shakespeare Martineau (Law firm) at their Christmas party at Aston Conference, Aston, Birmingham. Andy decided to go for something a little different with this slideshow video as time was of the essence to get it online while the festive period was still occurring. (Did you know this type of video is called the 'Ken Burns Effect'?).
Indie Pop Wedding Band – December 2018
Hayley & Tom got married at The Mill Barns, Alveley, Bridgnorth WV15 6HL. We were their Mill Barns wedding band. Listen to our studio recording of Parklife by Blur as they get married and enjoy our live perfomances.
'Last Christmas' by Wham at Hayley & Toms December wedding with them live on stage with us
As Hayley & Tom got married in December they asked if we could play a few live Christmas party band songs as well, so of course we obliged. All the video footage was crowdsourced from guests at the wedding and then edited together by Andy. This video was shot at The Mill Barns, Alveley, Bridgnorth, Shropshire wedding band.
Indie Wedding Band Video – Bride rocking out on stage with us…and then this happened
We sometimes like to include videos that guests have shared with us on this page and this ones a doozy. Brilliant sport Esther (Bride) sent us this video and gave us permission to show it to the entire world. You have GOT to watch it until the end…..Ouch!!! Filmed on a farm land at Hinton On The Green, Evesham, Worcestershire.
Bride & Groom on stage with us
We love it when a bride and groom want to join us on stage and become rock & roll stars themselves, and Vicky & Ashley were exactly that. Also we love to ham it up with clients big time. This video was crowd sourced and made up of "Fan footage" filmed by guests on their phone phones which was then combined with our camera footage and the audio from our desk. This indie pop wedding band videos filmed at Hoar Cross Hall, Burton, Staffordshire.
Video Testimonials for Indie Wedding Band from July & August 2018
Whats better than a video review direct from the clients mouths? Oh I don't know, how about two video reviews?
Acoustic Duo at Birmingham Food Festival July 2018
Andy & Matt returned to Birmingham, West Midlands Food Festival on the day that England beat Sweden two nil during the 2018 World Cup quarter finals and performed 'Three Lions' (Football's Coming Home) for the first time ever together. Of course we had an amazing response from the crowd as an acoustic band.
More Footage From The Festival
More great songs at Birmingham Food Festival by our acoustic wedding band.
All previous and future party band videos of 'Punch The Air'
Present Day
Present Day Videos
Staffs Indie Party Band Videos Archive 5
Midlands Indie Pop Wedding Band Videos Archive 4
Birthday Party Band Videos Archive 3
Corporate Entertainment Live UK Band Videos Archive 2
Wedding Band Videos Archive 1
2013